Search & Buy Air Tahiti Flights
Airlines will always try to sit children with their parents (subject to check-in)
Some airlines will allow travel for unaccompanied minors. Please email us to check.
The fare is based on the child's age on the date of travel.
More detailed information can be found here Traveling with children
Most airlines will let infants travel with their parent(s) for free. However some airlines will charge up to 10% of the adult ticket price. Click on 'Price Breakdown' to find out more.
If you are pregnant, but due before the flight departure date, please contact us once your baby is born and has a name. We can then add him/her to your ticket.
Infants will not be given a seat. The airlines expect parents to travel with them on their lap.
Airlines regard infants as being under 24 months old.
The fare is based on the child's age on the date of travel.
More detailed information can be found here Traveling with children
Buy
Air Tahiti

Flights
Book Direct with Air Tahiti and Alternative Airlines
Make an Air Tahiti Booking and Find Some Amazing Deals
---
About
Air Tahiti is a French airline which flies domestically within French Polynesia with its hub at Fa'a'a International Airport. The Airline slogan Air Tahiti is 'the airline linking Tahiti and her islands.' As such, the airline flies to many islands and destinations include Ahe, Arutua, Bora Bora, Fakarava, Hao, Hiva Oa, Huahine, Makemo, Mangareva, Manihi, Mataiva, Maupiti, Moorea, Nuku Hiva, Raiatea, Raivavae, Rangiroa, Rarotonga and more
The airline operates to 45 islands of French Polynesia, which connects more than 90% of the population through a fleet of ATRs, de Havilland and Beechcraft. Air Tahiti also operates flights to Rarotonga in the Cook Islands. Despite being a private company, the carrier's primary purpose is to scheduled air transportation between the islands of French Polynesia with a public service mission.
Passengers with the airline are able to purchase multi-island tours allowing people to visit more than one island on the same trip. There are many pass or extensions including Discovery Pass, Bora Bora Pass, Lagoons Pass, Corail Pass and many others. In addition, passengers are able to purchase one island fares to search for one-way and return airfares to your destination.
The airline operates an open-seating policy on its flight so passengers are not allocated a seat at check-in.
Air Tahiti Nui flies internationally from French Polynesia. Visit the for Air Tahiti Nui page for international flights.
---
Economy Class
What facilities does Economy Class offer?
A variety of meals are served in-flight, balancing both the Polynesian and French culinary influences with specialities for each of the airline's destinations. Have a food allergy or dietary restriction? Special meals can be prepared upon request when booking or at least 48 hours prior to departure. Simply state your request and choose from one of 11 different meal options to suit your dietary needs. For kids whose screen time is up, an amenity kit with games is available.
What are the seats like in Economy Class?
Passengers are able to recline their seats to a comfortable 118 degrees and a pitch of 32 inches perfect when viewing the 9-inch high definition screen, loaded with a full assortment of recent release movies, TV shows, music, video games and much more. For your personal electronics, each seat also has a USB power port.
---
Premium Economy Class
What facilities does the Premium Economy Class offer?
In flight, you can enjoy a variety of snacks, and hot or cold drinks, with or without alcohol. If you have an allergy, or if you follow a strict diet, special meals are prepared upon booking 48 hours before departure. The aircraft is equipped with the most advanced entertainment systems and can enjoy numerous choices on touch screens measuring 33 cm diagonally and positioned in front of each seat. Select from among a large selection of films and series, music and video games.
Take advantage of this flight to learn more about the islands through the onboard entertainment system and magazines selection. Stay connected with high-speed Wi-Fi internet connectivity onboard. Enjoy a little more comfort with amenities, including a large fleece blanket, a comfortable cushion, and a complete accessories kit.

What are the seats like in Premium Economy Class?
Air Tahiti Nui premium economy seats offer a more comfortable travel experience and a configuration that offers more legroom an optimum space of 96.5 centimetres between each row and a seatback recline of 20 cm.
---
Business Class
Poerava Business Class provides a level of comfort and service that considers all your senses, immersing you in Tahitian hospitality from your first step on board. On the ground or in the air, whatever it is you need, you'll find your attentive hosts ready to make you comfortable and satisfied.
What facilities does the Business Class offer?
Onboard a variety of meals are served in-flight, balancing both the Polynesian and French culinary influences with specialities for each of our destinations. For the wine lover with a sophisticated palate, an array of wine selections are available, particularly from the French and New World.
A convenient hook for handbags and clever storage compartments let you put things within reach but out of your way. In front of you will be your crystal clear 12-inch high definition touch screen. Glide through menus for movies, TV shows, features on your destination, music, video games and much more. If you've brought your own entertainment on board you can keep those devices fully charged in the outlet or USB port in the centre console.
Prior to flight: Business class passengers have access to a priority check-in lane at counters, access to a VIP lounge (LAX when available) and priority handling of baggage for quick delivery.
What are the seats like in Business Class?
In the Airbus A340-300, multi-point seat adjustments are at your fingertips. Recline a little and begin to relax, or keep reclining to a full 160 degrees to a pitch of 60 inches and enjoy how the seat's design optimizes privacy. In the Boeing 787-9 Dreamliner, seats can be reclined to 180-degree full-flat and the (2-2-2) arrangement is great for couples.
---
Baggage Allowance
Carry-on Baggage
Passengers with Air Tahiti are allowed one piece of carry-on baggage with a maximum weight of 5kg and 45 x 35 x 20 cm maximum dimensions.
Checked Baggage
Passengers with a standard ticket are allowed up to 3 pieces person on a flight from/to Rarotonga with a maximum weight of 23kg for all three pieces. Passengers with a special ticket with additional weight are allowed up to 3 pieces per person with a maximum weight of 46kgs.
The size of Air Tahiti cabins and their luggage compartments do not allow them to grant additional cabin allowance for your accessories such as laptops, cameras, handbags, clothes etc. like international airlines operating a fleet of large aircraft.

These limits have been set in order to guarantee your safety on board and to ensure that your hand baggage can be stowed in the baggage compartments. If your hand baggage exceeds the permitted weight and size limits, it may be transferred to the hold, even after check-in. In such cases, it will be "allowed with limited release" and a fee will be payable if it exceeds the hold baggage allowance.
---
Book Flights in English
When booking Air Tahiti flights with Alternative Airlines, you can have peace of mind that you will get the best service offered. We offer the ability to book with us in English alongside offering you a service which you can trust to deal with your purchasing of the flight. We offer not only choice in the flight times, routes and itineraries but also choice in payment method, including PayPal, and choice in the currency you pay with.
---

The Fleet
ATR 42-600
ATR 72-500
ATR 72-600
---
Hub Airport
Fa'a'ā International Airport
Fa'a'a International Airport is located on the island of Tahiti, French Polynesia which is the northwestern part of French Polynesia. It is the hub airport for Air Tahiti and Air Tahiti Nui. Other airlines which fly to and from Fa'a'a International Airport include Air France, Air New Zealand, Air Tahiti, Air Tahiti Nui, Aircalin, Hawaiian Airlines and LAN Airlines.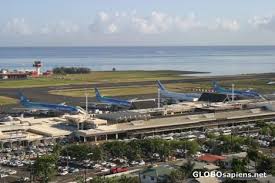 ---
Destinations
Ahe
Anaa
Apataki
Arataki
Arutua
Bora Bora
Faaite
Fakahina
Fakarava
Fangatau
Hao
Hikueru
Hiva Oa
Huahine
Katiu
Kauehi
Kaukura
Makemo
Mangareva/
Gambier
Manihi
Matavia
Maupiti
Moorea
Napuka
Niau
Nuku Hiva
Nukutavake
Puka-Puka
Pukarua
Raiatea
Raivavae
Rangiroa
Raroia
Rarotonga
Reao
Rimatara
Rurutu
Tahiti
Takapoto
Takaroa
Takume
Tatakoto
Tikehau
Tubuai
Tureia
Ua Huka
Ua Pou
Vahitahi
---
Route Map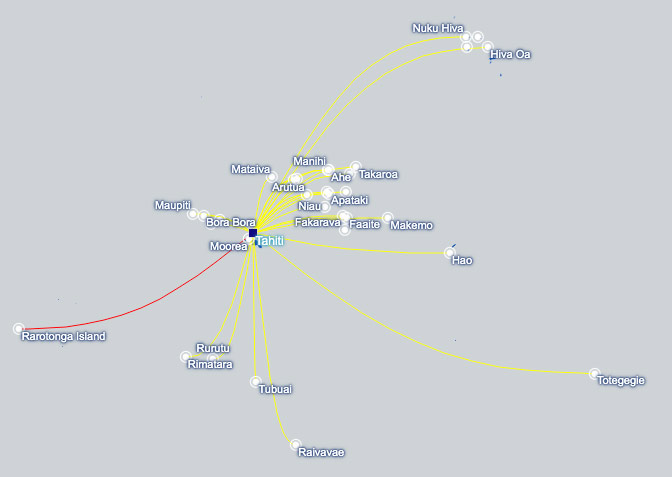 ---