LAN Airlines Reservations with Alternative Airlines
Make a LAN Airlines Booking and Find Some Amazing Deals
In 2012, LAN Airlines merged into LATAM Airlines. Click on the logo below or use our search form to search for flights on LATAM.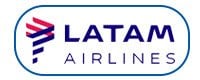 ---
About
LAN Airlines was a Chilean Airline based in the country's capital, Santiago de Chile. The airline is now rebranded as LATAM Airlines (also known as LATAM Chile) after a merger in 2012 between Chile's LAN Airlines and Brazil's TAM Airlines in which its airline subsidiaries, such as LAN Colombia, (formerly Aires) were integrated into the brand.
LAN Airlines was the flag carrier of Chile and was one of the most recognisable airline brands in South America. It was based at Comodoro Arturo Merino Benitez International Airport (SCL), Chile, and flew to destinations around Latin America, the US, Canada, the Caribbean, Oceania and Europe. LAN had a number of subsidiary airlines, including LAN Argentina, LAN Colombia, LAN Express, LAN Ecuador, and LAN Perú.
LATAM Chile had codeshare agreements with the following airlines; Aeromexico, Air China, Air Italy, Alaska Airlines, American Airlines, Cathay Pacific, British Airways, Cathay Pacific, Finnair, Interjet, Jetstar Airways, Korean Air, Japan Airlines, Korean Air, Iberia, Qantas, LATAM Brasil, LATAM Paraguay, Qantas, Qatar Airways and WestJet.
---
Destinations
LAN Airlines flew to a number of destinations across North, South and Central America, as well as to Europe and Oceania. These included destinations such as El Salvador, Bogotá, Lima, Rio de Janeiro, Buenos Aires, Miami, New York City, Toronto, Cancun, Punta Cana, Paris, Madrid, Sydney and Auckland.
Domestic Destinations
| AIRPORT | CITY AND COUNTRY |
| --- | --- |
| Andrés Sabella Gálvez International Airport (ANF) | Antofagasta, Chile |
| Chacalluta International Airport (ARI) | Arica, Chile |
| Balmaceda Airport (BBA) | Balmaceda, Chile |
| El Loa Airport (CJC) | Calama, Chile |
| Mocopulli Airport (MHC) | Castro, Chile |
| Carriel Sur International Airport (CCP) | Conception, Chile |
| Desierto de Atacama Airport (CPO) | Copiapo, Chile |
| Mataveri International Airport (IPC) | Easter Island, Chile |
| Diego Aracena International Airport (IQQ) | Iquique, Chile |
| La Florida Airport (LSC) | La Serena, Chile |
| Cañal Bajo Carlos Hott Siebert Airport (ZOS) | Osorno, Chile |
| El Tepual Airport (PMC) | Puerto Montt, Chile |
| Presidente Carlos Ibáñez del Campo International Airport (PUQ) | Punta Arenas, Chile |
| Comodoro Arturo Merino Benítez International Airport (SCL) (Hub for LATAM Chile) | Santiago, Chile |
| La Araucanía International Airport (ZCO) | Temuco, Chile |
| Pichoy Airport (ZAL) | Valdivia, Chile |
International Destinations
| AIRPORT | CITY AND COUNTRY |
| --- | --- |
| Ministro Pistarini International Airport (EZE) (Hub for LATAM Argentina) | Buenos Aires, Argentina |
| Aeroparque Jorge Newbery (AEP) (Hub for LATAM Argentina) | Buenos Aires, Argentina |
| Ingeniero Ambrosio Taravella International Airport (COR) | Cordoba, Argentina |
| El Plumerillo International Airport (MDZ) (Seasonal) | Mendoza, Argentina |
| Martín Miguel de Güemes International Airport (SLA) | Salta, Argentina |
| Domingo Faustino Sarmiento Airport (UAQ) | San Juan, Argentina |
| Piloto Civil Norberto Fernández International Airport (RGL) | Rio Gallegos, Argentina |
| Ushuaia – Malvinas Argentinas International Airport (USH) | Ushuaia, Argentina |
| Melbourne Airport (MEL) | Melbourne, Australia |
| Sydney Airport (SYD) | Sydney, Australia |
| El Alto International Airport (LPB) | La Paz, Bolivia |
| Viru Viru International Airport (VVI) | Santa Cruz de la Sierra, Bolivia |
| Brasília International Airport (BSB) | Brasilia, Brazil |
| Hercílio Luz International Airport (FLN) (Seasonal) | Florianopolis, Brazil |
| Salgado Filho International Airport (POA) | Porto Alegre, Brazil |
| Rio de Janeiro–Galeão International Airport (GIG) | Rio de Janeiro, Brazil |
| São Paulo–Guarulhos International Airport (GRU) | Sao Paulo, Brazil |
| El Dorado International Airport (BOG) (Hub for LATAM Colombia) | Bogota, Colombia |
| Punta Cana International Airport (PUJ) | Punta Cana, Dominican Republic |
| José Joaquín de Olmedo International Airport (GYE) (Hub for LATAM Ecuador) | Guayaquil, Ecuador |
| Mariscal Sucre International Airport (UIO) (Hub for LATAM Ecuador) | Quito, Ecuador |
| RAF Mount Pleasant (MPN) | Stanley, Falkland Islands |
| Fa'a'ā International Airport (PTT) via Mataveri | Papeete, French Polyneisa |
| Frankfurt Airport (FRA) via Madrid | Frankfurt, Germany |
| Ben Gurion International Airport (TLV) via Sao Paulo | Israel, Tel Aviv |
| Cancún International Airport (CUN) | Cancun, Mexico |
| Mexico City International Airport (MEX) | Mexico City, Mexico |
| Auckland Airport (AKL) | Aukland, New Zealand |
| Silvio Pettirossi International Airport (ASU) | Asuncion, Paraguay |
| Jorge Chávez International Airport (LIM) (Hub airport for LATAM Peru) | Lima, Peru |
| Barcelona–El Prat Airport (BCN) | Barcelona, Spain |
| Adolfo Suárez Madrid–Barajas Airport (MAD) | Madrid, Spain |
| Logan International Airport (BOS) | Boston, United States |
| Los Angeles International Airport (LAX) | Los Angeles, United States |
| Orlando International Airport (MCO) | Orlando, United States |
| Miami International Airport (MIA) | Miami, United States |
| John F. Kennedy International Airport (JFK) | New York City, United States |
| Carrasco International Airport (MVD) | Montevideo, Uraguay |
| Capitán de Corbeta Carlos A. Curbelo International Airport (PDP) (Seasonal) | Punta del Este, Uraguay |
---
Baggage
Carry-on Baggage
1 x carry-on baggage and 1 x personal item.
The weight of the main carry-on bag was 8kg for Economy passengers or 16kg for Premium Economy and Premium Business passengers. The dimensions of carry-on baggage is 55cm x 35cm x 25cm.
Checked Baggage
The overall dimension of a checked bag needed to be 158 cm (overall) and 23 kg.
---
Check-In Information
Online Check-In
LAN Airlines passengers could check-in online via the LAN Airlines website. This was available between 48 hours and 2 hours before scheduled departure time.
---
Economy Class
Economy Class Facilities
Available on many of its flights, Economy Class passengers could enjoy a variety of entertainment using the airline's in-flight entertainment system. This included more than 150 movies and TV shows.
Food and beverages were available to order from the airline's in-flight menu, with warm meals prepared for longer, international flights.
Economy Class Seats
Economy Class seating was comfortable with an ample amount of legroom.
---
Business Class
The Business Class cabin was LAN Airlines most-premium and best cabin-class. It provided a high-end cabin and in-flight experience like no other.
Business Class Facilities
Passengers could get delicious meals from the airline's high-class Business Class menu. The Business Class in-flight menu also included an extensive selection of beverages such as beers, spirits and non-alcoholic drinks.
Passengers could enjoy in-flight entertainment through the airline's great in-flight entertainment system. The entertainment system is a 15.4 high-resolution screen that was built into every Business Class seat and each screen came with noise-cancelling headphones. There's currently no Wi-Fi connectivity on LATAM Airlines Chile.
Business Class Seats
Business Class seats were full of comfort. The seats are spacious and allow you to lie flat. The pitch between each Business Class seat was 74 inches. Each seat was built-in with a personal in-flight entertainment that could be used to access the airline's in-flight entertainment system.
---
Frequent Flyer Program
LATAM Chile made the LANPASS frequent flyer program to reward customer loyalty and currently there are more four million members. Each year, more than 250,000 LANPASS members fly for free. LANPASS members earn miles each time they travel with LATAM Chile.
The LANPASS Program has four membership tiers:
Gold (Oneworld Ruby)
Platinum (Oneworld Sapphire)
Black (Oneworld Emerald)
Black Signature (Oneworld Emerald)
On May 2016, LANPASS became known as LATAM Pass, once LAN Airlines transformed into LATAM Chile.
---
Airline Alliance
The airline was part of the Oneworld Alliance who has 13 members in total. Oneworld was founded in February 1999 and it's is the third-largest airline alliance in terms of passengers, behind SkyTeam and Star Alliance.
---
Fleet
LAN Chile's fleet included around 140 aircraft at the time that it merged with LATAM, made up from a mix of Airbus and Boeing aircraft. This included the following models:
Airbus: A318, A319, A320-200, A320neo, A321-200, A340-300
Boeing: 767, 787-9, 787-9
---
Hub Airport
Comodoro Arturo Merino Benítez International Airport (SCL)
The airport is Chile's largest aviation facility and the busiest international airport in the country. It is a hub for LATAM Airlines Sky Airline and JetSMART. The airport serves many airlines including Aeromexico, Air Canada, Air France, British Airways, Delta Airlines, Avianca, British Airways, KLM, United Airlines and much more.
---
Alternative Airlines to LAN Airlines