Search & Buy Sky Airline Flights
Let's fly!

Select your payment method to view total prices including any payment fees:
Airlines will always try to sit children with their parents (subject to check-in)
Some airlines will allow travel for unaccompanied minors. Please email us to check.
The fare is based on the child's age on the date of travel.
More detailed information can be found here Traveling with children
Most airlines will let infants travel with their parent(s) for free. However some airlines will charge up to 10% of the adult ticket price. Click on 'Price Breakdown' to find out more.
If you are pregnant, but due before the flight departure date, please contact us once your baby is born and has a name. We can then add him/her to your ticket.
Infants will not be given a seat. The airlines expect parents to travel with them on their lap.
Airlines regard infants as being under 24 months old.
The fare is based on the child's age on the date of travel.
More detailed information can be found here Traveling with children

Buy
Sky Airline

Flights

Search and Buy Sky Airline Flights Online with Alternative Airlines
Make a Sky Airlines reservation and find some amazing deals with discounted Sky Airline tickets with Alternative Airlines
---
About Sky Airline
Sky Airline is a Chilean airline based at Comodoro Arturo Merino Benitez International Airport in Santiago, Chile. It is the second largest airline in Chile, providing passenger, postal and cargo air transport services since 2001. The airline flies to many of the country's top destinations, including Arica, Iquique, Calama, Antofagasta, El Salvador, Copiapó, Concepción, Temuco, Puerto Montt, Balmaceda and Punta Arenas. Sky Airline also serves international routes to Argentina, Brazil, Peru, and Uruguay, as well as other international destinations. Within
South America
, Sky Airline flies to over 20 destinations, including Buenos Aires, La Paz, Florianopolis, Sao Paulo, Arica, Calama, La Serena, Puerto Montt, Punta Arenas and Santiago. The airline was established in 2001 and is now known as the second largest airline in Chile behind rival LAN Airlines. Other Chilean domestic airlines include
Aerovías DAP
and
Aerolinea Principal Chile
. Sky Airline initially operated to the key cities of Chile. However, as popularity and demand grew, the airline began offering flight tickets to Argentina, Brazil, Peru and Bolivia. Sky Airline was named the Best Regional airline in South America in 2014 and 2015 in the Skytrax World Airline Awards. The Sky Airline Fleet includes 13 Airbus A319-100 and two Airbus A320-200.
---
Sky Airline Baggage
Carry-on Baggage
Passengers are permitted one piece of carry-on luggage with dimensions no greater than 35cm x 25cm x 55cm (14in x 9in x 22in). The maximum weight limit for hand luggage is 20kg. One small, personal item is permitted as long as it does not exceed 35cm x 30cm x 15cm (9in x 11in x 5in).
Checked Baggage
"Light Fare" customers are only permitted carry-on luggage but can add additional bags during the booking process. "Plus Fare" customers are allowed one piece of checked luggage with a maximum weight of 23kg and a maximum total dimensions of no more than 158cm. For baggage that exceeds the weight limit, an excess weight fee will be charged at the airport.
---
Sky Airline Check-In Information
Online Check-In
Online check-in opens 48 hours and closes one hour prior to departure time. For customers requiring special assistance, traveling with pets or for unaccompanied minors, check-in is only available at the airport.
Airport Check-In
Airport check-in closes 40 minutes prior to flight departure. Sky Airline recommends arriving two hours before departure for domestic flights and three hours prior to departure for international flights.
---
Alternative Alternatives to Sky Airline
Please click on the logos to find more airlines that fly similar routes to Sky Airline:

---
Book Sky Airline Flights in English
Booking Sky Airline flights with Alternative Airlines gives you the ability to book flights in English. You can trust in us that we will deal with all details of your booking, working in a safe and secure manner to give the best possible service and experience.
---
Route map and Popular Routes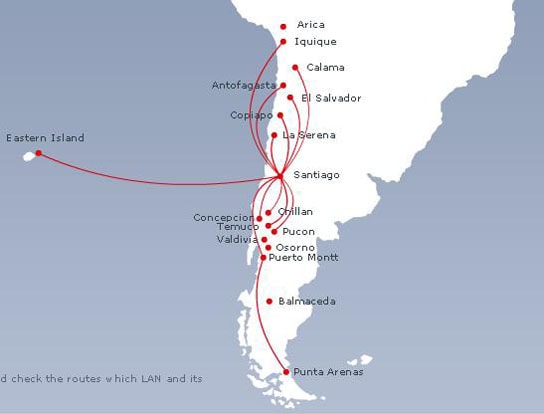 La Serena

Antofagasta
Santiago

Arica
Iquique

Santiago
Calama

Santiago
Puerto Montt

Punta Arenas
Santiago

Valdivia

---
The Fleet
Airbus A319-100
Aircraft 4
Airbus A320-200

Aircraft 5
---
Sky Airline Hub Airport
Comodoro Arturo Merino Benitez International Airport
Sky Airline's hub airport is Comodoro Arturo Merino Benitez International Airport in Santiago, Chile. The airport is also a hub for JetSMART. Santiago International Airport serves domestic and international services to destinations in Europe, Oceania and the Americas. Airlines which operate at this airport include Aerolineas Argentinas, Aeromexico, Avianca, Gol, LAN Airlines and soon the startup Infinity Airlines.
It has two runways and has a passenger capacity of 20 million passengers. Arturo Merino Benitez is Chile's largest aviation facility and the busiest international air passenger gateway to Chile.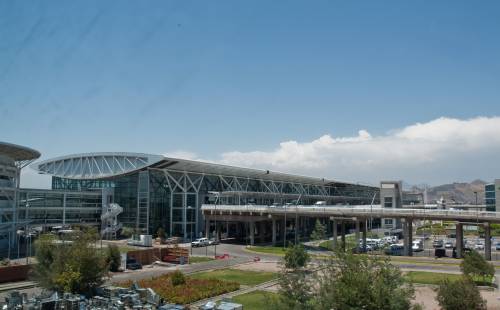 ---
Sky Airline Destinations
| | | | |
| --- | --- | --- | --- |
| Argentina | Buenos Aires | Ministro Pistarini International Airport | |
| | Cordoba | Ingeniero Aeronáutico Ambrosio L.V. Taravella International Airport | |
| | Rosario | Rosario – Islas Malvinas International Airport | |
| | Mendoza | Governor Francisco Gabrielli International Airport | |
| Chile | Antofagasta | Cerro Moreno International Airport | |
| | Arica | Chacalluta International Airport | |
| | Balmaceda | Balmaceda Airport | |
| | Calama | El Loa International Airport | |
| | Copiapó | Desierto de Atacama Airport | |
| | Concepción | Carriel Sur International Airport | |
| | El Salvador | Ricardo García Posada Airport | |
| | Iquique | Diego Aracena International Airport | |
| | La Serena | La Florida Airport | |
| | Osorno | Osorno Airport | |
| | Puerto Montt | El Tepual Airport | |
| | Pucon | Pucón Airport | |
| | Puerto Natales | Teniente Julio Gallardo Airport | |
| | Punta Arenas | Presidente Carlos Ibáñez del Campo International Airport | |
| | Santiago | Comodoro Arturo Merino Benitez International Airport | |
| | Temuco | La Araucanía Airport | |
| | Valdivia | Pichoy Airport | |
| Peru | Lima | Jorge Chávez International Airport | |
| Uruguay | Montevideo | Carrasco International Airport | |
| | Punta Del Este | Capitán de Corbeta Carlos A. Curbelo International Airport | |
---
Sky Airline News
22nd January 2018
Sky Airline begins research into starting low-cost flights in Ecuador
The Chilean airline "Sky Airline" is studying the start-up of low-cost flights in Ecuador, the Ministry of Foreign Affairs and Human Mobility of the Andean country reported today. This was stated by the company in talks with the Ministry of Foreign Affairs and Human Mobility, through the Embassy and the commercial office in Santiago, Chile, according to the foreign minister, María Fernanda Espinosa.
The negotiations were announced today in Santiago, Chile, where Espinosa is to attend the Second Meeting of Ministers of Foreign Affairs Forum Community of Latin American and Caribbean States (Celac) -China. Sky, founded 15 years ago by German businessman Jürgen Paulmann, currently has 15 Airbus aircraft with which it flies to six destinations in Argentina, Uruguay and Lima and 14 Chilean national airports, "with ultra-economic tariffs, from around 28 dollars, "the Foreign Ministry said in a statement.
The possible arrival of "Sky Airline" would occur after the adoption by the Ecuadorian Government of the policy known as "open skies", which seeks to contribute, among other economic objectives, to the achievement of the goal known as "1 × 1".
21st November 2017
Sky Airline Signs MOU for LEAP-1A RPFH Agreement
Chile's Sky Airline has signed a Memorandum of Understanding for a 12-year Rate Per Flight Hour (RFPH) agreement with CFM International to support the LEAP-1A engines that will power the airline's new fleet of 21 leased Airbus A320neo aircraft. The agreement is valued at about $600 million U.S., including spare engines.
The leased aircraft are scheduled for delivery between 2018 and 2021. Under the terms of the RPFH maintenance agreement, CFM will provide engine maintenance on a dollar per engine flight hour basis. "One of the main challenges of Sky Airline is to become the best airline for Chile and we know that to achieve this we must strengthen our operation with agreements of this type that enhance our efficiency and safety," said Sky Airline CEO Holger Paulmann.
"We are pleased to welcome Sky Airline to the LEAP family of operators," said Gaël Méheust, President and CEO of CFM International. "The airline has distinguished itself in the Latin American market since it began operations in 2001. We believe that the addition of the advanced new LEAP engine will be a tremendous asset and will support Sky's continued growth."
The LEAP engine family has had an exceptional entry into commercial service with more than 26 customers currently operating more than 140 aircraft on four continents. Overall, the fleet has logged more than 210,000 flight cycles and 430,000 flight hours while maintaining CFM's industry-leading reliability and the highest utilization rate in this thrust class.
The LEAP is providing operators a 15 percent improvement in fuel consumption and CO2 emissions compared to today's best CFM56 engine, along with dramatic reductions in engine noise. All this technology is focused on providing better utilization, including CFM's legendary reliability out of the box; greater asset availability; enhanced time on wing margins to help keep maintenance costs low; and minimized maintenance actions, all supported by sophisticated analytics that enable CFM to provide tailored, predictive maintenance over the life of the product.
October 2017
Sky Airline to pursue IPO for continued growth in Latin America
The Chilean low-cost carrier Sky Airline is nowadays seeking financial options to fit their investments needs in the near future. For that purpose, top management has embarked in a non-deal roadshow with local and international investment banks in Santiago, Rio de Janeiro and New York in order to review different options to raise new funds in the midst of an ambitious expansion plan of US $1 billion, projected for 2020.
The plan includes a total fleet renewal that will add 21 brand new Airbus A320neo, with the delivery of the first 6 units taking place during 2018. They will completely replace today's fleet composed by 13 A319-100 and 2 A320-200 by 2020. The US $1 billion fleet investment is payable within the next 20 years, the actual length of the rental contract of the aircraft, and it's projected that this move will bolster in 24% the total seat capacity of the firm.
October 2017
Sky Airline announced inaugurated flights between Santiago (SCL) and Rosario (ROS)
On 3 October, with the latter airport becoming the airline's fourth route to Argentina from the Chilean capital after Buenos Aires Ezeiza, Cordoba and Mendoza. The latest route to Rosario will be flown by the carrier three times weekly on its fleet of 150-seat A319s.
Competition on the 930-kilometre sector comes in the form of LATAM Airlines, with the oneworld member already serving the airport pair four times weekly on its 168-seat A320s.
---