Sky Airline Reservations with Alternative Airlines
Make a Sky Airline Booking and Find Some Amazing Deals
---
About
Sky Airline is a Chilean airline based at Comodoro Arturo Merino Benitez International Airport (SCL) in Santiago, Chile. It's the second-largest airline in Chile, providing passenger, postal and cargo air transport services since 2001. When it first launched, Sky Airline initially operated to the key cities of Chile. As popularity and demand grew, the airline began offering flight tickets to other countries in South America. Today, the airline flies to over 25 destinations across five countries in the continent and is the second-largest airline in Chile behind
The airline is now known as the second-largest airline in Chile behind LATAM Chile.
Sky Airline was named the Best Regional Airline in South America in 2014 and 2015 in the Skytrax World Airline Awards.
The airline has a Peruvian subsidiary airline, Sky Airline Perú.
---
Fleet
Sky Airline's fleet consists exclusively of Airbus aircraft. The fleet operates planes that are within the Airbus A320 family. It currently uses Airbus A320-200 and Airbus A320-neo models and has large orders of Airbus A321neo and A321XLR, which are expected to be delivered throughout 2020.
---
Destinations
Domestic Destinations
| CITY | AIRPORT |
| --- | --- |
| Antofagasta | Cerro Moreno International Airport (ANF) |
| Arica | Chacalluta International Airport (ARI) |
| Balmaceda | Balmaceda Airport (BBA) |
| Calama | El Loa International Airport (CJC) |
| Copiapó | Desierto de Atacama Airport (CPO) |
| Concepción | Carriel Sur International Airport (CCP) |
| El Salvador | Ricardo García Posada Airport (ESR) |
| Iquique | Diego Aracena International Airport (IQQ) |
| La Serena | La Florida Airport (LSC) |
| Osorno | Osorno Airport (ZOS) |
| Puerto Montt | El Tepual Airport (PMC) |
| Pucon | Pucón Airport (ZPC) |
| Puerto Natales | Teniente Julio Gallardo Airport (PNT) |
| Punta Arenas | Presidente Carlos Ibáñez del Campo International Airport (PUQ) |
| Santiago | Comodoro Arturo Merino Benitez International Airport (SCL) |
| Temuco | La Araucanía Airport (ZCO) |
| Valdivia | Pichoy Airport (ZAL) |
International Destinations
COUNTRY
CITY
AIRPORT
Argentina
Buenos Aires
Ministro Pistarini International Airport (EZE)
Cordoba
Ingeniero Aeronáutico Ambrosio L.V. Taravella International Airport (COR)
Rosario
Islas Malvinas International Airport (ROS)
Mendoza
Governor Francisco Gabrielli International Airport (MDZ)
Brazil
Florianopolis
Hercílio Luz International Airport (FLN)
São Paulo
São Paulo–Guarulhos International Airport (GRU)
Rio de Janeiro
Rio de Janeiro-Galeão International Airport (GIG)
Peru
Lima
Jorge Chávez International Airport (LIM)
Uruguay
Montevideo
Carrasco International Airport (MVD)
Punta Del Este
Capitán de Corbeta Carlos A. Curbelo International Airport (PDP)
---
Route Map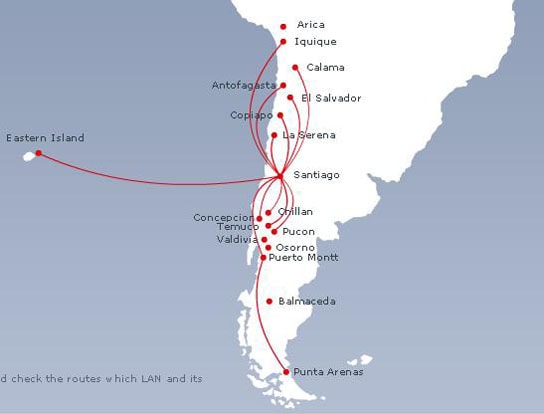 ---
Baggage
Carry-on Baggage
Passengers with a ZERO fare ticket are entitled to one free personal item which can be a handbag, laptop and bag, jacket etc. ZERO fare passengers have the option to purchase a carry-on bag at an additional cost.
Passengers with a PLUS or FULL fare ticket already have a carry-on bag included in the price of their ticket, as well as a personal item.
Carry-on baggage must not exceed the dimensions of 25 cm x 35 cm x 55 cm (9" x 13" x 21") and cannot weigh more than 20 kg.
Checked Baggage
ZERO fare passengers aren't given a free checked baggage allowance and must purchase a checked bag if they want one.
PLUS fare passengers are allowed one free item of checked baggage and FULL fare passengers are allowed two free items of checked baggage.
No one piece of baggage can weigh more than 23 kg and it must fit within the overall dimensions of 158 cm/62" (height x width x length).
---
Check-In
Online Check-In
Passengers can check-in through the Sky Airline online check-in page, where they'll need to enter their PNR and the last name of the person whose name is attached to the booking.
Online check-in opens 48 hours and closes one hour prior to departure time. For customers requiring special assistance, travelling with pets or for unaccompanied minors, check-in is only available at the airport.
Airport Check-In
Airport check-in closes 40 minutes prior to the flight departure. Sky Airline recommends arriving two hours before departure for domestic flights and three hours prior to departure for international flights.
---
Economy Class
Economy Class is the only cabin class that's available on Sky Airline flights. The cabin is clean and comfortable, with the Economy Class service delivered by the airline's trained cabin crew.
Facilities
Passengers can order food and drink from the airline's in-flight menu.
Depending on the fare chosen, each passenger will have a different baggage allowance.
Seats
Economy Class seats are set out in a 3 x 3 configuration and give the standard seat width and legroom for Airbus A320 aircraft.
---
In-Flight Entertainment
There's no in-flight entertainment system onboard Sky Airline flights. However, the airline does provide each passenger with the latest issue of the in-flight magazine, which has recent news and updates from the airline, as well as information on some of Sky Airlines' most popular destinations.
---
WIFI
There's no WIFI system on board Sky Airline flights.
---
Food
Passengers can order a range of snacks and drinks from the airline's in-flight menu. The menu consists of a selection of sandwiches, salty or sweet snacks, as well as hot drinks, soft cold drinks and alcoholic beverages.
The airline offers a number of different combos, so passengers can save money by pairing a snack or sandwich with a drink.
---
Frequent Flyer
The airline currently doesn't have a frequent flyer program in place to reward returning passengers. However, it used to run a frequent flyer program named Sky Plus.
---
Airline Alliance
Sky Airlines isn't a member of any airline alliance at this time.
---
Hub Airport
Comodoro Arturo Merino Benitez International Airport
Sky Airline's hub airport is Comodoro Arturo Merino Benitez International Airport in Santiago, Chile. Santiago International Airport serves domestic and international services to destinations in Europe, Oceania and the Americas. It has two runways and has a passenger capacity of 20 million passengers. Arturo Merino Benitez is Chile's largest aviation facility and the busiest international air passenger gateway to Chile.
The airport is also a hub for JetSMART and LATAM Chile. Other airlines which operate at this airport include Aerolineas Argentinas, Aeromexico, Avianca, Gol and the startup Infinity Airlines.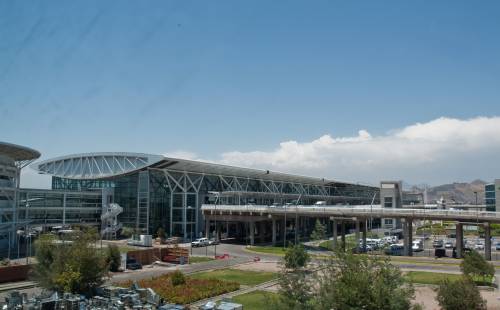 Credit: Phillip Caper on Flickr
---
Alternative Alternatives to Sky Airline