Search & Buy JetSmart Flights
Airlines will always try to sit children with their parents (subject to check-in)
Some airlines will allow travel for unaccompanied minors. Please email us to check.
The fare is based on the child's age on the date of travel.
More detailed information can be found here Traveling with children
Most airlines will let infants travel with their parent(s) for free. However some airlines will charge up to 10% of the adult ticket price. Click on 'Price Breakdown' to find out more.
If you are pregnant, but due before the flight departure date, please contact us once your baby is born and has a name. We can then add him/her to your ticket.
Infants will not be given a seat. The airlines expect parents to travel with them on their lap.
Airlines regard infants as being under 24 months old.
The fare is based on the child's age on the date of travel.
More detailed information can be found here Traveling with children
Buy
JetSmart

Flights
JetSMART Reservations with Alternative Airlines
Make a JetSMART Booking and Find Some Amazing Deals
---
About JetSMART
JetSMART is a Chilean airline based in Santiago, Chile. JetSMART made its formal request for an air operator certificate to the Chilean Civil Aviation Authority in January 2017, which it gained later in the year. In July 2017, JetSMART commenced operations with its first flight service from Santiago to Calama in northern Chile.
From its hub at Comodoro Arturo Merino Benitez International Airport, also known as Santiago International Airport, JetSMART flies to over 15 destinations all domestically within Chile with a fleet of eight aircraft. JetSMART also files one international route to Lima, Peru, which it launched in early 2018 and three other international routes to Argentina, which it launched in late 2018. JetSMART has long-term plans to fly to various different destinations across South America.
JetSMART is one of two South American airlines owned by Indigo Partners — the other being JetSMART Argentina.
---
JetSMART Fleet
The JetSMART fleet currently includes five A320-200s. A further six A320-200s are expected to arrive in the coming year. JetSMART also has 56 Airbus A320neo and 14 Airbus A321neo on order.
---
JetSMART Baggage
Carry-on Baggage
One piece of carry-on baggage with a maximum weight of 8kg is included in your ticket fare. Carry-on baggage must not exceed maximum dimensions of 45cm x 35cm x 25cm.
Checked Baggage
Checked Baggage, as well as additional carry-on baggage, can be added to your booking via the JetSMART website. Prepaid baggage must not exceed 23kg. Nor have a total dimensions of more than 158 lineal cm. Any baggage that is larger than these dimensions will be charged as oversized baggage.
---
JetSMART Check-in
Online Check-In
Online check-in is open from 72 hours before your flight and closes 40 minutes prior. Passengers can check-in for their JetSMART flight online by visiting the JetSMART web check-in page.
Airport Check-In
Passengers can also check-in for their JetSMART flight by visiting a JetSMART check-in agent at the JetSMART check-in desk at the airport of departure. The airport is open between 120—40 minutes before scheduled flight departure time for domestic flights and 180—60 minutes before scheduled flight departure time before international flights.
---
JetSMART Domestic Destinations
Buenos Aires,
Argentina
Córdoba,
Argentina
Antofagasta,
Chile
Calama,
Chile
Copiapó,
Chile
Concepcion,
Chile
La Serena,
Chile
Puerto Montt,
Chile
Santiago,
Chile
Temuco,
Chile
Punta Arenas,
Chile
Iquique,
Chile
Arequipa,
Peru
Lima,
Peru
---
Book JetSMART Flights in English
Flying around Chile? Find JetSMART flights in English with Alternative Airlines. We want to provide our customers with a swift booking process without any confusion or misunderstandings, that's why we offer JetSMART flights in English. You can also count on our excellent customer service team to help you in English with any queries about your flight!
---
JetSMART Hub Airport
Comodoro Arturo Merino Benítez International Airport
Comodoro Arturo Merino Benítez International Airport, also known as Santiago International airport, is the busiest international airport in Chile. It is the ninth busiest airport in Latin America in terms of passenger traffic. Airlines such as Aeroméxico, LATAM Chile, United Airlines, Avianca and new startup airline Infinity Airlines operate flights out of the airport.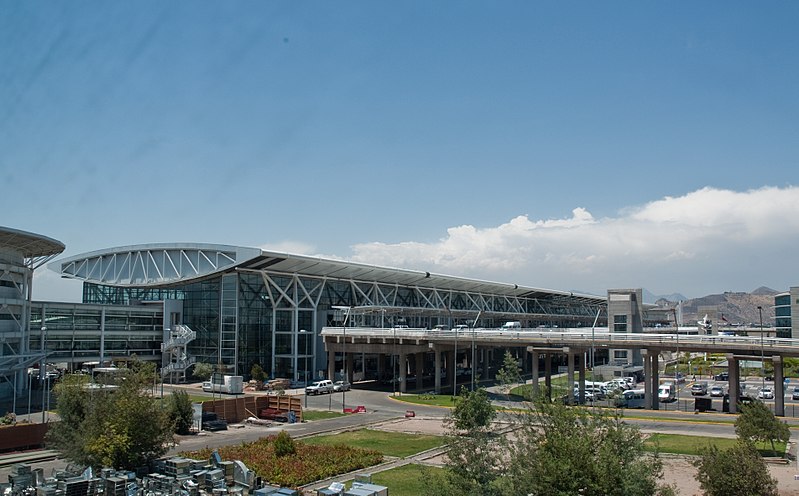 Photo credit: Phillip Capper
---
Alternative Airlines to JetSMART
Please click the logos below to find airlines which fly similar routes:
---
JetSMART News
14th December 2018
JetSMART takes in another Airbus A320
JetSMART recently announced it will add another Airbus A320 to its already growing fleet of Airbus family. JetSMART's fleet is already made up of entirely Airbus A320, however, the new one which recently arrived in Córdoba will be the airlines' first aircraft registered in Argentina. Along with the arrival of this new aircraft, CEO of JetSMART, Estuardo Ortiz, stated that the airline has the goal of having 100 aircraft by the end of 2026.
23rd May 2018
JetSMART is the fourth cheapest airline in the world
Recently, JetSMART was highlighted as the fourth cheapest airline in the world for domestic routes. Global Flight Pricing released a report that shows that the Chilean airline offers the fourth cheapest domestic flights in the world based on the average price of tickets per km. The airline was placed above Indonesia AirAsia Extra but behind Indonesia AirAsia.
The report also shows that airlines from the countries of Australia, Indonesia, and India dominate the cheapest domestic flights in the world for economy class tickets. So, its good for Chile to have JetSMART representing their country among the others. Here is a list of the top 10 cheapest airlines in the world for domestic routes, based on the average price per km:
1. Tigerair Australia
2. Jetstar
3. Indonesia AirAsia
4. JetSMART
5. Indonesia AirAsia Extra
6. Pobeda Airlines LLC
7. Citilink Indonesia
8. Batik Air
9. Lion Mentari Airlines
10. Sky Airline
JetSMART launches new route to Valdivia
JetSMART has launched flights between Santiago (SCL) and Valdivia (ZAL), which will be the carrier's 11th route from the Chilean capital since it began commercial operations last summer. This will be four times weekly using a fleet of A320s, of which it currently has 5. The area has enormous potential for the tourism industry and they hope that this will help them against their competitors, Sky Airline and LATAM Airlines.
21st November 2017
Chile's JetSMART officially launched their Santiago-Lima route and is evaluating the implementation of the regional flights in Peru
In November 2017, Chile's JetSMART launched their first Santiago-Lima flight. To date, the aforementioned low cost airline operates 11 regional routes in Chile. With the launch of its new international destination it will compete directly with Sky Airlines, which also offers tickets between Lima and Santiago under the 'low cost' scheme. JetSMART informed that the price of the tickets for its new route will start from approximately 69 dollars (ticket cost plus taxes) for the Santiago-Lima section; while the value will be 59 dollars for the Lima-Santiago section. Currently the only low cost airline operating in our country with regional routes is the Colombian Viva Air.
28th September 2017
Chile's JetSMART continues its expansion by launching a 5-times weekly service between Santiago and Puerto Montt
JetSMART, the new Chiliean ultra-low-cost carrier, continued its expansion on 14 September, starting a five times weekly service between Santiago (SCL) and Puerto Montt (PMC). The 917-kilometre route will be flown by the carrier on its fleet of A320s, with it joining LATAM Airlines (55 weekly flights), Sky Airline (29) and Latin American Wings (11) on the city pair.
26th September 2017
JetSMART cites numerous opportunities for expansion
JetSMART is casting a wide net through South America for potential expansion, but the ULCC start-up aims to create a stable platform in Chile before aggressively expanding to other countries in the region. However, the airline plans to use rights it has secured for service from Santiago to Lima in the near future.

Backed by the ULCC specialist Indigo Partners, JetSMART is learning the nuances of operating within Latin America, including navigating complex ownership rules imposed by some countries, and establishing a home market base where rivals have already positioned themselves to compete with new low cost entrants. Although there has previously been some discussion about Indigo making moves in the Canadian market as aspiring ULCCs are working toward a launch, the company is not yet ready to commit to Canada as it continues to study the country's regulations governing foreign airline ownership.
29th August 2017
Chile's JetSMART launches service
JetSMART has launched commercial service, and plans to fly to eight domestic destinations in the coming months. The Santiago-based low-cost carrier operated its first revenue flight, from Santiago to Calama in northern Chile, on 25 July. It is operating nine-times weekly on the route.
The airline will face competition on most of its planned routes, FlightGlobal schedules data show. LATAM and Sky operate from Santiago to Antofagasta, Concepcion, Copiapo, La Serena, Puerto Montt and Temuco. They also offer nonstop service between Antofagasta and La Serena. Another Chilean carrier, Latin American Wings, operates from Santiago to both Concepcion and Puerto Montt.
February 2017
JetSMART brings some more colour to Chile's aviation market
JetSMART made its formal request for an air operator certificate to the Chilean Civil Aviation Authority in January 2017 and will reveal more about its plans, including its operational base once this process has been completed. It remains tight-lipped over its development but is expected to serve a network covering domestic and regional international services. The famous tail artwork that has brought some colour to airports across North America and the Caribbean through the operations of Frontier Airlines, will be replicated across South America as Arizona-based investment firm Indigo Partners establishes a new ultra-low-cost operation in Chile. JetSMART will launch operations this year, growing to a fleet of three A320s by the end of the year, and nine by the end of 2018. Having already successfully helped to establish and develop LCCs such as Wizz Air in Europe and Volaris in Mexico, Indigo Partners plans to play a major role in the continued emergence of the sector across Latin and South America.
"We at Indigo have spent the last 15 years developing and refining this business model and we believe that the arrival of a similar airline in Chile will be well received," said William Franke, co-founder and managing partner of Indigo Partners and one of the world's most-influential investors in budget airlines.
"In Europe, low-cost airlines account for 40 per cent of all air travel. In the United States, they represent about seven per cent and the market share has grown for these companies by 10.3 per cent in the last three years. By 2034, low-fare operators are expected to account for 21 per cent of the world market," he added.
JetSMART will adopt the same no frills concept of Indigo's other entities permitting customers to pay for the services they require in return for a reduced basic air fare. This model has shown a strong stimulation of demand in other parts of the world making flying more affordable for travelers. "In Chile [we] believe there is an overlooked customer segment wanting to fly, but for the right price," explained Franke. "Chile is an attractive entry point for the launch of a low-fare carrier, it has economic stability and aviation traffic growth; a growing economy; a supportive and fair regulatory environment; and open skies and strong bilateral treaties with neighbouring countries."
The airline will be piloted by respected industry executive Estuardo Ortiz, a former executive vice president and chief operating officer at both Avianca and TACA Airlines. "The model at JetSMART will mean lower airfares for all Chileans, which will encourage non-fliers to fly and regular fliers to fly to various points in Chile and beyond," he explained.
---