Airlines will always try to sit children with their parents (subject to check-in)
Some airlines will allow travel for unaccompanied minors. Please email us to check.
The fare is based on the child's age on the date of travel.
More detailed information can be found here Traveling with children
Most airlines will let infants travel with their parent(s) for free. However some airlines will charge up to 10% of the adult ticket price. Click on 'Price Breakdown' to find out more.
If you are pregnant, but due before the flight departure date, please contact us once your baby is born and has a name. We can then add him/her to your ticket.
Infants will not be given a seat. The airlines expect parents to travel with them on their lap.
Airlines regard infants as being under 24 months old.
The fare is based on the child's age on the date of travel.
More detailed information can be found here Traveling with children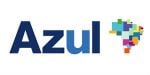 Search & Book Flights

With Azul Airlines
Cancellation Protection
Protects
Trusted Choice
Rated 4.5 Stars. Based on 3,581 service ratings over the past year
Dedicated customer service team on hand to help
Secure payments
Cancellation Protection
Protects
Trusted Choice
Rated 4.5 Stars. Based on 3,581 service ratings over the past year
Dedicated customer service team on hand to help
Secure payments
Buy
Azul Airlines

Flights
Azul Reservations with Alternative Airlines
Make a Booking and Find Some Amazing Deals
---
About
Azul Airlines is a Brazillian low-cost airline. The airline is based at Viracopos International Airport (VCP), Campinas and offers scheduled passenger flights, mainly to destinations within Brazil but also to other parts of South America, North America and Europe. Along with LATAM Brasil and GOL, Azul Airlines is one of the three big airlines of Brazil. Founded in 2008, It has been the fastest-growing airline in Brazil in recent times and has the largest airline route network in the country in terms of destinations served, with flights to more than 100 destinations.
The airline launched its first flights in late 2008 with flights between Campinas, Salvador and Porto Alegre. In the years following, the airline continued to grow out its domestic route network and rapidly expanded it in 2012 when it acquired the largest regional airline at that time, TRIP Linhas Aéreas. In 2014, it launched its first international services, with regular intercontinental flights flying to Fort Lauderdale and Orlando.
Azul was the winner of the 'Best Regional Airline in South America', 'Best Airline Staff in South America' and 'Best Airline Cabin Cleanliness in South America' in the 2019 Skytrax awards.
---
Destinations
Azul flies to domestic destinations across Brazil such as Belo Horizonte, Brasilla, Campinas, Fortaleza, Macapá, Natal, Porto Velho, Rio de Janeiro, Säo Paulo. In addition, it flies to international destinations including Buenos Aires, Lisbon, Porto, Orlando, Montevideo and more.
Domestic Destinations
CITY
AIRPORT
Alta Floresta
Piloto Osvaldo Marques Dias Airport (AFL)
Altamira
Altamira Airport (ATM)
Aracaju
Santa Maria Airport (RIA)
Aracati
Dragão do Mar Airport (ARX)
Araçatuba
Dario Guarita Airport (ARU)
Araxá
Romeu Zema Airport (AAX)
Barra do Garças
Barra do Garças Airport (BPG)
Barreiras
Barreiras Airport (BRA)
Bauru/Arealva
Moussa Nakhl Tobias Airporrt (JTC)
Belém
Val de Cans–Júlio Cezar Ribeiro International Airport (BEL)
Belo Horizonte
Tancredo Neves International Airport (CNF)
Boa Vista
Atlas Brasil Cantanhede International Airport (BVB)
Bonito
Bonito Airport (BYO)
Brasília
Pres. Juscelino Kubitschek International Airport (BSB)
Cabo Frio
Cabo Frio International Airport (CFB)
Cacoal
Capital do Café Airport (OAL)
Caldas Noval
Nelson Riberio Guimaraes Airport (CLV)
Campina Grande
Pres. João Sussuna Airport (CPV)
Campinas
Viracopos International Airport (VCP)
Campo Grande
Campo Grande International Airport (CGR)
Campos dos Goytacazes
Bartolomeu Lysandro Airport (CAW)
Carajás/Parauapebas
Carajás Airport (CKS)
Cascavel
Adalberto Mendes da Silva Airport (CAC)
Caxias do Sul
Hugo Cantergiani Airport (CXJ)
Chapecó
Serafin Enoss Bertaso Airport (XAP)
Corumbá
Corumbá International Airport (CMG)
Cuiabá
Marechal Rondon International Airport (CGB)
Curitiba
Alfonso Pena International Airport (CWB)
Diviniópolis
Brig. Cabral Airport (DIQ)
Dourados
Francisco de Matos Pereira Airport (DOU)
Feira de Santana
Gov. Durval Carneiro Airport (FEC)
Fernando de Noronha
Gov. Carlos Wilson Airport (FEN)
Florianópolis
Hercílio Luz International Airport (FLN)
Fortaleza
Pinto Martins International Airport (FOR)
Foz do Iguaçu
Cataratas International Airport (IGU)
Goiânia
Santa Genoveva Airport (GYN)
Governador Valadares
Cel. Altino Machado de Oliveria Airport (GVR)
Ilhéus
Jorge Amado Airport (IOS)
Imperatriz
Pref. Renato Moreira Airport (IMP)
Jaguaruna
Humberto Ghizzo Bortoluzzi Regional Airport (JJG)
Jericoacoara
Comte. Arinton Pessoa Regional Airport (JJD)
Ji-Paraná
José Coleto Airport (JPR)
João Pessoa
Presidente Castro Pinto International Airport (JPA)
Joinville
Lauro Carneiro de Loyola Airport (JOI)
Juazeiro do Norte
Orlando Bezerra de Menezes Airport (JDO)
Juiz de Fora
Pres. Itamar Franco Airport (IZA)
Lages
Antônio Correia de Macedo Airport (LAJ)
Lençóis
Cel. Horácio de Mattos Airport (LEC)
Londrina
Gov. José Richa Airport (LDB)
Macapá
Alberto Alcolumbre International Airport (MCP)
Maceió
Zumbi dos Palmares International Airport (MCZ)
Manaus
Eduardo Gomes International Airport (MAO)
Marabá
João Correa da Rocha Airport (MAB)
Marília
Frank Miloye Milenkowichi Airport (MII)
Maringá
Silvio Name Júnior Regional Airport (MGF)
Montes Claros
Mário Ribeiro Airport (MOC)
Mossoró
Gov. Dix-Sept Rosado Airport (MVF)
Natal
Gov. Aluízio Alves International Airport (NAT)
Navegantes
Min. Victor Konder International Airport (NVT)
Palmas
Brig. Lysias Rodrigues Airport (PMW)
Parnaíba
Prefeito Dr. João Silva Filho International Airport (PHB)
Passo Fundo
Lauro Kurtz Airport (PFB)
Pato Branco
Juvenal Loureiro Cardoso Airport (PTO)
Paulo Afonso
Paulo Afonso Airport (PAV)
Pelotas
João Simões Lopes Neto International Airport (PET)
Petrolina
Sen. Nilo Coelho Airport (PNZ)
Ponta Grossa
Comte. Antonio Amilton Beraldo Airport (PGZ)
Porto Alegre
Salgado Filho International Airport (POA)
Porto Seguro
Porto Seguro Airport (BPS)
Porto Velho
Gov. Jorge Teixeira de Oliveira International Airport (PVH)
Presidente Prudente
Presidente Purdente Airport (PPB)
Recife
Guararapes–Gilberto Freyre International Airport (REC)
Ribeirão Preto
Leite Lopes Airport (RAO)
Rio de Janeiro
Galeão–Antonio Carlos Jobim International Airport (GIG)
Santos Dumont Airport (SDU)
Rio Verde
Gal. Leite de Castro Airport (RVD)
Rondonópolis
Maestro Marinho Franco Airport (ROO)
Salvador da Bahia
Deputado Luís Eduardo Magalhães International Airport (SSA)
Santa Maria
Santa Maria Airport (RIA)
Santarém
Maestro Wilson Fonseca Airport (STM)
Santo Ângelo
Sepé Tiaraju Airport (GEL)
São José do Rio Preto
Prof. Eribelto Manoel Reino Airport (SJP)
São José dos Campos
Prof. Urbano Ernesto Stumpf Airport (SJK)
São Luís
Mal. Cunha Machado International Airport (SLZ)
São Paulo
Congonhas Airport (SAO)
Guarulhos–Gov André Franco Montoro International Airport (GRU)
Sinop
Pres. João Figueiredo Airport (OPS)
Tabatinga
Tabatinga International Airport (TBT)
Tefé
Tefé Airport (TFF)
Teixeira de Freitas
9 de maio Airport (TXF)
Teresina
Sen. Petrônio Portella Airport (THE)
Toledo
Luiz dal Canalle Filho Airport (TOW)
Três Lagoas
Plínio Alarcom Airport (TJL)
Uberaba
Mário de Almeida Franco Airport (UBA)
Uberlândia
Ten. Cel. AV. César Bombonato Airport (UDI)
Uruguaiana
Ruben Berta International Airport (URG)
Valença
Valença Airport (VAL)
Varginha
Maj. Brig. Trompowsky Airport (VAG)
Vilhena
Brig. Camarão Airport (BVH)
Vitória
Eurico de Aguiar Salles Airport (VIX)
Vitória da Conquista
Pedro Otacílio Figueiredo Airport (VDC)
International Destinations
COUNTRY
CITY
AIRPORT
Argentina
Buenos Aires
Ministro Pistarini International Airport (EZE)
Córdoba
Ingeniero Aeronáutico Ambrosio L.V. Taravella International Airport (COR)
Rosario
Islas Malvinas International Airport (ROS)
San Carlos de Bariloche
Teniente Luis Candelaria Airport (BRC)
France
Cayenne
Félix Eboué Airport (CAY)
Portugal
Lisbon
Humberto Delgado Airport (LIS)
Porto
Humberto Delgado Airport (OPO)
United States
Fort Lauderdale
Fort Lauderdale–Hollywood International Airport (FLL)
Orlando
Orlando International Airport (ORL)
Uruguay
Montevideo
Carrasco/Gal. Cesáreo L. Berisso International Airport (MVD)
Punta del Este
Capitán de Corbeta Carlos A. Curbelo International Airport (PDP)
---
Route Map
Please see the route map below for an outline of the airline's destinations: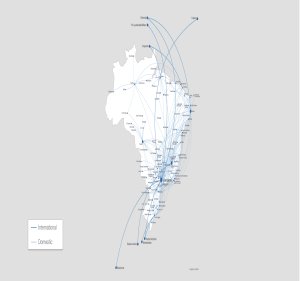 ---
Baggage
Carry-On Baggage
Passengers are entitled to 10 kg (22 lbs) of carry-on baggage. This baggage must fit within the dimensions of 35 cm x 25 cm x 55 cm (13.7" x 9.8" x 21.6"). This applies to both domestic and international flights, for all fares.
Checked Baggage
The free checked baggage allowance will differ depending on the route that the passenger is flying and the type of fare they have purchased.
| FARE | NO. OF BAGGAGE | WEIGHT ALLOWANCE (max) |
| --- | --- | --- |
| AZUL | 1 | 23 kg |
| MAIS AZUL | 1 | 23 kg |
Flights to South America (excluding Brazil)
| FARE | NO. OF BAGGAGE | WEIGHT ALLOWANCE (max) |
| --- | --- | --- |
| AZUL | 0 | n/a |
| MAIS AZUL | 1 | 23 kg |
Flights to the US & Europe
CLASS
FARE
NO. OF BAGGAGE
WEIGHT ALLOWANCE (max)
ECONOMY
AZUL
0
n/a
MAIS AZUL
1
23 kg
AZUL SUPER
2
23 kg (per piece)
BUSINESS
-
3
23 kg (per piece)
---
Economy Class
Economy Class is the airline's most basic cabin and is available on short-haul, medium-haul and long-haul flights.
Facilities
On international flights, passengers can enjoy a complimentary meal and drink service. International passengers are also given access to the airline's in-flight entertainment system on a seat-back TV screen.
On domestic flights, passengers can order a range of snacks drinks from the airline in-flight menu. Domestic passengers can enjoy live TV on a seat-back TV screen on select flights.
Seats
On domestic flights, seats are set out in either a 2 x 2 or 3 x 3 formation and give 43–45 cm (17–18") of width and 76–86 cm of seat pitch. Passengers can pay extra to sit in an 'Espaço Azul' seat. These seats are located in the first number rows of the aircraft and give extra legroom.
On international flights, seats are set out in a 2 x 4 x 2 formation and give 45 cm of legroom and 78–86 cm (31–34") of seat pitch.
---
Business Class
The Business Class cabin is available on long-haul flights only and is perfect for passengers that need the extra space, privacy and comfort to relax or get on with work.
Facilities
Passengers are given priority check-in and boarding, as well as access to the airlines Business Class lounge.
Passengers are treated to a welcome drink and snack on the plane before the flight has taken off and each passenger is given an amenity kit, with a blanket, pillow and other accessories.
In-flight, passengers can enjoy the airline's in-flight entertainment system through a personal TV, with headphones provided. Meals are provided for free, with a choice from the airline's Business Class menu and bar.
Seats
Seats are set out in a 1 x 2 x 1. Seats give extra width and legroom and can recline and movement is controlled by a touchpad. All Business Class seats transform into a fully lie-flat bed and have storage compartments and power outlets attached to them.
---
In-Flight Entertainment
Azul offers in-flight entertainment on most flights.
On international flights, passengers can enjoy a selection of local and international films, TV shows, music and games through the airline's in-flight entertainment system, which can be accessed through a personal TV screen on the back of each seat.
On domestic flights, passengers can watch live TV from a choice of 48 different channels on SKY TV. This is provided on a seat-back TV screen.
---
WIFI
WIFI isn't installed on any Azul flights.
---
Food
All passengers are given complimentary meals and drinks on international flights, with Business Class passengers treated to a special dining experience from the airline's Business Class menu and bar.
Passengers on domestic flights have the option to order from a range of sweet and salty snacks and hot, cold, alcoholic and non-alcoholic beverages.
---
Check-In
Online Check-In
Passengers can check-in online for their flight by visiting the Azul online check-in page, clicking on the 'my reservations' tab and entering their reservation code and last name. Online check-in opens 72 hours before scheduled flight departure time and closes 90 minutes before.
Airport Check-In
Passengers that don't check-in online must check-in at the airport. This can be done by visiting a check-in agent at the check-in desks at the airport of departure or by using one of the self-service kiosks.
---
Frequent Flyer Program
TudoAzul
TudoAzul is Azul's Frequent Flyer Program. Members accumulate points based on the airfare paid rather than on miles flown and redeem these points to purchase or upgrade future flights on Azul.
As a partner of Azul, passengers can also earn TudoAzul points on United Airlines flights and MileagePlus points on Azul flights, which can be used to redeem rewards on either airline.
---
Airline Alliance
Azul isn't a member of any airline alliance at this time. However, the airline does have codeshare or interline agreements with the following airlines:
Codeshare & Interline Agreements
---
Fleet
The airline has a mixed fleet, made up of widebody, narrowbody and regional jets. The airline has aircraft manufactured by Airbus, Embraer and ATR. Overall, it has more than 130 aircraft within its fleet.
---
Hub Airport
Viracapos International Airport
Viracopos International Airport is an international airport serving Campinas, Sao Paulo, Brazil and is Azul's main airport hub. The airport is mainly used by airlines flying across South America, as well as to parts of North America and Europe. The airport has one terminal and one runway.
Azul is the only airline that uses Viracopos International as a hub. However, other airlines that operate to and from this airport include Gol Airlines and LATAM Brasil.
---
Alternative Airlines to Azul Airlines
Please click on the logos below to find out more about other airlines that fly similar route to Azul Airlines:
---
Book Azul Airlines Flights in English
Looking to buy Azul Airlines flights in English? At Alternative Airlines we offer flights in English so that you don't have to worry about misunderstandings at the time of booking. Search from hundreds of flights and rely on our excellent customer service team to help you if you have a problem with your booking.