Search & Book Air Europa Flights
Book
Air Europa

Flights

Book Direct with Air Europa and Alternative Airlines
Air Europa is a Spanish airline headquartered in Llucmajor, Majorca, in Spain. Air Europa's hub can be found in the Spanish capital of Madrid in Madrid Barajas Airport. Founded in 1986 Air Europa has grown to become the third largest airline in Spain behind only Iberia and Vueling. The Spanish carrier is 100% owned by Globalia, a travel and tourism company. In September 2007 Air Europa became a member of the SkyTeam alliance.
Air Europa currently operates flights to over 44 destinations across Europe as well as North and South America. These destinations include Madrid, Sao Paulo, Majorca, Lisbon, London, Miami, Cancun, Malaga, Alicante, Barcelona, Bilbao, Minorca, Copenhagen, Frankfurt, Helsinki, Havana, San Juan, Santo Domingo, Punta Cana, Dakar, Tel Aviv and Agadir.
Operating across 3 different continents on short, medium and long haul flights Air Europa has a total fleet size of 56 aircraft, ranging from 49 to 388 seaters. The fleet consists of Airbus, Boeing, ATR, and Embraer aircraft including Airbus' 330 series both 200 and 300, Boeing's 737 and 787 aircraft, Embraer jets and ATR 72's. Most of Air Europa's aircraft offer business and economy seats, however on their smaller aircraft only economy seats are available.
In September 2007 Air Europa became a member of the SkyTeam Alliance. SkyTeam was founded in June 2000 and has grown to be the second largest alliance in the world, second only to Star Alliance, in terms of passengers and number of members. SkyTeam currently consists of 20 carriers from five continents operating a wider service for all of their passengers worldwide. KLM have codeshare agreements with most SkyTeam members including; Aer Lingus, Bangkok Airways, Georgian Airways, Gol, Jet Airways, Malaysia Airlines, Olympic Air, Pegasus Airlines, Sichuan Airlines, Singapore Airlines and many others.
---
News:
April 2017
Air Europa announced it had signed a codeshare agreement with Ethiopian Airlines effective from 11 April 2017. The new partnership is a free sale codeshare agreement, thereby allowing the partner airlines access to each other's network by creating smooth connection at their respective hubs. It allows Air Europa to have presence on the African continent and offer its passengers a wider choice of travel destinations. In addition, Air Europa also provides Ethiopian Airline´s passengers with excellent connectivity with other European, Spanish and American destinations to where Air Europa flies through its Madrid hub.
April 2017
Air Europa announced it had extended planned Boeing 787-8 operations for Madrid – Tel Aviv market, set to enter service in June 2017. The Dreamliner is currently scheduled on 09JUN17 and 12JUN17, followed by regular service from 03JUL17. Originally the 787 was scheduled to operate until 16OCT17, however this is now being extended into winter 2017/18 season. In June 2017, Air Europa, which already flies daily to New York JFK and Miami from its Madrid (MAD) hub, commenced its third US destination on 14 June, with the addition of a three times weekly operation to Boston (BOS). Flight UX 31 will be flown by the SkyTeam carrier's A330-200 fleet, and will face direct competition from Iberia, which serves the 5,470-kilometre sector on a daily basis.
March 2017
Air Europa celebrated the arrival of its sixth Dreamliner Boeing 787-8, committing the aircraft to its daily Madrid to Havana route. The flight to Cuba connects with the Air Europa twice-daily flights between London Gatwick and Madrid's Adolfo Suárez Madrid Barajas Airport. Air Europa has recently committed to investing $3.5 billion for the purchase of a total of 22 Dreamliners which will be delivered progressively by 2022. With 6 Dreamliners now in operation, and a further 2 to be added this year, the 787-8 Dreamliner is a key part of Air Europa's constantly expanding fleet. 14 additional 787-9 models will also come into operation over the next few years.
March 2017
Air Europa also announced that it is stepping up its frequency of its flights on the Tel Aviv - Madrid route to six weekly flights. The airline is thereby doubling its number of seats on the route. The route will use Boeing 787 Dreamliners for route, Boeing's newest model, which is usually used in trans-Atlantic flights (on United Airlines flights to the US, for example). The additional flights will be on Tuesdays and Thursdays, starting in July 2017. Many of the passengers with the carrier continue on from Madrid to other destinations, mainly in Central and South America, such as Buenos Aires, Sao Paolo, Bogota, Havana, and others.
It was announced in March 2017 that Air Europa will fly the Boeing 787 Dreamliner to Cuba. Air Europa will include a Boeing 787 Dreamliner, one of the newest planes in the world, to cover the Madrid-Havana route, announced in the Cuban Ministry of Tourism. The aircraft, that arrived in Havana this Wednesday and will fly on daily basis, carries 296 passengers, 22 of them in executive class. This step (including a top aircraft to the fleet that flies to Cuba) shows that Air Europa gives high priority to the Caribbean nation and also that the country has the infrastructure to accommodate the latest technologies to give more comfort to travelers
In February 2017, Air Europa announced it was holding preliminary talks with the Dominican Republic's Helidosa Aviation Group over possible investments in the Dominican Republican. Helidosa Aviation specializes in passenger charter as well as medevac services across the Caribbean (including French Territories), Central and South America, Europe, and the Eastern United States. Operationally, its fleet consists of Cessna 650 Citations, Cessna 560 XL/XLS Citations, Cessna 550B Citations, and various helicopters.
---
Baggage:
| | | |
| --- | --- | --- |
| | | Air Europa offers its passengers 23kg checked baggage for economy, 2 pieces of 23kg for business on domestic and European flights and for Business intercontinental flights 3 pieces up to 23kg each. For cabin baggage allowance, Air Europa offers its passengers 1 piece of up to 10kg for economy, 14kg for domestic and European flights in Business and Intercontinental flights 2 pieces of 18kg in Business. |
| | | |
| | | Air Europa operates a loyalty programme called SUMA through which you are rewarded with 2 miles for each €1 you have paid for your ticket. You can also earn Miles on flights taken with SkyTeam Alliance airlines. SUMA programme allows the earning and redeeming of SUMA miles with all SkyTeam Alliance airlines and with our partners including Amazon, Be Live, Europcar and NH Hotel Group. |
| | | |
| | | Their main hub is the Palma de Mallorca Airport, and has an alliance with SkyTeam, with other international airlines such as Aerolineas Argentinas, Aeromexico, Air France, Alitalia, Delta Airlines, Garuda Indonesia, among many others. Air Europa announced that it had placed a new order with Boeing for 14 787 Dreamliners in addition to the eight B787s already acquired for the company. In 2015, Air Europa signed new codeshare agreements with Korean Air, Avianca Brazil, Seaborne and Air Serbia. |
In October 2016, Air Europa began its new Dreamliner service to the Dominican Republic. The Spanish air carrier officially launched its service from Madrid to Santo Domingo on Wednesday with a flight to the capital's Las Americas International Airport. Air Europa is operating the flights daily, with capacity for 317 passengers and a variety of connections in Europe. In November 2016, Spanish carrier Air Europa and Danish regional aircraft lessor Nordic Aviation Capital (NAC) have completed a sale and leaseback on seven Embraer 195s. SkyTeam member Air Europa is part of the Globalia tourism group and carries 9 million passengers annually.
---
Route Map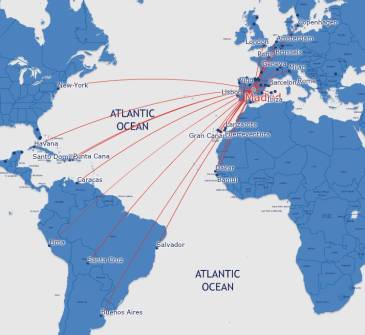 Popular Routes
Madrid

Sao Paulo
London

Majorca
Lisbon

London
Miami

Madrid
Madrid

Cancun
London

Malaga

---
The Fleet
Airbus A330-200
ATR 72-500
Airbus 330-300
Boeing 737-800
---
Adolfo Suarez Madrid-Barajas Airport
HUB Airport
Adolfo Suarez Madrid-Barajas Airport is the main international airport serving Madrid in Spain. It is the hub airport for Air Europa and Iberia. It has 4 runaways and can handle a passenger capacity of 45 million per year. Other airlines which fly to and from Madrid Airport include Aegean Airlines, Aeroflot, Air China, Air France, Blue Air, Cubana, Czech Airlines, easyJet, Finnair, Ethiad Airways, Iberian, LAN Airlines and many others.


SkyTeam Alliance is a leading global airline network, with 20 member airlines. SkyTeam alliance was founded in 2000 and now consists of member airlines such as Aerolineas Argentinas, AeroMexico, Air Europa, China Southern, Alitalia, China Airlines, Delta, Garuda Indonesia, Kenya Airways, KLM and others. SkyTeam Alliance network has nearly 16,323 daily flights, with 1,052 destinations in 177 countries.
---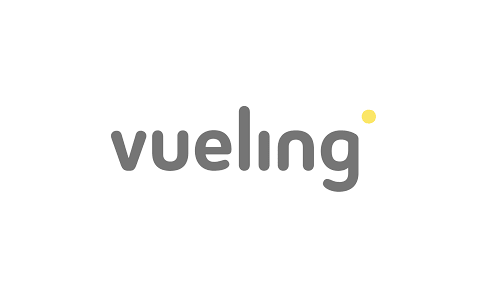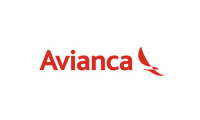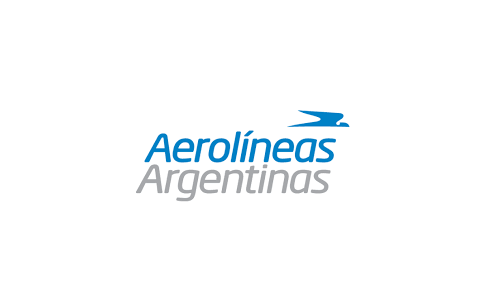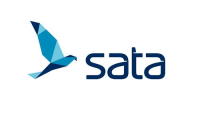 ---
Book Flights with Air Europa
Make an Air Europa reservation and find some amazing deals with discounted Air Europa tickets at Alternative Airlines. Air Europa flies to many destinations offering a cost effective and safe service to all its passengers. Let Alternative Airlines help find you cheap Air Europa tickets and make international and domestic flight reservations on Air Europa today.
Browse the most popular Air Europa flight routes to destinations worldwide. Alternative Airlines can help you make reservations on Air Europa for international flights to lots of destinations. Use the following list of routes to help you plan your next flight. Book Air Europa flights on Alternative Airlines to save big! Alternative Airlines is an online travel agency, specialising in booking lesser known airlines and remote destinations.
Alternative Airlines is an Online Travel Agency bonded by the International Air Transport Association (IATA). We specialise in finding the best available fares on the widest range of airlines and making them available to you online, with prices in the currency of your choice.
Alternative Airlines handles all your travel arrangements and payments, complete with ticketed confirmation. We do not direct you to other websites or service providers.
We help you through the process. This is what makes us Alternative Airlines.
Browse for flights, find some amazing deals, make a reservation and pay in the currency of your choice today with Alternative Airlines.
Let Alternative Airlines help find you the best prices and make international and domestic flight reservations with us today.
Join the Alternative Airlines Members Club and get £100.00 back on your 5th booking with Alternative Airlines. You will have insight to many benefits and exclusive deals on over 650 airlines. Click on the Members section on the Alternative Airlines website for more information and join today.
We are open every day from 8am until 8pm (UK local time).

Operating out of their hub in Madrid, Air Europa have low fares and great connections to a number of destinations in Latin America with good connections from London-Gatwick.
Air Europa Flights
Once British owned, the Spanish airline, Air Europa, based in Palma de Mallorca is now part of the massive Globalia Group under the stewardship of the charismatic Juan Jose "Pepe" Hildalgo.
Air Europa has many scheduled service routes, which radiate out from their hub at Madrid (Barajas) Airport but the real value to UK travellers is their codeshare flight from London-Gatwick to Madrid which makes same day connections to Latin America possible. These include Cuba (Havana) Dominican Republic (Santo Domingo, Punta Cana), Mexico (Cancun), Brazil (Salvador), Venezuela (Caracas), Argentina (Buenos Aires).
Flights are operated with 4 Boeing 767-300's, 33 Boeing 737-800's and 3 x Airbus A 330-200's. Most importantly they are to be a launch customer for the long range new Airbus A350-800.

Low, low prices for summer 2009 and winter 2009/10, from Gatwick to Havana, Caracas, Salvador and MadridCheck availability now as limited space available at lowest fares.
Air Europa - "great value"
Air Europa is one of of European Aviation's great survivors with a resilient management team and a succesful mix of Scheduled Services and charter flights.Since its very first flights Air Europa has been used to looking after British passengers alongside those from its home market in Spain. We have flown many times with Air Europa and can thoroughly recommend it - just check out the great prices to South America over Madrid and give it a try.
Call our friendly team who can assist you with your booking 0871 222 9222
New Route for Air Europa from Santo Domingo to New York
New Route for Air Europa from Santo Domingo to New York    The Sky Alliance member ,Air Europa, expands route network in Dominican Republic with flights from Santo Domingo to New York.
New domestic routes for Air Europa from February 2016
New domestic routes for Air Europa from February 2016   Air Europa introduces three new domestic routes to Salamanca , Valladolid and Valencia.
Avianca and Air Europa go head to head on Madrid to Bogota
Air Europa, with its new aircraft livery which focusses on the initials "AE" and a softer colour scheme, is heading into a shoot out with Colombian national carrier, Avianca, as it launches a new daily route between Madrid and Bogota.
Air Europa expands and looks at new Latin American destinations
Air Europa, one of  Spain's finest and friendliest airlines has announced plans to launch new roues from its Madrid hub to major cities in Latin America including Mexico City, Panamá City, San José (Costa Rica),  plus the the capital cities of Colombia, Bogotá iand Ecuador, Quito.
Air Europa adds new routes to Mexico City
From tomorrow (July 2nd 2011) holidaymakers flying with Air Europa will have additional routes available to them as the carrier has announced the launch of flights to Mexico City.
Air Europa launches new routes to Mexico
  Air Europa has announced that new flights travelling between London Gatwick and Mexico City have been added to its summer schedule.
Great meetings with Aeroflot and Air Europa
I was up in the centre of London yesterday, avoiding police cordons and visiting the UK offices of independent Spanish Airline, Air Europa and Russian national carrier, Aeroflot....
Air Europa confirms new routes
Air Europa has confirmed that this summer it will be adding a new route to Mexico City to its product list, which includes flights to Caracas.
Air Europa announce frequency of new Madrid Lima flights
Air Europe has announced that it has been authorized to operate on the route Madrid-Lima-Madrid with a frequency of four times a week commencing 18th February 2010.
Air Europa plan new routes after demise of Air Comet
Air Europa is looking to take advantage of the vacuum left by one of its main long haul competitors between Madrid and Latin America.
AIR EUROPA LAUNCHES NEW ROUTES FOR WINTER 2009
Air Europa flies high with the introduction of new routes and increased frequency to popular destinations With the global aviation industry suffering the effects of the recession, Air Europa is set to buck the trend with the launch of its winter schedule in October 2009, including a number of new routes.
Air Europa - a great way to fly transatlantic !
Just back from (another) quick trip across the Atlantic ocean and down to Panama.
READ MORE