Air Europa Reservations with Alternative Airlines
Make an Air Europa Booking and Find Some Amazing Deals
---
About Air Europa
Air Europa is a Spanish airline headquartered in Llucmajor, Majorca, in Spain From its hub at Madrid Barajas Airport. The airline currently operates flights to over 40 destinations across Europe, Asia and North and South America. The airline is the third largest airline in Spain behind only Iberia and Vueling and is 100% owned by Globalia, a travel and tourism company.
Operating across 3 different continents on short, medium and long haul flights the Spanish airline has a total fleet size of over 50 aircraft, ranging from 49 to 388 seaters. The fleet consists of Airbus and Boeing aircraft. Most of the aircraft offer business and economy seats, however on their smaller aircraft only economy seats are available.
The carrier is part of the Globalia Group, the largest Spanish tourism conglomerate. Globalia is a leader in environmental conservation processes, which ensures that Air Europa is doing everything it can to be an eco-friendly airline.
---
Destinations
Air Europa flies to Madrid, Sao Paulo, Majorca, Lisbon, London, Miami, Cancun, Malaga, Alicante, Barcelona, Bilbao, Minorca, Copenhagen, Frankfurt, Helsinki, Havana, San Juan, Santo Domingo, Punta Cana, Dakar, Tel Aviv and Agadir.
---
Economy Class
Travelling in Economy with Air Europa is more comfortable: good space between seats, menus for different dietary types and quality entertainment.
Economy Class Facilities
The airline offers passengers a range of national and international newspapers and a selection of magazines.
Passengers are also provided with a carefully-chosen selection of audiovisual entertainment to make your flight more enjoyable, including documentaries, series, music and movies and can also stay connected with WiFi on board as well as using personal devices on selected flights.
What are Economy seats like?
For more comfort on board you can book your seat in advance. You can book your seat online from the moment you make the reservation up to 48 hours before departure. Book your seat now.
---
Business Class
The airline supports Business class customers at all times, from booking through to arrival at their destination.
Business Class Facilities
On board with Business Class, the airline offers WiFi to keep you connected, a power port to charge laptops, tablets and other devices, as well as a USB port and exclusive meals produced to the highest quality menu for your enjoyment on board.
Prior to boarding Business Class, you will receive access to the VIP lounge at the departure and connecting airports (Just apply at check-in). Air Europa Business passengers may check-in heavier luggage with no supplements and carry more hand luggage. Priority check-in at exclusive Business check-in desks providing you with faster check-in.
What are Business Class seats like?
With Business class you will receive the extra comfort with fully reclining seats "flatbed seats", adjustable headrest and armrest and the extra leg room to stretch your legs.
---
Baggage
Alternative Airlines customers are now able to book extra baggage onto their Air Europa flight at the time of flight purchase.
Carry-on Baggage
The airline offers its passengers one piece of up to 10kg for Economy, 14kg for domestic and European flights in Business and Intercontinental flights two pieces of 18kg in Business.
Checked Baggage
The airline offers its passengers 23kg checked baggage for Economy, two pieces of 23kg for business on domestic and European flights and for Business intercontinental flights three pieces up to 23kg each.
---
Seat Selection
If you love to be sat at the front of the plane, or like to recline with a bit of extra legroom, you can now choose your Air Europa seat with Alternative Airlines. Check the available seats on the plane and choose the right seat for you when you make your booking. Don't miss out on the seat of your choice, book with Alternative Airlines today!
---
In-flight Entertainment
Air Europa tries to keep costs low for its passengers and therefore does not offer inflight entertainment on its flights.
TV
To keep costs as low as possible, the airline doesn't offer TV shows on board its flights.
Movies
The airline doesn't offer movies on board its flights.
---
Route Map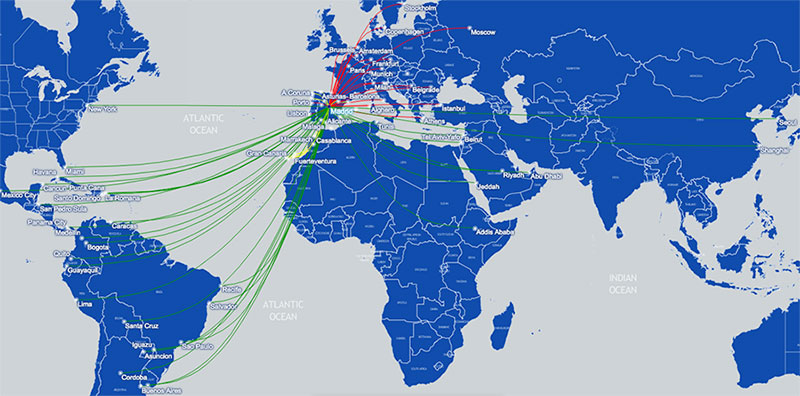 ---
The Fleet
ATR 72-500
Airbus 330-300
Boeing 737-800
ATR 72-200
Boeing 787-9
---
Hub Airport
Adolfo Suarez Madrid-Barajas Airport
Adolfo Suarez Madrid-Barajas Airport is the main international airport serving Madrid in Spain. It is the hub airport for Air Europa, Iberia, Iberia Regional, and Plus Ultra Líneas Aereas. It has 4 runways and can handle a passenger capacity of 45 million per year. Other airlines which fly to and from Madrid Airport include Aegean Airlines, Aeroflot, Air China, Air France, Blue Air, Cubana, Czech Airlines, easyJet, evelop, Finnair, Ethiad Airways, Iberian, Iberia Express, LAN Airlines, Wamos Air and many others.
---
Airline Alliance
SkyTeam Alliance
Air Europa is part of SkyTeam Alliance which is a global airline network, with 20 member airlines.
---
Alternative Airlines to Air Europa
---
Discount and Promo Codes
Save money on your Air Europa flight ticket when you book with Alternative Airlines and use a flight discount code! Choose any Air Europa flight ticket and get discounted flight tickets when you pay with PayPal via Alternative Airlines
---
FAQs
Can I buy Air Europa flight tickets in instalments?
Yes you can! Through Alternative Airlines you can pay for your Air Europa flight ticket in instalments using one of our payment plan options (such as Klarna, Afterpay, Spotti, Tabby). Check out our Air Europa Fly Now, Pay Later page for more information.