Search & Buy Air Europa Flights
Let's fly!

Select your payment method to view total prices including any payment fees:
Airlines will always try to sit children with their parents (subject to check-in)
Some airlines will allow travel for unaccompanied minors. Please email us to check.
The fare is based on the child's age on the date of travel.
More detailed information can be found here Traveling with children
Most airlines will let infants travel with their parent(s) for free. However some airlines will charge up to 10% of the adult ticket price. Click on 'Price Breakdown' to find out more.
If you are pregnant, but due before the flight departure date, please contact us once your baby is born and has a name. We can then add him/her to your ticket.
Infants will not be given a seat. The airlines expect parents to travel with them on their lap.
Airlines regard infants as being under 24 months old.
The fare is based on the child's age on the date of travel.
More detailed information can be found here Traveling with children

Buy
Air Europa

Flights

Air Europa Reservations with Alternative Airlines
Make an Air Europa Booking and Find Some Amazing Deals
---
About Air Europa
Air Europa is a Spanish airline headquartered in Llucmajor, Majorca, in Spain.Air Europa currently operates flights to over 44 destinations across Europe as well as North and South America.These destinations include Madrid, Sao Paulo, Majorca, Lisbon, London, Miami, Cancun, Malaga, Alicante, Barcelona, Bilbao, Minorca, Copenhagen, Frankfurt, Helsinki, Havana, San Juan, Santo Domingo, Punta Cana, Dakar, Tel Aviv and Agadir.
Air Europa's hub can be found in the Spanish capital of Madrid in Madrid Barajas Airport. Founded in 1986 Air Europa has grown to become the third largest airline in Spain behind only Iberia and Vueling. The Spanish carrier is 100% owned by Globalia, a travel and tourism company. In September 2007 Air Europa became a member of the SkyTeam alliance.
Operating across 3 different continents on short, medium and long haul flights Air Europa has a total fleet size of 56 aircraft, ranging from 49 to 388 seaters. The fleet consists of Airbus, Boeing, ATR, and Embraer aircraft including Airbus' 330 series both 200 and 300, Boeing's 737 and 787 aircraft, Embraer jets and ATR 72's. Most of Air Europa's aircraft offer business and economy seats, however on their smaller aircraft only economy seats are available. In September 2007 Air Europa became a member of the SkyTeam Alliance.
SkyTeam was founded in June 2000 and has grown to be the second largest alliance in the world, second only to Star Alliance, in terms of passengers and number of members. SkyTeam currently consists of 20 carriers from five continents operating a wider service for all of their passengers worldwide. KLM have codeshare agreements with most SkyTeam members including; Aer Lingus, Bangkok Airways, Georgian Airways (Previously known as AirZena Georgian), Gol (previouslky VRG), Jet Airways, Malaysia Airlines, Olympic Air, Pegasus Airlines, Sichuan Airlines, Singapore Airlines and many others.
Air Europa is a member of the SkyTeam alliance, formed by 20 airlines that provide access to a global network with over 16,270 daily flights to 1,057 destinations in 179 countries. The Air Europa fleet is one of the most modern in Europe. It consists of 51 aircraft with an average age of less than 4 years old. The company is part of the Globalia Group, the largest Spanish tourism conglomerate, and it is a leader in environmental conservation processes. In 2011, a report by the German environmental organization Atmosfair described Air Europa as "the world's most efficient airline in short and medium-distance routes". In 2017, Air Europa transported more than 10.3 million passengers.
---
About Points International
Points, (TSX:PTS) (Nasdaq:PCOM), provides loyalty e-commerce and technology solutions to the world's top brands to power innovative services that drive increased loyalty program revenue and member engagement. Currently, the Company has a growing network of nearly 60 global loyalty programs integrated into its unique Loyalty Commerce Platform. Points offers three core private or co-branded services: its Loyalty Currency Retailing service sells loyalty points and miles directly to consumers; its Platform Partners service offers developers transactional access to dozens of loyalty programs and their hundreds of millions of members via a package of APIs; and its Points Travel service helps loyalty programs increase revenue from hotel and car rental bookings while offering members more opportunities to earn and redeem loyalty rewards more broadly. Points is headquartered in Toronto with offices in San Francisco and London.
---
Air Europa Baggage
Alternative Airlines customers are now able to book extra baggage onto their Air Europa flight at the time of flight purchase.
Carry-on Baggage
Air Europa offers its passengers 1 piece of up to 10kg for economy, 14kg for domestic and European flights in Business and Intercontinental flights 2 pieces of 18kg in Business.
Checked Baggage
Air Europa offers its passengers 23kg checked baggage for economy, 2 pieces of 23kg for business on domestic and European flights and for Business intercontinental flights 3 pieces up to 23kg each.
---
Air Europa Seat Selection
If you love to be sat at the front of the plane, or like to recline with a bit of extra legroom, you can now choose your Air Europa seat with Alternative Airlines. Check the available seats on the plane and choose the right seat for you when you make your booking. Don't miss out on the seat of your choice, book with Alternative Airlines today!
---
Air Europa In-flight Entertainment
Air Europa tries to keep costs low for its passengers and therefore does not offer inflight entertainment on its flights.
Air Europa TV
To keep costs as low as possible, Air Europa does not offer TV shows on board its flights.
Air Europa Movies
Air Europa does not offer movies on board its flights.
---
Route Map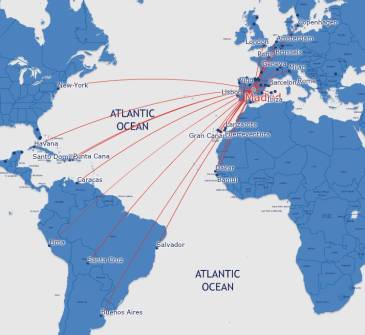 Popular Routes
Madrid

Sao Paulo
London

Majorca
Lisbon

London
Miami

Madrid
Madrid

Cancun
London

Malaga

---
The Fleet
Airbus A330-200
ATR 72-500
Airbus 330-300
Boeing 737-800
---
Air Europa Hub Airport
Adolfo Suarez Madrid-Barajas Airport
Adolfo Suarez Madrid-Barajas Airport is the main international airport serving Madrid in Spain. It is the hub airport for Air Europa, Iberia and Plus Ultra Líneas Aereas. It has 4 runways and can handle a passenger capacity of 45 million per year. Other airlines which fly to and from Madrid Airport include Aegean Airlines, Aeroflot, Air China, Air France, Blue Air, Cubana, Czech Airlines, easyJet, evelop, Finnair, Ethiad Airways, Iberian, Iberia Express, LAN Airlines, Wamos Air and many others.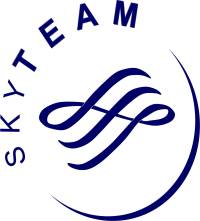 SkyTeam Alliance is a leading global airline network, with 20 member airlines. SkyTeam alliance was founded in 2000 and now consists of member airlines such as Aerolineas Argentinas, AeroMexico, Air Europa, China Southern, Alitalia, China Airlines, Delta, Garuda Indonesia, Kenya Airways, KLM and others. SkyTeam Alliance network has nearly 16,323 daily flights, with 1,052 destinations in 177 countries.
---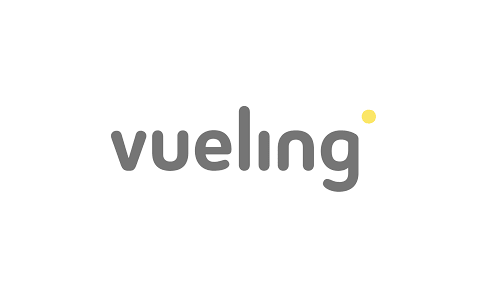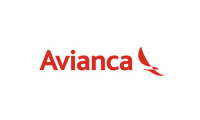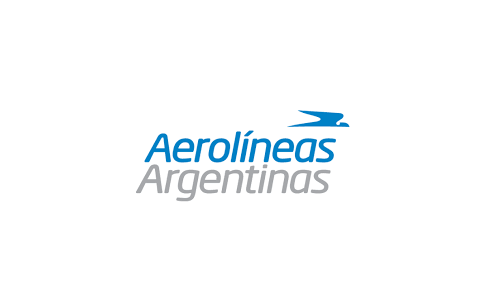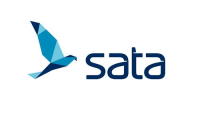 ---
Air Europa Discount and Promos codes
Save money on your Air Europa flight ticket when you book with Alternative Airlines and use a flight discount code! Choose any Air Europa flight ticket and get discounted flight tickets when you pay with PayPal via Alternative Airlines.
---
Air Europa News
26th June 2018
Air Europa fly new service between Madrid and Düsseldorf
Air Europe has launched a new flight that will connect major cities in Spain and Germany. The Spanish airline flew its inaugural flight between Adolfo Suárez Madrid–Barajas Airport (MAD), Madrid, and Düsseldorf Airport (DUS) on 18th June 2018. Representatives from Air Europa and Dusseldorf Airport gathered after the flight to celebrate the new service with flowers and pictures. Air Europa will continue to fly the Madrid—Düsseldorf service twice a day using an Embraer E190 aircraft. The flight is expected to take around 2 hours and 10 minutes.
19th June 2018
Air Europa SUMA Expands Partnership With Points To Enhance Loyalty Program
Air Europa's loyalty program leverages Points Travel services for members to gain access to over 300,000 hotels
Points, the global leader in powering loyalty commerce, today announced that it has expanded its partnership with Air Europa SUMA, the loyalty program of Air Europa, to leverage Points Travel services, the industry leading white label hotel platform for access to over 300,000 hotels at the click of a button.

Through a single integration with Points' Loyalty Commerce Platform, which powers Points Travel services, Air Europa SUMA's members now have the ability to earn or redeem miles when booking on over 300,000 hotels across the globe. This significant program enhancement follows a successful partnership launch in 2017 with Points, when Air Europa SUMA leveraged Points' platform to offer its program members the ability to buy miles to redeem for flights with Air Europa or its partner airlines.
"This is a great opportunity for our Loyalty Program to incorporate Points' hotel booking services to be able to offer more benefits and Miles to our customers," said Sandra Lenis, Senior VP Product & Customer at Air Europa. "Air Europa SUMA is one of the most generous Frequent Flyer Programs around the world, and there is no doubt that Points Travel services will bring additional successful services to engage our shared customers."
"As Air Europa SUMA is a relatively new program, we are delighted that they chose Points to partner with to support their impressive growth. Through a single integration into our Loyalty Commerce Platform they have the ability to add multiple products to their program without the hassle of working with multiple organizations," said Rob MacLean, CEO of Points. "This partnership should empower Air Europa SUMA's members to do more with their miles. We look forward to continuing to support their program growth, leveraging our platform to power new features and offering more flexibility to members for many years to come."
Points Travel can be quickly integrated into any loyalty program's web and mobile properties to create a highly-converting, travel eCommerce offering that is program-branded and leverages the capabilities of the Points Loyalty Commerce Platform. The user experience is simple and intuitive, taking members from consideration to purchase in just a few clicks, ultimately rewarding members with thousands of points or miles as well as being able to redeem points for bookings at thousands of hotels and car rental companies around the world.
15th May 2018
Air Europa carry less passengers in 2018
Despite being one of the top 10 carriers in Spain in terms of passengers, Air Europa has had to report a more subtle rise in passenger numbers than expected for the first quater of 2018. Its growth has stayed stagnent at 7.3% year on year, with 3.4 million passengers in that period, and remaining as the fifth with more customers in the Spanish skies, behind Ryanair, first, and Vueling, Iberia and Easyjet, according to studies. The lack of growth is compared rival its competitors, who all on average appear to have rates closer to 10% for the same perios. Air Europa has put this down to the size of its aircraft on domestic rotes.
28th March 2018
Air Europa launch new domestic flights
Air Europa began two new routes on 25 March, commencing flights on the domestic link between La Palma (SPC) and Tenerife North (TFN) and adding a connection between Madrid (MAD) and Venice Marco Polo (VCE).
It will operate the short, 138-kilometre domestic sector with ATR 72s, offering 44 weekly frequencies on the hotly contested route. OAG schedules for the week commencing 27 March show that this quick hop is already served by BinterCanarias (86 weekly frequencies) and Canaryfly (28). Air Europa will serve the 1,405-kilometre Madrid-Venice Marco Polo route twice-daily with its E190s.
It will face direct competition from Iberia, which is scheduled to operate 25 flights on this sector during the week commencing 27 March
25th February 2018
Air Europa launches its first 787-9 boeing tomorrow on its Mallorca flight route
Air Europa's first Boeing 787-9 aircraft is about to make its inaugural flight to Palma de Mallorca from Madrid at 11:00am. The plane will also be used to fliy to Buenos Aires It is the first of the sixteen aircraft of this type that the airline Air Europa will incorporate into its long-haul fleet progressively until 2022. The second will arrive in March and will also be used for the route to Buenos Aires.
The new aircraft will join Air Europa's fleet of eight Boeing 787-8s. These currently operate flights to Miami, Santo Domingo, Bogota, Buenos Aires, Havana, Lima and Tel Aviv. Next month, we can also expect Air Europa to add Sao Paulo to its flight network.
10th January 2018
Air Europa has commenced operations to its second destination in Ecuador, and upcoming Routes Americas host city, Quito (UIO).
The outbound 8,731-kilometre sector to the country's capital city is flown direct, whereas the inbound service to its Madrid (MAD) hub is operated via the SkyTeam carrier's existing Ecuadorian destination of Guayaquil, the port city on the nation's Pacific Ocean coast. Started on 2 January, the route will be operated five times weekly by Air Europa's A330-200 fleet and faces competition from Iberia, which offers the same city pair six times weekly.
19th December 2017
Air Europa adds Quito to South America route map
From the January 1st, Spanish airline Air Europa will cover the triangular route between Madrid, Quito and Guayaquil.
At the same time, the carrier will also maintain the current flight schedule to the latter destination. which operates on Mondays, Wednesdays and Fridays.
This presence will also be reinforced further from June 2018 with an increase of flights to five per week.
The triangular route, which is expected to carry over 90,000 passengers in the first year, will operated by an Airbus 330, which will take off from Adolfo Suárez Madrid Barajas Airport at 01:35 and land in the capital of Ecuador at 12:20 (local time).
Two hours later, the plane will head to Guayaquil, where it will land at 17:10 and later begin its return leg to Madrid. The addition of Quito on the list of Air Europa destinations in the Americas marks the one-year anniversary since the start-up of the Guayaquil route in 2017. This addition highlights the airline's interest in the country and goal of meeting growing demand, both in tourist and corporate travel. Including Quito, Air Europa now travels to 21 destinations in the Americas, confirming its position as a benchmark airline between the Americas and Europe, progressively increasing connections between both continents. Air Europa director UK & Ireland, Colin Stewart, said: "The addition of Quito to Air Europa's network further emphasises the airline's position as the leading Latin American specialist airline. "Twice daily flights from Gatwick feed into Air Europa's hub in Madrid for seamless transfer onto the long-haul network, which now covers 21 destinations in the Americas. "In addition, Air Europa has also made a considerable investment in its fleet and by 2022 this will include 22 of the acclaimed Dreamliner aircraft."
17th November 2017
Air Europa announce new Madrid to Cordoba route
Currently 4 weekly flights Madrid - Cordoba with stopover in Asuncion. 1,100 passengers per week / 50,000 passengers per year. A330-200 for 275 passengers in economy class and 24 in business class. The flights depart Madrid at 23.45 and they arrive in Asuncion at 8:05am, local time, to depart at 9.35am to Cordoba, where they land at 11.20. The return flight departs at 16.50.
Departures from Madrid: Sundays, Mondays, Wednesdays and Fridays
Cordoba to Madrid: Mondays Tuesdays, Thursdays and Saturdays.
Direct connections from one of the five most important airports in Europe.
Nearly 700,000 tourists per year arrive in Argentina from Europe; 120,000 from Spain alone.
19th September 2017
Air Europa to launch Gatwick-Recife service
Air Europa has announced it will offer a new service from Gatwick to the Brazilian city of Recife in December, with a connection in Madrid.
The twice-weekly route will start on December 20 on Wednesdays and Fridays, with the addition of a third weekly flight expected in 2018. To improve connectivity within Brazil, the airline maintains a code-sharing agreement with Avianca Brasil on several weekly domestic flights, which link Recife to other parts of the country.
Recife is Brazil's fourth-largest metropolitan area and is one of the country's prime business centres, playing host to an international airport and two seaports. It is home to several industries, including brewing, canning, shipbuilding, automotive, electronics, tube manufacturing, chocolate making and textiles.
Colin Stewart, Air Europa's UK managing director, said: "We are thrilled about the launch of this route – particularly as Air Europa will be the first airline to fly from London to Recife via Madrid. As our third Brazilian destination, this consolidates our presence in the country."
12th September 2017
Air Europa plans Recife launch in December 2017
Air Europa from December 2017 is planning service expansion to Brasil, through the offering of new Madrid – Recife service. Subject to Government Approval, the Skyteam member will operate this route with Airbus A330-200 aircraft from 20DEC17, on Wednesdays and Fridays.
UX047 MAD1540 – 2015REC 332 35
UX048 REC2245 – 1040+1MAD 332 35
11th September 2017
New Cancun-Madrid flights offered by Air Europa
Starting in September, the air carrier Air Europa will add three weekly flights from Madrid to Cancún aimed at reinforcing its connectivity with the Caribbean, especially in the off-season.
Spain is considered one of the "top ten" countries with largest number of tourists visiting Cancún, with an average of more than 300,000 in the last three years, and it is the second most important European market for Cancún's tourism as well.
The airline informed in a statement that they have begun an expansion of low – season air services since June 2017, departing from Madrid at Barajas International Airport to Cancun and Punta Cana, one of the main destinations and rivals in the Caribbean.
Both routes are operated by the Airbus A330 equipment with capacity for 275 seats in tourist class and 24 in business class. The company also features in its aircrafts: WiFi connection and a Streaming service, which allows the passengers to download free audiovisual content on their personal devices.
In addition to the natural beauty of the destination, six out of 10 hotel rooms in the Cancun and Riviera Maya belong to Spanish hotel chains such as Sol Meliá, NhHotels, Riu Hotels, Barceló Hotels & Resort, Iberoestar Hotels & Resort, Palladium Hotel Group, among others.
There are 94 hotels that belong to Spanish chains in the state; in Benito Juárez there are 18, according to the Cancun Hotel Association (AHC), and although the figure seems low, the number of rooms on average is important.
It should be noted that throughout this year new routes have started operations, both nationally and internationally: just in the summer holidays have been launched: Mexico City – Chetumal, Cancun – Chetumal, Belize – Chetumal, Guadalajara – Cozumel, Monterrey – Cozumel, as well as many other connections with Canada and the United States.
11th September 2017
Air Europa Mar 2018 Asuncion / Cordoba aircraft changes
Air Europa during the month of March 2018 plans to introduce Boeing 787 service on additional route to South America, with the scheduling of 787-8 operation on Madrid – Asuncion – Cordoba route. The 787 operates 4 times a week, replacing A330-200, from 03MAR18 to 24MAR18.
UX023 MAD2345 – 0730+1ASU0900+1 – 1040+1COR 788 x246
UX024 COR1650 – 1820ASU2020 – 1115+1MAD 788 x357
August 2017
Air Europa expands service to Italy
Air Europa in 2018 plans to expand service to Italy, including additional flight for Rome, Milan Malpensa, as well as new service to Venice. Planned operation as follow.
Madrid – Rome eff 12JAN18 Increase from 2 to 3 daily
UX1045 MAD1325 – 1555FCO 73H D
UX1044 FCO1655 – 1935MAD 73H D
Madrid – Milan Malpensaeff 01JUN18Permanent increase from 2 to 3 daily, instead of seasonal/holiday increas
UX1063 MAD1325 – 1530MXP 73H D
UX1060 MXP1630 – 1850MAD 73H D
Madrid – Veniceeff 01JUN18NEW 2 daily service by Air Europa Express, operating on regular basis. The airline previously operated bi-weekly flight until 31OCT17
UX1081 MAD0715 – 0935VCE E90 D
UX1083 MAD1510 – 1730VCE E90 D
UX1082 VCE1035 – 1310MAD E90 D
UX1084 VCE1830 – 2105MAD E90 D
June 2017
BOC Aviation has placed an order for four Boeing 787-9s and will be leased to Spanish carrier Air Europa
The Singapore-based lessor says in a statement that the Rolls-Royce Trent 1000-powered aircraft will be delivered in 2019. At list prices, the order is valued at $1.08 billion.The lease deal is the first betweenAir Europaand BOC Aviation, and the airline says that it will help to grow its 787 fleet to 24 units by 2022.
Flight Fleets Analyzer shows that the carrier presently operates eight 787-8s and has 14 787-9s on order.
June 2017
Air Europa fly to Boston
In June 2017, Air Europa announced it has commenced its third US destination on 14 June, with the addition of a three times weekly operation to Boston.
Air Europa, which already flies daily to New York JFK and Miami from Madrid. Flight UX 31 will be flown by the SkyTeam carrier's A330-200 fleet, and will face direct competition from Iberia, which serves the 5,470-kilometre sector on a daily basis.
April 2017
Air Europa announce codeshare with Ethiopian Airlines
Air Europa announced it had signed a codeshare agreement with Ethiopian Airlines effective from 11 April 2017. The new partnership is a free sale codeshare agreement, thereby allowing the partner airlines access to each other's network by creating smooth connection at their respective hubs. It allows Air Europa to have presence on the African continent and offer its passengers a wider choice of travel destinations. In addition, Air Europa also provides Ethiopian Airline´s passengers with excellent connectivity with other European, Spanish and American destinations to where Air Europa flies through its Madrid hub.
April 2017
Air Europa announce Madrid to Tel Aviv route
Air Europa announced it had extended planned Boeing 787-8 operations for Madrid – Tel Aviv market, set to enter service in June 2017. The Dreamliner is currently scheduled on 09JUN17 and 12JUN17, followed by regular service from 03JUL17. Originally the 787 was scheduled to operate until 16OCT17, however this is now being extended into winter 2017/18 season. In June 2017, Air Europa, which already flies daily to New York JFK and Miami from its Madrid (MAD) hub, commenced its third US destination on 14 June, with the addition of a three times weekly operation to Boston (BOS). Flight UX 31 will be flown by the SkyTeam carrier's A330-200 fleet, and will face direct competition from Iberia, which serves the 5,470-kilometre sector on a daily basis.
March 2017
Air Europa gains new Dreamliner Boeing 787-8
February 2017
Air Europe looks to invest in Helidosa Aviation Group
Air Europa announced it was holding preliminary talks with the Dominican Republic's Helidosa Aviation Group over possible investments in the Dominican Republican. Helidosa Aviation specializes in passenger charter as well as medevac services across the Caribbean (including French Territories), Central and South America, Europe, and the Eastern United States. Operationally, its fleet consists of Cessna 650 Citations, Cessna 560 XL/XLS Citations, Cessna 550B Citations, and various helicopters.
---
Search and Buy Air Europa Flights
Make a Air Europa reservation and find some amazing deals with discounted Air Europa tickets at Alternative Airlines. Air Europa flies to many destinations worldwide, offering a cost effective and safe service to all its passengers. Let Alternative Airlines help find you cheap Air Europa tickets and make international and domestic flight reservations on Air Europa today.
Browse the most popular Air Europa flight routes to cities worldwide. Alternative Airlines can help you make reservations on Air Europa for international flights to lots of destinations. Book Air Europa flights on Alternative Airlines to save big! Alternative Airlines is an online travel agency, specialising in booking lesser known airlines and remote destinations.
---