Sata Internacional Reservations with Alternative Airlines
Make a Sata Internacional Booking and Find Some Amazing Deals
---
About
SATA Internacional Airlines is now part of Azores Airlines. Azores Airlines which is an Azorean airline based in Ponta Delgada, on the island of São Miguel. The airline operates as international and regional services to Europe and North America. Azores Airlines is a subsidiary of SATA Air Açores. Azore Airlines is the regional carrier based in the beautiful and unique Azores archipelago of islands situated in the middle of the Atlantic Ocean.The airline flies regularly to destinations such as Lisbon, Porto, Funchal, Frankfurt, London, Manchester, Paris, Dublin, Amsterdam, Zurich, Copenhagen, Boston and Toronto. SATA Internacional mission was to offer flights connecting the Azores with the rest of the world. Founded in 1990, the airline connects the Azores to foreign destinations providing air routes to Europe and North America. This long established and well run Portuguese airline is owned by the Provincial Government.
---
Online Check-in
To check-in for Sata Airlines, please search our Azores Airlines page or let Alternative Airlines help you with Online Check-in.
---
Route Map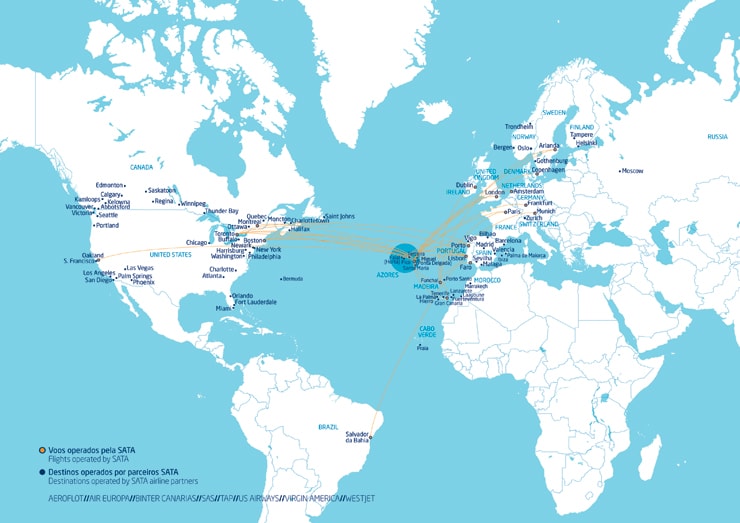 ---
Popular Routes
Lisbon

Ponta Delgada Azores
Boston

London
Lisbon

Terceira Island
Horta

Lisbon
Boston

Lisbon
Ponta Delgada Azores

London
---
Fleet
The airline's fleet includes Airbus A-310-300, Airbus A320-200 and Airbus A330-200.
---
Hub Airport
Joao Paulo II Airport
Joao Paulo II Airport is an international airport located on the island of Sao Miguel, in the Portuguese archipelago of the Azores. It is SATA Internacional's hub airport and is located near to Ponta Delgada. It is the busiest and primary airport in the Azores.
It has scheduled domestic airlines to all islands of the Azores, plus Madeira and the mainland, namely Lisbon, Porto and Faro. The Airport also accommodates international flights to and from Europe and North American from its only runaway.
---