Search & Buy TAP Portugal Flights
Airlines will always try to sit children with their parents (subject to check-in)
Some airlines will allow travel for unaccompanied minors. Please email us to check.
The fare is based on the child's age on the date of travel.
More detailed information can be found here Traveling with children
Most airlines will let infants travel with their parent(s) for free. However some airlines will charge up to 10% of the adult ticket price. Click on 'Price Breakdown' to find out more.
If you are pregnant, but due before the flight departure date, please contact us once your baby is born and has a name. We can then add him/her to your ticket.
Infants will not be given a seat. The airlines expect parents to travel with them on their lap.
Airlines regard infants as being under 24 months old.
The fare is based on the child's age on the date of travel.
More detailed information can be found here Traveling with children
Buy
TAP Portugal

Flights
TAP Portugal Reservations with Alternative Airlines
Make an TAP Portugal Booking and Find Some Amazing Deals
---
About TAP Portugal
TAP Air Portugal, or simply TAP Portugal, is the flag carrier of Portugal headquartered at Lisbon Portela Airport, which is also TAP Portugal's hub airport.
The airline was founded in 1945 and commenced flying operations a year later in 1946 as Transportes Aéreos Portugueses.
The destinations which TAP Portugal fly to and from include Lisbon, Luanda, Recife, Barcelona, Rio de Janeiro, Funchal, Casablanca, Faro, Sao Paulo, Fortaleza, Algiers, Amsterdam, A Coruna, Accra, Belem, Belo Horizonte, Asturias, Dakar, Dusseldorf, Faro, Copenhagen and many others. TAP is a member of Star Alliance and operates 2,000 flights a week to 88 destinations in 38 countries across the world. TAP has codeshare agreements with several carriers including Aegean Airlines, airBaltic, Air Canada, Air China, Air New Zealand, Cabo Verde Airlines, Emirates, Ethiad Airways, Avianca, LOT Polish Airlines, Singapore Airlines, Thai Airways, Turkish Airlines, Ukraine International and United Airlines.
---
TAP Portugal Baggage
Carry-on Baggage
Hand luggage for TAP Air Portugal flights must be a maximum size of 115cm when combining the dimensions.
When flying in Economy Class, passengers are permitted 1 carry-on bag, weighing 8kg. In addition, Economy Class passengers are allowed one personal item each, weighing a maximum of 2kg.
When flying in Executive Class, passengers are permitted 2 pieces of carry-on luggage, each having a maximum weight of 8kg. In addition, Executive Class passengers are allowed a personal item each, weighing a maximum of 2kg.
Exceptions to these rules include the following:
When flying economy class to or from Venezuela and to or from Brazil - passengers are allowed one piece of luggage, weighing up to 10kg.
When flying executive class to or from the USA, passengers are only permitted a maximum of 8kg and measuring 55 x 40 x 20cm.
Checked Baggage
Passengers checked baggage allowance is dependent on the route flying and fare purchased.
For Top Executive Class:
Flights within Portugal or between Europe and North Africa - 2 items up to 32kg.
Intercontinental flights, or To/From Venezuela - 3 items up to 32kg.
For Executive Class:
For any route, 2 items up to 32kg each.
For Plus Class:
Flights within Portugal - 2 items up to 23kg.
Flights between Europe and North Africa - 1 item up to 32kg.
Intercontinental flights, or To/From Venezuela - 3 items up to 23kg.
For Classic Class:
Flights within Portugal or between Europe and North Africa - 1 item up to 23kg.
Intercontinental flights, or To/From Venezuela - 2 items up to 23kg.
For Basic Class:
Flights within Portugal or between Europe and North Africa - 1 item up to 23kg.
Intercontinental flights, or To/From Venezuela - 1 items up to 23kg.
---
TAP Portugal Check-In Information
Online Check-In
TAP Air Portugal passengers can check in online for their flights. This service is available 36 hours prior to departure, and can be completed through the TAP Air Portugal website.
Airport Check-In
Passengers who have not checked in online must check in at the airport by visiting the self-service check-in kiosk or visiting the TAP Air Portugal check-in desk. The opening and closing time of airport check-in time vary depending on the departure airport. Visit this link to look up your departure airport to see your check-in cut off times.
---
Economy Class
Economy Class is one of two choices of cabin class that the airline offers. There are a few different fares that passengers can purchase in Economy. These fares will give added extras such as extra baggage allowance, free cancellations and the ability to pre-select seats. However, no matter which fare chosen, the in-flight experience in Economy remains the same.
Economy Class Facilities
The airline has both in-flight entertainment and in-flight WiFi to keep passengers entertained during the flight.
The airline also offers a full in-flight menu of hot and cold drinks and food that are inspired by Portuguese cuisine.
If a passenger needs anything during the flight, the airline's friendly and well-trained cabin crew will be happy to help.
Economy Class Seating
Seats are set out in a 1 x 3, 2 x 2 or 3 x 3 formation on shorter flights and in a 3 x 3 or 2 x 4 x 2 formation on longer flights. All seats are comfortable and give plenty of room.
---
Business Class
TAP Portugal's Business Class, also known as 'Executive Class' is the airline's most premium cabin class. It offers greater comfort, more amenities and a higher standard of service in comparison to Economy Class.
Business Class Facilities
Passengers can enjoy a bespoke service, expertly delivered by the airline's well-trained cabin crew.
Passengers can indulge in an in-flight gourmet dining experience, with a carefully selected menu which is inspired by Portuguese cuisine. In addition, the food menu, the airline also has an extensive wine list which features some of the finest wines from Portugal.
On longer flights, passengers can watch a range of TV shows, films and engage on other types of entertainment through the airline's in-flight entertainment system.
Each passenger is given a special Business Class amenity kit and — on certain flights — a duvet.
What are Business Class Seats Like?
On shorter flights, Business Class seats are set out in a 2 x 2 formation. On longer flights, Business Class seats are set out in either a 2 x 2 x 2 formation or a 1 x 2 x 1/ 1 x 2 x 2 formation. All Business Class seats are reclinable and — on select flights — seats transform into full-lie flat beds.
On longer select flights, Business Class seats come fitted with a personal TV monitor from which passengers can access the airline's in-flight entertainment, as well as a power outlet from which passengers can charge their personal devices.
Take a look at our table below which details all information on Business Class seats for each aircraft:
AIRCRAFT TYPE
NUMBER OF SEATS
RECLINE
SEAT WIDTH
PITCH
FORMATION
IN-FLIGHT ENTERTAINMENT?
POWER OUTLET?
Airbus A340
36–42 seats
165"
20"
54"
2 x 2 x 2
Yes. Fitted with a screen
Yes
Airbus A330-200 V1
24 seats
180"
22.3"
44"
2 x 2 x 2
Yes. Fitted with a screen
Yes
Airbus A330-200 V2
25 seats
165"
20"
60"
1 x 2 x 1/
1 x 2 x 2
Yes. Fitted with a screen
Yes
Airbus A330-300
x
165"
20"
60"
x
Yes. Fitted with a screen
Yes
Airbus A321
8 seats
4"
17.72"
33"
2 x 2
No
No
Airbus A320
8 seats
4"
17.72"
33"
2 x 2
No
No
Airbus A319
8 seats
4"
17.72"
33"
2 x 2
No
No
---
Alternative Airlines to TAP Portugal
Please click on the logos below to find out more about airlines that fly similar routes to TAP Portugal:
---
Frequent Flyer Program
TAP Portugal operates a loyalty programme called Victoria to reward regular travellers.
Victoria clients can enjoy many benefits when travelling with TAP, in the Star Alliance network and with TAP's other partner airlines.
Passengers are rewarded as miles are points you can win, accumulate and then use an alternative currency to purchase flights.
---
Route Map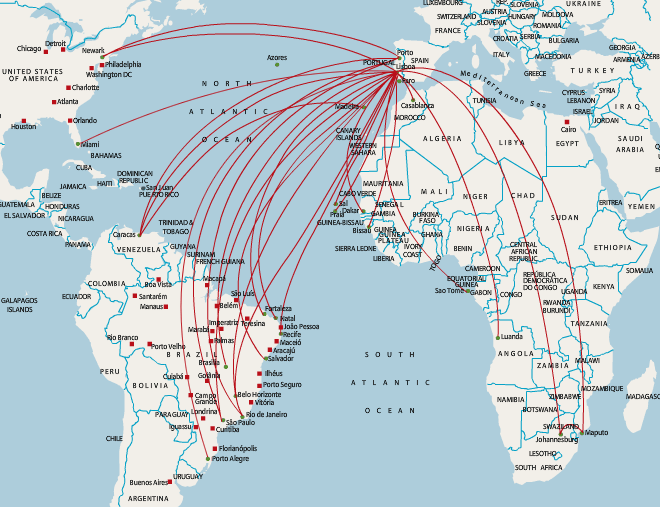 Popular Routes
London

Sao Paulo
Lisbon

Fortaleza
Rio de Janeiro

Lisbon
Lisbon

Dakar
Lisbon

London
Lisbon

Bogota
---

The Fleet
Airbus A319-100
Airbus A330-200
Airbus A320-200
Airbus A340-300
ATR 42-600
Embraer ERJ-145
---
Lisbon Portela Airport - HUB Airport
Lisbon Portela Airport is an international airport located in the city of Lisbon, the capital of Portugal. Lisbon Portela Airport is the main hub of TAP Portugal and its subsidiary Portugalia, a focus city airport for easyJet, Ryanair and SATA International. The airport has two runways and can handle nearly 20 million passengers every year. Other airlines which fly to and from Lisbon Portela Airport include Aer Lingus, Air Europa, Air Transat, easyJet, British Airlines, Emirates, Iberia, SATA International, TACV, Transaero Airlines, Turkish Airlines and Wizz Air.

---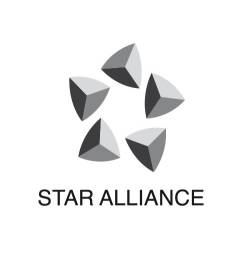 TAP Portugal Airline Alliance - Star Alliance
Star Alliance is the leading global airline network, which has 27 member airlines. Star Alliance was founded in 1997 with the five founding airlines: Scandinavian Airlines, Thai Airways International, Air Canada, Lufthansa and United Airlines. The alliance has grown considerably now to airlines which fly to 1,321 airports and 193 countries, carrying 637 million passengers every year!
---
TAP Portugal Seat Selection
Fly in your desired seat when you make your TAP Portugal booking with Alternative Airlines. We offer passengers to choose their seat in advance of flying by browsing the available seats and different options such as sitting at the front of the plane or having a window seat, or simply making sure that groups, families or couples can sit together on the plane. Visit our seat selection page to find out how to pre-book TAP Portugal seats.
---
Book TAP Portugal Flights in English
TAP Portugal flights can be booked with us in English. You can trust Alternative Airlines to ensure a smooth, secure and swift service which takes the pressure and stress off of the passenger.
---
Buy Discounted TAP Portugal Tickets at Alternative Airlines
---
TAP Portugal News
18th June 2018
nordica and TAP Air Portugal strike codeshare partnership
nordica and TAP Air Portugal have come to a codeshare agreement which will see nordica operate a total of three flights from Tallinn on behalf of Tap Air Portugal. nordica has already began flying services for Tap Air Portugal, with the inaugural flight taking place on 4th June 2018.
nordica will fly the following routes on TAP Air Portugal's behalf:
From Tallinn to Amsterdam
From Tallinn to Oslo
From Tallinn to Stockholm
This is the second codeshare partnership that TAP Air Portugal has in place. LOT Polish Airlines also operates a flight for TAP Air Portugal between Warsaw and Vilnius.
2nd May 2018
TAP Air Portugal, Volotea link up on European services
TAP Air Portugal and Spain-based LCC Volotea may expand their partnership after agreeing to a codeshare arrangement to strengthen services between three European nations.
It is the first codeshare that Volotea, which specializes in connecting secondary and tertiary European cities, has entered into.
The agreement has come into force in the past few days and allows both airlines to cooperate through Volotea's direct flights to the southern Portuguese leisure destination of Faro from France and Italy. Faro has become a year-round destination, largely because of the proliferation of golf courses in its locality.
The codeshare will allow TAP to place its TP code on all Volotea-operated routes from Faro to
Nantes, Bordeaux and Marseille (France), as well as to Verona (Italy)
"This first codeshare agreement in Volotea's history … will clearly benefit consumers to connect important French and Italian cities with the dynamic Portuguese market," Volotea's founder and CEO Carlos Muñoz said. "Furthermore, it will allow Volotea to grow into a larger geography and longer seasonality and in partnership with TAP Portugal, one of Europe's strongest airlines.
"This new codeshare aims to provide TAP customers with more service options enhancing flight connectivity possibilities from Portugal to France and Italy," TAP Air Portugal CEO Antonoaldo Neves said.
Under the agreement, Volotea expects to enhance its distribution in Portugal.
As part of its continuing expansion, Volotea has also opened two new direct routes to Madeira, a Portuguese island territory in the Atlantic, from Marseille and Bordeaux.
3rd April 2018
TAP Portugal amongst top 10 most popular airlines in the world
The major leading airline in Portugal, TAP Portugal, has been ranked among the world's most popular carriers, according to a survey published by eDreams. The survey was carried out from 60,000 passenger reviews and saw TAP Portugal sliding into the list to receive 10th position. The airline carrier reportedly received high marks from foreign travelers based on four major characteristics: comfort, flight check-in, onboard service and prices for tickets. One reviewer said: 'Everything was fine with TAP Portugal: perfect flight and great hospitality. The light snack and cake with a glass of wine and coffee were very much appreciated.'
23rd January 2018
Beijing Capital Airlines flies to Brazil on a code-share with TAP-Air Portugal
Beijing Capital Airlines has started selling airline tickets with connections in Lisbon, Portugal, to seven cities in Brazil – Brasília, Belo Horizonte, Fortaleza, Rio de Janeiro, Sao Paulo, Salvador and Recife – under a "Code-share" agreement, Portuguese airline TAP-Air Portugal said on Monday.
These cities "thus become closer and more convenient for Beijing Capital Airlines customers," TAP said in the statement, adding it expected "a significant increase in passengers starting their journeys in China in the TAP network and starting or ending their journeys in Brazil in the network of Beijing Capital."
TAP-Air Portugal also said that it was "expanding the code-share agreement" that it has had since July 2017 with Beijing Capital Airlines, which includes adding the Chinese company's JD code on flights selected and operated by TAP between Portugal and Brazil.
The option to expand the agreement to flights to Brazil is the result of cooperation between the two airlines and had been put forward by TAP's Vice President of Network and Revenue Management, Elton D'Souza, who noted that the shortest route from China to Sao Paulo is via Lisbon.
Beijing Capital Airlines, an airline controlled by the HNA group, started flights in July 2017 between Hangzhou and Lisbon, with stops in Beijing.
The HNA group, based on the island of Hainan, has an indirect stake in Portuguese air carrier TAP-Portugal, through Brazilian airline Azul, which controls 23.7% of the share capital.
18th January 2018
21% More Passengers Fly TAP AIR Portugal
TAP AIR Portugal carried 21.7 percent more people in 2017 than in the previous year, reaching an aggregate of 14.274 million passengers by the end of December, 2.55 million more than the previous year's figure.
The growth in load factor regarding the seats offered in 2017 also increased significantly by 4.3 percentage points to 82.9 percent.
The Lisbon-Porto Ponte Aérea shuttle was TAP's most popular route in 2017, with a total of 726,000 passengers, eight percent more than in 2016.
TAP's new investment in the North American market in 2017 has involved opening a new route to Toronto and consolidating the Boston and New York JFK routes, which were initiated in June and July the previous year.
This has translated into a 54.5 percent increase in the number of passengers to a total of 729,000 which is 257,000 more passengers than in 2016.
Connections to Brazil underwent strong recovery over the course of the year, growing by 14 percent as TAP carried 1.6 million passengers.
Connections between mainland Portugal and Madeira and the Azores exceeded the one million passenger mark for the first time, with passenger numbers rising by 18.9 percent, or 183,000 passengers, reaching an annual aggregate total of 1.15 million.
It is also important to mention the African routes, where TAP also achieved an annual total of more than one million passengers for the first time, following growth of 233,000, or 29 percent.
However, it was on European routes that TAP grew most in terms of absolute number of passengers, with an increase of 1.6 million compared to the previous year.
TAP carried an aggregate total of 8.7 million passengers in the 12-month period of 2017, a 22 percent increase on 2016.
2017 was the first time TAP carried more than 500,000 passengers on its Lisbon-London Heathrow, Lisbon-Barcelona and Lisbon-Madrid routes in one year. This passenger numbers milestone was also registered on the Lisbon-Porto, Lisbon-Funchal and Lisbon-Paris routes, which had also achieved that mark in previous years.
The strong growth of TAP throughout the year was consolidated in December. In this month the airline reached 1.169 million passengers, an increase of 18.4 percent compared to the same month of 2016.
New records were also set in air freight carried. TAP Cargo ended 2017 having carried a total of 78,500 tons of freight and mail, which is 25% higher than the figure carried in 2016.
It is worth mentioning that 80 percent of the total volume transported originated in markets outside Portugal.
18th December 2017
TAP Launches Barcelona, London City, Malpensa Milan, and Ponta Delgada Routes
TAP Portugal will launch in the spring four new routes from Porto to Barcelona in Spain, London-City in Great Britain, Milan-Malpensa in Italy and Ponta Delgada in the Azores
The airline TAP Portugal will launch in the spring four new routes from Porto to Barcelona in Spain, London-City in Great Britain, Milan-Malpensa in Italy and Ponta Delgadain the Azores. On the other hand, she presents her first online store online.
From 25 March 2018 according to Airlineroute and after two years of absence, the Portuguese national airline will offer two daily flights between Porto-Francisco Sa Carneiro and Barcelona-El Prat airport, operated by Airbus A319 that can accommodate 132 passengers in two classes. Departures are scheduled at 6:30 (arrival at 9:15) and 19:35 (arrival at 22:20), return flights leaving Catalonia at 10:00 and 23:05 (arrivals at 10:50 and 23:55). TAP Portugal will compete with low-cost Ryanair and Vueling on this route.
On the same day, the Star Alliance airline will offer six flights a week between Porto and London-City , operated this time by TAP Express in Embraer 190 with 110 seats. Departures are scheduled every day except Saturday at 12:05 (arrival at 14:20), and returns at 14:50 (arrival at 17:10). It already connects Porto to Gatwick against British Airways (Gatwick), easyJet (Gatwick and Luton) and Ryanair (Stansted).
After two years of absence, TAP Portugal will always relaunch a line between Porto and Milan-Malpensa on the 25th of March , an A319 departing every day at 6.30 am and 5.35 pm (arrivals at 10.05 am and 9.30 pm) and returning from Italy at 10.50 am and 10.00 pm (arrivals at 12:35 and 0:05). Only Ryanair is already present on this axis.
Finally and always on the same date, the airport of Ponta Delgada-Joao Paulo II will be served every day by A319 from Porto, with departure at 13:20 (arrival at 14:45) and return of the Azores at 15:35 (arrival at 18:50) . Azores Airlines and Ryanair are already present on this line. These four destinations are already offered by TAP Portugal from its Lisbon base.
15th September 2017
More than just a retrojet: TAP goes all out with jet age service
Everyone loves a retrojet. That includes passengers — witness the flurry of smartphones glued to an airport window whenever one rolls past — and airlines, who take delight in not just painting planes in historical liveries but in creating a wealth of social media campaign assets around them. JetBlue even created a tongue-in-cheek faux retrojet in a spoof livery that never existed. The concept speaks to passengers' nostalgia for an era of carved chateaubriand and free-flowing Champagne, and airlines' desire to cash in on that sentiment instead of (or, less commonly, alongside) investing in their contemporary product.
The retrojet is all about branding: connecting and reconnecting emotionally with passengers. TAP Portugal, the national airline undergoing something of a renaissance under new management, needed to reconnect with flyers more than most airlines after a rocky period in its operational and passenger experience history. According to former JetBlue, WestJet and Azul boss David Neeleman — who is presently a co-owner of and investor in TAP — that objective has been firmly achieved with not just an Airbus A330 retrojet, but a full historical experience from what the zeitgeist considers a golden age of flying for the airline.
The TAP historical experience on special event showcase flights includes uniforms, amenity kits, classic board games, meals, chocolates, and even retro packaging on Sagres beer and Coca-Cola, Neeleman tells Runway Girl Network.
"TAP is probably the best loved brand in Portugal and this was truly a passion project," Neeleman says. "Given this livery was used for two decades, everyone under 40 remembers it. But I think it also really speaks to younger Portuguese people also. The country is incredibly proud of their airline. People seeing the livery for the first time tell me they love how iconic and cool it is. The look is very jet age, and who doesn't love that? From a design perspective, it was a really exciting time."
The details make the difference, like vintage Coke and beer bottles. Image: TAP Portugal
On the outside, "TAP's old logo features the 'Passarola', which was an early flying invention, like a zeppelin, which was created by a Portuguese scientist in the 18th century," Neeleman explains. "The livery was applied in one of TAP's own maintenance hangars in Lisbon and took about three weeks to complete. The cost is basically the same as painting it with the current livery."
12th September 2017
TAP Portugal reports another record month in August 2017
TAP Portugal, via its official LinkedIn account, announced (11-Sep-2017) passenger numbers increased 18.7% year-on-year to 1.42 million in Aug-2017, a new record for passengers handled in a single month. Load factor stood at 83.8%. TAP registered passenger increases throughout all markets. Absolute growth was driven by European services, reaching 854,000 passengers handled, a 20.6% increase. The carrier handled 9.2 million passengers in the first eight months of 2017, a 24.3% increase, with load factors above 80% across all network sectors and reaching 90% in some cases.
23rd August 2017
TAP Portugal's retro flight highlights new offerings for Canadian market
Many travellers reminisce about the good ol' days of air travel, when flying was a source of excitement rather than dread. So, TAP Air Portugal decided to take travellers back to the 1970s with its first U.S. 'retro flight' from Lisbon to Miami – just a few weeks after a retro flight to Toronto – complete with authentic details sourced from its aviation museum.
After all, the former government-owned carrier has been around since 1945, so it has plenty of history to draw from. At one time, TAP flew to Toronto and Montreal; the carrier pulled out of Canada in the 1990s when the routes were no longer turning a profit.
After a long hiatus, TAP returned to Toronto on June 10, 2017 with five flights a week in spring/summer and three in fall/winter. Toronto is the carrier's fifth gateway in North America to date and the only one in Canada (so far).
The retro flights to Toronto (on July 14) and Miami (on Aug. 11) were a tribute to Portugal and its people, which have a long, shared heritage with TAP. They also helped to spread the word about TAP in the North American market – from its massive fleet renewal project to a stopover program, business-class offerings and new fare products.
The retro aircraft livery features a design first used in the 1950s, including a re-creation of the original 'Transportes Aéreos Portugueses' typography.
On the flight to Miami, cabin crew donned retro outfits designed by French stylist Louis Féraud and served up fare from TAP's original menus in the 1970s. Retro throwbacks included shrimp salad and pheasant terrine, codfish à zé do pipo and sirloin à portuguesa (plus, passengers were served rebranded Coca Cola and Sagres beer, both of which collaborated with TAP on the initiative).
There was also a surprise appearance by Michelin-starred Chef Rui Silvestre, who served up a box of chocolates and take-home cork bottle of flor de sal (sea salt) to business-class passengers. This also served to highlight TAP's 'Taste the Stars' program, in which the carrier is collaborating with six Michelin-starred chefs to shine a spotlight on Portuguese cuisine.
As of September, inflight meals will include a creation from one of these chefs – not just for business-class passengers, but for economy class as well. "The whole mission is making it authentically Portuguese, as opposed to just a better airline meal," said Liliana Vieira, TAP's District Sales Manager for the Canadian market, who has been busy this summer meeting with agents and tour operators across the country. "Even little things like the duty free on board [offers] Portuguese artisans selling jewelry with a Portuguese flair."
While the retro flights were one-off experiences, TAP is promoting its focus on the North American market and re-entry into the Canadian market, as well as its extensive network of connections.
"It's another gateway into Europe," said Vieira, since "London-Heathrow tends to be bit busy." TAP has a codeshare agreement with Air Canada and is part of the Star Alliance (so Aeroplan members can use their points with TAP).
The aim is to boost tourism in Portugal with a stopover program and position the Lisbon Humberto Delgado Airport as a gateway to Europe and Africa — an airport that's smaller and easier to navigate than many hubs in Europe (plus, it has a newly revamped executive lounge).
As of September, TAP's 'Portugal Stopover' program will allow passengers on medium- and long-haul flights to stopover in Lisbon or Porto for five days (previously, it allowed for three days). Passengers connecting from Lisbon to Porto will receive the connecting flight at no additional charge. The company's network comprises 84 destinations in 34 countries, with 2,500 weekly flights (Portugal's Madeira, Algarve and Azores have also been added as qualifying final destinations). There's also an app that promotes stopover highlights.
TAP is also the only airline to offer a business-class product from Toronto to Lisbon, said Vieira. "The Canadian market isn't aware there is a business-class [option] to Lisbon," she said. "It's pretty economical compared to London or Paris." And for business-class customers who decide to take advantage of the stopover program, they'll receive one free hotel night at a five-star hotel, such as the Dom Pedro Palace in Lisbon.
TAP opened the doors in July to its revamped business lounge at the Lisbon Humberto Delgado Airport, with rest zones, showers, a restaurant and bar, a business centre and a children's area, all in a bright, contemporary space with plenty of cork features. The lounge is open to passengers with business-class fares, as well as members of TAP Corporate TOP, Star Alliance Gold and TAP Platinum American Express.
In the meantime, TAP is undergoing a massive fleet renewal project, with 53 new aircraft on order for delivery starting in 2018 (including 14 A330-900 and 39 A320 neo aircraft). By 2020, TAP's entire long-haul fleet will be brand-new or retrofitted; the new aircraft will be used to expand TAP's capacity in North America, including the possible addition of flights to Montreal.
TAP is currently offering flights from Toronto to Lisbon five days a week in the spring/summer season and three days a week during fall/winter, using A330s that have been retrofitted with upgrades, including 25 lie-flat business-class seats, and 244 economy-class seats with minimum 31-inch pitch. The spring/summer schedule will return on March 25, 2018, with plans to eventually provide daily service from Toronto to Lisbon.
While the retro flights were a one-time deal, they've proved highly popular – so it remains to be seen if TAP will, once again, take passengers for a trip back to the 1970s.
August 2017
TAP Portugal will rebrand as TAP Air Portugal
TAP Portugal (TP, Lisbon) is planning to readopt the name it abandoned on its rebranding in 2005. According to Expresso, the carrier will shortly resume using the TAP Air Portugal (TP, Lisbon) brand with the soon-to-be-delivered A330-300 CS-TOX (msn 1015) the first aircraft to feature the title. A formal unveiling is expected with the aircraft's arrival in Europe on August 22. Founded in 1945 as Transportes Aéreos Portugueses, the carrier was rebranded TAP Air Portugal in 1979 as part of a modernization programme.
The name was dropped in favour of the abbreviated version TAP Portugal on its accession to Star Alliance in 2005. TAP Portugal currently operates twenty-one A319-100s, twenty A320-200s, four A321-200s, fifteen A330-200s, three A330-300s, and four A340-300s on scheduled passenger services to ninety-three destinations in thirty-five destinations spanning Europe, North and South America, and Africa.
July 2017
TAP Portugal announced it was returning to Bucharest and Budapest
TAP Portugal returned to Bucharest (OTP) and Budapest (BUD) on 2 July, with the carrier having last served the Hungarian and Romanian capitals at the end of W15/16. Both are now connected to Lisbon (LIS) once again by the Star Alliance member, with services on the 2,478-kilometre link to Budapest operating seven times weekly (twice-daily Saturday, no Friday flight), and the 2,971-kilometre connection to Bucharest being served six times weekly.
TAP Portugal also confirmed at the Budapest launch that its services to the gateway of Hungary will continue into W17/18 with six weekly flights. Both capital connections are already served by Hungarian-based ULCC Wizz Air, while Blue Air also flies between Bucharest and Lisbon.
June 2017
TAP Portugal to celebrate 72 Years of Service with New Aircraft
TAP Portugal announced it was celebrating 72 years of service by launching a new aircraft complete with a 'retro' makeover in tribute to the history of Portugal and promoting travel to the destination. The new 'retro' aircraft, an Airbus A330-300, has been named 'Portugal' and it took to the skies on Monday 26 June 2017.
The classic image chosen for this 'retro' aircraft, the most emblematic historical corporate identity of the airline, was first displayed on a Lockheed Super Constellation aircraft in 1955. Those who flew with TAP in the 1950s, 60s and 70s will be touched by the nostalgia of these colours whilst those who are experiencing TAP for the first time will experience TAP's modern service and welcoming hospitality.
March 2017
TAP Portugal announced it had posted a full-year net profit of €34 million for 2016, marking its return to profitability
Revenue for the year fell €156 million to €2.2 billion, but operating costs dropped by €227 million to €2 billion, triggering the bottom line turnaround. The Portuguese flag carrier said the positive result was driven by "strong investment" from its new shareholders, Atlantic Gateway Group, including revamping of regional airline Portugalia to become of TAP Express, a complete renewal of its regional fleet and the creation of a shuttle service between Lisbon and Porto. During the year, TAP also upgraded the interiors of its Airbus fleet, added new routes to Boston and New York JFK and boosted frequencies to New York Newark, more than doubling its US flights. In 2016, TAP carried a record 11.7 million passengers, marking a 400,000 improvement on 2015, despite cutting available seats by 3%.
March 2017
TAP Portugal unveiled the first of seven retrofitted A330s
The 25 new fully-flat business class seats transform into a 1.93-metre long bed, and feature "individual reading lights, tables with storage space, supports for bottles, USB slots and individual electrical sockets". In economy, seats have been recovered in a green and grey upholstery, and a new economy plus section has been created offering "more space and seats that recline further". The airline already operates an A330 aircraft with retrofitted business class product on its routes from Lisbon to Boston and New York JFK, which launched last summer.
March 2017
TAP Portugal announced it was investing more than $73 million in a new onboard cabin for the airline's A330 fleet
Seven A330s will be retrofitted by the end of the year. The first A330 to be completed, named João Gonçalves Zarco, has commenced flying between the U.S. and Lisbon this week. This A330 upgrade program represents TAP's commitment to improving comfort and improving its onboard product for passengers in all classes, bringing the cabins into line with that of the A330neo, which will soon be joining the fleet. TAP's proud Portuguese identity is recognizable through the aircraft interior, thanks to partnerships with Portuguese companies such as Almadesign, which selected the materials and developed the finishing, and with Couro Azul, which supplied the leather used in the Executive class seats.
In Executive Class, the changes are even more pronounced, with 25 new fully-flat reclining chairs that are more than six feet long when fully reclined. TAP has powered up its new business class chairs to include USB slots and individual electrical sockets, connections for headphones, individual reading lights, tables with storage space, and supports for bottles.
March 2017
TAP Portugal announced that from July 2017 it plans to add service to Lome in Togo
TAP Portugal plans to operate 2 weekly Lisbon - Accra - Rome - Lisbon route and 2 weekly in opposite direction. An Airubus A320 aircraft will operate this route.
April 2017
TAP Portugal announced it had taken delivery of its maiden A330-300 following the arrival in Lisbon from Singapore via Dublin
They will collectively replace A330-200s CS-TOS and CS-TOT which are to be returned to lessor Deucalion Aviation Funds in due course. With the -300s addition and the removal of the two -200s, TAP's widebody fleet will consist of three A330-300s, fourteen A330-200s, and four A340-300s.
April 2017
TAP Portugal announced it is set to commence commercial EMB-195 operations later this year
The Portuguese carrier is expected to take delivery of four aircraft of the type during the current half of year for onward placement with its Portugália Airlines unit. Operating under its TAP Express brand, the Embraer Regional Jets will be deployed on flights from Lyon St. Exupéry and Marseilles from May 18 onwards. Thereafter, according to Airline Route, services will include Dusseldorf, Toulouse Blagnac, Nantes, Marrakech, Bordeaux, Madrid Barajas, Barcelona El Prat, Nice, Las Palmas, Stuttgart Echterdingen, Manchester Int'l, Cologne/Bonn, Algiers, London Gatwick,& Faro.
June 2017
TAP Portugal announced it is adding a new summer Morocco charter from June 2017
TAP Portugal this month introduces a pair of scheduled charter routes to Morocco, with service to Agadir and Oujda. Planned operation as follow.

Lisbon – Oujda 04JUN17 – 17SEP17 1 weekly
TP9085 LIS1000 – 1130OUD 319 7
TP9086 OUD1215 – 1350LIS 319 7

Operational schedule listed above is from 11JUN17 to 25JUN17. Operational schedule varies, including reflection of daylight savings time.

Porto – Agadir 22JUL17 – 09SEP17 1 weekly
TP9107 OPO2015 – 2215AGA E90 6 22JUL17 – 02SEP17
TP9106 AGA2305 – 0105+1OPO E90 6 29JUL17 – 09SEP17
February 2017
TAP Portugal announced it had begun to restructure its business, starting with mutually agreed staff terminations in support and non-operation roles<
The airline will, at the same time, hire an additional 200 operational staff in terms of flight and cabin crew, mechanics, and sales and training.
As at December 6, 2016, TAP Portugal is 61% owned by Atlantic Gateway, with the Portuguese government holding a 39% share through its holding company Parpública. There is an agreement in place for the Portuguese government to increase its stake to 50%. Hainan Airlines has a 25% interest in TAP through its stake in Azul Linhas Aéreas Brasileiras, which is owned by Atlantic Gateway.
June 2015
TAP Portugal Now Majority Owned by Atlantic Gateway Consortium
TAP Portugal was semi-privatised and became majority-owned by the Atlantic Gateway Consortium, owner of Azul Airlines who purchased 61% of the carrier from the government of Portugal.
TAP Portugal is currently owned by Portuguese state (50%), Atlantic Gateway Consortium (45%) and staff and employees of TAP (5%). TAP Portugal's fleet is wide-ranging and consists of many aircraft including Airbus A330-200, Embraer 145, Airbus A319-100 and Airbuss A320-200.
---
Search and Buy TAP Portugal Flights
Make a TAP Portugal reservation and find some amazing deals with discounted TAP Portugal tickets at Alternative Airlines. TAP Portugal flies to many destinations worldwide, offering a cost effective and safe service to all its passengers. Let Alternative Airlines help find you cheap TAP Portugal tickets and make international and domestic flight reservations on TAP Portugal today.
Browse the most popular TAP Portugal flight routes to cities worldwide. Alternative Airlines can help you make reservations on TAP Portugal for international flights to lots of destinations. Use the following list of routes to help you plan your next flight. Book TAP Portugal flights on Alternative Airlines to save big! Alternative Airlines is an online travel agency, specialising in booking lesser known airlines and remote destinations.
---
About Alternative Airlines
Alternative Airlines is an online flight search complete with customer service specialising in booking flights on lesser known airlines and to remote destinations. We offer you a wider choice of airlines supported by a team of customer service and travel specialists for help and advice on your travel plans. We specialise in finding the best available fares on the widest range of airlines and making them available to you online, with prices in the currency of your choice.
Alternative Airlines handles all your travel arrangements and payments, complete with ticketed confirmation. We do not direct you to other websites or service providers. We help you through the process. This is what makes us Alternative Airlines. Check out our reviews on Feefo or our reviews page. If you want to know a little bit more about us, read our blog for our alternative travel secrets and stories.
Browse for flights, find some amazing deals, make a reservation and pay in the currency of your choice today with Alternative Airlines. Let Alternative Airlines help find you the best prices and make international and domestic flight reservations with us today.
---