Cabo Verde Airlines Reservations with Alternative Airlines
Make a Cabo Verde Airlines Airlines Booking and Find Some Amazing Deals
---
About Cabo Verde Airlines (TACV Airlines)
Cabo Verde Airlines, previously called and known as TACV Cabo Verde Airlines (Transportes Aéreos de Cabo Verde), is the national flag carrier of Cape Verde and is a scheduled and charter airline based in Praia, Cape Verde.
Cabo Verde Airlines (TACV Cabo Verde Airlines) used to fly to many destinations including Santo Antao, Sao Vicente, Santa Luzia, Sao Nicolau, Sal, Boa Vista, Maio, Santiago, Fogo, Brava within Cape Verde. However, the airline has terminated most of its flights and only operates flights to Cape Verde and Portugal.
Cabo Verde Airlines main base is Sal Airport, with smaller ones at Praia International Airport and Sao Pedro Airport. TACV was established in 1958 and following the independence of Cape Verde in July 1975, the airline became a public company.
Cabo Verde Airlines (TACV)'s fleet currently consists of one ATR42-500 (stored at Praia), three ATR-500s, and one B757-200.
Pay Your Way
When you book your flights through Alternative Airlines, you can choose to pay using the currency of your choice, whether that's US Dollars, Euros, or even Cape Verdean escudo.
---
Destinations
Country
CITY
AIRPORT
IATA
Cape Verde
Praia
Nelson Mandela International Airport
RAI
Sal
Amílcar Cabral International Airport
SID
São Vicentre
Cesária Évora Airport
VXE
Protugal
Lisbon
Lisbon Portela Airport
LIS
---
About Cape Verde
Cape Verde is a volcanic archipelago formed by ten islands, nine of which inhabited, and eight islets, reaching a total surface of 4033 km². Located at 445km off the west coast of Africa, its 510.000 inhabitants are well known for their 'morabeza', a word that transmits the best these paradise islands can offer.
Cape Verde homes a variety of musical styles due to the mixture of various European and African music forms: morna – worldwide popularised by the eternal diva, Cesária Évora – batuque, funaná, mazurka, and tabanca are the most popular music styles.
The climate is tropical dry with two main seasons: the dry season, between November and July, and the wet season, from August to October. The average annual temperature swings around 25º C, which makes Cape Verde a 365-day sunshine country with beautiful, sunny beaches. With a privileged location in the middle of the world and close to Europe, America and Africa, these small grains of land are your ideal holiday destination.
The official language is Portuguese, but people usually speak Capeverdean Creole, a mother-tongue to be proclaimed Cape Verde's official language. Each island has its own Creole variety.
To the south you can find the Leeward Islands of Maio, Santiago, Fogo and Brava. There are two types of islands according to the relief: flat islands surrounded by long and wide beaches Sal, Boavista and Maio and the high, contrasted mountain islands Santo Antão, Santiago, Fogo, San Vicente, San Nicolau and Brava where you can see black sand beaches.
---
Baggage Allowance
Carry-On Baggage
Hand luggage is limited to maximum dimensions of 115cm (55 in height x 35 cm length x 25 wide) and a maximum weight of 5 kg / 11 lbs.
Checked Baggage
On domestic flights, Cabo Verde Airlines allows 15kg of checked luggage, 20kg on regional flights and 23kg on international flights. On international flights, classes Y, M, Q, W, B, N have 30kg / 66lbs of checked luggage.
Infants travelling are allowed to bring 1 checked bag weighing no more than 10 kg / 22 lbs with dimensions that don't exceed 115 cm (55 cm length x 40 cm width x 20 cm height).
---
Check-In Information
Check-In Online
Online check-in is available on all flights departing from Capo Verde and Portugal. Cabo Verde Airlines lets you check-in online 36 hours before your flight departure time.
Airport Check-In
If you're unable to check-in online you can complete check-in at the airport, by heading to the airline's check-in desks. Passengers are advised to arrive as early as possible, usually 3 hours prior to scheduled departure for regional and international flights. Regional flights close 50 minutes prior to departure and international flights close 60 minutes prior to departure.
---
Frequent Flyer Programme
TACV CLUB
Cabo Verde Airlines (previously TACV) operates a programme for frequent flyers called TACV CLUB. TACV CLUB allows you to accumulate miles and use them later to be purchased by free flights or priority on waitlisted flights. TACV CLUB offers passengers three membership card levels when joining: Blue, Silver and Gold cards. TACV Blue cards help passengers access free flight tickets and Silver Cars allow passengers access free flight tickets, waiting list priority, access to Business Class check-in desks and 10kg extra of baggage allowance on international flights. You need at least 28,000 miles for the Silver Card and 48,000 miles for the Gold Card.
---
Codeshare agreements
Cabo Verde Airlines (TACV Cabo Verde) has codeshare agreements with TAAG Angola Airlines, TAP Portugal and Cabo Verde Express. TACV Cabo Verde Airlines operates Airbus A320, ATR 42-500s, ATR 72-500 and Boeing 757-200 in its fleet.
---
Fleet
As of February 2022, Cabo Verde Airlines consists of the following fleet:
Boeing 737-700
Boeing 757-200
---
In-Flight Entertainment
Unfortunately, Cabo Verde Airlines doesn't offer in-flight entertainment. Cabo Verde Airlines advises that you bring a fully charged device to watch movies during your flight. The airline is currently re-design its in-flight entertainment
---
Cabo Verde Flights on Finance
Did you know when you book through Alternative Airlines you can buy ANY Cabo Verde Airlines flight and spread the cost over time? We have partnered with a number of payment plan providers that let you split the cost of your flight ticket over weekly, bi-weekly and monthly instalments. This includes Klarna, Afterpay, Uplift, Clearpay and more. Please bear in mind that the payment plan available at checkout will depend on the country in which you reside.
---
Special Assistance
Wheelchair Assistance
If you require wheelchair assistance, please contact us. We will inform Cabo Verde Airlines that you or a member of your party require wheelchair assistance. You can also request wheelchair assistance at the airport if forget to book wheelchair assistance online.
---
Cabo Verde Airlines Hub Airport
Amilcar Cabral International Airport
Amilcar Cabral International Airport (SID) is the principal international airport of Cape Verde and is located 2 km west-southwest from Espargos on Sal Island. The airport was named after the revolutionary leader Amílcar Cabral. The airport has one main runway 3,272m long and is the longest runway in Cape Verde. Amílcar Cabral has only 1 terminal. The building is a two-story building containing check-in, waiting and arrival areas as well as stores and banking services.
This airport is the hub airport for Cabo Verde Express, Caber Verde Express and TACV Cabo Verde Airlines. Other airlines which fly to and from this airport include Binter Canarias, Cabo Verde Express, Luxair, Meridiana, TAP Portugal, Royal Air Maroc, Transavia and Vueling.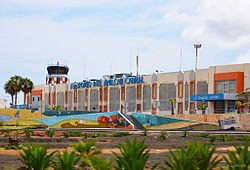 ---
Alternative Airlines
---
FAQs
What airline is 'TACV'?
Cabo Verde Airlines is also known as TACV or TACV Cabo Verde Airlines (Transportes Aéreos de Cabo Verde), which is the previous name of the airline. Cabo Verde Airlines is the national flag carrier of Cape Verde, and provides scheduled passenger flights from its base in Praia, Cape Verde.
Can I fly to Cape Verde?
Yes, you can book flights to Cape Verde from a number of destinations within the U.S., Europe, and other destinations around the world. Airlines include Cabo Verde Airlines, as well as other airlines such as Neos, TAP Air Portugal, and Tui Airways.
Can I book flights to Cape Verde online?
Alternative Airlines makes it easy to search and book flights to Cape Verde in English. We ticket hundreds of airlines around the world, including airlines that fly to Cape Verde. To begin, simply use the search bar at the top of the page, by entering 'Cabo Verde' and your chosen departure airport or city. When you book your flights through Alternative Airlines, you can pay the way you want, whether that's using Paypal or by splitting the cost with one of our payment plan options, including Sezzle, Afterpay, and Affirm.