Book Vueling Flights with Alternative Airlines
Make a Vueling reservation and find some amazing deals with Alternative Airlines
---
About
Vueling is a Spanish low-cost airline, which is based in Barcelona and has two main hubs at Barcelona and Rome Airport.
Vueling has codeshare agreements with British Airways, Iberia and Qatar Airways.
In 2008, Vueling Airlines and Clickair announced the merger of the brands.
In 2013, IAG acquired control of Vueling which saw the recently purchased 44.66% stake by IAG merged with Iberia's existing 45.85% stake to form a 90.51% shareholding. Vueling's fleet consists of Airbus A319-100, Airbus A320-200 and Airbus A321-200.
---
Destinations
Vueling flies to many destinations including Algiers, Oran, Sal, Banjul, Accra, Rabat, Fes, Marrakesh, Nador, Tangier, Dakar, Djerba, Tunis, Vienna, Sofia, Brussels, Split, Zadar, Zagreb, Pula, Prague, Aalborg, Copenhagen, Tallinn, Berlin, Dortmund, Dresden, Frankfurt and many others.
---
Vueling Baggage
Vueling permits customers to bring both carry-on baggage and checked baggage onto the aircraft. Weights and sizes differ depending on the type of bag.
Carry-on Baggage
When flying with Vueling, your hand baggage must not exceed 10 kg in weight or 55 x 40 x 20cm in size.
Passengers are also permitted a smaller bag, called a personal item. These can be items such as a laptop bag, camera, handbag or reading material for the flight.
Checked Baggage
Vueling does not include free baggage in their flight prices. Passengers can purchase checked luggage either online before flying, or for a higher price at the airport. To view prices and add bags to your journey, visit this website.
---
Vueling Check-In Information
Online Check-In
Vueling offers online check-in for their flights. This opens 4 hours before your flight and can be completed here.
Airport Check-In
Passengers must check in at the airport for their Vueling flight if they have not checked in online. To do so, visit a Vueling check-in desk at the airport.
---
Food & Drink
On board a Vueling flight, food and drink are not included as part of the price of your ticket, instead, they can be bought for a fee.
Both hot and cold food can be bought, including meal deals, sandwiches, nuts and tapas. Alcoholic beverages such as wine and beer can also be purchased or if you'd before a soft drink then fizzy drinks and water are served.
---
Frequent Flyer Program
Vueling has introduced a new programme in 2017 - Vueling Club which comes with the currency Avios.
Passengers can collect Avios when travelling with Vueling and always purchase with associated partners. Avios points can be used to get money off flights.
Originally, Vueling operated the Punto programme in order to reward regular travellers. From September 2017, passengers can exchange Punto points for Avios points.
1 Punto = 9 Avios
For Example: 300 Punto = 2700 Avios
If a passenger does not have an Avios account but did have a Punto account, they will be asked to fill in a few details for security reasons. These details will only need to be filled in once and points will automatically change to Avios.
If a passenger had both accounts, Vueling will automatically merge both. once the change has been made, the passenger will have to log into Vueling Club using Avios credentials.
Vueling offers the Optima Fare in which customers can select the seat you prefer, either in the front or back rows of the plane. You can swap your flight for an earlier one departing the same day completely free of charge providing you bring it forward for another on the same date and other stipulations.
---
Vueling Seat Selection
Book your Vueling flights with Alternative Airlines to select your seats before departure! Alternative Airlines offer passengers the ability to choose their preferred seats and reserve it before flying. Using an interactive map of the plane, passengers can see the layout of exit row seats, aisle seats, window seats, and seats with extra legroom and see which of these are available to book.
---
Book Vueling Flights in English
Alternative Airlines allows you to book your Vueling Flights in English. You can trust in us that we will deal with every aspect of booking to assure you of a smooth and pleasant experience. If you have any queries, our excellent customer service team will help you through them in English.
---
Route Map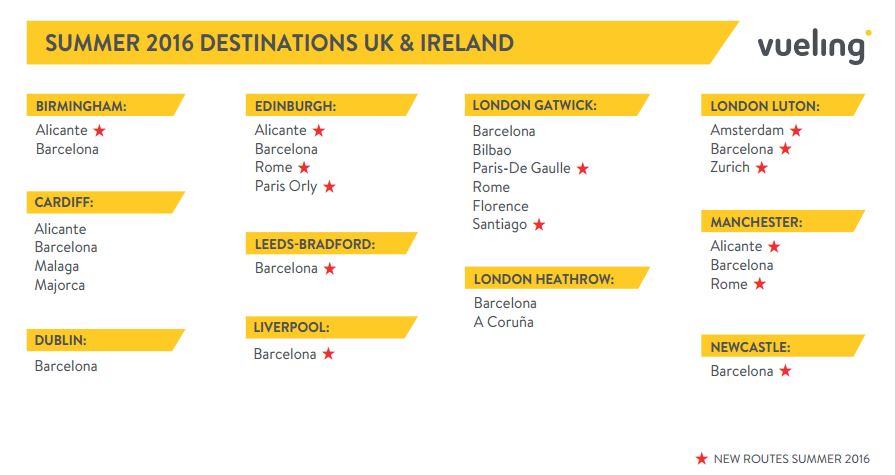 ---
Popular Routes
Vueling flies popular routes such as the ones listed below:
Barcelona

Rome
Paris

Barcelona
Dresden

Barcelona
Berlin

Barcelona
Nantes

Barcelona
Barcelona

London
---
Fleet

As of December 2022, the Vueling fleet consists of 6x Airbus A319-100, 77x Airbus A320-200, 25x A320neo, 1xA321neo and 18x Airbus A321-200.
Airbus A319-100
Airbus A320-200
Airbus A321-200
Airbus A321neo
AirbusA320neo
---
Hub Airport
Barcelona El Prat Airport
Barcelona Airport is an international airport serving Barcelona and is the hub airport for Air Nostrum and Vueling. It has three runways and can handle nearly 40 million passengers every year.
Other airlines which fly to and from this airport include Norwegian, Pegasus Airlines, Primera Air, Qatar Airways, Royal Air Maroc, Royal Flight, Joon, Royal Jordanian, Ryanair, Singapore Airlines, Scandinavian Airlines, TAM Airlines, Transavia, Tunisair and many others.
---
Alternative Airlines to Vueling
Please click on the logos below to find out more about airlines that fly similar routes to Vueling:
---
FAQ's
How to cancel your Vueling flight?
If you are looking to cancel your flight, you can do this through the self-service flight cancellation system. Sign in via 'Manage my booking' and enter the booking reference. We will then display the amount you will be refunded, depending on the airline you booked with.
Please note that every airline has different cancellation policies but we will do our best to cancel your flight and get your money back.
Alternatively, you can contact us through our contact page and we'll help you cancel your flight.
What are the Vueling flights like?
Vueling Airlines is a Spanish low-cost airline and is the largest airline in Spain for its fleet size and number of destinations. Vueling Airlines offers quality customer service, comfortable seating and onboard food and beverages to ensure you have a safe and enjoyable flight experience.
Is Vueling owned by British Airways?
Since 2013, Vueling has been an operating company of the International Airlines Group (IAG), which is the parent company of British Airways and Iberia. This alliance means that Vueling can offer better deals for its customers by providing more frequent flights, destinations and additional baggage.
Is Vueling a safe airline?
Vueling makes sure that they follow a strict set of European laws whilst operating their aircraft. The airline has also been voted as one of the safest low-budget airlines in the world. This means that flying with Vueling is pretty much as safe as it can be for an airline.