Alitalia was taken over by ITA Airways and no longer flies. To search for flights similar to Alitalia, click on the ITA Airways logo below or use our search form at the top of the page.
Please note that you may continue to see Alitalia liveries on ITA Airways operated flights.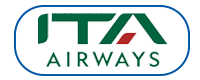 Search and Buy Alitalia Flights with Alternative Airlines
Make a Booking and Find Some Amazing Deals
---
About
Alitalia was the national carrier of Italy. The airline had two hubs, one at Leonardo da Vinci–Fiumicino Airport (FCO) and one at Milan Linate Airport (LIN). Alitalia Airlines offered flights across Europe and to parts of North Africa and Asia. Overall, the airline flew to more than 90 destinations across these areas.
The airline's history dated back to 1947 when the 'old' Alitalia operated flights as the national carrier of Italy until it ceased operations in 2009. Once the old Alitalia was declared bankrupt, the airline name and brand were bought by a group of investors who relaunched Alitalia as a new airline but with the same branding (ITA Airways).
The airline launched flights in 2009 and carried nearly 50 million passengers in its first two years of flying. Upon the launch of the new Alitalia, the airline acquired another struggling Italian airline and its main competitor at the time, Air One. Air One offered low-cost flights across Europe and — with its regional subsidiary Air One CityLiner — domestic flights within Italy. When Alitalia acquired Air One, it took on both Air One and Air One CityLine. Each airline remained as separate brands, however, Air One CityLiner was rebranded Alitalia CityLiner to distinguish the difference between the international offering from Alitalia and the regional offering from CityLiner.
The airline was part-owned by Etihad Airways and was one of the member airlines of the Etihad Airways Partner alliance. Alitalia Airlines was also a member of the SkyTeam airline alliance.
In 2020, it went into administration for the 2nd time and was eventually bought out by the Italian Government, which took Alitalia's assets and launched a new national carrier, called ITA Airways. Alitalia was one of the longest-serving airlines in existence at the time that it stopped flying and one of the most recognisable full-service carriers in Europe.
While ITA Airways has replaced Alitalia as the national airline of Italy, ITA Airways is not a rebrand of Alitalia. The airline has simply replaced the spot that Alitalia Airlines used to hold as the country's national airline as a separate company. This can be confusing as when the Italian government bought Alitalia's assets, it continued to use many of the assets for day-to-day operations. For example, ITA Airways uses the same airline IATA code as Alitalia and even flies with some Alitalia-branded planes, with cabin crew wearing Alitalia-branded uniforms. Despite all this, the two companies are separate. Any Alitalia flight that you had booked before the airline ceased operations cannot be refunded, credited or transferred to ITA Airways as the airlines are separate.
---
Fleet
Alitalia had a fleet with a mix of Airbus and Boeing aircraft. The airline had models from the A320, A330 and Boeing 777 families. Overall, the airline used nearly 100 different planes at the time that it ceased operations.
The airline fleet consisted of both narrow and wide-body aircraft for short to long-haul destinations, including the US.
---
Destinations
Alitalia flew all over the world in its 75 years of flying. It was the main gateway into Italy and, at one point or another, touched down in countries from every continent.
CITY
AIRPORT
IATA
Alghero
Alghero–Fertilia Airport
AHO
Bari
Bari Karol Wojtyła Airport
BRI
Bergamo
Orio al Serio International Airport
BGY
Bologna
Bologna Guglielmo Marconi Airport
BLQ
Brindisi
Brindisi Airport
BDS
Cagliari
Cagliari Elmas Airport
CAG
Catania
Catania–Fontanarossa Airport
CTA
Comiso
Comiso Airport
CIY
Florence
Florence Airport
FLR
Genoa
Genoa Cristoforo Colombo Airport
GOA
Lamezia Terme
Lamezia Terme International Airport
SUF
Lampedusa
Lampedusa Airport
LMP
Milan
Milan Linate Airport
LIN
Milan Malpensa International Airport
MXP
Naples
Naples International Airport
NAP
Olbia
Olbia Costa Smeralda Airport
OLB
Palermo
Falcone Borsellino Airport
PMO
Pantelleria
Pantelleria Airport
PNL
Perugia
Perugia San Francesco d'Assisi – Umbria International Airport
PEG
Pescara
Abruzzo Airport
PSR
Pisa
Pisa International Airport
PSA
Reggio Calabria
Reggio Calabria Airport
REG
Rome
Leonardo da Vinci–Fiumicino Airport
FCO
Trapani
Vincenzo Florio Airport Trapani–Birgi
TPS
Trieste
Trieste – Friuli Venezia Giulia Airport
TRS
Turin
Turin Airport
TRN
Venice
Venice Marco Polo Airport
VCE
Verona
Verona Villafranca Airport
VRN
COUNTRY
CITY
AIRPORT
IATA
Albania
Tirana
Tirana International Airport Nënë Tereza
TIA
Algeria
Algiers
Houari Boumediene Airport
ALG
Argentina
Buenos Aires
Ministro Pistarini International Airport
EZE
Belgium
Brussels
Brussels Airport
BRU
Brazil
Rio de Janeiro
Rio de Janeiro–Galeão International Airport
RIO
São Paulo
São Paulo–Guarulhos International Airport
GRU
Bulgaria
Sofia
Sofia Airport
SOF
Canada
Toronto
Toronto Pearson International Airport
YYZ
Chile
Santiago
Comodoro Arturo Merino Benítez International Airport
SCL
Croatia
Dubrovnik
Dubrovnik Airport
DBV
Split
Split Airport
SPU
Cuba
Havana
José Martí International Airport
HAV
Cyprus
Larnaca
Larnaca International Airport
LCA
Czech Republic
Prague
Václav Havel Airport Prague
PRG
Denmark
Copenhagen
Copenhagen Airport
CPH
Egypt
Cairo
Cairo International Airport
CAI
Sharm El Sheikh
Sharm El Sheikh International Airport
SSH
France
Ajaccio
Ajaccio Napoleon Bonaparte Airport
AJA
Marseille
Marseille Provence Airport
MRS
Nice
Nice Côte d'Azur Airport
NCE
Paris
Charles de Gaulle Airport
CDG
Orly Airport
ORY
Toulouse
Toulouse–Blagnac Airport
TLS
Germany
Berlin
Berlin Tegel Airport
TXL
Cologne
Cologne Bonn Airport
CGN
Düsseldorf
Düsseldorf Airport
DUS
Frankfurt
Frankfurt Airport
FRA
Hamburg
Hamburg Airport
HAM
Munich
Munich Airport
MUC
Stuttgart
Stuttgart Airport
STR
Greece
Athens
Athens International Airport
ATH
Corfu
Corfu International Airport
CFU
Heraklion
Heraklion International Airport
HER
Kephalonia
Kephalonia International Airport
EFL
Mykonos
Mykonos Airport
JMK
Rhodes
Rhodes International Airport
RHO
Santorini
Santorini (Thira) International Airport
JTR
Thessaloniki
Thessaloniki International Airport
SKG
Hungary
Budapest
Budapest Ferenc Liszt International Airport
BUD
India
Delhi
Indira Gandhi International Airport
DEL
Israel
Tel Aviv
Ben Gurion International Airport
TLV
Japan
Tokyo
Haneda Airport
HND
Narita International Airport
NRT
Jordan
Amman
Queen Alia International Airport
AMM
Lebanon
Beirut
Beirut–Rafic Hariri International Airport
BEY
Luxembourg
Luxembourg City
Luxembourg Findel Airport
LUX
Maldives
Malé
Velana International Airport
MLE
Malta
Malta
Malta International Airport
MLA
Mauritius
Port Louis
Sir Seewoosagur Ramgoolam International Airport
MRU
Mexico
Mexico City
Mexico City International Airport
MEX
Montenegro
Podgorica
Podgorica Airport
TGD
Morocco
Casablanca
Mohammed V International Airport
CMN
Netherlands
Amsterdam
Amsterdam Airport Schiphol
AMS
Poland
Warsaw
Warsaw Chopin Airport
WAW
Russia
Moscow
Sheremetyevo International Airport
SVO
Saint Petersburg
Pulkovo International Airport
LED
---
Route Map
Below is Alitalia's route map from 2007. At this time, the airline's focus was primarily on flights within Europe, North Africa and parts of Asia. In the years following (and up until it stopped flying) the airline greatly expanded its route network, flying to destinations in the Americas.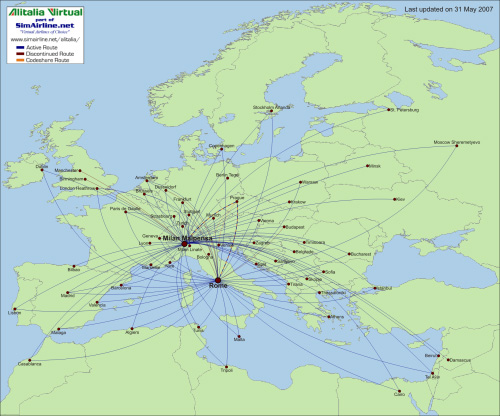 ---
Baggage Allowance
Carry-on Baggage
You were allowed one item of carry-on baggage weighing no more than 8 kg (17 lbs) and measuring no more than 55 cm x 35 cm x 25 cm (21.6" x 13.7" x 9.8").
Checked Baggage
The free checked baggage allowance depended on the travel class that you were flying in. This was as follows:
TRAVEL CLASS
NO. OF BAGGAGE
MAX WEIGHT
(PER PIECE)
LIGHT
no baggage allowance
no baggage allowance
ECONOMY
1
23 kg*
PREMIUM ECONOMY
2
23 kg**
BUSINESS
2
32 kg
COMFORT
2
23 kg
*2 x 23 kg on the following routes:
to/from Japan
to/from Brazil
From the Middle East (excluding Israel) and India to USA, Mexico & Canada
From New Delhi to Europe, East Europe, North Africa and the Middle East
**2 x 32 kg on the following routes:
---
Check-In Information
Online Check-In
You could check in online for your flight by visiting the Alitalia online check-in page and entering your booking code and name. Online check-in was available from 48 hours before scheduled flight departure time on most flights, except for the following.
Flights departing from Amsterdam and Paris (30 hours before scheduled flight departure time)
Flights departing from Geneva and Zurich (24 hours before scheduled flight departure time)
Direct flights to the USA (24 hours before scheduled flight departure time)
Airport Check-In
If you didn't check in online, you could visit the airport check-in desk at the airport.
For most domestic flights, airport check-in closed 35 minutes before scheduled departure.
For most international or regional flights, airport check-in was closed one hour before scheduled departure.
---
Economy Class
Economy Class travel with Alitalia Airlines was always a guarantee of value without forgoing comfort. It included personalised advantages and services for all types of trips.
Economy Facilities
Depending on the duration of the flight, you could enjoy a snack or a light meal, accompanied by a selection of drinks, tea and coffee.
On long-haul international flights departing from Italy, the airline offered two meals: the first one with an antipasto, a main course (choice of meat or pasta), fresh fruit and dessert and the second one with a snack or breakfast.
The third service, which consisted of a snack and a drink, was served only for flights over 11 hours.
Alitalia offered individual entertainment systems with a vast library of movies, games, music and TV programs on their Airbus A330s and B777s, the opportunity to place a telephone call to the ground using satellite technology or to call a travelling companion on your same flight, but seats away, by dialling the number of his/her seat. Also, you could stay connected with WiFi connectivity on board.
Economy Seats
On narrow-body aircraft, seat formation was set out in a 2 x 2 or 3 x 3 formation, with between 30–34" (76–86 cm) seat pitch and 18" (46 cm) of seat width.
On wide-body aircraft, seat formation was set out in a 2 x 4 x 2 or 3 x 4 x 3 formation, with 30–34" of seat pitch and 17" (43 cm) of seat width.
---
Premium Economy
Premium Economy was a great way to enjoy a more comfortable flight, with a higher standard of service, for just a little extra cost. Premium Economy was available on all long-haul international flights.
Premium Economy Facilities
On the ground, passengers could enjoy priority boarding and a check-in desk that was exclusive to Premium Economy passengers.
Onboard, passengers booking flights with Alitalia were seated in a separate section of the cabin. Premium Economy seats were specially designed to give extra space and are fitted with a personal TV. Premium Economy passengers could also access the airline's Wi-Fi network and were given a blanket and pillow for further comfort.
Those flying Premium Economy were given a free baggage allowance of two checked bags, with a maximum weight of 23kg per bag.
Premium Economy Seats
Each Premium Economy seat offered up to 40% more legroom and could recline backwards up to 120 degrees. The seats were each fitted with a 10.4" (on the Boeing 777) or 10.6" (on the A330) personal TV with full access to the in-flight entertainment system.
On narrow-body aircraft, seats were set out in a 2 x 2 or 3 x 3 formation, with 30–35" (76–89 cm) of seat pitch and 18" (46 cm) of seat width.
On wide-body aircraft, seats were set out in a 2 x 3 x 2 or 2 x 4 x 2 formation, with 38" (96 cm) of seat pitch and 19" (48 cm) of seat width.
---
Business Class
The Business Class service was available on medium-haul flights, offering passengers dedicated services to make their trip as enjoyable and comfortable as possible.
Business Class Facilities
The Business Class fare granted you access to the Skyteam lounge as well as the dedicated check-in desks. Once comfortably in their seat, you were treated to a menu that was inspired by traditional Italian cuisine combined with a wide range of complimentary drinks. On flights that depart after 12pm, an aperitif was served at the end of each meal.
Business Class passengers were permitted two items weighing a total of 32kg.
What are Business Class Seats Like?
Once onboard, you could sit back and relax in the spacious Business Class cabin. With only four seats per row, there was room to spread your legs throughout your flight.
On narrow-body aircraft, seats were set out in a 3 x 3 formation and give 32–34" (81–86 cm) of seat pitch and 18" (46 cm) of seat width.
On wide-body aircraft, seats were set out in a 1 x 2 x 1 formation and give 44" (112 cm) of seat pitch and 22" (56 cm) of seat width.
---
First Class
First Class, known as Magnifica, was the airline's award-winning highest-tier cabin class with the best standard of service.
What Does First Class Include?
If flying Magnifica, you could enjoy priority check-in and boarding with SkyPriority, as well as a free baggage allowance of two pieces of baggage of up to 32kg per piece.
You were also given access to pre-flight lounges and Alitalia's First Class Cabin with dedicated and exclusive food choices.
First Class Facilities
First Class included specially designed leather seats that transform into fully-flat beds and have a built-in massage system. Each seat had a 15-inch personal TV which gives access to the in-flight entertainment system.
Passengers booking flights with Alitalia were given complimentary access to the Wi-Fi system, as well as a night kit and other Salvatore Ferragamo-branded toiletries.
Its food menus are expertly designed and provided by Gambero Rosso, with a traditional menu offering Italian cuisine, a healthy menu and special monthly features. Each menu came complete with a full wine list and special blends of coffees and teas from Lavazza.
Do they Have a First Class Lounge?
Magnifica passengers were given access to the airline's Casa Alitalia Lounges at Rome Fiumicino and Milan Malpensa airport. Casa Alitalia was a luxurious lounge with a premium choice of food and wines on offer.
---
In-Flight Entertainment
Available on long-haul international flights, Alitalia Airlines provided over 100 TV programs, 100 music compilations, 80 movies, 35 kids programs and 28 interactive games for passengers to enjoy. Alitalia renewed its in-flight entertainment selection each month and updates it with the latest and greatest entertainment.
---
WIFI
Keep in touch with the outside world with Alitalia WIFI. The Alitalia WIFI network allowed passengers to check emails, browse social media, as well as text and call.
Wi-Fi Price
Passengers could purchase several different WIFI packages:
The LITE package gave 10MB for $2 USD
The FLEXI package gave 50MB for $6 USD
The FLEX PLUS package gave 90MB for $12 USD
The BUSINESS package gave 200MB for $20 USD
---
Food
Meal Options
Passengers in Alitalia Economy class could enjoy a snack on international flights under three hours, and a light meal on flights over three hours including items such as a sandwich and dessert. On longer flights up to 11 hours, there were two meal services, one consisting of a starter, main and dessert and the second consisting of a snack or breakfast. For flights above 11 hours, the meal service was as above with an added meal of a snack.
Premium Economy passengers could enjoy a selection of warm meals, breakfast and snacks. What exactly will be given is dependent on the flight schedule, time and destination.
For passengers in Business Class, the meals were inspired by Italian flavours, which will change seasonally in summer and winter. The choices of food offered also varied according to the length, time and destination of your flight. As a minimum, passengers on shorter flights received breakfast, a pasta lunch or dinner.
Magnifica Class, or First Class, passengers received meals inspired by the finest Italian cuisine and created by Gambero Rosso. Passengers had three options to choose from; a Traditional Italian menu, a Healthy menu and a light menu.
Special Dietary Requirements
Alitalia passengers who had special dietary requirements such as medical, dietary, religious or children's meals can pre-order a special meal for their flight. These meals had to be pre-ordered at least 24 hours before departure by contacting the customer centre or requested at the time of booking. The following are the special meals that were available to order:
Drinks & Alcohol
All passengers booking flights with Alitalia received a drinks service with their meal, including both hot and cold drinks. Passengers in Premium Economy could enjoy selected fine wines, and each meal will be finished with a taste of limoncello. Business Class and Magnifica passengers could enjoy a wider selection of wines from the onboard cellar but also drank from the regular service such as Lavazza coffee.
---
Frequent Flyer
MilleMiglia Program
Alitalia Airlines operated a frequent flyer program called MilleMiglia Program to reward regular passengers with Alitalia. This exclusive club provided benefits for flying miles with Alitalia. In addition, passengers booking flights with Alitalia could earn miles and request award tickets across the whole network operated by their new partners Etihad Regional, Air Serbia and Air Seychelles. The miles earned could be used to join or renew membership to the Exclusive Clubs.
Passengers could collect frequent flyer points quickly and easily with Alternative Airlines and enjoy the benefits of their chosen alliance. Check out our article to find out which frequent flyer program is best for you.
---
Airline Alliance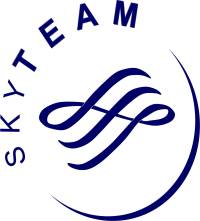 SkyTeam Alliance
SkyTeam is a leading global airline network, with more than 20 member airlines (including affiliates). SkyTeam consists of member airlines such as Aerolineas Argentinas, Aeromexico, Air Europa, China Southern, China Airlines, Delta, Garuda Indonesia, Kenya Airways, KLM and others.
---
Hub Airport
Leonardo Da Vinci Fiumicino International Airport
Leonardo Da Vinci Fiumicino International Airport was Alitalia's hub airport and is located in Rome, Italy. It has four runways and three passenger terminals that can handle over 40 million passengers every year.
The airport also serves as a hub for Vueling, the Spanish low-cost carrier owned by IAG. Other airlines which fly to and from Leonardo Da Vinci Fiumicino International Airport include Air Italia, Austrian Airlines, Blue Air, Joon, British Airways, Croatia Airlines, easyJet, China Airlines, China Eastern Airlines, Egyptair, Fly Ernest, EGO Airways, Finnair, Neos and Pegasus Airlines.
---
Alternative Airlines
Please click on the logos below to find out more about airlines that fly similar routes:
---
FAQs
Has Alitalia stopped flying?
Yes, Alitalia stopped flying in October 2021. The airline had been struggling financially since 2017. The Italian government bought out the airline and transferred all of its assets to a new government-owned national carrier, ITA Airways.
Who replaced Alitalia?
Alitalia was replaced by a new, government-owned national carrier called ITA Airways in 2021. When the Italian government bought Alitalia in 2021, all of Alitalia's assets were transferred over to ITA Airways, along with its route network. ITA Airways' replacement of Alitalia is not a rebrand. The airlines are two separate companies.
Who bought Alitalia?
Alitalia was bought out by the Italian government in 2020. The government then decided to remove the airline as the national carrier of Italy and replace it with a new airline, ITA Airways.
Why did Alitalia stop flying?
Alitalia stopped flying due to financial difficulties. The airline had long-standing financial issues that date as far back at the late 1990s. The airline filed for bankruptcy and went out of business in 2020.
What is Alitalia's new name?
Alitalia went out of business in 2020 and stopped flying. The airline wasn't rebranded or replaced. However, after it stopped flying, the Italian government launched a new airline, using many of Alitalia's assets. This airline is named ITA Airways and is seen as the successor and replacement of Alitalia.
Where can I book flights to Italy?
You can easily book your flights to Italy right here at Alternative Airlines. Even though Alitalia is no longer flying, you can still book flights with ITA Airways on our flight search and booking site. Simply use our search form at the top of the page and enter any city in Italy as your destination. We'll find you all the flights available based on your search criteria. Other airlines that offer flights to Italy include AeroItalia and Neos.
---
News
18th August 2021
Alitalia set to be replaced
Alitalia is set to be replaced by a new state-owned airline Italia Trasporto Aero (ITA). Alitalia has been facing some financial difficulties in the last few years and the decision has been made to shut the airline down in mid-October and replace it with the new flag carrier, ITA.
The airline will be saying bye to the sky after 75 years of flying. The announced date for the changeover is 15th October 2021, however, this could change as we nearer the time.