Neos Air Reservations with Alternative Airlines
Make a Neos Air Booking and Find Some Amazing Deals
---
About Neos Air
Neos (airlines) is an Italian leisure airline, based in Somma Lombardo and Milan. Neos was established in June 2001, as a combined venture between two tourism companies, the Italian Alpitour S.p.A. and the German Tui Group. Revenue flights were launched on 8 March 2002.
In January 2004, Neos became the parent company of Alpitour, losing its affiliations wth the TUI Group. TUI sold its entire shares to Alpitour.
For many years Neos has been working with Costa Cruises to transport passengers from Italy to Dubai the Caribbean and the North of Europe at Costa's ships departure and arrival points.
In January 2011, Neos fleet was increased up to 6 planes. Neos is the first Italian Boeing 787 operator with the first aircraft entering service on 25 December 2017.
---
Baggage Allowance
Carry-on Baggage
One only piece of luggage per passenger is allowed in the cabin. The maximum weight for carry-on baggage is 5 kg and the maximum size is 55x40x20 cm.
Checked Baggage
The hold baggage allowance varies according to the flight haul, except where otherwise specified (e.g. special flights or particular destinations). The hold baggage allowance is strictly calculated per person: so it is forbidden to transfer a part or the whole allowance from one passenger to another. For each passenger, the weight limit of the checked-in baggage is 15kg for short and medium haul flights, 20kg for long-haul flights in Economy Class and 30kg for long-haul flights in Economy Premium Class.
---
Check-in Information
Online Check-In
Neos Air online check-in is available from 24 hours until three hours before your scheduled flight departure. Neos Air online check-in is only available for flights departing from Milano Malpensa, Bologna, Verona, Roma Fiumicino, Bergamo, Cagliari, Catania, Ibiza, Palma Di Maiorca, Minorca, Kos, Rodi, Karphotos, Creta, Mykonos, Santorini, Skiathos, Sal, Boa Vista, Tenerife, Lanzarote, Las Palmas, Fuerteventura and Tel Aviv.
Airport Check-In
Passengers checking in at the airport must bring a valid passport or identity card if visiting countries that lie within the Schengen region.
---
Neos Air Class Fares
NeosAir only offers Economy Class. On some flights there is the option to purchase an Economy Extra fare, as well as upgrade to Economy Premium.
---
Neos Air Economy Class
Economy makes up the majority of seating.
Economy Extra
Passengers departing from the airports of Milan Malpensa, Rome Fiumicino, Bologna, Mombasa, Zanzibar, Nosy Be, Maldives, La Romana, Havana, Holguín, Cancún and Montego Bay on long- haul flights on B767 aircraft have also got the option to upgrade to Economy Extra, for 70 euros, payable at check-in.
This service is also available for short- and medium-haul flights to Egypt, the Canary Islands, Cabo Verde, Tunisia, Portugal, the United Arab Emirates and Greece, at a cost of 30 euros payable at check-in.
Economy Class Facilities
Basic Economy: facilities include 32" monitors on the walls and free quality earphones. The meal tray features new appetizers and hot dishes, and complimentary beverages are served.
Economy Extra: Economy Extra means checking in at a special desk and a fast track for security checks.
Economy Class Seating
Basic Economy: Comfortable seats, in leather upholstery, feature a headrest that is separate from the backrest, and that can be adjusted in both height and width.
Economy Extra: Positioned in the first, last, and middle row, economy extra lets you enjoy extra legroom.
---
Neos Air Premium Economy
In December 2015, Neos replaced its Business class with Economy Premium to offer a flying experience that caters to travelers who want something more than economy class but is more affordable than business class.Economy Premium is available on long-haul flights.
Premium Economy Facilities
Economy Premium passengers have their own check-in desk and enjoy fast-track service, priority boarding and 30 kg of checked baggage. Onboard, enjoy an amenity kit featuring toothbrush and toothpaste, eye mask, earplugs, socks, and lip balm. In-flight service also features traditional Italian dishes that are individually prepared and served on porcelain plates, and a wide variety of DOCG wines by a major winemaker from Piedmont's famous Langhe area
The Economy Premium service on flights to/from China includes: Ergonomic seat with adjustable headrest and footrest, Checked baggage 30Kg, Check-in special, Fast track, Vip Lounge.
Premium Economy Seating
Economy Premium class is in a separate comfortable cabin, with a limited number of seats. It offers more legroom and extra comfort.
---
Neos Air's Fleet
The Neos Air fleet includes:
six x Boeing 727-800W
three x Boeing 767-300ERW
three x Boeing 787-9 Dreamliners
---
Neos Air's Destinations
Neos operates flights across Southern Europe. Russia, Africa, the Middle and Far East, the Caribbean, Mexico and Brazil. The following destinations are a mix of regular and seasonal scheduled services:
Domestic Destinations
| | | | |
| --- | --- | --- | --- |
| Bergamo | Bologna | Catania | Milan |
| Naples | Rome | Verona | |
International Destinations
| | | | |
| --- | --- | --- | --- |
| Boa Vista | Cancún | Chania | Corfu |
| El Alamein | Fuerteventura | Guiyang | Havana |
| Heraklion | Holguin | Ibiza | Karapathos |
| Kos | La Romana | Lanzarote | Larnaca |
| Las Palmas | Luxor | Malé | Marsa Alam |
| Marsa Matruh | Menorca | Mombasa | Montego Bay |
| Mykonos | Málaga | Nanjing | Nosy Be |
| Phu Quoc | Porto Santo | Rhodes | Sal |
| Salalah | Samos | Santorini | Sharm El Sheikh |
| Skiathos | Tel Aviv | Tenerife | Yangon |
| Zanzibar City | | | |
---
Neos Air Hub Airport
Milan-Malpensa Airport
Milan–Malpensa Airport is the biggest international airport in northern Italy. It serves 15 million inhabitants, as well as those living in the Swiss region of Canton Ticino. The airport is located 49 kilometres (30 mi) northwest of central Milan and has two terminals and two runways, as well as a dedicated cargo terminal.
The first industrial airport was opened in 1909 near the Cascina Malpensa, an old farm used originally used to test their aircraft prototypes. This airport was then opened for civil operation in 1948 during the war reconstruction period, in order to serve the northern area of Milan.
In 2017, Malpensa Airport was reported as Europe's 26th busiest airport. Until 2008, Malpensa Airport was a major hub for the flag carrier Alitalia. Malpensa Airport remains the second busiest Italian airport for international passenger traffic (after Rome Fiumicino Airport), and first busiest for freight and cargo. It handles over 500,000 tons of international freight annually.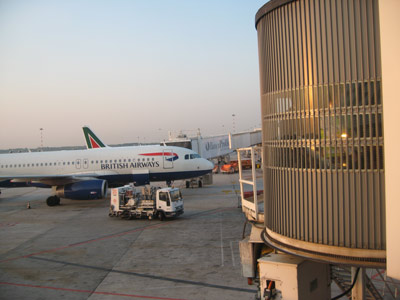 Photo credit: Jnpet
---
Alternative Airlines