Air Seychelles Tickets and Reservations with Alternative Airlines
Book Your Air Seychelles Flight Tickets and Find Some Amazing Deals
---
About
Air Seychelles is the national airline of Seychelles and is headquartered on the island of Mahe. The airline flies to several destinations across multiple countries in Africa and central/eastern Asia.
Air Seychelles was established in 1978, initially flying only domestic flights, until 1983 when the airline launched its first international flights to, serving both Frankfurt and London. Over the years, the airline built and adapted its international route network out and now flies to several countries outside of Seychelles.
In 2014, Air Seychelles received a prestigious four-star rating from Skytrax, as well as accolades for the Leading Business Class and Leading Cabin Crew in the Indian Ocean from the World Travel Awards.
---
Destinations
Air Seychelles flies to many destinations including Ahmedabad, Antananarivo, Mumbai, Paris, Port Louis, Mahe and Johannesburg.
The airline serves destinations in the region around Seychelles, as per the table below.
Domestic Destinations
| CITY | AIRPORT | IATA |
| --- | --- | --- |
| Mahé | Seychelles International Airport | SEZ |
| Praslin | Praslin Island Airport | PRI |
International Destinations
| COUNTRY | CITY | AIRPORT | IATA |
| --- | --- | --- | --- |
| India | Mumbai | Chhatrapati Shivaji International Airport | BOM |
| Israel | Tel Aviv | Ben Gurion International Airport | TLV |
| Madagascar | Antananarivo | Ivato International Airport | TNR |
| Mauritius | Port Louis | Sir Seewoosagur Ramgoolam International Airport | MRU |
| South Africa | Johannesburg | O. R. Tambo International Airport | JNB |
---
Route Map
Although the list of destinations seems limited, through its partnership programme, Air Seychelles actually operates a much wider and global network of flights, as shown in by the route map below.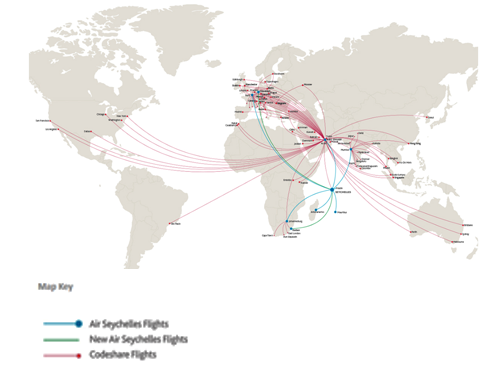 ---
Baggage Allowance
The free baggage allowance that the airline allows for each passenger differs depending on the cabin class that the passenger flies in and whether the route is international or domestic.
Carry-On Baggage
Domestic Flights
Passengers on domestic flights are given a free carry-on baggage allowance of 5 kg in both Economy and Business Class.
International Flights
Passengers on international flights are given a free checked baggage allowance of 7 kg if they're flying in Economy Class and 12 kg if they're flying in Business Class.
Summary:
Domestic Economy: 5kg
International Economy: 7kg
Domestic Business: 5kg
International Business: 12kg
Checked Baggage
Domestic Flights
Passengers are entitled to 23 kg of free checked baggage in both Economy Class and Business Class.
International Flights
Passengers are entitled to 30 kg of free checked baggage in Economy Class and 40 kg of free checked baggage in Business Class.
Summary:
Domestic Economy: 23kg
International Economy: 30kg
Domestic Business: 23kg
International Business: 40kg
Check-in
Web Check-in
Passengers can check-in for their Air Seychelles flight online by visiting the Air Seychelles website, navigating to the 'my trips' tab and entering their booking reference and last name. Please note that online check-in is only available on flights departing from Mahé, Praslin Island, Johannesburg, Mauritius and Mumbai.
Online check-in is available between 24–1 hour before scheduled flight departure on domestic flights and between 24–2 hours before scheduled flight departure time on international flights.
Airport Check-in
Depending on the airport, check-in opens three to four hours prior to departure and closes 45 minutes to 75 minutes before departure. It's advised to arrive as early as you can to the airport's check-in time to allow for enough time for check-in, baggage drop, to pass through airport security and to board your flight.
---
Economy Class
The Economy Class cabin is the airline's basic cabin class, for passengers that are looking for a simple but affordable way to fly.
Economy Class Facilities
Each seat comes fitted with a power outlet and a USB socket.
Passengers can enjoy in-flight entertainment, as well as food and drink served on all flights.
Economy Class Seats
Economy Class seats are set out in a 3 x 3 or 2 x 2 formation and give legroom of 32". Seats have adjustable headrests but no footrest.
---
Business Class
The Business Class cabin offers comfort and luxury. Passengers are treated to a range of benefits, exclusive just to those with a Business Class ticket. Business Class is available on select flights.
Business Class Facilities
Passengers can enjoy on-demand food from the airline's special Business Class menu, as well as in-flight entertainment and an in-seat power outlet and USB capability.
On flights that travel at night, passengers are given a Business Class overnight bag, which contains various complimentary items, such as skin creams, nightwear and more.
Business Class Seats
Business Class seats are made from genuine leather and recline close to full-flat beds. When seats are upright, they have adjustable leg rests and footrests.
---
In-Flight Entertainment
In-flight entertainment is available on all international flights. Passengers can access a range of fantastic movies, TV shows and music through a personal monitor that is fitted to the back of each seat.
---
WIFI
There's no WIFI network installed on flights from the airline.
---
Food
In Economy Class, passengers can order a range of food and drink, with a choice of main meals on international flights, along with complimentary drinks.
In Business Class, passengers are treated to an exclusive Business Class dining experience whereby passengers can order food and drink on-demand. The menu has been specially designed by culinary professionals and mixes tastes from Seychelles and beyond. Along with this, passengers can choose from an extensive drinks menu that includes alcoholic, non-alcoholic, hot and cold drinks.
---
Frequent Flyer
Etihad Guest
Air Seychelles is a part of Etihad Airways' frequent flyer programme, Etihad Guests. The Etihad Guest frequent flyer programme lets Air Seychelles passengers collect and redeem miles on the airline, as well as on more than 20 other partner airlines, including Etihad, Air New Zealand, Asiana Airlines, Bangkok Airways, GOL, Oman Air and Royal Air Maroc. See all of the Etihad Guest partners.
In addition to collecting and redeeming miles, passengers can enjoy a range of other benefits, including access to the Etihad Guest Reward Shop.
---
Airline Alliance
Vanilla Alliance
The Vanilla Alliance is an airline alliance made up of five airlines that was created to help serve passengers flying to destinations around the Indian Ocean. Along with Air Seychelles, each current member is a founding member — Air Austral, Air Madagascar, Air Mauritius and Int'Air Îles.
Through this alliance, passengers can easily connect to other destinations within the Indian Ocean area through strategic schedule planning and benefits for booking with each airline.
---
Fleet
The airline currently operates a fleet of the following aircraft:
Airbus A320-200
DHC-6 Series 300 Twin Otter
---
Hub Airport
Seychelles International Airport
Seychelles International Airport is an airport located on the island of Mahe. The airport is the hub airport of Air Seychelles. Air Austral, Air Seychelles, Condor, Emirates, Ethiopian Airlines, Etihad Airways, Kenya Airways and SriLankan Airlines also flies to Seychelles International Airport. Airlines such as Mihin Lanka used to fly to this airport, however, it, unfortunately, ceased operations in 2016.
Popular Routes
Mahe

Copenhagen
Stockholm

Mahe
Mumabi

Antananarivo
Mahe

Johannesburg
Amman

Johannesburg
---
Alternative Airlines