Air Madagascar operates internal and regional flights as well as services to France, Italy, Thailand, Singapore, Hong Kong and South Africa
---
Air Madagascar flights

Air Madagascar was formed in 1962 and was originally called MADAIR !! The airline was rechristened very quickly to the one it uses to this day. The airline provides over 40 flights each week to domestic airports, 20 plus on its regional network and double figures on it's long haul routes. European routes from Antanananarivo airport include Milan, Paris (Orly and Charles de Gaulle airports) and Marseille. The Far East is served by flights to Bangkok, Singapore and Hong Kong and South Africa has flights to Johannesburg. It is also possible to fly from Reunion to Bangkok.
The airline has aircraft approprite to it's network with 19 to 70 seat aircraft for domestic and regional flights to larger 130 to 244 seater aircraft for the high density and long haul routes.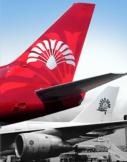 Air Madagascar Flights to Madagascar
Air Madagascar brings visitiors in to Antananarivo and transports them all around Madagascar and to the surrounding islands. Visitors come for the area's natural diversity - from eco systems, rainforests, wet and drylands to the coral reef and the airline's schedules and route network makes it very easy to reach all the main areas. So if your bag is birding, exploring rain forests, studying the flora or checking out the wildlife Air Madagascar will make getting around easy and convenient.
The airline does not have an on-line booking facility but WE DO !! Just complete our online booking form for availability with immediate confirmation. It's soooooooo easy.....

Air Madagascar expands services from Marseilles
Expanding carrier AIr Madagascar is increasing the number of destinations served from the Southern French city of Marseilles by adding weekly flights to Moroni in the Comoros Islands and Nosy Be in Madagascar on Thursdays and Sundays respectively.
Air Madagascar announce winter flights to Paris and Marseilles
Air Madagascar have now launched their winter season flying schedule to Europe using a leased Boeing 777-200ER aircraft operated by well established Portuguese airline EuroAtlantic Airways, with the inflight service and cabin crew provided by Air Madagascar.