Search and Buy Madagasikara Airways Flights Online
Make a Madagasikara Airways Booking and Find Some Amazing Deals
---
About
Founded in 2015, Madagasikara Airways is an airline for both domestic and international destinations for scheduled charter and international flights. Its central hub is Ivato International Airport and has a fleet made up of Embraer aircraft.
Initially, it offered regular flight tickets to Tomasina and Sainte-Marie from its base at Antananarivo. It later expanded its flight network and now it flies to over 10 destinations, both domestically and internationally.
---
Destinations
| COUNTRY | CITY | AIRPORT |
| --- | --- | --- |
| Comoros | Moroni | Prince Said Ibrahim International Airport |
| Madagascar | Antananarivo | Ivato International Airport |
| Madagascar | Antsiranana | Arrachart Airport |
| Madagascar | Mahajanga | Amborovy Airport |
| Madagascar | Morondava | Morondava Airport |
| Madagascar | Nosy Be | Fascene Airport |
| Madagascar | Île Sainte-Marie | Sainte Marie Airport |
| Madagascar | Sambava | Sambava Airport |
| Madagascar | Tôlanaro | Tôlanaro Airport |
| Madagascar | Toamasina | Toamasina Airport |
| Réunion | Saint-Pierre | Pierrefonds Airport |
---
Baggage Allowances
Carry-on Baggage Allowance
The maximum carry-on baggage weight is 5kg with maximum dimensions (length + width + height) of 115cm. Carry-on baggage is included in the price of the ticket.
Checked Baggage Allowance
All passengers are entitled to one piece of free baggage that is within 158cm in the total of the three dimensions (length + width + height). Economy passengers can check-in one 22kg baggage whereas premium class passengers can check-in a 25kg baggage.
---
Cabin Class
The airline offers economy class for their passengers, it comes with a 2-1 configuration.
Economy Facilities
Snacks, water, and beverages will be served. Snack boxes contain sandwiches and cake.
What are Economy seats like?
Sit comfortably in grey padded seats, with fold-down trays.
---
In-Flight Entertainment
In-flight entertainment is not available on their flights.
---
Check-In
Online Check-In
Madagasikara Airways passengers can check-in online on the airline website.
Airport Check-In
Passengers should arrive at the check-in desk at the airport two hours before the departure time of their flight. Passengers must present the relevant travel documents to the check-in agent to check-in.
---
Fleet
The airline currently has two Embraer E145 in their fleet.
---
Hub Airport
Ivato International Airport is the main airport in Antananarivo, the capital of Madagascar and is the hub airport for Madagasikara Airways. It is 16km away from the city centre and services airlines across Africa and Asia.
Ivato International Airport is also the hub airport for Air Madagascar. Other airlines that fly to IvatoInternational Airport include Airlink, Corsair International and Air Austral.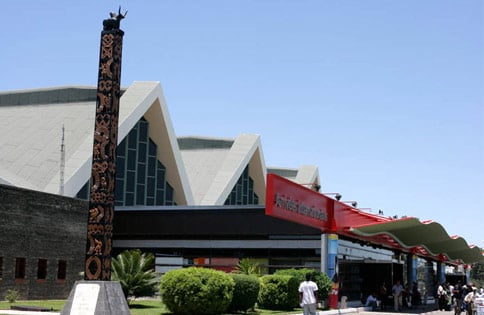 Photo credit: JialiangGao
---
Alternative Airlines
---
Contact Madagasikara Airways
If you have made a booking with Alternative Airlines and would like to contact us about your Madagasikara Airways booking, you can contact us using the information here.
Unfortunately, we can not help you if you have made a booking with another provider. Please visit the Madagasikara Airways website for information on how to contact them.
---