Search & Buy Kenya Airways Flights
Airlines will always try to sit children with their parents (subject to check-in)
Some airlines will allow travel for unaccompanied minors. Please email us to check.
The fare is based on the child's age on the date of travel.
More detailed information can be found here Traveling with children
Most airlines will let infants travel with their parent(s) for free. However some airlines will charge up to 10% of the adult ticket price. Click on 'Price Breakdown' to find out more.
If you are pregnant, but due before the flight departure date, please contact us once your baby is born and has a name. We can then add him/her to your ticket.
Infants will not be given a seat. The airlines expect parents to travel with them on their lap.
Airlines regard infants as being under 24 months old.
The fare is based on the child's age on the date of travel.
More detailed information can be found here Traveling with children
Buy
Kenya Airways

Flights
Kenya Airways Reservations with Alternative Airlines
Make a Kenya Airlines Booking and Find Some Amazing Deals
---
About
Kenya Airways is the flag carrier of Kenya with its hub at Jomo Kenyatta International Airport, Kenya. The airline flies to 53 destinations worldwide destinations both domestic and international including: Nairobi, Luanda, Cotonou, Gaborone, Ouagadougou, Bujumbura, Douala, Yaounde, Bangui, Guangzhou, Moroni, Abidjan, Kinshasa, Kisangani, Lubumbashi, Djibouti, Cairo, Malabo, Addis Ababa, Paris, Libreville, Accra, Hong Kong, Mumbai, Kisumu, Malindi, Mombasa, Monrovia, Antananarivo, Blantyre, Mahe, Freetown, Johannesburg, Juba, Khartoum and many others. They offer flights to Kilimanjaro International Airport as a gateway to the Serengeti national park, find other safari flights here.
Established in 1977, the airline is a member of the Sky Team Alliance and is a leading African airline, carrying over four million passengers annually. They offer world-class standards in service delivery, product quality and operational performance. "The Pride of Africa", aims to be airline of choice, connecting the World to Africa and Africa to the World.
As part of its Star Alliance membership, they have codeshare agreements with Onur Air, KLM, Air France, Korean Air, Aeroflot, China Southern, Kulula, Garuda Indonesia, Saudi Arabian Airlines, Vietnam Airlines, China Eastern, Precision Air, Air Mauritius, Air Mozambique, Jet Airways, TAAG-Angola Airlines, Air Burkina and Air Namibia.
The airline's fleet consists of Boeing 787-8, Boeing B777-300ER, Boeing 737-800, Boeing 737-700, Boeing 737-300 and Embraer 190 AR.
---
Frequent Flyer Program
Passengers can be rewarded for regular travel through Flying Blue when flying with Air France, KLM and Kenya Airways. You can earn Award Miles when flying through 4 tiers of membership: Ivory, Silver, Gold or Platinum. Award Miles can be used both in the air and on the ground through hotels. They offer new lounges in Nairobi's airport in Terminal 1A second floor. The two lounges have a total capacity of 315 guests.
---
In-flight Entertainment
You can enjoy in-flight entertained stream to your own device with the KQ Cinema app. Passengers should download the app before takeoff to have access to the fantastic selection of in-flight media.
TV Programs
Passengers can enjoy over 30 documentaries and 55 television program with with the KQ Cinema app. Find it on Google Play or the App store.
Movies
You can enjoy a selection of 80 different movies on board your flight! Choose the film of your choice by downloading the KG Cinema app before takeoff.
---
Route Map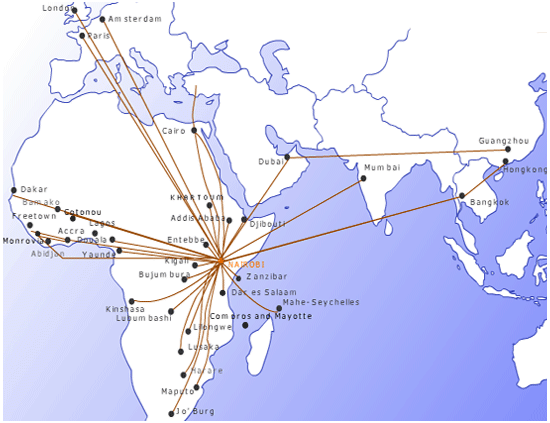 ---
Popular Routes
London

Harare
Kilimanjaro

London
Nairobi

Mombasa
Nairobi

Dubai
Addis Ababa

Nairobi
Johannesburg

London
---
Destinations
Luanda,
Angola
Contonou,
Benin
Ouagadougou,
Burkina Faso
Bujumbura,
Burundi
Douala,
Cameroon
Yaoundé,
Cameroon
Bangui,
Central African Republic
Guangzhou,
China
Moroni,
Comoros
Abidjan,
Côte d'Ivoire
Kinshasa,
Democratic Republic of the Congo
Kisangani,
Democratic Republic of the Congo
Lubumbashi,
Democratic Republic of the Congo
Djibouti City,
Djibouti
Cairo,
Egypt
Malabo,
Equatorial Guinea
Addis Ababa,
Ethiopia
Paris,
France
Libreville,
Gabon
Accra,
Ghana
Mumbai,
India
Rome,
Italy
Kisumu,
Kenya
Malindi,
Kenya
Mombasa,
Kenya
Nairobi,
Kenya
Monrovia,
Liberia
Antananarivo,
Madagascar
Blantyre,
Malawi
Lilongwe,
Malawi
Bamako,
Mali
Port Louis,
Mauritius
Dzaoudzi,
Mayotte
Maputo,
Mozambique
Nampula,
Mozambique
Amsterdam,
Netherlands
Lagos,
Nigeria
Brazzaville,
Republic of the Congo
Kigali,
Rwanda
Dakar,
Senegal
Mahé,
Seychelles
Freetown,
Sierra Leone
Cape Town,
South Africa
Johannesburg,
South Africa
Juba,
South Sudan
Khartoum,
Sudan
Geneva,
Switzerland
Dar es Salaam,
Tanzania
Kilimanjaro,
Tanzania
Zanzibar,
Tanzania
Bangkok,
Thailand
Entebbe,
Uganda
Dubai,
United Arab Emirates
London,
United Kingdom
New York City,
United States
Livingstone,
Zambia
Lusaka,
Zambia
Ndola,
Zambia
Harare,
Zimbabwe
Victoria Falls,
Zimbabwe
---
Economy Class
Economy class is the basic level of flying that this provided on these flights.
Economy Class Facilities
Passengers have a personal interactive screen in economy class for their flight. On this, passengers can watch the latest movies, TV show, music and documentaries on board their flight.
Economy Class Seats
Seats in economy class are either set up as 2 x 2, 3 x 3, or 3 x 3 x 3, depending on the aircraft. Passengers can select their preferred seat, or upgrade to additional legroom for their flight, at a cost.
---
Premium Economy Class
There is currently no premium economy class on this airline's flights.
---
Business Class
Business Class passengers receive a luxurious flying experience, from on the ground at the airport to onboard your flight.
Business Class Facilities
Passengers in Business class can enjoy priority boarding, swiftly passing through check-in, security, boarding and baggage delivery, meaning you spend less time in queues and more time doing what is important to you. Passengers in business receive a premium dining experience, complete with fresh and seasonal specially crafted meals, partnered with complimentary tea and coffee, and also wine, beer and spirits. Passengers also obtain a larger luggage allowance than passengers travelling in economy.
---
First Class
There is currently no First Class on Kenya Airways. For a premium flight experience, choose to upgrade to Business class when flying.
Does First Class Facilities Have a First Class Lounge?
Kenya Airways have newly opened lounges, inspired by the African landscapes such as rainforests, deserts and beaches. Available for business class passengers and through purchasing a pass at the airport. These are called the Pride Lounge, Simba T1A and Msafiri Lounge. Lounges provide passengers with high-speed internet, charging and power points for devices and food and snacks bars. The VVIP room is also complete with showers.
---
Fleet
The fleet includes Boeing 787-8, Boeing 737-800, Boeing 737-700, Boeing 737-300F and Embraer E190 aircraft.
---
Seat Selection
You can now book your Kenya Airways seat with Alternative Airlines. Browse the remaining seats and choose your favourite place to sit on the plane before your flight. Learn more with our "How to Book Seats" page.
---
Hub Airport
Jomo Kenyatta International Airport
Kenya Airways is based at Jomo Kenyatta International Airport in Nairobi, the capital and largest city in Kenya. Jomo Kenyatta International Airport has scheduled flights to destinations in over 50 countries. It also acts as a hub for Fly540 and African Express Airways.The Airport has one runaway and can handle nearly 6 million passengers every year. Other airlines which use Kenya International Airport include African Express Airways, China Southern Airlines, Coastal Aviation, EgyptAir, Ethiopian Airlines, KLM, LAM Mozambique Airlines, RwandAir and South African Airways.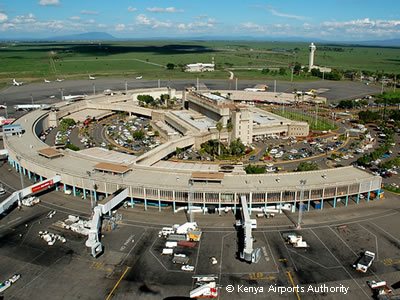 ---
Skyteam Alliance
Kenya Airways forms part of the SkyTeam Alliance which is a leading global airline network, with 20 member airlines. SkyTeam alliance was founded in 2000 and now consists of member airlines such as Aerolineas Argentinas, AeroMexico, Air Europa, China Southern, Alitalia, China Airlines, Delta, Garuda Indonesia, KLM and others. SkyTeam Alliance network has nearly 16,323 daily flights, with 1,052 destinations in 177 countries.
---
Alternative Airlines to Kenya Airways