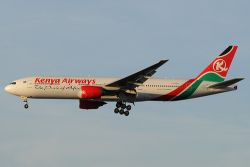 For over a decade
Kenya Airways
has built itself into probably Africa's finest international carrier. Starting in 1995 with a strategic alliance with KLM and followed in 1996 with an IPO, has continued to annually collect awards and accolades for its outstanding performance.
Kenya Airways.
---
Kenya Airways
is the fully-privatised flat-carrier of the Republic of Kenya, offering over 30 international and regional destinations.
Kenya Airway flies 10 times a week from London-Heathrow and through alliances and strategic partnership with KLM and Air France Kenya Airway's customers can travel from 22 cities in Europe.
Through the Nairobi Hub, Kenya Airways extends its network to over 30 destinations across Africa, Middle East, Asia and Far East.
Kenya Airways boasts the youngest aircraft fleet in the African continent and Boeing 777 offers passengers more personal space between Europe and Africa.
The Premier world cabin offers 28 flat beds with mood lighting and with 294 seats in economy with 32 inch seat pitch Kenya Airways is able to offer a more spacious cabin for their passengers.
Flights to Nairobi on Kenya Airways
London-Heathrow terminal 4
London-Heathrow flights operate daily overnight south and northbound, with additional weekend daylight flights from Terminal 4 London-Heathrow to Jomo Kenyatta International Airport Nairobi, Kenya with Boeing 767-300 ERs or Boeing 777-200 Ers.
The daylight flights also allow for onward connections on Kenya Airways to Mombasa, Dar es Saalam, Entebbe, Kilimanjaro, Johannesburg, Lilongwe and Kigali.
In conjunction with KLM and Air France, the airline offers twice-daily connections from 13 UK cities via Amsterdam and Paris.
Kenya Airways
We've worked with Kenya Airways for a number of years and always been astounded at their professionalism in the midst of the chaos that is Africa. Don't confuse the airline with lesser carriers from the Dark continent, Kenya Airways delivers what it promises and gets you to your destination efficiently and in relative comfort. The hub in Nairobi isn't like the modern temple that is Singapore, Changi; but it is functional, easy to navigate around and has plenty of seating areas. Their partnership with Precision Air of Tanzania makes Kenya Airways flights from London Heathrow a great way to get to the start of a 'once in a lifetime' climb of Kilimanjaro.
Jambo - a warm welcome everytime with Kenya Airways - the Pride of Africa lives up its tag-line and provides passengers with excellent on-board service, on-time departures and everything you'd expect of a major international airline. In July 2009 Kenya Airways growth continues with a new route to Liberville in Gabon. This route operates 3 time a week. Starting on 4th September Kenya Airways will start flying to Gaborone, it is planned to operate on a Tuesday, Friday and Saturday via Nairobi As part of the sky team partnership, Kenya Airways is now able to offer their Premier World Passengers a co-branded Alliance lounge in Terminal 4 at London Heathrow. The lounge offers such comforts as a wine bar, oxygen bar and full body massage chairs.
Update 26.10.2010: Kenya Airways launch new Malindi and Rome services