Search and Buy Kenya Airways Flights with Alternative Airlines
Make a Kenya Airways Booking and Find Some Amazing Deals
---
About Kenya Airways
Kenya Airways is the flag carrier of Kenya with a hub at Jomo Kenyatta International Airport, Kenya. The airline flies to over 50 destinations worldwide destinations both domestic and international including in Europe, Africa, the Middle East and Asia. They offer flights to Kilimanjaro International Airport as a gateway to the Serengeti national park, find other safari flights here.
Established in 1977 by the Government of Kenya, the airline rapidly developed and grew by obtaining aircraft for its fleet and flying to new destinations, making it the leading African airline that it is today carrying over four million annual passengers. They offer world-class standards in service delivery, product quality and operational performance. "The Pride of Africa", aims to be the airline of choice, connecting the World to Africa and Africa to the World.
As part of its Star Alliance membership since June 2010, they have codeshare agreements with Onur Air, KLM, Air France, Korean Air, China Eastern, Precision Air, Air Mauritius and Air Namibia.
Book flights with Kenya Airways and pay over time when you book with Alternative Airlines.
---
The Fleet
Although Kenya Airways has historically included many other aircrafts such as Douglas, Airbus, Fokker and McDonnell Douglas, its current fleet is primarily Boeing models, with some Embraer. The table below summarises the current state of the Kenya Airways passenger fleet, which also contains 2 x Boeing 737-300SF cargo fleet.
| AIRCRAFT | IN SERVICE | ORDERS |
| --- | --- | --- |
| Boeing 737-700 | 4 | / |
| Boeing 737-800 | 8 | / |
| Boeing 777-300ER | 3 | / |
| Boeing 787-8 | 8 | / |
| Embraer 190AR | 15 | / |
---
Destinations
Domestic Destinations
| CITY | AIRPORT |
| --- | --- |
| Kisumu | Kisumu Airport (KIS) |
| Malindi | Malindi Airport (MYD) |
| Mombasa | Moi International Airport (MBA) |
| Nairobi | Jomo Kenyatta International Airport (NBO) |
International Destinations
| COUNTRY | CITY | AIRPORT |
| --- | --- | --- |
| Angola | luanda | Quatro de Fevereiro Airport (LAD) |
| Burkina Faso | Ouagadougou | Ouagadougou Airport (OUA) |
| Burundi | Bujumbura | Bujumbura International Airport (BJM) |
| Cameroon | Yaoundé | Yaoundé Nsimalen International Airport (NSI) |
| Central African Republic | Bangui | Bangui M'Poko International Airport (BGJ) |
| China | Guangzhou | Guangzhou Baiyun International Airport (CAN) |
| Comoros | Moroni | Prince Said Ibrahim International Airport (HAH) |
| Côte d'Ivoire | Abidjan | Félix-Houphouët-Boigny International Airport (ABJ) |
| Democratic Republic of the Congo | Kinshasa | N'djili Airport (FIH) |
| Democratic Republic of the Congo | Kisangani | Bangoka International Airport (FKI) |
| Democratic Republic of the Congo | Lubumbashi | Lubumbashi International Airport (FBM) |
| Djibouti | Djibouti City | Djibouti–Ambouli International Airport (JIB) |
| Egypt | Cairo | Cairo International Airport (CAI) |
| Equatorial Guinea | Malabo | Malabo International Airport (SSG) |
| Ethiopia | Addis Ababa | Addis Ababa Bole International Airport (ADD) |
| France | Paris | Charles de Gaulle Airport (CDG) |
| Ghana | Accra | Kotoka International Airport (ACC) |
| India | Mumbai | Chhatrapati Shivaji Maharaj International Airport (BOM) |
| Italy | Rome | Leonardo da Vinci–Fiumicino Airport (FCO) |
| Liberia | Monrovia | Roberts International Airport (ROB) |
| Madagascar | Antananarivo | Ivato Airport (TNR) |
| Malawi | Blantyre | Chileka International Airport (BLZ) |
| Malawi | Lilongwe | Lilongwe International Airport (LLW) |
| Mali | Bamako | Modibo Keita International Airport (BKO) |
| Mauritius | Port Louis | Sir Seewoosagur Ramgoolam International Airport (MRU) |
| Mayotte | Dzaoudzi | Dzaoudzi Pamandzi International Airport (DZA) |
| Mozambique | Maputo | Maputo International Airport (MPM) |
| Mozambique | Nampula | Nampula Airport (APL) |
| Netherlands | Amsterdam | Amsterdam Airport Schiphol (AMS) |
| Nigeria | Lagos | Murtala Muhammed International Airport (LOS) |
| Republic of the Congo | Brazzaville | Maya-Maya Airport (BZV) |
| Rwanda | Kigali | Kigali International Airport (KGL) |
| Senegal | Dakar | Blaise Diagne International Airport (DSS) |
| Seychelles | Mahé | Seychelles International Airport (SEZ) |
| Sierra Leone | Freetown | Lungi International Airport (FNA) |
| South Africa | Cape Town | Cape Town International Airport (CPT) |
| South Africa | Johannesburg | O. R. Tambo International Airport (JNB) |
| South Sudan | Juba | Juba International Airport (JUB) |
| Sudan | Khartoum | Khartoum International Airport (KRT) |
| Switzerland | Geneva | Geneva Airport (GVA) |
| Tanzania | Dar es Salaam | Julius Nyerere International Airport (DAR) |
| Tanzania | Kilimanjaro | Kilimanjaro International Airport (JRO) |
| Tanzania | Zanzibar | Abeid Amani Karume International Airport (ZNZ) |
| Thailand | Bangkok | Suvarnabhumi Airport (BKK) |
| Uganda | Entebbe | Entebbe International Airport (EBB) |
| United Arab Emirates | Dubai | Dubai International Airport (DXB) |
| United Kingdom | London | Heathrow Airport (LHR) |
| United States | New York City | John F. Kennedy International Airport (JFK) |
| Zambia | Livingstone | Harry Mwanga Nkumbula International Airport (LVI) |
| Zambia | Lusaka | Kenneth Kaunda International Airport (LUN) |
| Zambia | Ndola | Simon Mwansa Kapwepwe International Airport (NLA) |
| Zimbabwe | Harare | Robert Gabriel Mugabe International Airport (HRE) |
| Zimbabwe | Victoria Falls | Victoria Falls Airport (VFA) |
---
Kenya Airways Route Map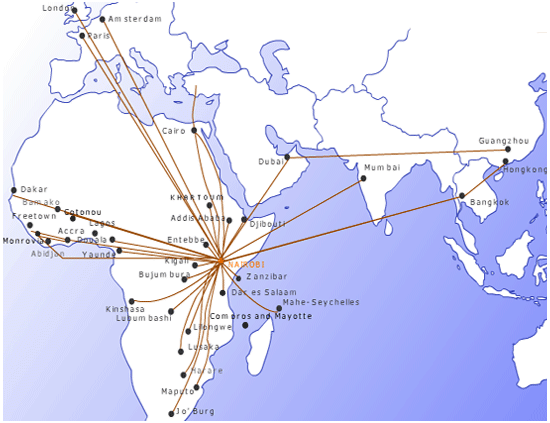 ---
Baggage
Carry-on Baggage
Each item of hand luggage must have an 'approved KQ cabin baggage' label attached to it. Hand baggage allowances are dictated by the class flying in or the destination you are flying to.
Premier World
Passengers travelling in the Premier World cabin are permitted 2 items of hand luggage, plus one personal item, weighing a total maximum of 18kgs. The items of hand luggage must measure no more than 55 x 25 x 35cm, and the personal item must measure no more than 40 x 15 x 30cm and can be items such as a handbag, backpack, briefcase, camera, laptop or duty-free bag.
Economy
Passengers travelling in economy are permitted 1 item of hand luggage, plus one personal item, weighing a total maximum of 12kgs. The item of hand luggage must measure no more than 55 x 25 x 35cm, and the personal item must measure no more than 40 x 15 x 30cm and can be items such as a handbag, backpack, briefcase, camera, laptop or duty-free bag.
Somalia
Passengers flying to or from Somalia are permitted 1 item of hand luggage and 1 personal item, with the total weight of both items not exceeding 8kg. The items must not exceed the dimensions of 40 x 15 x 30cm.
Checked Baggage
Checked baggage allowances are determined by the route and class flying. See the table below which details your baggage allowance. Alternatively, see your eTicket for your individual baggage allowance.
Business Class
| To/From | Number of Items | Weight per item |
| --- | --- | --- |
| Africa <> Europe | 2 | 32kg |
| Africa <> America | 2 | 32kg |
| Africa <> Middle East | 2 | 32kg |
| Africa <> Asia | 2 | 32kg |
| Africa <> Africa | 2 | 32kg |
Economy Class
| To/From | Number of Items | Weight per item |
| --- | --- | --- |
| Africa <> Europe | 2 | 23kg |
| Africa <> America | 2 | 23kg |
| Africa <> Middle East | 2 | 23kg |
| Africa <> Asia | 2 | 23kg |
| Africa <> Africa | 1 | 23kg |
Frequent Flyer Members
Passengers who are members of the frequent flyer programme (Sky Team Elite & Elite Plus) are permitted an additional 1 x 32kg when travelling in business class, or 1 x 23 when travelling in economy class.
Economy (Light Fare)
Passengers travelling on the light fare are permitted 1 piece of checked baggage, weighing a maximum of 23kg.
---
Check-In Information
Online Check-in
Passengers can check-in online for their flights via the Kenya Airways website. This is available 30 hours before the flight, and will close at least 1 hour before the flight is due to depart. You will need details of your flight such as the departure date and booking reference number or e-ticket number.
Airport Check-in
Passengers who have not checked-in online must visit the Kenya Airways check-in desk at the airport. For international flights, this will be available from 2.5 hours - 1 hour before your flight is due to depart. FOr domestic flights, passengers can check-in at the airport between 1.5hours-30 minutes before flight departure.
---
Hub Airport
Jomo Kenyatta International Airport
Kenya Airways is based at Jomo Kenyatta International Airport in Nairobi, the capital and largest city in Kenya. Jomo Kenyatta International Airport has scheduled flights to destinations in over 50 countries. It also acts as a hub for Fly540, Jambojet and African Express Airways. The Airport has one runaway and can handle nearly 6 million passengers every year. Other airlines which use Kenya International Airport include African Express Airways, China Southern Airlines, Coastal Aviation, EgyptAir, Ethiopian Airlines, KLM, LAM Mozambique Airlines, RwandAir and South African Airways.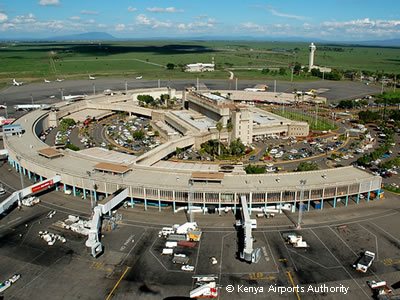 ---
Class Information
Economy Class
Kenya Airways Economy class is the basic level of flying that this provided on these flights.
Facilities
Passengers have a personal interactive screen in economy class for their flight. On this, passengers can watch the latest movies, TV show, music and documentaries onboard their flight.
Seats
Seats in economy class are either set up as 2 x 2, 3 x 3, or 3 x 3 x 3, depending on the aircraft. Passengers can select their preferred seat, or upgrade to additional legroom for their flight, at a cost.
Premium Economy
There is currently no premium economy class on this airline's flights.
Business Class
Business Class passengers receive a luxurious flying experience, from on the ground at the airport to onboard your flight.
Facilities
Passengers in Business class can enjoy priority boarding, swiftly passing through check-in, security, boarding and baggage delivery, meaning you spend less time in queues and more time doing what is important to you. Passengers in business receive a premium dining experience, complete with fresh and seasonal specially crafted meals, partnered with complimentary tea and coffee, and also wine, beer and spirits. Passengers also obtain a larger luggage allowance than passengers travelling in economy.
Does Business Class Facilities Have an Airport Lounge?
Kenya Airways have newly opened lounges, inspired by the African landscapes such as rainforests, deserts and beaches. Available for business class passengers and through purchasing a pass at the airport. These are called the Pride Lounge, Simba T1A and Msafiri Lounge. Lounges provide passengers with high-speed internet, charging and power points for devices and food and snacks bars. The VIP room is also complete with showers.
First Class
There is currently no First Class on Kenya Airways. For a premium flight experience, choose to upgrade to Business class when flying.
---
Alternative Airlines to Kenya Airways
Please click on the logos below to find out more about airlines that fly similar routes to Kenya Airways:
---
In-Flight Entertainment
You can enjoy in-flight entertained stream to your own device with the KQ Cinema app. Passengers should download the app before takeoff to have access to the fantastic selection of in-flight media.
TV Programs
Passengers can enjoy over 30 documentaries and 55 television program with the KQ Cinema app. Find it on Google Play or the App Store.
Movies
You can enjoy a selection of 80 different movies onboard your flight! Choose the film of your choice by downloading the KG Cinema app before takeoff.
---
Food
All meals are free on board Kenya Airways flights. Passengers in economy will have a few select dishes to choose from, which are all balanced and healthy.
Passengers in business class can enjoy premium food on board their flight, with greater quality and choice. The selections will vary depending on the time and route of your flight, but passengers in business will always be able to enjoy tea, coffee, wine, beer or spirits.
Special Meals
Passengers who have dietary, medical or religious food requirements can pre-order a special meal for their flight. These must be requested at least 24 hours prior to flying, apart from Kosher meals which need 48 hours notice before flying. The following is a list of special meals available on Kenya Airways:
Kenya Airways can not guarantee a nut-free environment for those flying with a nut allergy, as nuts could be served as a snack or in part of the meal ingredients. The airline welcomes guests to bring their own meal with them if they have a nut allergy. Always consult your doctor's advice before travelling.
---
WiFi
Kenya Airways have WiFi on selected aircraft and routes. With this WiFi, passengers can connect to the KQ Cinema App, where they can stream the airlines' in-flight entertainment straight to their personal devices. Please note that this is currently only available on select Boeing 737-700 and 737-800 planes.
---
Frequent Flyer
Passengers can be rewarded for regular travel through Flying Blue when flying with Air France, KLM and Kenya Airways.
You can earn Award Miles when flying through 4 tiers of membership: Ivory, Silver, Gold or Platinum. Award Miles can be used both in the air and on the ground through hotels. They offer new lounges in Nairobi's airport in Terminal 1A second floor. The two lounges have a total capacity of 315 guests.
---
Kenya Airways Airline Alliance
Kenya Airways forms part of the SkyTeam Alliance which is a leading global airline network, with 20 member airlines. SkyTeam alliance was founded in 2000 and now consists of member airlines such as Aerolineas Argentinas, AeroMexico, Air Europa, China Southern, Alitalia, China Airlines, Delta and many more.
---
Special Services
Unaccompanied Minor
Passengers can arrange an unaccompanied minor service by contacting the airline at least 24 hours in advance of flying.
Flying with a baby
Kenya Airways are happy to provide baby cots for babies free of charge. For more tips on flying with a baby or toddler, visit our baby advice page.
Special Meals
See the 'Food' section above for information on the special airline meals that Kenya Airways provide.
Expectant mothers
Pregnant passengers are welcome on board if they are healthy and have permission from their doctor or physician if they are more than 28 weeks pregnant. Women who are over 36 weeks pregnant are not recommended to travel due to safety concerns. Check out our advice and travel tips for flying whilst pregnant.
Reduced Mobility
Passengers who have reduced mobility due to a medical, physical or mental condition can get travel assistance when arranged at least 48 hours before flying. Passengers can bring their own wheelchair free of charge. For more advice on plane wheelchair assistance, check out our advice and travel tips page.
---