Search and Buy Fly540 Flights with Alternative Airlines
Make a Fly540 Booking and Find Some Amazing Deals
---
About
Fly540 is a Kenyan low-cost airline which operates flights around East Africa. The airline is based in Nairobi and is hubbed at Jomo Kenyatta International Airport (NBO), flying to destinations in Kenya, South Sudan and Zanzibar with scheduled flights.
The airline was founded in 2006 and began flying in November that year with domestic flights between Nairobi and Mombasa with ATR 42 aircraft. In 2007, the airline added additional aircraft and developed new domestic routes which led to the passenger numbers increasing by 93% by the end of 2008. 2008 saw the airline introduce international flights to South Sudan, the Democratic Republic of the Congo and Uganda.
In 2012, the airline was purchased by Fastjet, who wanted to invest and launch Africa's budget airline with a similar business model as EasyJet.
The airline has previously owned two subsidiaries; Fly540 Ghana, which suspended operations in 2014 and was subsequently sold, and Fly540 Angola which was also suspended in May 2014.
In 2019, the airline won the award for Kenya's Leading Domestic Airline for the 5th time in a row, by World Travel Awards.
Top Tip: Visiting the Masai Mara? Check out our full guide to flying to the Masai Mara for more travel information!
---
Destinations
Domestic Destinations
| CITY | AIRPORT |
| --- | --- |
| Eldoret | Eldoret International Airport (EDL) |
| Kisumu | Kisumu International Airport (KIS) |
| Lamu | Manda Airport (LAU) |
| Lodwar | Lodwar Airport (LOK) |
| Malindi | Malindi Airport (MYD) |
| Mombasa | Moi International Airport (MBA) |
| Nairobi | Jomo Kenyatta International Airport (NBO) |
International Destinations
| COUNTRY | CITY | AIRPORT |
| --- | --- | --- |
| South Sudan | Juba | Juba International Airport (JUB) |
| Tanzania | Zanzibar | Abeid Amani Karume International Airport (ZNZ) |
---
Baggage
Carry-on Baggage
Passengers hand luggage must not exceed the dimensions 56 x 45 x 25cm. There's no official weight limit on carry-on baggage but it must not be excessively heavy.
Checked Baggage
Passengers are permitted 1 x 20kg of checked luggage per person. Infants who do not occupy their own seat are allowed 1 x 10kg in addition to a collapsible stroller.
---
Economy Class
On Fly540 planes, there is only one travel class. In the basic economy class, passengers can enjoy a spacious seat with plenty of personal space, with friendly and attentive staff who provide a great service. The aircraft that you fly on are designed to be very quiet due to the positioning of the aircraft, meaning that you can use the time to sleep or get on with work without distractions. Onboard, passengers receive complimentary refreshments of a small snack and drinks. On longer flights to Juba or Zanzibar, passengers will be offered light meal such as a sandwich. Onboard, passengers can enjoy the entertainment of the flight magazine.
Premium Economy
There is no premium economy service onboard this airline.
Business Class
Fly540 is yet to offer a business class service.
First Class
There is no first-class service available onboard the Fly540 planes.
---
Check-In
Online Check-in
Online check-in opens 48 hours before flight departure time and closes two hours before. To check-in online, passengers must enter their surname and booking reference under the 'Manage My Booking' section on the fly540 website. Via the online check-in service, you will also be able to choose your seat, check your reservation and print your boarding pass.
Airport Check-in
Passengers can check-in for their Fly540 flight at the airport by visiting a Fly540 check-in agent at one of the Fly540 check-in desks. For domestic flights, passengers must check-in at the airport for their Fly540 40 minutes before scheduled flight departure time at the very latest. For international flights, passengers must check-in at the airport for their Fly540 flight two hours before scheduled flight departure time at the very latest.
---
In-Flight Entertainment
There are no TVs onboard Fly540 flights, either overhead or in-seat screens. However, passengers are welcome to read the in-flight magazine to keep them occupied, and are also welcome to bring their own entertainment such as book or personal device onboard the plane to entertain themselves for the flight.
---
Food and Drink
Passengers will receive complimentary refreshments onboard, which consist of light juices, tea, coffee or water, all served with biscuits. On longer flights, passengers will also receive a sandwich from a selection.
---
WIFI
There is currently no WiFi offered onboard by this airline.
---
Frequent Flyer
There is no frequent flyer program associated with Fly540.
---
Airline Alliance
Although this airline has no official airline alliance pacts, it has historically had interline agreements with Qatar Airways and Fly-SAX.
---
Fleet
The Fly540 fleet consists purely of Bombardier aircraft as the table below summarises (correct as of August 2019). Previously the airline planned to have ATR aircraft added, but these were later cancelled.
| AIRCRAFT | IN SERVICE | ORDERS |
| --- | --- | --- |
| Bombardier CRJ200LR | 2 | / |
| Bombardier Dash 8-100 | 1 | / |
| Bombardier Dash 8-200 | 1 | / |
| Bombardier Dash 8-Q300 | 1 | / |
---
Hub Airport
Jomo Kenyatta International Airport
Jomo Kenyatta International Airport (NBO) is the main international airport in Nairobi, Kenya. Not only is the airport a key airport for Kenya, but it's also the 7th-busiest airport in Africa for passenger traffic with over 7 million passengers in 2018. The airport was originally called Embakasi Airport and now operates flights to destinations in over 50 countries.
The airport is also a hub for Jambojet, Kenya Airways, Safe Air and African Express Airways.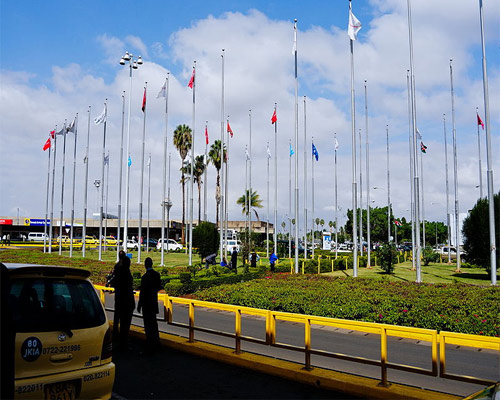 ---
Special Services
Unaccompanied Children
Passengers who are travelling as an unaccompanied minor are welcome to travel with Fly540 between the ages of 6 and 17, as long as they are carrying a government-issued photo ID or passport, along with a letter of consent from their parent or guardian.
Expectant Mothers
Expectant mothers are welcome to travel up until 36 weeks of pregnancy, where after is considered too dangerous to health. If you are over 28 weeks pregnant, you will be required to obtain a doctor's certificate.
Disabled Passengers
Fly540 regret that they are currently unable to accommodate passengers who are immobile or lift-on/off passengers because of the facilities of the aircraft. The aircraft are not fitted with specialist equipment that is required to assist these passengers.
Passengers who are travelling with a wheelchair are welcome, and can be escorted to the aircraft door if they are able to climb the stairs.
Flying with pets or emotional support animals
Find the rules or regulations of travelling with a service animal, pet, or an emotional support animal, on Fly540 planes. Alternative Airlines will provide all the information needed for flying with an animal.
---
Alternative Airlines to Fly540
Please click on the logos below to find out more about airlines that fly similar routes to Fly540: