Search & Buy RwandAir Flights
Airlines will always try to sit children with their parents (subject to check-in)
Some airlines will allow travel for unaccompanied minors. Please email us to check.
The fare is based on the child's age on the date of travel.
More detailed information can be found here Traveling with children
Most airlines will let infants travel with their parent(s) for free. However some airlines will charge up to 10% of the adult ticket price. Click on 'Price Breakdown' to find out more.
If you are pregnant, but due before the flight departure date, please contact us once your baby is born and has a name. We can then add him/her to your ticket.
Infants will not be given a seat. The airlines expect parents to travel with them on their lap.
Airlines regard infants as being under 24 months old.
The fare is based on the child's age on the date of travel.
More detailed information can be found here Traveling with children
Buy
RwandAir

Flights
RwandAir Reservations with Alternative Airlines
Make a RwandAir Booking and Find Some Amazing Deals
---
About RwandAir
RwandAir, the national carrier of Rwanda, currently flies to twenty-six cities in Western, Central, Eastern and Southern Africa, the Middle East, Asia and Europe with additional African destinations, New York and Guangzhou in China lined up in 2019. With Kigali International Airport (KGL) as its hub, the airline is one of the fastest growing airlines and has one of the youngest, state of the art fleets in all of Africa.
One of RwandAir's key services flies three times a week from London Gatwick (LGW) to Kigali (KGL) and beyond. When flying from London to Rwanda the airline offers an Economy, Premium Economy and Business Class service.
The airline has a mission to provide unsurpassed, safe and reliable services in air transportation, including strategically linking Rwanda with the outside world. If you are wanting to know travel tips and more about Rwanda, you can read our 'Local's guide to Rwanda' blog.
Please be aware that if you are looking to fly on RwandAir Express, this is now rebranded as RwandAir and provides the same routes.
---
RwandAir Fleet
The RwandAir fleet includes a fleet of Airbus A330-200, Airbus A330-300, Boeing 737-700, Boeing 737-800, Bombardier CRJ900ER and Bombardier Dash 8-Q400 aircraft.
In 2019, RwandAir will take delivery of two A330neo aircraft and at least one 737 Max 8 aircraft to be deployed on key routes.
---
RwandAir Destinations
RwandAir flies to a number of destinations:
Domestic Destinations
Cotonou

Cardinal Bernadin Gantin de Cotonou International Airport (COO)

Bujumbura

Aeroport International De Bujumbura (BJM)

Douala

Douala International Airport (DLA)

Brazzaville

Maya International Airport (FRS)

Libreville

Libreville International Airport (LBV)

Accra

Kotoka International Airport (ACC)

Mobasa

Moi International Airport (MBA)

Nairobi

Jomo Kenyatta International Airport (NBO)

Kamembe

Kamembe Airport (KME)

Johannesburg

O.R. Tambo International Airport (JNB)

Juba

Juba International Airport (JUB)

Dar es Salaam

Julius Nyerere International Airport (DAR)

Kilimanjaro

Kilimanjaro International Airport (JRO)

Entebbe

Entebbe International Airport (EBB)

Lusaka

Lusaka International Airport (LUN)

Harare

Robert Gabriel Mugabe Airport (HRE)

Cape Town

Cape Town International Airport (CPT)

Abuja

Nnamdi Azikiwe International Airport, Abuja (ABV)

Dakar

Blaise Diagne International Airport (DSS)

Abidjan

Aéroport Félix Houphouët Boigny (ABJ)
International Destinations
Brussels

Brussels Airport (BRU)

London

London Gatwick (LGW)

Mumbai

Chhatrapati Shivaji International Airport (BOM)
You can also fly domestic flights on RwandAir (used to be called RwandAir Express) from Kigali International Airport to Kamembe. From Kamembe you can drive to the Nyungwe National Forest to experience the lush tropical rainforest and chimpanzees.
Flights to from Kigali to Guangzhou in China commenced in June 2019 operates three times a week.
---
RwandAir Baggage
Cabin baggage is baggage that is not checked-in to the hold of the aircraft but is kept in the cabin under the passenger's custody. It is carried free of charge if falling within the free allowance. The passenger shall store the cabin baggage in the overhead bin or under the seat in front of him/her
Carry-on Baggage
Each Passenger is restricted to one bag 22x15x8 inches [55x38x20 cm] not weighing more than 21 lbs [10kgs] to all destinations with the exception of Johannesburg where the authority restricts this to 15lbs [7kgs].
The above weight and size limitations shall be verified and confirmed by use of the WB baggage moulds/ sizers at check-in areas. All baggage exceeding the unchecked baggage limits shall be checked-in.
The following items may be carried free of charge by all passengers except infants overcoats, blankets, umbrellas, handbags, reading material, a small camera, a small laptop or a collapsible baggage trolley.
A fully collapsible invalid's wheelchair and/or a pair of crutches provided that the passenger is dependent on them.
When a baby carrycot is carried, lightweight articles such as bedding, diapers, feeding bottles and sufficient food for the journey may be carried free provided the total weight does not exceed 12 kilograms.
Checked Baggage
RwandAir provides extra baggage carriage-services for its clients who travel on the airline's network. The carriage services come at a cost which varies from destination to destination, region to region, and/or destination to region, or vice versa as well as the type of aircraft being used. The excess baggage policy will serve as the basis for rates applicable in each region to the entire network.
This policy follows the standard checked-in baggage allowance which is as follows:
Two pieces of baggage with a maximum weight of 23kg each in Economy Class.
Two pieces of baggage with a maximum weight of 32kg per piece in Premium Economy.
Three pieces of baggage with a maximum weight fo 32kg per piece in Business Class.
---
RwandAir Business Class
Business Class is RwandAir's most luxurious cabin class, with its highest standard of service.
Business Class Facilities
Business Class includes a personal TV with in-flight entertainment, full-flat beds, freshly prepared meals and USB and plug outlets. Business Class has the most comfortable seats within the cabin, with the most legroom and the most attentive service. Passengers flying in Business Class are entitled to three items of checked baggage, with a maximum weight of 23kg per bag, as well as 10kg of carry-on baggage.
The meals are choice of two hot meals and vary on the flight route.
What are the Business Class Seats Like?
Business Class seats are set out in a 1-2-1 formation with 117.76cm seat pitch. Each seat includes a personal TV, includes plenty of personal space for a working environment and transform into full-flat beds.
Please note: The full-flat beds are only available on long-haul flights operated by the Airbus A330.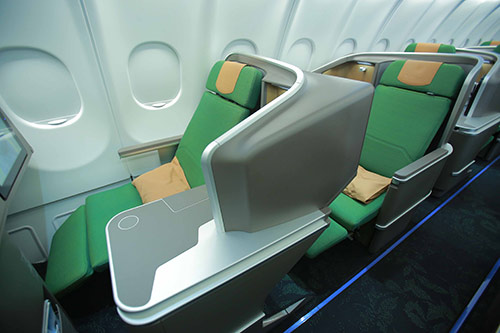 ---
RwandAir Premium Economy Class
Enjoy extra legroom, more comfortable seats and better service for just a little extra price.
Premium Economy Facilities
Premium Economy includes a large personal TV screen with in-flight entertainment, in-seat power outlets, premium food service with champagne and a personal amenity kit. In addition to this, passengers flying in Premium Economy are entitled to two pieces of 32kg checked baggage and one piece of 10kg carry-on baggage.
What are the Premium Economy Seats Like?
Premium Economy seats are in a 2-3-2 formation with 39.52cm seat pitch. The seats are wider and have more legroom than those in standard Economy, have eight inches of seat recline, as well as a personal footrest attached to each seat.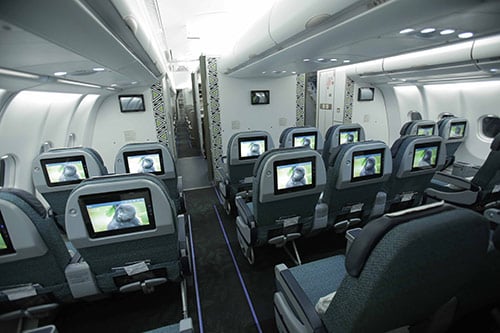 ---
RwandAir Economy Class
RwandAir's Economy Class provides comfort for the budget traveller.
Economy Facilities
In Economy, you can enjoy in-flight AVOD (audio-video on-demand) entertainment on personal screens, on every seat. There is also USB connectivity so you can continue using your smart-phone or tablet devices for entertainment. WI-FI is also available.
Baggage allowance in Economy is 2 x 23kg.
What are the Economy Seats Like?
Economy seats on RwandAir are laid out in a 2-4-2 formation with 32-33 seat pitch.
---
In-flight Entertainment
In-flight entertainment is available for all classes on RwandAir, on personal screens for each passenger. You can watch a wide range of movies, documentaries or comedy during your flight journey.
---
Wi-Fi
There is Wi-Fi available on the RwandAir A330 and 737 aircraft. The first 15 minutes are free. After that, the cost of using wi-fi is $10 USD for 1 hour, $20 for 2 hours or $30 for the whole journey. This can be paid for in-flight on your device.
---
Check-in Information
You can check-in online for your RwandAir reservation here. Or check-in can be carried out at the airport if you arrive two hours before your flight departure.
---
Frequent Flyer Program
RwandAir's frequent flyer program is Dream Miles. There are four tiers for the Dream Miles membership:
Diamond Card - Earn 100,000 miles in one calendar year to earn this award
Gold Card - 50,000 miles must be flown to earn this card
Silver Card - 25,000 miles must be flown in one calendar year to reach this award.
Emerald Card - This is the entry-level and you are granted 1000 miles when first joining the membership scheme.
Mileage can be earnt when booking RwandAir flights with Alternative Airlines. Just remember to add your Frequent Flyer Number when filling in your passenger details.
---
Special Services
If you are flying on RwandAir for a funeral or with a coffin, you can read full information here. All other services regarding cargo or what is allowed to be taken on the flight can be found here.
---
Pay for RwandAir flights with Paypal
Pay for your RwandAir flights with PayPal and Alternative Airlines. Easy to set up and you can PayPal on the go whenever you need to buy a RwandAir plane ticket. You can even spread the cost with PayPal Credit. Our PayPal airline promo codes are a great way to save money on your flight ticket price too. If you are unsure about booking through Alternative Airlines, read how trusted and legitimate the online travel agency is.
---
RwandAir Hub Airport
RwandAir is based at Kigali International Airport (formerly known as Gregoire Kayibanda International Airport, but sometimes referred to as Kanombe International Airport, which is the primary airport serving Kigali, the capital of Rwanda. It is the main air gateway for all destinations in the country, and in addition, serves as a transit airport for Goma and Bukavu in the eastern Democratic Republic of Congo Airlines that fly from and to Kigali International Airport include Turkish Airlines, Qatar Airlines, Coastal Aviation and Ethiopian.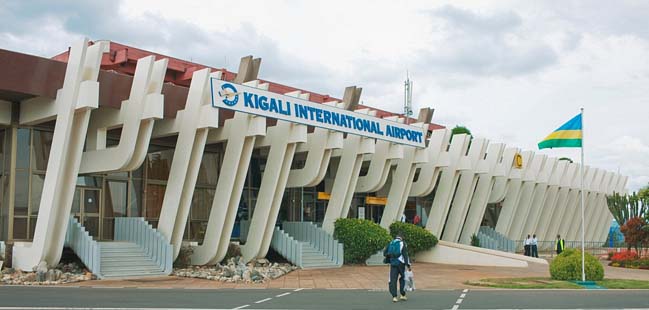 ---
RwandAir Route Map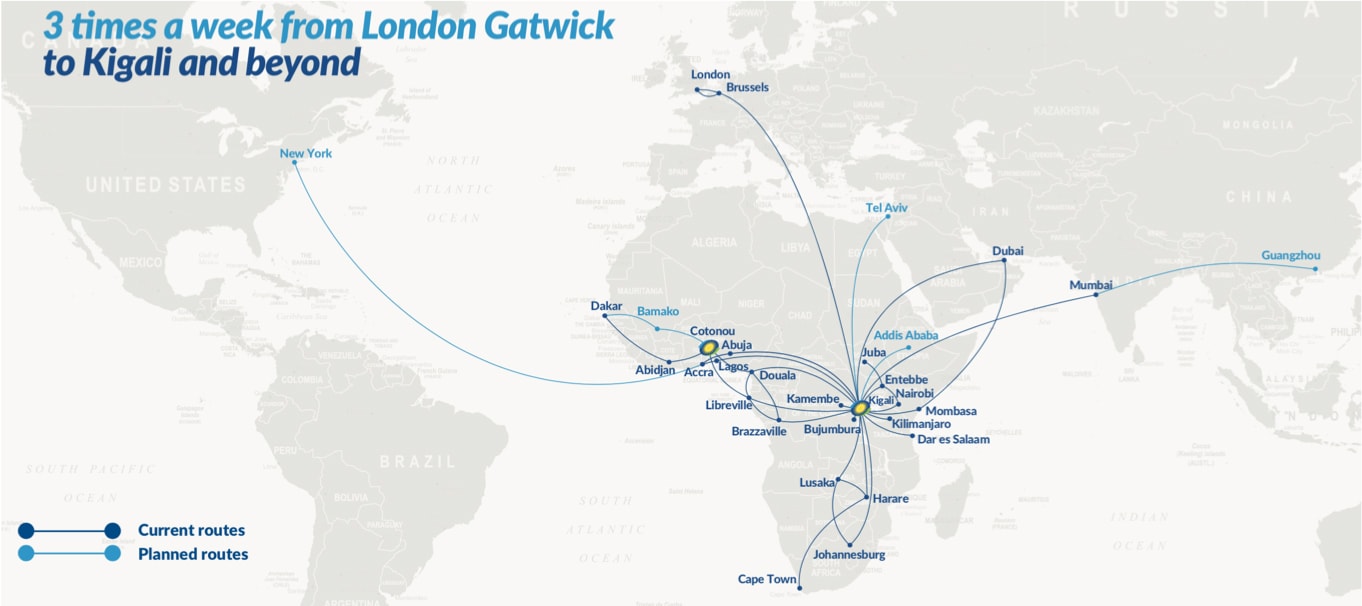 ---
RwandAir Popular Routes
Kigali

Johannesburg
Nairobi

Johannesburg
Johannesburg

Lagos
Dubai

Mombasa
---
Alternative Airlines to RwandAir
Please click on the logos below to find out more about airlines that fly similar routes to RwandAir:
---
RwandAir News
7th March 2019
New lounges coming soon
RwandAir has announced that a number of brand new airport lounges will open soon at Kigali International Airport. The 'Dream Lounge' is a VIP departure lounge that will be accessible exclusively for RwandAir premium clients, business class passengers and airline frequent flyers. In addition to this, the airline is also opening an Arrivals lounge.
These two new lounges add to the airlines' existing departure lounge, the 'Pearl Lounge', which can be accessed by all other passengers.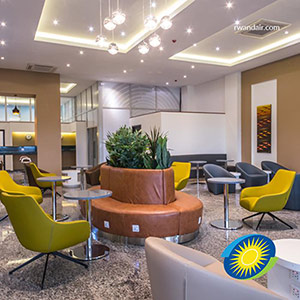 7th March 2019
RwandAir launch new route to Addis Ababa
The national carrier of Rwanda is set to launch an exciting new route in April 2019 to Addis Ababa. This new route will fly fives times a week and marks the 27th destination that the airline flies to as it continues to expand its network.

7th March 2019
RwandAir is plastic bag free
Rwandair continues to prove itself as one of the world's most eco-friendly airlines as the country of Rwanda prohibits the use of plastic bags within the country. The airline asks that all passengers only use non-plastic bags when flying with them as to protect the environment.