RwandAir Reservations with Alternative Airlines
Make a RwandAir Booking and Find Some Amazing Deals
---
About RwandAir
RwandAir, the national carrier of Rwanda, currently flies to over 30 destinations in Western, Central, Eastern and Southern Africa, the Middle East, Asia and Europe. With Kigali International Airport (KGL) as its hub, the airline is one of the fastest-growing airlines and has one of the youngest, state of the art fleets in all of Africa.
The airline has a mission to provide unsurpassed, safe and reliable services in air transportation, including strategically linking Rwanda with the outside world.
One of RwandAir's key services flies three times a week from London Gatwick (LGW) to Kigali (KGL) and beyond. When flying from London to Rwanda the airline offers an Economy, Premium Economy and Business Class service. Connections to other destinations on RwandAir, from Rwanda, include neighbouring countries such as Uganda or further afield to Cape Town and Johannesburg in South Africa or Dubai.
2021 Update: The airline suspended a number of routes as a result of the Coronavirus pandemic in 2020. Despite still not operating to full pre-COVID capacity, many of these routes have now relaunched.
Looking to book flight tickets to Rwanda?
Alternative Airlines makes it easier to search and book flights in confidence, in English, with the support of our dedicated Customer Service Team. Use the search form at the top of the page to begin your search. You can also read our 'Local's guide to Rwanda' blog for expert travel advice in Rwanda.
---
Destinations
RwandAir flies to a number of destinations, with many connections from Rwanda:
Domestic Destinations
Domestically, the airline flies to/from Cyangugu and Kigali, in Rwanda.
| CITY | AIRPORT | IATA |
| --- | --- | --- |
| Cyangugu | Kamembe Airport | KME |
| Kigali | Kigali International Airport | KGL |
International Destinations
The airline operates international flights to countries including: Belgium, Benin, Israel, India, Ethiopia, United Kingdom, the UAE, South Africa and Nigeria, among other countries in Africa and Europe.
The following is a list of pre-Covid international destinations. Some routes were suspended during the pandemic, and are in the process of being resumed. You can use the search form at the top of the page to begin searching to flights to see what airlines are available.
COUNTRY
CITY
AIRPORT
IATA
Belgium
Brussels
Brussels Airport
BRU
Benin
Cotonou
Cadjehoun Airport
COO
Burundi
Bujumbura
Bujumbura International Airport
BJM
Cameroon
Douala
Douala International Airport
DLA
China
Guangzhou
Guangzhou Baiyun International Airport
CAN
Democratic Republic of the Congo
Kinshasa
N'djili Airport
FIH
Gabon
Libreville
Libreville International Airport
LBV
Ghana
Accra
Kotoka International Airport
ACC
India
Mumbai
Chhatrapati Shivaji International Airport
BOM
Israel
Tel Aviv
Ben Gurion Airport
TLV
Ivory Coast
Abidjan
Félix-Houphouët-Boigny International Airport
ABJ
Kenya
Mombasa
Moi International Airport
MBA
Nairobi
Jomo Kenyatta International Airport
NBO
Nigeria
Abuja
Nnamdi Azikiwe International Airport
ABV
Lagos
Murtala Muhammed International Airport
LOS
Republic of the Congo
Brazzaville
Maya-Maya Airport
BZV
Senegal
Dakar
Blaise Diagne International Airport
DSS
South Africa
Cape Town
Cape Town International Airport
CPT
Johannesburg
O. R. Tambo International Airport
JNB
South Sudan
Juba
Juba International Airport
JUB
Tanzania
Dar es Salaam
Julius Nyerere International Airport
DAR
Kilimanjaro
Kilimanjaro International Airport
JRO
Uganda
Entebbe
Entebbe International Airport
EBB
United Arab Emirates
Dubai
Dubai International Airport
DXB
United Kingdom
London
Gatwick Airport
LGW
Zambia
Lusaka
Kenneth Kaunda International Airport
LUN
Zimbabwe
Harare
Harare International Airport
HRE
---
Baggage
Cabin baggage is baggage that is not checked-in to the hold of the aircraft but is kept in the cabin under the passenger's custody. It is carried free of charge if falling within the free allowance. The passenger shall store the cabin baggage in the overhead bin or under the seat in front of him/her
Carry-on Baggage
Passengers receive a baggage allowance of one piece of carry-on baggage, which must not exceed a maximum dimension of 22" x 15" x 8" (55cm x 38cm x 20cm) and within 21lbs (10kg). For flights to and from Johannesburg, passengers will only receive an allowance of 15lbs (7kg), due to the restrictions of the local authority.
All carry-on baggage will be subject to size and weight checks by the airline check-in agents. Any baggage exceeding the limit will be asked to check-in the item.
The following items may be carried free of charge by all passengers except infants overcoats, blankets, umbrellas, handbags, reading material, a small camera, a small laptop or a collapsible baggage trolley.
A fully collapsible invalid's wheelchair and/or a pair of crutches provided that the passenger is dependent on them.
When a baby carrycot is carried, lightweight articles such as bedding, diapers, feeding bottles and sufficient food for the journey may be carried free provided the total weight does not exceed 12 kilograms.
Checked Baggage
RwandAir provides extra baggage carriage-services for its clients who travel on the airline's network. The carriage services come at a cost which varies from destination to destination, region to region, and/or destination to region, or vice versa as well as the type of aircraft being used. The excess baggage policy will serve as the basis for rates applicable in each region to the entire network.
This policy follows the standard checked-in baggage allowance which is as follows:
Two pieces of baggage with a maximum weight of 23kg each in Economy Class.
Two pieces of baggage with a maximum weight of 32kg per piece in Premium Economy.
Three pieces of baggage with a maximum weight of 23kg per piece in Business Class.
---
Business Class
Business Class is RwandAir's most luxurious cabin class, with its highest standard of service.
Business Class Facilities
Business Class includes a personal TV with in-flight entertainment, full-flat beds, freshly prepared meals and USB and plug outlets. Business Class has the most comfortable seats within the cabin, with the most legroom and the most attentive service. Passengers flying in Business Class are entitled to three items of checked baggage, with a maximum weight of 23kg per bag, as well as 10kg of carry-on baggage.
The meals are choice of two hot meals and vary on the flight route.
What are the Business Class Seats Like?
Business Class seats are set out in a 1-2-1 formation with 117.76cm seat pitch. Each seat includes a personal TV, includes plenty of personal space for a working environment and transform into full-flat beds.
Please note: The full-flat beds are only available on long-haul flights operated by the Airbus A330.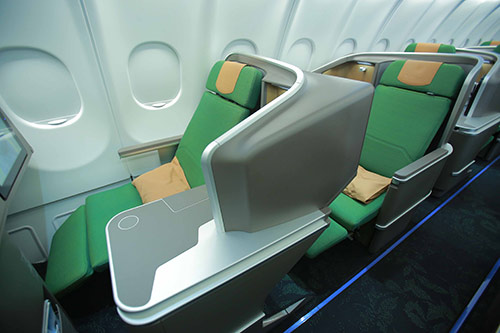 ---
Premium Economy
Enjoy extra legroom, more comfortable seats and better service for just a little extra price.
Premium Economy Facilities
Premium Economy includes a large personal TV screen with in-flight entertainment, in-seat power outlets, premium food service with champagne and a personal amenity kit. In addition to this, passengers flying in Premium Economy are entitled to two pieces of 32kg checked baggage and one piece of 10kg carry-on baggage.
What are the Premium Economy Seats Like?
Premium Economy seats are in a 2-3-2 formation with 39.52cm seat pitch. The seats are wider and have more legroom than those in standard Economy, have eight inches of seat recline, as well as a personal footrest attached to each seat.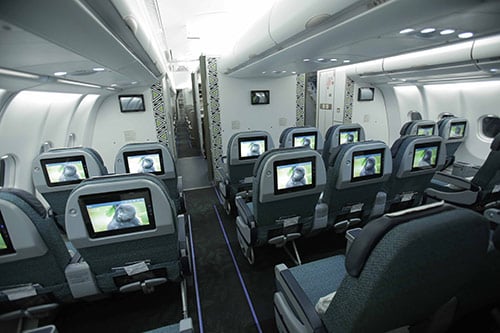 ---
Economy Class
RwandAir's Economy Class provides comfort for the budget traveller.
Economy Facilities
In Economy, you can enjoy in-flight AVOD (audio-video on-demand) entertainment on personal screens, on every seat. There is also USB connectivity so you can continue using your smart-phone or tablet devices for entertainment. WI-FI is also available.
Baggage allowance in Economy is 2 x 23kg.
What are the Economy Seats Like?
Economy seats on RwandAir are laid out in a 2-4-2 formation with 32-33 seat pitch.
---
In-flight Entertainment
In-flight entertainment is available for all classes on RwandAir, on personal screens for each passenger. You can watch a wide range of movies, documentaries or comedy during your flight journey.
---
Wi-Fi
There is Wi-Fi available on the RwandAir A330 and 737 aircraft. The first 15 minutes are free. After that, the cost of using wi-fi is $10 USD for 1 hour, $20 for 2 hours or $30 for the whole journey. This can be paid for in-flight on your device.
---
Check-in Information
You can check-in online for your RwandAir reservation on the Rwandair online check-in page. Or check-in can be carried out at the airport if you arrive two hours before your flight departure.
---
Frequent Flyer Program
RwandAir's frequent flyer program is Dream Miles. There are four tiers for the Dream Miles membership:
Diamond Card - Earn 100,000 miles in one calendar year to earn this award
Gold Card - 50,000 miles must be flown to earn this card
Silver Card - 25,000 miles must be flown in one calendar year to reach this award.
Emerald Card - This is the entry-level and you are granted 1000 miles when first joining the membership scheme.
Mileage can be earnt when booking RwandAir flights with Alternative Airlines. Just remember to add your Frequent Flyer Number when filling in your passenger details.
---
Special Services
If you are flying on RwandAir for a funeral or with a coffin, you can read the full information on our funeral and coffin flight assistance page. All other services regarding cargo or what is allowed to be taken on the flight can be found in the Rwandair cargo policy.
---
Pay for RwandAir flights with PayPal
Pay for your RwandAir flights with PayPal and Alternative Airlines. Easy to set up and you can use PayPal on the go whenever you need to buy a RwandAir plane ticket. UK customers can even spread the cost over 6 - 12 months with PayPal Credit, when paying in GBP. Our PayPal airline promo codes are a great way to save money on your flight ticket price too.If you are unsure about booking through Alternative Airlines, read how trusted and legitimate the online travel agency is.
---
Fleet
The RwandAir fleet includes a fleet of Airbus A330-200, Airbus A330-300, A330-900neo, Boeing 737-700, Boeing 737-800, Boeing 737 Max 8, Bombardier CRJ900ER and De Havilland Dash 8-Q400 aircraft.
---
Hub Airport
RwandAir is based at Kigali International Airport (formerly known as Gregoire Kayibanda International Airport, but sometimes referred to as Kanombe International Airport, which is the primary airport serving Kigali, the capital of Rwanda. It is the main air gateway for all destinations in the country, and in addition, serves as a transit airport for Goma and Bukavu in the eastern Democratic Republic of Congo Airlines that fly from and to Kigali International Airport include Turkish Airlines, Qatar Airways, Coastal Aviation and Ethiopian Airlines.
---
Alternative Airlines to RwandAir
Please click on the logos below to find out more about airlines that fly similar routes to RwandAir:
---
News
17th July 2022
RwandAir celebrates 5 years of Brussels operations
RwandAir celebrated five incredible years of operating scheduled flight services between Brussels and Kigali. Its first ever flight between the two cities took place on 14 July 2017 linking Brussels and RwandAir in just over eight hours. The direct flights between Brussels and Kigali occur three times a week allowing essential connections between Europe and Africa.
13th September 2021
RwandAir continues to drive Coronavirus recovery with the launch of new routes
RwandAir continues its recovery from the Coronavirus pandemic. From September, the airline will add additional routes to the Democratic Republic of the Congo (DRC). The new routes will enhance the airline's post-Covid offering. RwandAir will fly to Lubumbashi, the mining capital of the Republic of the Congo, and Goma​​ – the capital of North Kivu province in the Congo.
28th February 2019
RwandAir partners with Qatar Airways
It was recently announced that RwandAir and the Rwandan government has signed a partnership with flag carrier of Qatar, Qatar Airways. The new partnership will see Qatar Airways take a 49% stake in the ownership of RwandAir. Qatar, which recently took a 60% stake in RwandAir's hub in Kigali's new Bugesera International Airport, will support Rwandair in developing its hub strategy, as well as on the technical and financial side.
7th March 2019
New lounges coming soon
RwandAir has announced that a number of brand new airport lounges will open soon at Kigali International Airport. The 'Dream Lounge' is a VIP departure lounge that will be accessible exclusively for RwandAir premium clients, business class passengers and airline frequent flyers. In addition to this, the airline is also opening an Arrivals lounge.
These two new lounges add to the airlines' existing departure lounge, the 'Pearl Lounge', which can be accessed by all other passengers.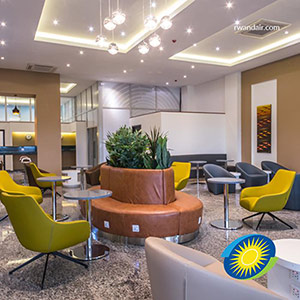 7th March 2019
RwandAir launch new route to Addis Ababa
The national carrier of Rwanda is set to launch an exciting new route in April 2019 to Addis Ababa. This new route will fly fives times a week and marks the 27th destination that the airline flies to as it continues to expand its network.

---
FAQs
How can I find the cheapest flights to Rwanda?
Looking for cheap flights? Alternative Airlines can help. We offer lots of ways to help you book your flights and save. Apply one of our airline discount codes. We also have lots of top tips to help you book cheaper flights, including using our cheapest fare finder tool.
Where can I book flights from Kigali to Nairobi?
Through Alternative Airlines! Simply enter 'Kigali' and 'Nairobi' as your departure and arrival cities into the search form at the top of the page. We'll show you all available flights with airlines including RwandAir. If no flights are available, try changing your dates of travel.