Search and Buy Aerolink Uganda Flights Online
Make a reservation and find some amazing deals with discounted tickets at Alternative Airlines
---
About Aerolink Uganda
Aerolink Uganda Limited is a domestic airline offering both charter and schedule flights into Uganda's national parks.
The airline offers daily flights into Queen Elizabeth National Park (Kasese and Mweya airstrips), Murchison Falls (Bugungu, Pakuba and Chobe airstrips), Bwindi Impenetrable Forest (Kihihi and Kisoro airstrips), Kidepo Valley National Park (Apoka airstrip) and Semuliki National Park (Semliki airstrip), all from it's base at Entebbe International Airport.
Aerolink Uganda is affiliated to Regional Air Services in Tanzania and Airkenya Express in Kenya.
The flights are fitted with clear glass cockpits, allowing the passengers to provide a 'fly with the pilots' edge, adding elements of adventure and comfort. From Entrebbe, flights are approximately one hour and fifteen minutes to each destination, thus ensuring passengers arrive at their destination feeling refreshed and energised to take on the wilderness. Visitors can experience the adventurous white water rafting as well as come close to the gorillas. Highly trained engineers inspect the aircraft frequently, ensuring the highest levels of safety, security and comfort for passengers.
Aerolink Uganda is set to benefit as domestic aviation in Uganda is taking off. Domestic passengers are projected to grow to 60,000 in 2018 and to 152,000 by 2023. Domestic aircraft movements are projected to be 6,300 in 2018 and 11,600 in 2023. The single biggest contributor to the growth of the domestic air travel industry is the growth in the number of African elites as they appreciate use of air transport as they have the cash. Indeed, Uganda is among the countries that are expected to experience a rapid air transport growth.
---
Destinations
Domestic Destinations
This airline flies to multiple domestic Ugandan locations:
Kidepo National Park
Murchison Falls National Park
Semulki National Park
Entebbe
Semuliki National Park
Queen Elizabeth National Park
Mgahinga National Park
Biwindi National Park
International Destinations
Aerolink Uganda's only international destination is Kenya. It currently operates flights to Masai Mara and Kisumu in Kenya.
---
Baggage Allowances
Carry-on Baggage
On all services, the luggage allowance is 15 kilos in soft bags. These allowances shall include all hand baggage.
Checked Baggage
The carriage of excess baggage is at the sole discretion of the company after taking into consideration the number of passengers booked. When excess luggage is carried it will be charged at the prevailing freight charges.
---
Check-In Information
Online Check-In
Online check-in is available for Aerolink Uganda flights - you can check in online via the airline's website.
Airport Check-In
Airport check-in opening times vary depending on the flight route. For domestic flights, check-in is open 60 minutes before takeoff. For international flights, check-in is open 90 minutes before the scheduled flight departure time.
---
Economy Class
Economy Class is the airline's only cabin class. The cabin — and the aircraft itself — seats 11 passengers.
Economy Class Facilities
While there are no flight attendants in the cabin, the aircraft is flown by two expertly trained pilot crew members who operate from a full glass cockpit.
There is a cargo pod underneath the seats that carries all baggage.
Economy Class Seats
There are 11 Economy Class seats. Seats are designed to give customers a comfortable and pleasant journey.
---
Route map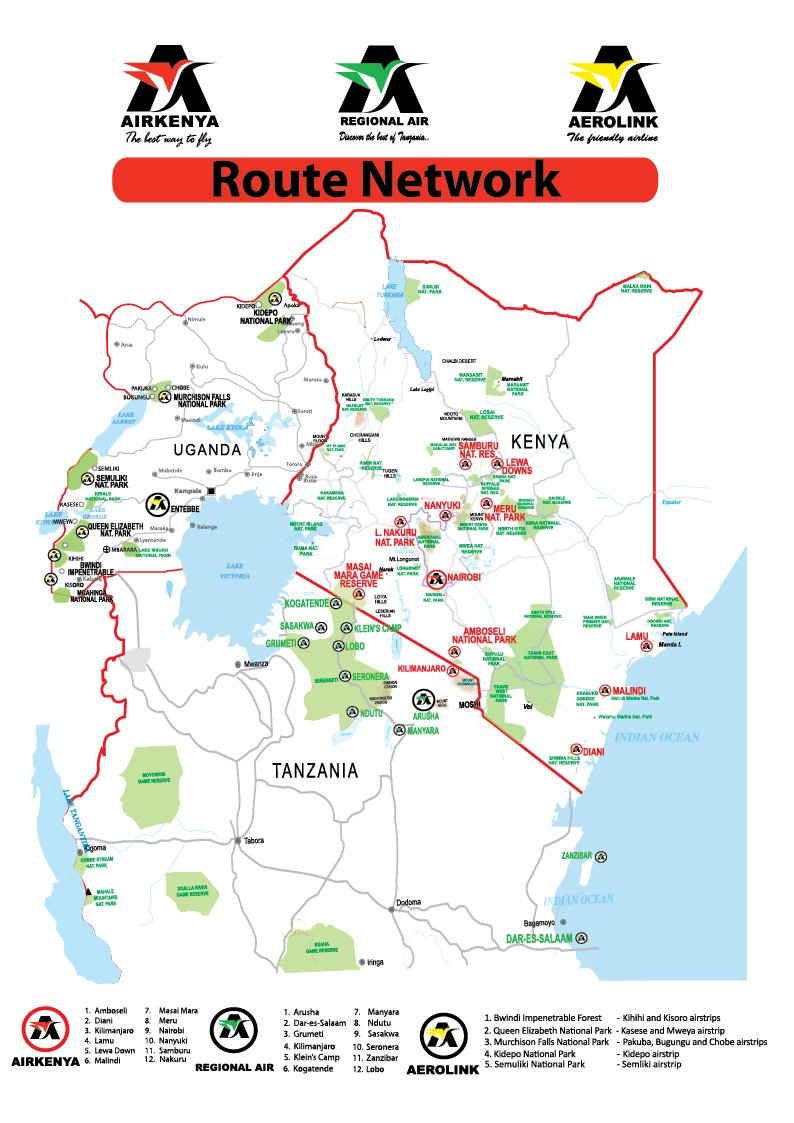 ---
Places Aerolink Uganda Fly to
Bwindi National Park
Covering an area of 321km² with an altitude of 1,160m - 2,607m above sea level, Bwindi is a luscious and vibrant forest that sweeps across the steep ridges of the Albertine Rift Valley. It is home to more than half of the world's mountain gorillas. It currently has a population of over 340 gorillas with 8 habituated groups namely Mubare 5 members, Habinyanja 19 members, Rushegura 20 members, Nkuringo 20 members, Bitukura with 14 members, Nshongi 26 members, Mishaya 11 members and Kyaguriro with 16 members.
Kidepo National Park
Kidepo Valley National Park (Uganda's most isolated national park ) was gazetted in 1962 and has a profusion of big wild game hosting over 77 mammal species include localised carnivores like the bat eared fox, striped hyena, as well as 475 bird species. The park is also home to chandlers, mountain reedbucks, elephants, burchells, zebra, as well as large herds of buffalos. It is also notable for its 58 species of birds of prey including the verreaux eagle, Egyptian vulture and the pygmy falcon.
Murchison Falls
Murchison Falls also known as Kabarega Falls is 300 kilometers from Kampala and six hours of road travel but only one hour five minutes by plane. The Jewel of the Nile' is the largest and oldest protected area in Uganda covering 5,072 km². The park embraces the Bugungu, Karuma Wildlife Reserves, Budongo and Rabongo Forest. It is an all inclusive national park with plenty of wildlife, bird species and the surging waterfalls.
Queen Elizabeth National Park
Located southwest of Kampala, near Kasese, Queen Elizabeth National Park is 6 hours away from the capital city Kampala. AeroLink Uganda flies twice daily to the 'Pearl of Africa' in just an hour fifteen minutes. It is the second largest park in Uganda and occupies 1978km² of broad savannahs and marshland, myriad of lakes ranging from freshwater lakes to mirror-surfaced crater lakes and inland salt lakes; bushes, unexplored woodlands, grasslands and the mist-capped 'Mountains of the Moon' - Rwenzori mountains.
---
Hub Airport
Entebbe International Airport
Entebbe International Airport is an international airport in Uganda. It is situated just 3.7 miles out of the town of Entebbe and is the only international airport in the country. Aerolink Uganda uses this airport as its hub alongside Eagle Air and Uganda Airlines.
The airport serves many destinations around Asia and Africa including Cairo, Dubai, Addis Ababa, Nairobi, Doha, Riyadh, Istanbul and Dar es Salaam. It also serves routes to Europe, with airlines flying from the airport to Amsterdam and Brussels.
---
Fleet
The fleet consists of AeroLink Caravans.
The caravan is a proven reliable and popular utility workhorse with low operating costs. It is an excellent aircraft to fly on and is the epitome of versatility. The newest Caravans come equipped with the very latest technology in flight instruments exhibited in a full glass cockpit. It has excellent hazard avoidance abilities to help the crew see and avoid dangerous weather terrain and other aircraft.
The Caravans are configured to carry up to 11 passengers and the cargo pod underneath will hold all the baggage. It does not carry a cabin attendant.
---
Alternative Airlines
The following airlines operate similar routes to Aerolink Uganda: