AirKenya Tickets and Reservations with Alternative Airlines
Book Your AirKenya Flight Tickets and Find Some Amazing Deals
---
About
AirKenya (Express) is a Kenyan airline based in Nairobi and operates domestic scheduled flights within Kenya, as well as an international flight to neighbouring country Tanzania.
From its hub at Wilson Airport, this airline operates both scheduled and charter flights across the region. The airline also has two wholly-owned subsidiaries: Regional Air Services in Tanzania and Aerolink in Uganda.
AirKenya was founded in 1987 combined by the merger of Air Kenya and Sunbird Aviation. The two companies had over 20 years of aviation experience in East Africa and formed Airkenya Aviation. In 2007, the branding changed to establish AirKenya Express.
This Kenyan carrier flies to many destinations in Kenya, including to Kenya's best known game reserves, namely the Masai Mara, Amboseli, Nanyuki, Meru, Samburu, Loisaba and Lewa Downs. In some instances, the AirKenya may take a number of stops are airstrips during your flight - not all routes are consistent, and this will depend on customer demand on the day of travel.
Top Tip: If you plan on visiting the Masai Mara to witness the Great Migration on head on an unforgettable Safari, be sure to check out our full guide to flying to the Masai Mara for more travel information! If you are interested in heading on a Safari but don't know where to begin, you can find out more in our guide to safari park flights here.
---
Baggage
Checked Baggage
Air Kenya passengers are allowed 15kg of baggage on their flights per passenger. Standard checked luggage should have three dimensions of 24 inches (60cm) in height, by 18 inches (45cm) in length, and 13 inches (33cm) in width.
The airline has a dedicated check-in desk at Wilson Airport, allowing for swift baggage check-in.
Carry-On Baggage
Carry-on bags should measure 12 inches (30cm) in height, 21 inches (53cm) in length, and 9 inches (23cm) in width.
Personal items like handbags, small umbrellas, walking sticks, coats, small bag pack can be stored under the seat in front of a passenger or in an overhead bin where applicable. These items must not exceed 5 Kgs/ 11lbs and are part of the baggage allowance of 15kgs/ 33lbs.
Baggage Restrictions
The airline requires that passengers bring soft-padded bags on the flight. This is due to the limited room for storage onboard its aircraft. Any baggage that is not soft-padded may be refused.
---
Check-In
Airport Check-In
Passengers must check in one hour before the scheduled departure time on all flights. Check-in counters will close 15 minutes before scheduled departure time for all services/destinations. AirKenya has a dedicated check-in counter at Wilson Airport.
Check-In Online
Online check-in is not currently available for this airline, and will need to be completed at the airport.
---
Destinations
Air Kenya mainly offers domestic flights to destinations such as Nairobi, Nakuru, Lamu, Nanyuki, Samburu and more. The airline also flies to one international destination, Kilimanjaro.
Domestic Destinations
| AREA | AIRPORT | IATA |
| --- | --- | --- |
| Amboseli | Amboseli Airport | ASV |
| Ukunda / Diani Beach | Ukunda Airport | UKA |
| Lamu | Manda Airport | LAU |
| Lewa Downs | Lewa Airport | n/a |
| Malindi | Malindi Airport | MYD |
| Maasai Mara | Numerous Airstrip | n/a |
| Meru | Mulika Lodge Airport | JJM |
| Nairobi | Nairobi-Wilson | WIL |
| Nakuru | Nakuru Airport | NUU |
| Nanyuki | Nanyuki Airport | NYK |
| Samburu | Samburu Airport | UAS |
International Destinations
Kilimanjaro International Airport (KIA), Kilimanjaro, Tanzania
---
Route Map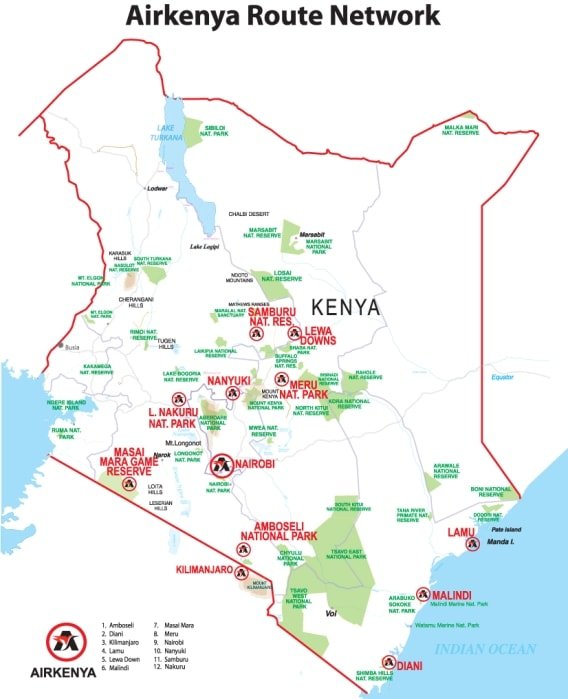 ---
Economy Class
Standard Seating
AirKenya provides short-haul flights in light aircraft, which have a seating capacity of 11-50 passengers, depending on the aircraft. There is no specific class system for passengers, with only standard seating available. Seat layout depends on the aircraft used. The airline might make multiple stops at different airstrips during your flight, depending on customer demand on the day.
AirKenya does have dedicated check-in desks, to ensure a speedy check-in process at the airport. For charter flights the airline does also have an exclusive passenger terminal at Wilson Airport to provide an enhanced premium experience.
Food
Passengers are welcome to bring their own snacks on-board to enjoy during the flight. But the airline is still dedicated to a high service, with water bottles offered to passengers to drink.
Entertainment
Magazines are available to read during the flight. You will also be able to enjoy stunning views of Kenya's landscape and wildlife during your flight!
---
Popular Routes
Nairobi

Meru
Lamu

Nairobi
Nairobi

Amboseli
Nairobi

Samburu
Nanyuki

Nairobi
Ukunda

Lewa Downs
---
Fleet
| AIRCRAFT | IN SERVICE | PASSENGERS |
| --- | --- | --- |
| Bombardier Dash 8-100 | 1 | 37 |
| Cessna Grand Caravan C208B | 4 | 11 |
| De Havilland Canada DHC-6-300 Twin Otter | 3 | 18 |
| De Havilland Canada Dash 7-100 | 2 | 50 |
---
Airline Alliance
The airline isn't part of an airline alliance at this time.
---
Frequent Flyer Program
The airline doesn't offer passengers a frequent flyer program.
---
AirKenya's Hub Airport
Wilson Airport (WIL)
Wilson Airport is a local airport serving the city of Nairobi, in Kenya, from which a small number of domestic airlines operate flights to many regional airports. It is the hub airport for AirKenya.
Wilson Airport is also the hub airport for Safaralink, Fly ALS, Yellow Wings and Aeronav. Other airlines which fly to and from Wilson Airport include Fly SAX (formerly East African Safari Air), Blue Sky Aviation and Fly Tristar.
Those heading to the incredible Masai Mara or one of Kenya's other incredible safari parks and nature reserves are likely to depart from Wilson Airport.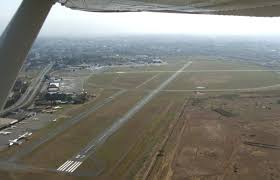 View of Wilson Airport's runway upon landing.
---
Alternative Airlines to AirKenya
The following airlines operate similar routes as AirKenya:
---
News
26th March 2020
AirKenya continues domestic flights
Despite cancelling international flights to Kilimanjaro, AirKenya will continue to fly all of its domestic flights within Kenya. The airline flies to a total of 11 destinations within Kenya altogether and, as it stands, will continue to fly to each destination.