Blue Sky Aviation Reservations with Alternative Airlines
Make a Blue Sky Aviation Booking and Find Some Amazing Deals
---
About Blue Sky Aviation
Blue Sky Aviation is a domestic Kenyan airline with offices in Nairobi. Blue Sky Aviation launched operations in 1996 with one aircraft and now has 3 Let L-410 Turbolets. These can seat 19 passengers. These aircraft are very much at home operating in the Masai Mara airstrips or similar and have the widest passenger cabins in their class.
Blue Sky Aviation offers charter services to East and Central Africa from their hub at Moi International Airport or Wilson Airport, Nairobi. Blue Sky Aviation Kenya offers flights to some of the most beautiful safari destinations in Kenya. Visit the Alternative Airlines safari flights page for more information. If you're interested in organising a hot air balloon ride over Masai Mara, find out more with Governor's Balloon Safaris.
---
Blue Sky Aviation Destinations
The airline flies to the following cities and airfields within Kenya: Nairobi, Lamu, Malindi, Mombasa, Amboseli Airport, and Ukunda
The airline also flies to several airfields within the Maasai Mara
---
Check-In Information
Check-in times will vary depending on the airport/airstrip you will be flying from. Details will be confirmed at the time of booking - you can also check on the airport webpage for more advice.
---
Class Fares
Standard (Economy) Seating
The airline operates a fleet of light aircraft, with a capacity of 19 passengers. However, the aircraft offer the widest passenger cabins in their class, and the team are dedicated to ensuring you have a comfortable journey. Remember your camera!
---
Blue Sky Aviation Hub Airport
Moi International Airport services Kenya's second largest city, Mombasa. It features regional as well as intercontinental flights. It lies approximately 425 kilometres (264 mi), by air, southeast of Jomo Kenyatta International Airport, the largest and busiest airport in the country.
At 61 metres (200 ft) above sea level, the airport has two runways: Runway 1 measures 3,350 metres (10,990 ft) in length and Runway 2 measures 1,260 metres (4,130 ft) in length. It services airlines from across Africa, as well as intercontinenational operations from LOT Polish airlines, Rwandair and Turkish Airlines.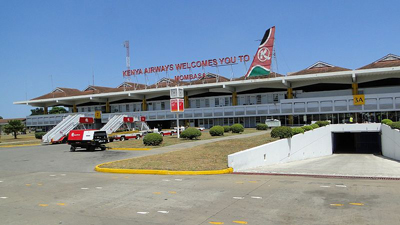 Photo credit: Arthur Buliva
---
Alternative Airlines to Blue Sky Aviation
Click on the buttons below to find out more about similar airlines to Blue Sky Aviation: