Buy
LOT Polish Airlines

Flights

Search and Buy LOT Polish Airlines Flights Online with Alternative Airlines
Flights to and from Poland
Make a LOT Polish Airlines reservation and find some amazing deals with discounted LOT Polish Airlines

tickets at Alternative Airlines
---
About LOT Polish Airlines
LOT Polish Airlines is the national airline of Poland based in Warsaw.
LOT Polish Airlines operates a network of over 60 destinations in Europe, the Middle East, North America and Asia.
Domestic destinations: Warsaw, Gdansk, Szczecin, Poznan, Wroclaw, Rzeszow, Krakow, Katowice.
International destinations: Moscow, Vilnius, Minsk, Kiev, Chisinau, Bucharest, Belgrade, Zagreb, Munich, Venice, Milan, Nice, Geneva, Paris, London, Hamburg, Amsterdam and Brussels.
The airline offers direct long-haul flights from CEE to New York, Chicago, Newark, Los Angeles Toronto, Beijing, Tokyo and Seoul. Many of the carrier's pilots are European and World champions in a range of air sports. Since 2003 LOT has been a member of the Star Alliance, a network that currently operates over 21,500 flights daily to 1,356 airports in 193 countries.
Buy LOT Polish airfares and tickets with Alternative Airlines.
---
LOT Polish Airlines Codeshare
As a member of Star Alliance, LOT Polish Airlines has codeshare agreements including Adria Airways, Asiana Airlines, Bulgaria Air, Scandinavian Airlines, Singapore Airlines and TAP Portugal.
LOT Polish Airlines is one of the most experienced European airlines and has been operating since 1929.
---
LOT Polish Airlines Fleet
LOT Polish Airlines' fleet consists of Boeing 787s, Embraer 195s, Boeing 737s, Embraer 175 and Embraer 170s.
The airline's fleet serves more than 70 destinations in Europe, North America and Asia.
---
---
LOT Polish Airlines Frequent Flyer Program
LOT Polish Airlines passengers can participate in the Miles & More frequent flyers programme.
As a partner in the Miles & More program, passengers will earn valuable miles on LOT Polish Airlines flights, or you can spend your miles on the next LOT Polish Airlines flight you take.
---
LOT Polish Airlines Baggage
Domestic flights: 1 piece of checked baggage of up to 23 kg.
International flights in Europe, North Africa and Middle East:
Economy Class - 1 x baggage of up to 23 kg
LOT Premium Economy - 2 x pieces
Business Class x 2 pieces of up to 32 kg each.
Carry-on Baggage
Economy and Premium Economy Class - 1 piece of up to 8 kgs
LOT Polish Airline Business Class can take up to 2 pieces of 9kg each.
---
LOT Polish Airlines News
23rd July 2018
LOT Polish Airline Rapidly Growing
LOT Polish Airlines has enjoyed a strong growth after 2 years of having a restructure. 26th June 2018 saw the Polish airline take delivery of its third Boeing 787-9 aircraft and its fourth 737MAX-8. in Central Europe, LOT Polish Airlines is currently number 3 by seat capacity, behind the Wizz Air and Ryanair. However, LOT Polish Airlines holds the biggest amount of routes within Central Europe and the region's only significant long haul operator.
28th June 2018
LOT Polish Airlines - Hire 300 Pilots
By the end of 2019, LOT Polish Airlines plans to hire 300 additional pilots for their operational bases in Warsaw and Budapest. The Star Alliance member currently employs more than 600 pilots. LOT is seeking for captains and first officers for its Bombardier Q400 and Embraer 170/190 fleet.
18th June 2018
LOT Polish Airlines Launch Another New Route
From September 2018, LOT Polish Airlines are launching a new direct domestic service that will fly between Warsaw and Lublin. LOT Polish Airlines will run this service 4 x weekly 45 mins using a Dash-8Q400 aircraft to transport passengers between the two Polish cities.
14th June 2018
LOT Polish Airlines to fly between London City Airport and Warsaw early next year
From January 2019, LOT Polish Airlines will fly a new service between London City Airport (LCY) and Warsaw Chopin Airport (WAW). LOT Polish Airlines will fly the service twice a day and will use four newly acquired Embraer 190 aircraft to transport passengers.
Direct Corporate Communications, Adrian Kubicki, said that this new route is a milestone in the airline's history, being the 100th flight pairing in LOT Polish Airlines' network. He added that LOT Polish has had a great relationship with London Heathrow Airport (LHW) — flying from Warsaw to London Heathrow three times a day — but this new service to London City Airport marks a new chapter. The new route is part of LOT Polish Airlines' £480 million GBP plan to extend their flight network.
22nd May 2018
LOT Polish Airlines sets off for Singapore and Kaunas
LOT Polish Airlines commenced operations between Warsaw Chopin and Singapore on 15 May. Charged with the honour of cutting the ribbon to officially open the route were: Lee Seow Hiang, CEO, Singapore Airport; Khaw Boon Wan, Singapore's Co-ordinating Minister for Infrastructure and Transport; Piotr Gliński, Poland's Deputy Prime Minister and Minister of Culture and National Heritage; and Michal Fijol, CCO of LOT Polish Airlines.
LOT Polish Airlines commenced operations from Warsaw Chopin to Kaunas on 21 May, with the inaugural flight back to the Polish capital being the following day, a result of the aircraft night-stopping at the Lithuanian airport. Seen cutting the ribbon in Kaunas, officially opening the route, are: Vice Mayor of Kaunas, Simonas Kairys; CEO of Lithuanian Airports, Marius Gelzinis; and LOT Polish Airlines' GSA for Lithuania, Raimondas Kesilis.
LOT Polish Airlines added its latest Asian spoke to its network on 15 May – Singapore (SIN) – with the Star Alliance member now linking its Warsaw Chopin (WAW) hub to the destination three times weekly. The carrier will operate the 9,408-kilometre route using its 787-8s, with no other airline presently linking the two cities. "We are delighted to welcome LOT Polish's new service which now connects us to Poland. This marks Singapore's first non-stop link to Central and Eastern Europe, and will provide passengers with greater convenience and travel options. It also presents growth opportunities for leisure and business travel in both regions," commented Lee Seow Hiang, CEO of Singapore Airport on the carrier's launch. According to the Asian airport, in 2017 traffic between Singapore and the Central and Eastern Europe (CEE) region totalled over 258,000 passenger movements. Along with its flights to Singapore, another route launched by the airline from Chopin this week was Kaunas (KUN) in Lithuania, with LOT becoming the first hub carrier to serve the airport. Flights on the short 372-kilometre hop will operate six times weekly (no Saturday services) and be flown by the carrier's fleet of Q400s. Services from the Polish capital city to the Lithuanian city will depart at 22:35, landing into Kaunas at 00:45, resulting in a night-stop at Kaunas. Return flights to Warsaw then depart the following morning at 06:15, allowing for seamless connections onto morning services from LOT's hub to destinations throughout Europe, Asia and North America.
1st May 2018
LOT Polish Airlines expands from Krakow and Rzeszow
LOT Polish Airlines added flights between New York Newark (EWR) and Rzeszow (RZE) on 29 April, with the 787-8 which will fly the route operating on a w-pattern from Warsaw Chopin. The Star Alliance member will operate the 7,046-kilometre route weekly, with flights leaving the Big Apple on Sundays, with the return service from Rzeszow seeing a Monday departure. The route faces no direct competition. Along with its latest transatlantic service, LOT also commenced services between Krakow (KRK) and Budapest (BUD) this week. Launched 28 April, the Star carrier will operate the short 295-kilometre hop between Poland and Hungary five times weekly using Q400s. Like the link from Newark to Rzeszow, the latter route faces no direct competition. See how Rzeszow's FTWA compares to others from around the world.
LOT Polish Airlines Rzeszow to New York Newark
LOT Polish Airlines commenced operations from New York Newark to Rzeszow on 29 April, with the aircraft operating on a w-pattern from Warsaw Chopin. The route will be flown weekly, with flights leaving the Big Apple on Sunday evenings, with the return service from Rzeszow departing on Tuesdays. The airline will fly the route using 787-8s.
Krakow Airport welcomed LOT Polish Airlines' new service to Budapest with this simple cake on 28 April. The Star Alliance member will operate five weekly flights on the 295-kilometre sector facing no competition.
28th March 2018
LOT Polish Airlines introduced services between Warsaw Chopin (WAW) and Oslo Gardermoen (OSL) on 25 March.
The Star Alliance member will offer 13 weekly flights on the 1,078-kilometre European capital connection using its fleet of E195s.
Competition on the route comes from Norwegian and SAS, with the rivals offering 10 weekly rotations combined between the two airports when referencing OAG schedules.
15th January 2018
LOT secures leased B737NG
LOT Polish Airlines has wet-leased two B737-800s from Blue Air (Romania) on a 9.5 month-long contract. According to Routes Online, these planes will operate select European regional services on LOT's behalf over the period covering January 8 to the end of October 2018. The twinjet will operate regular intercontinental flights on a range of LOT's 115 routes, as well as connecting Europe with Asian destinations such as Armenia, Georgia and Israel.
4th October 2017
LOT Polish Airlines entrusts 737 NG and 737 MAX component Support to AFI KLM E&M
LOT Polish Airlines has signed a long-term agreement with AFI KLM E&M covering component support for its future fleet of Boeing 737 MAX, which will ultimately number six aircraft, with delivery scheduled between November 2017 and May 2019. This latest contract also concerns four Boeing 737 Next Generation planes that are already in service. AFI KLM E&M will take charge of MRO support for components, providing access to its spares pool and the creating a Main Base Kit (MBK) at LOT's hub in Warsaw, Poland. Maintenance operations will be carried out by AFI KLM E&M and Boeing partner teams under their joint 737 Component Support Program (CSP).

A long-standing AFI KLM E&M client
LOT Polish Airlines has been using AFI KLM E&M's services for over 15 years. Which means that it is the quality, reliability and competitiveness of AFI KLM E&M services that have been rewarded with this new contract: "We opted for a reliable concept with a trusted partner," explained Tomasz Stafiej, Acting Director of Continuing Airworthiness Department at LOT Polish Airlines.

In the past, AFI KLM E&M has carried out a number of cabin modification programs for LOT Polish Airlines, along with engine and component repairs. Since 2012, AFI KLM E&M has also been responsible for component support for the carrier's fleet of Boeing 787s. Thanks it its in-depth expertise on the 737, AFI KLM E&M can guarantee LOT fast-track responsiveness as it ramps up operations with its new fleet.

Fabrice Defrance, Senior Vice President Commercial AFI KLM E&M, said: "Our expertise on the 737 derives from our privileged position as an MRO owned by airlines which themselves operate this aircraft. This means we can guarantee our clients stable, predictable performance and all-round knowledge of the operational issues likely to arise during revenue service."


29th August 2017
LOT introduces Gothenburg to its network
LOT Polish Airlines introduced Gothenburg (GOT) to its network this week, beginning a six times weekly service to Warsaw Chopin (WAW). Launched 28 August, the 824-kilometre route is already flown by Wizz Air three times weekly on A320s. "It is very pleasing for Swedavia to be able to offer more travelers a quick and easy line to the trendy and exciting city of Warsaw. It is also an important line for business travelers in both Poland and Western Sweden," said Charlotte Ljunggren, Director, Gothenburg Airport.
LOT will operate the route using 70-seat CRJ 900s which it flies on behalf of Nordica, which on the same day began services to Gothenburg from Tallinn. Gothenburg becomes LOT's second route to Sweden from Chopin, with it also serving Stockholm Arlanda with three daily flights.
June 2017
LOT flights launched flights from Poland to Seoul and will be operated three times a week
LOT is the first carrier in Central and Eastern Europe to connect South Korea with so many Polish and European cities. The flight from Warsaw to Seoul shall take slightly more than 10 hours. Passengers on board of LOT Dreamliner will have three travel classes at their disposal - LOT Business Class with the intimate cabin of 18 seats only, all of which are easily convertible to the full flat bed. The experience comes with the top restaurant quality cuisine with wide choice of beverages and personal service. LOT Premium Class features larger, individual space and footrests, comfortable thigh support, cocktail tables and extensive menu served on porcelain. LOT Economy Class means modern seats with individual on-board entertainment screens, sockets and USB ports as well as fresh and varied seasonal meals served during the flight.
22nd May 2017
LOT increases capacity
LOT Polish Airlines is to increase capacity on its Warsaw-Heathrow flights and not thinking about the uncertainties of a Brexit effect.
May 2017
LOT Polish Airlines announced it was launching Newark services
LOT Polish Airlines launched 4X-weekly Warsaw-New York Newark services April 28, its fifth North American destination and second new route to the US (Los Angeles, California) within one month. The service will be increased to 5X-weekly starting in August. The new service will be initially operated with a leased Boeing 767-300 with business and economy class. Beginning in August, the route will be operated using a Boeing 787 in a three-class configuration. The Star Alliance member recently announced additional summer 2017 long-haul destinations, including Krakow-Chicago O'Hare services in August.
April 2017
LOT Polish Airlines launched its new 4x weekly Warsaw - Los Angeles service, marking its fourth North American destination and first route to the US west coast.
LOT operates a Boeing 787-8 on the 6,500-mile route, the longest flight in its network. Los Angeles is the seventh long-haul destination for the Warsaw-based carrier. The Star Alliance member recently announced additional summer 2017 destinations, including Newark, New Jersey, from April 28 and Krakow-Chicago O'Hare services in August. In April 2017, LOT Polish Airlines announced it had revised its service launch date for Warsaw - Astana route, previously scheduled from 8May 2017. The 4 weekly 737-800 service (3 weekly in winter season) is now set to launch on 29MAY17. With the delay of 737-800 introduction, London Heathrow and Paris CDG will begin to receive 737-800 operation on 15MAY17 and 16MAY17, respectively. In addition, the 737-800 inaugural flight is now scheduled as LO265 Warsaw – Amsterdam, departing WAW at 0725, followed by LO281 Warsaw – London Heathrow, departing WAW at 0730. In April 2017, Polish LOT carrier increased its passengers number between Bucharest and Warsaw up by 10 percent within the last 12 months and the company is looking to increase the number of flights from Cluj-Napoca. Overall 45 percent of the passengers traveling from Bucharest at the board of LOT's aircraft connect to Warsaw Chopin Airport and to other destinations. Among the most popular destinations are Toronto, New York, Chicago, Copenhagen, Hamburg, Krakow, Wroclaw, Gdansk and Poznan, showing that passengers traveling from Bucharest consider Warsaw as a convenient hub in the region.
March 2017
LOT announces incoming fleet
LOT Polish Airlines has announced it will use its incoming fleet of B737-800s to develop international connections from several Polish towns and cities this coming summer season. LOT Polish Airlines said flights from Lublin (2x weekly), Gdansk (1x weekly), Poznan (1x weekly), and Wroclaw (2x weekly) to Tel Aviv Ben Gurion, Israel, will commence in June. LOT has historically operated the bulk of its international services via its Warsaw Chopin hub. But, as part of its market expansion plans, it intends to use its new B737NextGen and B737 MAX 8 jets to offer more point-to-point flights from regional Polish airports to destinations in Europe and the Middle East.
In March 2017, LOT Polish Airlines announced in a close close cooperation with Israel Ministry of Tourism, LOT launches five routes from Polish airports to Tel Aviv, Israel's largest city. New connections from Lublin, Gdańsk, Poznań, Wrocław and additional flights from Warsaw will be offered as early as in June of this year, enabling passengers to comfortably reach one of the most popular holiday destinations in the Mediterranean. Flights to Tel Aviv will depart from Lublin on Mondays and Thursdays, on Tuesdays and Fridays from Wrocław, every Sunday from Gdańsk and every Wednesday from Poznań. Furthermore, LOT will nearly double the number of connections between Warsaw and Tel Aviv, adding a new daytime rotation on Mondays, Tuesdays, Wednesdays, Thursdays, Saturdays and Sundays. From July, most flights will be operated by modern Boeing 737-800 NG aircraft that are scheduled to join LOT's fleet in a few months' time. The new connections are offered to meet Israel's growing popularity among Polish tourists.
---
LOT Polish Airlines Route Map
LOT Polish Airlines Popular Routes
London

Riga
Krakow

London
Amsterdam

Warsaw
Poznan

Krakow
Katowice

Paris
Gdansk

Vilnius

---
The Fleet
Boeing 737-400
Embraer E-170
Bombardier Q400
Embraer E-170
Embraer E-195
Boeing 787-7
---
Warsaw Chopin Airport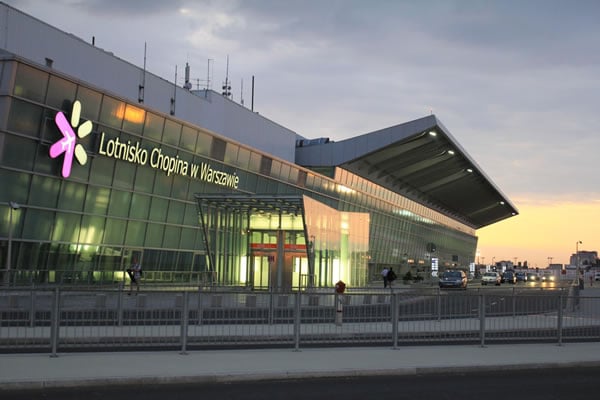 Hub Airport
Warsaw Chopin Airport is LOT Polish Airline's hub airport and is located in Warsaw, Poland. Warsaw Chopin Airport also acts as a hub for Wizz Air, Small Planet Airlines, Travel Service Polska, Enter Air and Sprint Air.
The airport has two runaways and can handle nearly 12 million passengers every year.
Other airlines which fly from Warsaw Chopin Airport include Adria Airways, Aegean Airlines, Air Berlin, Air Serbia, Brussels Airlines, Czech Airlines, Emirates, KLM, Pegasus Airlines and Scandinavian Airlines.
Star Alliance is the leading global airline network, which has 27 member airlines. Star Alliance was founded in 1997 with the five founding airlines: Scandinavian Airlines, Thai Airways International, Air Canada, Lufthansa and United Airlines.
The alliance has grown considerably now to airlines which fly to 1,321 airports and 193 countries, carrying 637 million passengers every year!
---
---
Buy Flights with LOT Polish Airlines
Make a LOT Polish Airlines reservation and find some amazing deals with discounted LOT Polish Airlines tickets at Alternative Airlines. LOT Polish Airlines flies to 60 destinations worldwide, offering a cost effective and safe service to all its passengers. Let Alternative Airlines help find you cheap LOT Polish Airlines tickets and make international and domestic flight reservations on LOT Polish Airlines today.
Browse the most popular LOT Polish Airlines flight routes to cities worldwide. Alternative Airlines can help you make reservations on LOT Polish Airlines for international flights to lots of destinations. Use the following list of routes to help you plan your next flight. Book LOT Polish Airlines flights on Alternative Airlines to save big! Alternative Airlines is an online travel agency, specialising in booking lesser known airlines and remote destinations.
Alternative Airlines is an Online Travel Agency bonded by the International Air Transport Association (IATA). We specialise in finding the best available fares on the widest range of airlines and making them available to you online, with prices in the currency of your choice.
Alternative Airlines handles all your travel arrangements and payments, complete with ticketed confirmation. We do not direct you to other websites or service providers.
We help you through the process. This is what makes us Alternative Airlines.
Browse for flights, find some amazing deals, make a reservation and pay in the currency of your choice today with Alternative Airlines.
Let Alternative Airlines help find you the best prices and make international and domestic flight reservations with us today.
Join the Alternative Airlines Members Club and get £100.00 back on your 5th booking with Alternative Airlines. You will have insight to many benefits and exclusive deals on over 650 airlines. Click on the Members section on the Alternative Airlines website for more information and join today.
We are open every day from 8am until 8pm (UK local time).
How to pay
You can pay for your flights with LOT Polish Airlines in the currency and payment method of your choice when booking through Alternative Airlines.
We accept PayPal making flight purchases with LOT Polish Airlines easy and more secure for customers. PayPal is one of the leading forms of online payment, with more than 169 million accounts worldwide.