Tarom Reservations with Alternative Airlines
Make a Tarom Booking and Find Some Amazing Deals
---
About
TAROM is the flag carrier of Romania and has its headquarters and hub at Henri Coanda International Airport (OTP). The airline was established in 1954 and developed together with the Romanian aviation. It's currently the largest airline operating in Romania based on international destinations, international flights and the second-largest measured by fleet size and passengers carried behind only Blue Air a smart flying carrier also based in Bucharest. Other Bucharest-based airlines in the past have included Ten Airways.
The airline has been a member of SkyTeam Alliance as of June 2010. TAROM operates on more than 50 destinations as well as destinations operated by its codeshare partners. The airline transported almost 2.75 million passengers in 2018.
The airline is a member of Sky Team Alliance and in addition has codeshare agreements with Aegean Airlines, Aeroflot, AirBaltic, Air Europa, Air France, Air Serbia (previously Jat Airways), airBaltic, Alitalia, Brussels Airlines, Bulgaria Air, KLM, Middle East Airlines, Czech Airlines, Royal Jordanian Airlines and Vietnam Airlines.
The airline has a partnership with Blue Air, where if a passenger misses a connecting flight, they can fly on the next available flight from either airline, depending on seat availability.
---
Fleet
As of October 2019, the Romanian flag carrier owns one of the youngest fleet in Europe, consisting of 25 aircraft and has been a member of the International Air Transport Association (IATA) since 1993 and of the Association of European Airlines (AEA) since 2000. Its fleet consists of:
4 Airbus A318-100
7 ATR 42-500 to be replaced by ATR 72-600 by 2020
2 ATR 72-500 to be replaced by ATR 72-600 by 2020
9 ATR 72-600 to replace ATR 42-500 and ATR 72-500 from October 2019 until 2011
4 Boeing 737-300
4 Boeing 737-700
4 Airbus 737-800
5 Boeing 737 MAX 8 to be delivered from 2023
---
Economy Class
What are the facilities like?
Economy Class offers numerous free services so passengers can enjoy comfort. You can enjoy a variety of meals which you can request at least 12 hours before your flight as well as a range of different beverages to choose from. Passengers can select a seat on the plane free of charge when checking in online which should be done at least 30 hours before the flight.
TAROM helps to entertain you on the flight by offering the Air-Fi platform for games, movies and documentaries, internal chat, information about TAROM destinations, restaurants and attractions.
What are the seats like?
TAROM offers its passengers standard economy seats with good amount of legroom.
Business Class
What are the facilities like?
In Business Class passengers get more priority, from check-in to the delivery of your checked luggage to the destination. You can stay in comfort before your flight TAROM Business Lounge. With a buffet and a bar open, access to TV, PC, Wi-Fi connectivity.
Passengers flying Business Class are welcomed with a drink of choice. The menu varies depending on the airplane type and flight schedule.
What are the seats like?
Seats in the business class are well cushioned and have an ample amount of legroom.
---
Destination
International Destinations
| AIRPORT | CITY AND COUNTRY |
| --- | --- |
| Zvartnots International Airport (EVN) | Yerevan, Armenia |
| Vienna International Airport (VIE) | Vienna, Austria |
| Brussels Airport (BRU) | Brussels, Belgium |
| Sofia Airport (SOF) | Sofia, Bulgaria |
| Larnaca International Airport (LCA) | Larnaca, Cyprus |
| Václav Havel Airport Prague (PRG) | Prague, Czech Republic |
| Cairo International Airport (CAI) | Cairo, Egypt |
| Nice Côte d'Azur Airport (NCE) | Nice, France |
| Charles de Gaulle Airport (CDG) | Paris, France |
| Tbilisi International Airport (TBS) | Tbilisi, Georgia |
| Frankfurt am Main International Airport (FRA) | Frankfurt, Germany |
| Hamburg Airport (HAM) | Hamburg, Germany |
| Munich Airport (MUC) | Munich, Germany |
| Athens International Airport (ATH) | Athens, Greece |
| Thessaloniki International Airport (SKG) | Thessaloniki, Greece |
| Budapest Ferenc Liszt International Airport (BUD) | Budapest, Hungary |
| Ben Gurion International Airport (TLV) | Tel Aviv, Israel |
| Orio al Serio International Airport (BGY) | Bergamo, Italy |
| Leonardo da Vinci–Fiumicino Airport (FCY) | Rome, Italy |
| Queen Alia International Airport (AMM) | Amman, Jordan |
| Beirut–Rafic Hariri International Airport (BEY) | Beirut, Lebanon |
| Chişinău International Airport (KIV) | Chişinău, Moldova |
| Amsterdam Airport Schiphol (AMS) | Amsterdam, Netherlands |
| Belgrade Nikola Tesla Airport (BEG) | Belgrade, Serbia |
| Alicante–Elche Airport (ALC) (Seasonal) | Alicante, Spain |
| Barcelona–El Prat Airport (BCN) | Barcelona, Spain |
| Adolfo Suárez Madrid–Barajas Airport (MAD) | Madrid, Spain |
| Palma de Mallorca Airport (PMI) | Palma de Mallorca, Spain |
| Valencia Airport (VLC) (Seasonal) | Valencia, Spain |
| Stockholm Arlanda Airport (ARN) | )Stockholm, Sweden |
| Istanbul Airport (IST) | Istanbul, Turkey |
| Odessa International Airport (ODS) | Odessa, Ukraine |
| London Heathrow International Airport (LHR) | London, United Kingdom |
Domestic Destinations
| AIRPORT | CITY AND COUNTRY |
| --- | --- |
| Maramureș Airport (BAY) | Baia Mare, Romania |
| Henri Coandă International Airport (OTP) | Bucharest, Romania |
| Cluj-Napoca International Airport (CLJ) | Cluj-Napoca, Romania |
| Iași International Airport (IAS) (HUB) | Iași, Romania |
| Ordea International Airport (OMR) | Oradea, Romania |
| Satu Mare International Airport (SUJ) | Satu Mare, Romania |
| Sibiu International Airport (SBZ) | Sibiu, Romania |
| Suceava Airport (SCV) | Suceava, Romania |
| Târgu Mureș International Airport (TGM) | Târgu Mureș, Romania |
| Traian Vuia International Airport (TSR) (HUB) | Timişoara, Romania |
To find out more about domestic services within Romania, please visit our dedicated Domestic Romanian Flights page.
---
Tarom Frequent Flyer Program
The airline operates a frequent flyer program called Flying Blue to reward its regular travellers. Membership levels are determined by the number of level miles you have earned or the number of qualifying flights that passengers have made. Passengers can earn Level Miles on most flights taken with Air France, KLM or any other SkyTeam Airlines and in general, every mile you fly earns you one Flying Blue Mile. A qualifying flight is a one-way flight made with a SkyTeam airline, which enables you to earn Level Miles. The airline offers frequent flyers on a certain destination, the ability to purchase a subscription at a very flexible price and conditions for the flight tickets. Flight passes are valid for one year and must include at least 6 flights at the same destination during a year. Subscriptions must be paid in advance and can be purchased only from the airline's Agencies.
---
Airline Alliance
TAROM is a member of the SkyTeam alliance and is dedicated to providing passengers with a more seamless travel experience throughout their journey. The SkyTeam alliance has 19 member airlines working together and to welcome 630 million customers each year on more than 14,500 daily flights to 1,150 destinations in 175 countries.
---
Special Services
Air Tanzania offer a number of special services to its passengers. Please see below the following services it offers:
Wheelchairs
If you need wheelchair assistance at the airport, you must inform TAROM of this at least 48 hours before your flight. You can ask for this service by getting through to the airline's customer service; or the Alternative Airlines customer service team if you have booked through our website. For more information on this please see our wheelchair assistance page.
Unaccompanied Minors
If you want to have your child to travel by themselves, you would need to book through the unaccompanied minor service. TAROM doesn't accept children under the age of 5 to fly on their own. A child under the age of 12, separated from the accompanying adult, who is travelling in another cabin class, is to be treated as an unaccompanied child. Children from the age of 12 and 18 would need to be considered as unaccompanied minors and shall be treated as such only upon express request of the parent. For more information on this contact the airline or alternatively, contact us. Also, you can find more information on our unaccompanied minors page on this.
Travelling with pets
You can take your pet with you in the cockpit or in the hold of the plane. For more information see our flying with pets page.
---
Tarom Baggage
Carry-on Baggage
Passengers are entitled to carry with you in the cabin one hand baggage sized maximum 55cm x 40cm x 20cm (length x width x depth ) if you travel with an aircraft type Boeing and Airbus. If you travel with an aircraft type ATR 42 / ATR 72 the luggage carried to the cabin should not exceed the following dimensions: 35cm x 30cm x 20cm (length x width x height). You can also have as hand luggage: a purse, a briefcase, camera/video bag, a laptop, an object smaller or similar to that of the following dimensions: 55cm x 40cm x 20cm, respectively 35cm x 30cm x 20cm for ATR42 / ATR 72. The total weight of hand baggage must not exceed 10kg.
Checked Baggage
Economy Class passengers are permitted one piece of baggage with a maximum 23kg and Business Class passengers are permitted three pieces of baggage with a maximum weight of 23kg. The dimension of the checked baggage must not exceed over 158cm (height + width + length).
---
Tarom Check-in
Online Check-in
Online check-in opens 30 hours prior to flight departure and closes one hour before. For online check-in on flights from Brussels online check-in opens 24 hours before the flight.
---
Alternative Airlines
Please click the following logos to find alternative airlines who fly similar routes:
---
Popular Routes
Bucharest

Cluj
Paris

Bucharest
Iasi

Bucharest
Bucharest

Budapest
Amsterdam

Bucharest
Chisianu

Bucharest
---
Route Map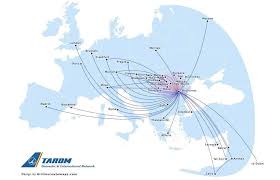 ---
Hub Airport
Henri Coandă International Airport (OTP)
Tarom is based at Bucharest Henri Coanda International Airport (OTP). Blue Air is also based at the airport and in 2022 a new Romanian regional airline called Air Oradea plans on beginning services to the airport from Oradea. It has 2 runways and can process 6 million passengers per year with 104 check-in counters and 38 boarding gates.
Other airlines that operate to Henri Conadā International (OTP) include Windrose, Laudamotion, El Al and Air Moldova.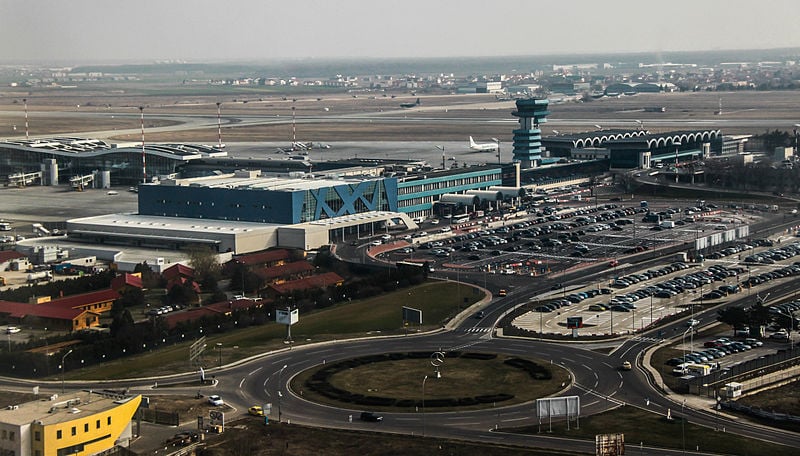 Photo credit: Cristian Bortes
---
Book Tarom Flights in English
Flying to Romania? Alternative Airlines can help you make your flight booking in English. We have a responsive customer service team who can help you every step of the way. Find flights to Romania in English with Alternative Airlines, you can even book with Paypal!
---
Tarom Seat Selection
Alternative Airlines' customers can now book seats on their flight without leaving the site! Search available seats on your flight and choose the seat for you. Visit our seat selection page to find out how to book your seats.
---
News
17th April 2019
TAROM celebrates the launch of new connections to Cairo, in Egypt, and Yerevan, in Armenia.
TAROM celebrated the launch of two capital connections from Bucharest (OTP) on 3 April, with new links to Cairo, in Egypt, and Yerevan, in Armenia. The cities will be served twice-weekly (Wednesdays and Fridays) and face no competition from other airlines.