Trusted Choice
Secure Booking
Airlines will always try to sit children with their parents (subject to check-in)
Some airlines will allow travel for unaccompanied minors. Please email us to check.
The fare is based on the child's age on the date of travel.
More detailed information can be found here Traveling with children
Most airlines will let infants travel with their parent(s) for free. However some airlines will charge up to 10% of the adult ticket price. Click on 'Price Breakdown' to find out more.
If you are pregnant, but due before the flight departure date, please contact us once your baby is born and has a name. We can then add him/her to your ticket.
Infants will not be given a seat. The airlines expect parents to travel with them on their lap.
Airlines regard infants as being under 24 months old.
The fare is based on the child's age on the date of travel.
More detailed information can be found here Traveling with children
Search and book flights with
Lauda (LaudaMotion)
Buy
Lauda (LaudaMotion)

Flights
Search for Lauda Flights with Alternative Airlines
Make a Lauda Booking and Find Some Amazing Deals
---
About Lauda
Lauda, which is legally known as Laudamotion GmbH, is an Austrian airline that operates scheduled passenger services throughout Europe. The airline was founded in 2004 and is based at Vienna International Airport (VIE). Laudamotion has a route network that flies over 60 routes to more than 40 destinations.
Formerly known and founded as Amira air, the airline was founded in 2004 and initially operated as a charter airline flying internationally from Vienna. In 2016, ex FormulaOne World Driver champion, Niki Lauda bought out the company and renamed the airline 'Laudamotion'. After continuing to run charter flights for a short period of time, the airline moved to its current base at Vienna International to begin scheduled passenger flights. In early 2018, Niki, an airline that had associations with Niki Lauda retired its services and as a result, Lauda acquired all of Niki's operations, as well as 15 aircraft.
In August 2018, Ryanair announced the acquisition of 75% of the shareholding for Laudamotion. Shortly thereafter, the airline announced that it had fully taken control of Lauda airlines, making it one of three airlines' wholly owned by Ryanair, along with Ryanair Sun and Ryanair UK.
In 2019, Lauda changed its trading name from 'Laudamotion' to Lauda, which is what it is known as today. Along with this rebrand, Lauda announced that it intends to expand its fleet by three additional aircraft and will add more than 20 routes to its schedule within the year.
---
The Fleet
The Lauda fleet contains all Airbus A320-200 aircraft. As of August 2019, the airline had 21 of this aircraft in operation, with another 4 on order.
The company has previously stated that their fleet will remain exclusively Airbus, with future expansion plans detailing the purchase of at least 100 Airbus A321neo.
---
Lauda Destinations
Lauda currently operates scheduled flights mainly around Europe and occasionally to the Middle East. The airline operates flights year-round to many destinations, with some destinations having seasonal-only flights. See the tables below for the full list of destinations that the airline fly to:
Domestic Destinations (Austria)
| CITY | AIRPORT |
| --- | --- |
| Innsbruck | Innsbruck Airport (INN) |
| Salzburg | Salzburg Airport (SZG) |
| Vienna | Vienna International Airport (VIE) |
International Destinations
| COUNTRY | CITY | AIRPORT |
| --- | --- | --- |
| Belgium | Brussels | Brussels South Charleroi Airport (CRL) |
| Bosnia and Herzegovina | Banja Luka | Banja Luka International Airport (BNX) |
| Bulgaria | Burgas | Burgas Airport (BOJ) |
| Bulgaria | Sofia | Sofia Airport (SOF) |
| Croatia | Dubrovnik | Dubrovnik Airport (DBV) |
| Croatia | Pula | Pula Airport (PUY) |
| Croatia | Split | Split Airport (SPU) |
| Croatia | Zadar | Zadar Airport (ZAD) |
| Cyprus | Larnaca | Larnaca International Airport (LCA) |
| Denmark | Copenhagen | Copenhagen Airport (CPH) |
| Estonia | Tallinn | Tallinn Airport (TLL) |
| Finland | Helskinki | Helskinki Airport (HEL) |
| Finland | Lappeenranta | Lappeenranta Airport (LPP) |
| France | Bordeaux | Bordeaux–Mérignac Airport (BOD) |
| France | Marseille | Marseille Provence Airport (MRS) |
| France | Nice | Nice Côte d'Azur Airport (NCE) |
| France | Paris | Beauvais–Tillé Airport (BVA) |
| Germany | Cologne | Cologne Bonn Airport (CGN) |
| Germany | Düsseldorf | Düsseldorf Airport (DUS) |
| Germany | Frankfurt | Frankfurt Airport (FRA) |
| Germany | Hanover | Hanover Airport (HAJ) |
| Germany | Munich | Munich Airport (MUC) |
| Germany | Münster Osnabrück | Münster Osnabrück Airport (FMO) |
| Germany | Nuremberg | Nuremberg Airport (NUE) |
| Germany | Stuttgart | Stuttgart Airport (STR) |
| Greece | Athens | Athens International Airport (ATH) |
| Greece | Chania | Chania International Airport (CHQ) |
| Greece | Corfu | Corfu International Airport (CFU) |
| Greece | Heraklion | Heraklion International Airport (HER) |
| Greece | Kalamata | Kalamata International Airport (KLX) |
| Greece | Kefalonia | Kephalonia International Airport (EFL) |
| Greece | Kos | Kos International Airport (KGS) |
| Greece | Rhodes | Rhodes International Airport (RHO) |
| Greece | Santorini | Santorini (Thira) International Airport (JTR) |
| Greece | Skiathos | Skiathos International Airport (JSI) |
| Greece | Thessaloniki | Thessaloniki Airport (SKG) |
| Hungary | Budapest | Budapest Ferenc Liszt International Airport (BUD) |
| Ireland | Dublin | Dublin Airport (DUB) |
| Israel | Tel Aviv | Ben Gurion Airport (TLV) |
| Italy | Alghero | Alghero–Fertilia Airport (AHO) |
| Italy | Bergamo | Orio al Serio International Airport (BGY) |
| Italy | Bologna | Bologna Guglielmo Marconi Airport (BLQ) |
| Italy | Brindisi | Brindisi Airport (BDS) |
| Italy | Catania | Catania–Fontanarossa Airport (CTA) |
| Italy | Lamezia Terme | Lamezia Terme International Airport (SUF) |
| Italy | Milan | Milan Malpensa Airport (MXP) |
| Italy | Naples | Naples International Airport (NAP) |
| Italy | Pisa | Pisa International Airport (PSA) |
| Italy | Rome | Leonardo da Vinci–Fiumicino Airport (FCA) |
| Italy | Treviso | Treviso Airport (TSF) |
| Italy | Verona | Verona Villafranca Airport (VRN) |
| Jordan | Amman | Queen Alia International Airport (AMM) |
| Latvia | Latvia | Riga International Airport (RIX) |
| Lithuania | Vilnius | Vilnius Airport (VNO) |
| Malta | Valletta | Malta International Airport (MLA) |
| Montenegro | Podgorica | Podgorica Airport (TGD) |
| Morocco | Agadir | Agadir–Al Massira Airport (AGA) |
| Morocco | Marrakesh | Marrakesh Menara Airport (RAK) |
| Netherlands | Eindhoven | Eindhoven Airport (EIN) |
| Norway | Sandefjord | Sandefjord Airport, Torp (TRF) |
| Poland | Krakow | Kraków John Paul II International Airport (KRK) |
| Portugal | Faro | Faro Airport (FAO) |
| Portugal | Lisbon | Lisbon Airport (LIS) |
| Portugal | Porto | Porto Airport (OPO) |
| Romania | Bucharest | Henri Coandă International Airport (OTP) |
| Spain | Alicante | Alicante–Elche Airport (ALC) |
| Spain | Barcelona | Barcelona–El Prat Airport (BCN) |
| Spain | Fuerteventura | Fuerteventura Airport (FUE) |
| Spain | Ibiza | Ibiza Airport (IBZ) |
| Spain | Lanzarote | Lanzarote Airport (ACE) |
| Spain | Las Palmas | Gran Canaria Airport (LPA) |
| Spain | Madrid | Adolfo Suárez Madrid–Barajas Airport (MAD) |
| Spain | Málaga | Málaga Airport (AGP) |
| Spain | Seville | Seville Airport (SVQ) |
| Spain | Tenerife | Tenerife South Airport (TFS) |
| Spain | Valencia | Valencia Airport (VLC) |
| Spain | Palma de Mallorca | Palma de Mallorca Airport (PMI) |
| Sweden | Gothenburg | Göteborg Landvetter Airport (GOT) |
| Sweden | Stockholm | Stockholm Skavsta Airport (NYO) |
| Ukraine | Kiev | Boryspil International Airport (KBP) |
| United Kingdom | Birmingham | Birmingham Airport (BHX) |
| United Kingdom | Bristol | Bristol Airport (BRS) |
| United Kingdom | Edinburgh | Edinburgh Airport (EDI) |
| United Kingdom | Liverpool | Liverpool John Lennon Airport (LPL) |
| United Kingdom | London | London Stansted Airport (STN) |
---
Baggage Allowance
Carry-on Baggage
All Passengers flying on Lauda are entitled to one item of free carry-on baggage, which is included in the price of their ticket. This small personal item of hand baggage must not exceed the dimensions of 40 x 20 x 25 cm, and must be able to fit in under the seat in front of you. Examples of items such as this include a handbag, laptop bag or small backpack.
Passengers have the option to purchase the 'Priority & 2 Cabin Bags' fare, or a Plus/Flexi/Family ticket, or a connecting flight ticket. If they have selected and paid for one of these options, passengers can bring one of the small personal items detailed above, along with one additional 10kg bag with the maximum dimensions of 55 x 40 x 20cm.
Checked Baggage
Lauda does not include a checked bag as part of the ticket fare. However, passengers will have the option to buy a 10kg check-in bag. There are no size guidelines for this checked bag.
Excess Baggage
If passengers turn up at the boarding gate with baggage that exceeds their set amount, size or weight, they will be subject to pay an excess baggage fee as they will need to be placed in the hold of the aircraft.
---
Check-In Information
Online Check-in
Passengers are required to check-in online before flying, via the Ryanair website. The online check-in service opens 60 days before flying for passengers who are purchasing a seat, or if they have a Flexi Plus ticket, and will close 2 hours prior to the flights' scheduled departure time. Passengers who don't wish to pay for a seat can check-in from 4 days before flying, up to 2 hours before their scheduled flight time.
Mobile Check-in
Passengers can also choose to check-in via the Ryanair mobile app, which can be downloaded for iOS or Android phones. The same check-in deadlines apply for mobile as they do for online check-in, meaning it opens between 60 days to 2 hours before the flight for passengers buying a seat or passengers with Flexi Plus fares, and between 4 days and 2 hours prior to flying for passengers not choosing a seat.
Airport Check-in
Passengers who have not checked in online will be subject to extra fees and charges at the airport. Excluded from this rule are Flexi Plus customers or Business Plus customers, who are able to check-in at the airport free of charge.
---
Hub Airport
Vienna International Airport
Vienna International Airport is an airport located in Austria's' Capital; Vienna. It was originally built in 1938 where it was used during World War II as a military airport and was later developed to facilitate commercial flights with new airport buildings and runway. It now has 2 runways and 3 terminals. It serves as an airport base for many European LCCs (Low-Cost Carrier) such as easyJet, Austrian Airlines and Wizz Air.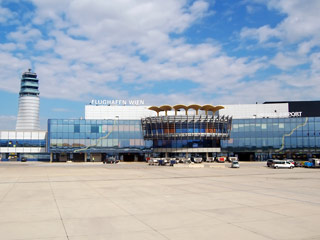 Photo Accreditation: Milan Suvajac
---
Class Information
Economy Class
Economy class is the standard class on Laudamotion planes, and makes up the majority of the cabin. In this class, passengers get a comfortable leather seat with enough legroom to be able to relax on the plane. Food, snacks and drinks are available for purchase throughout your flight, should you wish.
The seats in economy have between 30-40 inches of legroom, depending on the location of the seat, for example exit row). The width of the seats between each armrest is 17.
Premium Economy
Passengers can choose to upgrade to premium economy class for their flight, where they can enjoy more personal space due to the middle seat being empty. In addition, passengers in premium economy can enjoy free food and drink included in the price of their ticket.
Business Class
There is currently no business class on Lauda flights.
First Class
Lauda do not yet offer passengers a first class fare.
---
Alternative Airlines
Please click on the logos below to find out more about airlines that fly similar routes to Lauda:
---
In-Flight Entertainment
Lauda provides its passengers with entertainment during its flights. Depending on the duration of your flight, this will include shared TV monitors on the cabin ceiling, which will show TV shows and documentaries. These will be in both German and English. Although there will be headphones available to purchase onboard, passengers are welcome to bring their own to plug in to listen to the TV system.
---
Onboard Food
Lauda does not include and onboard food or drink items as part of the flight ticket price. However, there will be items such as snacks, light meals and lunches and drinks available to purchase onboard the plane. On some routes, there will also be hot meals such as lasagne and curries. If you have a dietary requirement, you can get the availability of that for different airlines here.
Passengers are welcome to bring with them their own food and drinks on the plane with them. If you need to check what food you can bring on a plane, please do so here.
---
Onboard WiFi
There is currently no WiFi available on Lauda flights.
---
Frequent Flyer Programme
Lauda do not yet offer a frequent flyer program.
---
Airline Alliance
Lauda is not part of an airline alliance, but it is a subsidiary of Ryanair Holdings, making it a sister airline to Ryanair, Ryanair UK and Ryanair Sun.
---
Lauda Special Services
If you need any type of special assistance, you can put a request in when making a booking with Alternative Airlines and we will pass on the information to the airline. Lauda are able to provide airport assistance, postural supports in the cabin, wheelchair assistance and many other services.
---