Search & Buy Air Moldova Flights
Select your payment method to view total prices including any payment fees:
Airlines will always try to sit children with their parents (subject to check-in)
Some airlines will allow travel for unaccompanied minors. Please email us to check.
The fare is based on the child's age on the date of travel.
More detailed information can be found here Traveling with children
Most airlines will let infants travel with their parent(s) for free. However some airlines will charge up to 10% of the adult ticket price. Click on 'Price Breakdown' to find out more.
If you are pregnant, but due before the flight departure date, please contact us once your baby is born and has a name. We can then add him/her to your ticket.
Infants will not be given a seat. The airlines expect parents to travel with them on their lap.
Airlines regard infants as being under 24 months old.
The fare is based on the child's age on the date of travel.
More detailed information can be found here Traveling with children
Buy
Air Moldova

Flights
Air Moldova Reservations with Alternative Airlines
Make an Air Moldova Booking and Find Some Amazing Deals
---
About Air Moldova
Air Moldova is the national airline of Moldova and is headquartered in Chisinau, Moldova. Air Moldova was founded in 1993 and, in 2004, became an active member of the International Association of Air Transport (IATA) and operates flights to many destinations within Europe. Air Moldova currently flies to 23 destinations including Chisinau, Istanbul, Larnaca, Athens, Rome, Florence, Lisbon, Barcelona, Bologna, Venice, Verona, Kiev, Vienna, Frankfurt, London, Dublin, Paris, Milan and Turin. Air Moldova has codeshare agreements with UTair Aviation, Ukraine International Airlines and Meridiana.
In March 2016, Air Moldova launched a new direct flight form Chisinau to Florence. Florence has become the seventh destination served by Air Moldova in Italy after Rome, Milan, Bologna, Verona, Venice and Turin. Air Moldova develops the passengers' traffic through the Chisinau International Airport due to a new launched product (2009) - the transit travel service trough Chisinau. In this way the airport of location becomes a transit HUB. In July 2016, Air Moldova announced the extension of the route map by launching new destination to Brussels.
---
Air Moldova Fleet
Air Moldova's fleet consists of Airbus A319, A320s, A321s and Embraer E-190.
---
Air Moldova Frequent Flyer Program
Air Moldova operates a frequent flyers program called Air Moldova Club to reward loyal customers. The Air Moldova Club program is based on accumulating awarded Credit Miles on future flights with Air Moldova. Members will also receive additional benefits such as waitlist priority, check-in at business class desks, special presents with logo of Air Moldova and increase of free baggage allowance.
---
Air Moldova Baggage
Carry-on Baggage
Air Moldova allows passengers to travel with 1 piece of hand luggage with a maximum weight of 8kg and dimensions of 115cm (50 x 40 x 25cm).
---
Air Moldova Check-in Information
Online Check-in
Online check-in opens 24 hours prior to flight departure and is available up to two hours before. If you're flying from Domodedovo, online check-in opens 10 hours prior to flight departure and closes four hours prior. Web check in not is available for unaccompanied minors.
---
Air Moldova Popular Routes
Chisinau

Athens
Chisinau

London
Paris

Chisinau
Athens

Moscow
Istanbul

St. Petersburg
Larnaca

Chisinau
---
Book Air Moldova Flights in English
Here at Alternative Airlines, we want you to have a strighforward booking process. That's why we offer Air Moldova flights reservations in English, saving you time and giving you greater peace of mind. You can also pay in the currency of your choice and even pay with Paypal!
---
Air Moldova Route Map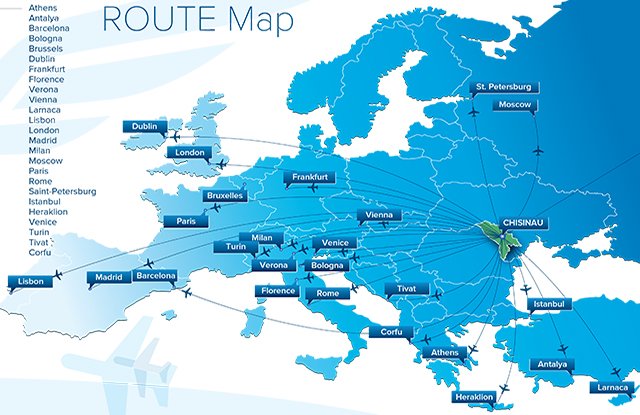 ---
Air Moldova Hub Airport
Air Moldova's hub airport is Chisinau International Airport, which is the main international airport in Moldova. The airport is located in Chisinau, which is the capital of the country. Chisinau International Airport operates as headquarters for Air Moldova and Moldavian Airlines. Other airlines which fly to and from this airport include Austrian Airlines, Aegean Airlines, TAROM, FlyOne, Aeroflot, Meridiana, Turkish Airlines, Ukraine International Airlines, Ural Airlines and LOT Polish Airlines.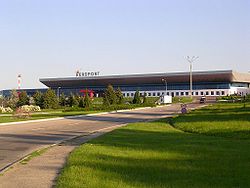 ---
Alternative Airlines to Air Moldova
Please click on the logos below to find out more about airlines that fly similar routes to Air Moldova:
---
Air Moldova News
18th June 2018
Air Moldova fly to Kiev
Air Moldova is adding a new city pairing to its network. The Moldovan airline will fly between its country's capital Kishinev (KIV) and Kiev (KBP) later this year. Air Moldova will fly the route once a day and will use a mix of Airbus A319 and Embraer E190 aircraft to operate the service. The flight duration is expected to be 1 hour and 5 minutes which will be one of the quickest flights in the world from Kiev to Russia. Until recently, flights between Russia and Ukraine have been banned. So, tourists, businessmen and other travellers will be happy to see Air Modolva adding a route that will connect the two countries once again.
7th June 2018
Air Moldova compensate delayed passenger with €2000 EUR
Air Moldova delayed a flight by a few hours last September to the annoyance of one, particularly disgruntled passenger. He asked for compensation after alleging that the Moldovan airline did not apologise for the inconvenience caused by the delay. Today, the Court of Appeal has decided a €2080 EUR compensation is in order for this passenger - a whopping amount. According to officials, a flight is considered delayed if it is two hours late within the EU for flights up to 1,500 km and all other flights up to 3,500km. A delay is over four hours if the flight is longer than 3,500 km. Air Moldova obliged with the official compensation regulations all airlines adhere to.
3rd May 2018
Air Moldova completes first service between Chisinau and Ekaterinburg
Air Moldova recently completed its first scheduled flight on a service beween Chisinau International Airport (KIV) and Koltsovo Airport (SVX). The route began service on April 28th and will operate three times a week. Passengers will fly on the Airbus 319 aircraft and the flight is estimated to take 3 hours and 30 minutes. With this new destination added to the airline's schedule, Air Modolva now operate to four different cities in Russia — Ekaterinburg, Moscow, St.Petersburg and Krasnodar.
1st April 2018
Air Moldova vindicated as Moldova and Ukraine sign air transport agreement
Air Moldova will service passenger no. 10 million this summer since the airline launched 25 years ago. Passengers can fly to more than 95 destinations with Air Moldova, operating direct flights to 30 destinations in Europe and Asia. Prime Minister of Ukraine Volodymyr Groysman has announced the signing of an agreement on air transportation with the government of Moldova. The governments have seen the mutal economic benefits of cooperation despite underlying tensions due to the odessa/transnistria border. It is said that the Cabinet of Ministers of Ukraine on April 6 approved a draft intergovernmental agreement with the Republic of Moldova on air service. Chairman of the State Aviation Service Oleksandr Bilchuk was authorized to sign it. "The decision was made to ensure the implementation of domestic procedures necessary to conclude a new agreement that will improve the bilateral legal basis for regular air service between the two countries and replace the current agreement between the governments of Ukraine and the Republic of Moldova on air service concluded in Chisinau on March 20, 1993," the document says.
5th February 2018
Air Moldova annonuces it is the most punctual airline at Domodedovo Airport
Air Moldova managed to significantly improve its performance in November, 2017, occupying the first place and surpassing another 55 international airlines operating flights at that airport," the airline said in a statement. The Certificate of Quality attests a 95.51% accuracy rate for the total number of 180 races operated. ir Moldova has operated for about 12 years daily flights to Chisinau - Moscow / Domodedovo - Chisinau. Races are performed 3 times a day with the Airbus 320.
22nd January 2018
Turkish Airlines, Air Moldova sign codeshare agreement
Turkish Airlines and Air Moldova have signed a codeshare agreement that would become effective from Jan. 29, the national flag carrier announced on Wednesday. In a statement, Turkish Airlines said: "Through this codeshare partnership, Turkish Airlines and Air Moldova will reciprocally add their flight codes on Istanbul-Kishinev, vice versa, flights operated by both parties." The agreement allows two or more airlines to list certain flights in a reservation system under each other's names. According to the company, joint flights will offer fast and convenient connections for customers leaving Istanbul, the biggest Turkish city and also an important flight hub in the region, to Kishinev.
"Moreover, taking into account the complementary structure of timetables of both carriers and agreement working reciprocally; it will allow both airlines' customers to enjoy seamless connectivity in their respective hubs," the airline added. "As Turkish Airlines, we are glad to be a codeshare partner with Air Moldova," Turkish Airlines Chief Executive Officer Bilal Eksi said in the statement. "As we already have a beneficial cooperation, we believe that, this agreement will improve our already good relations and enhance our commercial cooperation to the next level," Eksi said, adding:
"With the introduction of joint flights between both parties, passengers would enjoy more travel alternatives between Moldova and Turkey through the combined flights." Air Moldova is pleased to upgrade its long-lasting collaboration with Turkish Airlines through the codeshare agreement, Iulian Scorpan, general director of the largest airline and flag carrier of the Republic of Moldova, said in the statement.
"We highly appreciate this cooperation and intend to capitalize on it in providing additional travel solutions to our customer base," Scorpan said. "We also expect to give a boost to the business environments of Moldova and Turkey in realization of their investment projects in both countries." Air Moldova offers short and convenient connections in Chisinau airport with daily departures to 30 destinations in Europe, Russian Federation and Middle East. Turkish Airlines currently has more than 330 aircraft (passenger and cargo) flying to over 300 destinations in 120 countries. The airline was named "Best Airline in Europe" by Skytrax for six years in a row between 2011 and 2016.
24th October 2017
Air Moldova picks Dubai as first Middle East destination
Air Moldova (9U, Chisinau) has announced plans to launch a twice weekly A319-100 service from Moldova's capital Chisinau to Dubai Int'l starting November 23 according to SeeNews. The new route is Air Moldova's first own service to the Middle East, complementing its network that is currently mainly focused on connecting Moldova to destinations in the European Union as well as Istanbul Atatürk and the Russian destinations of Krasnodar, Moscow Domodedovo and St. Petersburg. Air Moldova also operates between Chisinau and Tel Aviv Ben Gurion twice weekly, but these services are operated on behalf of its partner, Tandem-Aero (TQ, Chisinau).
Source: ch-aviation
27th June 2017
Air Moldova will launch a route from the capital Chisinau to Geneva
From December 15 - Air Moldova - Chisinau. Moldova's flag carrier will service the route twice a week - on Mondays and Fridays, it said in a statement. In May, Air Moldova added a 150-seat Airbus A319 to its fleet. In the first nine months of 2016, the company swung to a 79.1 million lei profit ($4.3 million/3.8 million euro), compared to a loss of 151 million lei in the same period of 2015, latest data posted on its website showed. At present, Air Moldova operates flights to 29 destinations with eight aircraft - one A321, two A320, two A319 and three Embraer 190.
Beginning of May 2017 - Air Moldova announces it has added another route to Krasnodar in Russia to its network. This will commence 4 times weekly from Chisinau. The route will be flown on a 103-sear E190s, over 818km. This will now be 3 destinations that Air Moldova fly to in Russia. In total Air Moldova at the start of S17, serves 23 destinations from Chiinau on 102 weekly flights.
The airline has a fleet of 7 aircraft (3 E190s, 2 A320s, 1 A319 and 1 A321). In May 2017, Air Moldova announced it will receive a second A319. Air Moldova has added an Airbus A319 narrowbody to its fleet. The 150-seat airliner, with registration code ER-AXM, was delivered to the Moldovan flagship carrier's base at Chisinau airport. The aircraft was put into operation in 2002. It was originally operated by US carrier Frontier Airlines, and later by China Eastern Airlines. It is the second of the type in Air Moldova's fleet, the first having been delivered in June 2015. Air Moldova also operates one A321 and two A320s, as well as several Embraer E190s, which the carrier uses quite intensively. The airline first carried over one million passengers within a year in 2015, largely thanks to the cessation of direct air travel between Russia and Ukraine.
In April 2017
Air Moldova announced it had wet-leased a B737-400 from Ukrianian specialist YanAir. Air Moldova also operates one A319-100, two A320-200s, and three EMB-190s. since April 11, UR-CNP (msn 23980) has been used on regular flights connecting Chisinau with each of Bologna, Verona, London Stansted, Rome Fiumicino, and Frankfurt Int'l.
March 2017
it was announed that Air Moldova faces competition as Wizz Air opened its 26th base in Chisinau, Moldova. Wizz Air today celebrates the major milestone of opening its 26th base in Chisinau, Republic of Moldova. The airline has based one of its new Airbus A320 aircraft at Chisinau Airport, operating seven low-fare routes, including the two new services to Berlin and Barcelona. Wizz Air started operating flights from Chisinau in September 2013, being the pioneer of high quality, lowest fares air travel in the Moldova market, gradually growing the low-fare network from Moldova and providing more opportunities for truly affordable air travel. Over the past 4 years, Wizz Air carried 500,000 passengers on Chisinau routes, underlining its commitment to the country, stimulating local tourism and aviation industries and strengthening business relations between countries.
June 2016
Air Moldova expanded its route network by launching the direct flight Chisinau - Florence - Chisinau, starting from June 14, 2016. Together with the launch of the new flight, Florence will become the seventh destination served by Air Moldova in Italy after Rome, Milan, Bologna, Verona, Venice and Turin. During the flights, the Economy class passengers are offered meal, wines and soft drinks, depending on the time of departure and duration of the flight. For passengers who buy Business class tickets are reserved seats in a separate sector and the central seats are left empty, offering additional space that may be used when the passenger wants.
October 2016
Air Moldova will launch the new direct flight between Chisinau - Brussels. Chisinau - Brussels flight will be operated twice a week, on Tuesdays and Thursdays on comfortable Embraer-19. In November 2016, Air Moldova added Embrarer 190 aircraft to the fleet. The addition of the Embraer 190 allows Air Moldova to open up new routes and provide enhanced comfort and safety for passengers, ensuring efficiency in fuel consumption and lower operational costs. The aircraft, manufactured in 2009 landed on Chisinau International Airport on November 20. Before becoming part of Air Moldova's fleet, it was operated by Lufthansa and BoraJet. At the moment, Air Moldova's fleet consists of seven aircraft of the Airbus A321, Airbus A320, Airbus A319 and Embraer 190 type.
In October 2016 Air Moldova company announces that Chisinau - Krasnodar flights will be launched starting from April 28, 2017. Chisinau - Krasnodar flight will be operated 4 times a week, on comfortable Embraer-190 in accordance with the following schedule (all times are local):
For Tuesdays and Fridays:
departure from Chisinau at 07:00; arrival to Krasnodar at 08:40
departure from Krasnodar at 09:30; arrival to Chisinau – 11:00
For Wednesdays and Saturdays:
departure from Chisinau at 20:00; arrival to Krasnodar – 21:40
departure from Krasnodar – 22:30; arrival to Chisinau – 00:10
In November 2016 Air Moldova Company announces the enlargement of its fleet by supplying it with an additional aircraft Embraer 190. The aircraft, manufactured in 2009 and having 104 seats, landed on Chisinau International Airport on 20.11.2016. Embraer 190 aircraft purchase is part of the company's development strategy and its introduction allows Air Moldova to open up new routes and provide enhanced comfort and safety for passengers, ensuring efficiency in fuel consumption and lower operational costs. At the moment, Air Moldova fleet consists of seven aircrafts of Airbus A321, Airbus A320, Airbus A319 and Embraer 190 types. Air Moldova has added an Airbus A319 to its existing fleet. The 150-seat aircraft was delivered to the Moldovan flagship carrier's base at Chisinau airport in May 2017. The aircraft began operating in 2002 and was originally owned by Fronteri airlines and China Eastern Airlines. Air Moldova also flies 1 A321 and 2 A320s, as well as several Embrarer E190s which the airline uses extensively.
---