Search & Buy UTAir Flights
Airlines will always try to sit children with their parents (subject to check-in)
Some airlines will allow travel for unaccompanied minors. Please email us to check.
The fare is based on the child's age on the date of travel.
More detailed information can be found here Traveling with children
Most airlines will let infants travel with their parent(s) for free. However some airlines will charge up to 10% of the adult ticket price. Click on 'Price Breakdown' to find out more.
If you are pregnant, but due before the flight departure date, please contact us once your baby is born and has a name. We can then add him/her to your ticket.
Infants will not be given a seat. The airlines expect parents to travel with them on their lap.
Airlines regard infants as being under 24 months old.
The fare is based on the child's age on the date of travel.
More detailed information can be found here Traveling with children
Buy
UTAir

Flights
UT Air Reservations with Alternative Airlines
Make a UT Air Booking and Find Some Amazing Deals
---
About UT Air
UTAir Aviation is a Russian airline which operates mainly domestic services but also international services across Western Siberia. UTair Aviation is a Russian airline based at Khanty-Mansiysk Airport (HMA). It is the third largest Russian carrier by passenger volume. UTair Aviation has been named the Best Regional Airline in Russia and the CIS at the Business Traveler Russia and CIS Awards 2016.
UTair serves 70 destinations in 11 countries across Europe and Asia. The airline flies to many destinations including Dushanbe, Khujand, Bukhara, Fergana, Samarkand, Tashkent, Lahore, Bangkok, Yerevan, Ganja, Nakhchivan, Baku, Phuket, Riga, Grozny, Ufa, Biysk, Kurgan, Kursk, Igarka, Komi and many others.
UTAir Aviation has codeshare agreements with S7 Airlines and Turkish Airlines.
Russia's UTair Aviation has received approval for 14X-weekly Moscow-Berlin service. The Moscow-Berlin service is currently operated by Russia's Sheremetyevo-based Aeroflot, which flies to Berlin Schönefeld, and S7 Airlines, which started Moscow Domodedovo-Berlin Tegel flights in March 2016. UTair, which has bases at Moscow Vnukovo as well as at several airports in Western Siberia, is the fourth largest airline in Russia. From January-October 2016, it carried 5 million passengers, up 15.9% year-over-year.
Russia's fourth largest airline UTair selected Volga-Dnepr Gulf, a UAE-based maintenance subsidiary of Volga-Dnepr Group, to provide maintenance services on its five Boeing 737 aircraft. UTair is considering developing an intricate network across the North Caucasian Federal District in Russia's extreme southwest. Airline management is currently in talks with local government officials to start flights which would initially connect Mineralnye Vody with Makhachkala with stopovers in Grozny, and Vladikavkaz.
---
UT Air Route Map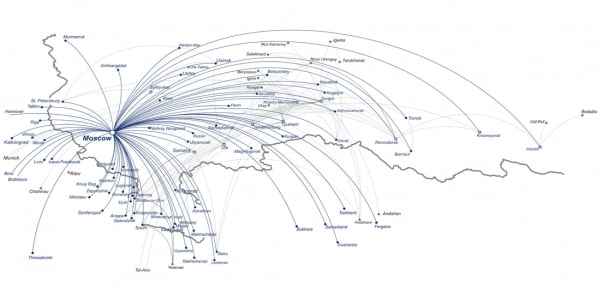 ---
UT Air Popular Routes
Khanty-Mansiysk

Syktyvkar
Khanty-Mansiysk

Moscow
Khanty-Mansiysk

Tyumen
Surgut

Moscow
Moscow

Syktyvkar
Moscow

Tyumen
---
UT Air Baggage
Carry-on Baggage
UT Air allows Economy Class and Comfort Class passengers one piece of carry-on baggage weighing no more than 10kg. Business Class passengers are permitted two pieces of carry-on baggage weighing no more than 10kg. Infants are given the choice of one piece of one piece of check baggage or one piece of carry-on baggagge with a maximum weight of 10kg.
Checked Baggage
Economy Class passengers are permitted one piece of baggage with a maximum weight of 23kg. Comfort and Business Class passengers are permitted two 23kg pieces of luggage.
---
UT Business Class
Business Class passengers with UT Air will enjoy more spacious seats as well as comfy cusions and blankets on board their flight.They will also be provided with an amenity kit, a glass cleaning cloth, a shone shine, a stain remover tissue, an eye mask, a pair of ear plugs, a pair of socks, a comb and a shoe horn. As a Business Class passenger, you will have access to a large selection of starters, salads, soups and main courses. As well as a selection of alcoholic drinks.
---
UT Air Fleet
The UT Air fleet includes ATR 72-500, Boeing 737-800, Boeing 737-400 and Boeing 767-200ER and Boeing 737-500 aircraft.
---
UT Air Hub Airport
Moscow Domodedovo International Airport
Moscow's largest and busiest airport, Domodedovo International Airport sees an annual traffic of 30 million passengers every year. Transaero has this airport as one of its two main hubs. AK Bars Aero, Globus Airlines, RusLine, S7 Airlines, Ural Airlines, VIM Airlines and Yamal Airlines also have the airport as a hub. Other airlines which fly to and from Moscow Domodedovo include Ethiad Airways, Emirates, Air Malta, Air Moldova, Japan Airlines, Pegasus Airlines, ALROSA, Qatar Airways, Royal Jordanian, SriLankan Airlines, Singapore Airlines and many others.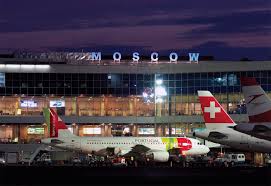 ---
Alternative Airlines to UT Air
UT Air News
20th June 2018
UTAir Aviation's airport hub is getting a new terminal
Roschino International Airport (TJM), the hub of Russian airlines, UTAir Aviation, is having a new terminal building built by Novaport Holding, a transport company that deals with regional airports within Russia. The new terminal will be 17,000 sq m and will allow for a significant increase in passenger growth. Roschino International Airport had a yearly passenger traffic of 1.8 million people in 2017, and with the new terminal, that number is expected to rise by nearly 20%, meaning the airport would handle 5 million passengers per year.
The airport recently underwent a five-year reconstruction project that saw passenger traffic grow from 250 people per hour to 600 people per hour. However, Novaport Holding felt that there's demand to further expand the airport and bring even more traffic in with the arrival of a new terminal.
1st June 2018
Boeing outsell Airbus thanks to UTAir Aviation order
Airbus and Boeing have long been in a battle over the number of orders they take in, and according to reports, April of this year was no different. Statistics show that Boeing outsold Airbus 78 to 68 in April 2018. UTAir Aviation was among the airlines that Boeing sold to.
The following is an overview of the sales that Boeing made in April 2018:
Boeing sold 25 Boeing 787-9 aircraft to American Airlines
Boeing leased a further 22 Boeing 787-8 aircraft to American Airlines
UTAir Aviation look to replace their Boeing 737NG aircraft with an order of 30 Boeing 737 MAX's
Boeing sold 1 Boeing 787-8 aircraft to Uzbekistan Airways, which will be Uzbekistan Airway's 8th Boeing 787-8 to join its fleet
3rd May 2018
UTair Group reports big net profit last year
UTair Group — the Russian airline group that operates UTair Aviation — has reported a net profit of €36 million in 2017, along with the following fiancial reports:
Revenue — €1152.5 million
Operating profit — €36.5 115.6 million
EBITDA — €214.4 million
UTair Group consists of a number of subsidary airlines, including UTair Aviation, UTair Cargo, UTair Europe, UTair India, UTair South Africa, UTair Ukraine, and Vostok Airlines.
April 2018
UTair begins operations withAero's SSJ100s
Russia's Utair Aviation has started operating Sukhoi Superjet 100s (SSJ100) aircraft that belong to IrAero Airline, a company based in Irkutsk, after forming a mixed cooperative partnership where Utair assumes marketing and financial operations and IrAero supplies flights, staff and technical support under contract on Utair routes. The first flight left Moscow International Airport earlier this week and will perform 3 servicees a day from the Russian capital to Kazan, as well as daily services from Moscow to Arkhangelsk, Nalchik and Ulyanovsk. According to the carrier, the SSJ100 is more efficient on short routes, such as these. Utair's passenger traffic increased 18.9% in January-February 2018 to 1.13 million. The carrier will further develop its network for the summer season and forecasts additional traffic growth, Utair passenger airline president Pavel Permyakov said.
March 2018
UTair schedules Kaluga launch form March 2018
ussian carrier UTair starting this month is launching new service at Kaluga, including the offering of 5 new routes. On board ATR72 aircraft, planned new routes include:

Kaluga – Adler/Sochi eff 03APR18 2 weekly
Kaluga – Krasnodar eff 01APR18 1 weekly
Kaluga – Mineralnye Vody eff 05APR18 1 weekly
Kaluga – Moscow Vnukovo eff 08MAR18 1 daily
Kaluga – St. Petersburg eff 02APR18 3 weekly