Search & Book UTAir Flights
Book
UTAir

Flights

Book Direct with UTAir Aviation and Alternative Airlines

UTAir Aviation is a Russian airline which operates mainly domestic services but also international services across Western Siberia. UTAir Aviation has codeshare agreements with S7 Airlines and Turkish Airlines. UTAir Aviation flies to many destinations including Dushanbe, Khujand, Bukhara, Fergana, Samarkand, Tashkent, Lahore, Bangkok, Yerevan, Ganja, Nakhchivan, Baku, Phuket, Riga, Grozny, Ufa, Biysk, Kurgan, Kursk, Igarka, Komi and many others. 
Russia's UTair Aviation has received approval for 14X-weekly Moscow-Berlin service. The Moscow-Berlin service is currently operated by Russia's Sheremetyevo-based Aeroflot, which flies to Berlin Schönefeld, and S7 Airlines, which started Moscow Domodedovo-Berlin Tegel flights in March 2016. UTair, which has bases at Moscow Vnukovo as well as at several airports in Western Siberia, is the fourth largest airline in Russia. From January-October 2016, it carried 5 million passengers, up 15.9% year-over-year.
Russia's fourth largest airline UTair selected Volga-Dnepr Gulf, a UAE-based maintenance subsidiary of Volga-Dnepr Group, to provide maintenance services on its five Boeing 737 aircraft. UTair is considering developing an intricate network across the North Caucasian Federal District in Russia's extreme southwest. Airline management is currently in talks with local government officials to start flights which would initially connect Mineralnye Vody with Makhachkala with stopovers in Grozny, and Vladikavkaz.
UTair Aviation is a Russian airline based at  Khanty-Mansiysk Airport (HMA). It is the third largest Russian carrier by passenger volume. 
UTair serves 70 destinations in 11 countries across Europe and Asia. 
UTair Aviation has been named the Best Regional Airline in Russia and the CIS at the Business Traveler Russia and CIS Awards 2016.
In October 2016, UTair Aviation announced the launch of new routes fr om St. Petersburg to Munich, Samara and Mineralnye Vody. Flights from St. Petersburg to Munich will start on October 30 from Pulkovo International Airport on Fridays, Saturdays and Sundays. Departures from St. Petersburg are scheduled at 15:30 and departures from Munich at 17:10, all times local. In August 2016, UTair Aviation has launched new flights from the largest cities in the Krasnodar region. The new flights are in line with a memorandum of cooperation between the Government of Krasnodar region and airport management company Basel Aero. The new UTair regional flights en route from Krasnodar to Sochi were launched on August, 1, 2016. In July 2016, UTair aviation has revised the schedule of flights to/fr om the Tolmachevo Airport in Novosibirsk in connection with the transition of the Novosibirsk region into a new time zone.
Route Map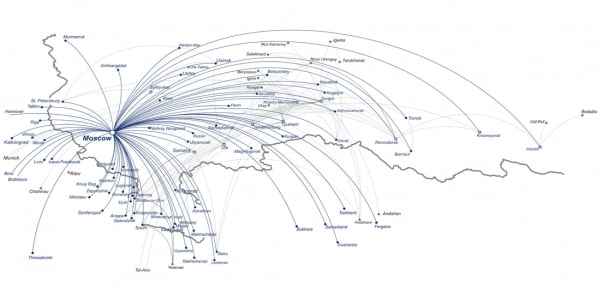 Popular Routes
Khanty-Mansiysk  

  Syktyvkar
Khanty-Mansiysk  

  Moscow
Khanty-Mansiysk 

  Tyumen
Surgut 

  Moscow
Moscow 

  Syktyvkar
Moscow  

  Tyumen

---

The Fleet
ATR 72-500
Boeing 737-800
Boeing 737-400
Boeing 767-200ER 
---
Moscow Domodedovo International Airport
HUB Airport
Moscow's largest and busiest airport, Domodedovo International Airport sees an annual traffic of  30 million passengers every year. Transaero has this airport as one of its two main hubs. AK Bars Aero, Globus Airlines, RusLine, S7 Airlines, Ural Airlines, VIM Airlines and Yamal Airlines also have the airport as a hub. Other airlines which fly to and from Moscow Domodedovo include Ethiad Airways, Emirates, Air Malta, Air Moldova, Japan Airlines, Pegasus Airlines, Qatar Airways, Royal Jordanian, SriLankan Airlines, Singapore Airlines and many others. 

---
---
Book Flights with UTair Aviation
Make a UTair Aviation reservation and find some amazing deals with discounted UTair Aviation tickets at Alternative Airlines. UTair Aviation flies to many destinations offering a cost effective and safe service to all its passengers. Let Alternative Airlines help find you cheap UTair Aviation tickets and make international and domestic flight reservations on UTair Aviation today.
Browse the most popular UTair Aviation flight routes to destinations worldwide. Alternative Airlines can help you make reservations on UTair Aviation for international flights to lots of destinations. Use the following list of routes to help you plan your next flight. Book UTair Aviation flights on Alternative Airlines to save big! Alternative is an online travel agency, specialising in booking lesser known airlines and remote destinations. 
UT Air is an airline from Khanty Mansiysk in Russia operating domestic flights and international flights throughout the region. ________________________________________ UT Air flights UT Air has been operating under it's current name since 2003 having previously been known as Tyumenaviatrans Aviation and was originally formed to meet the demands of the oil and gas industry development in Siberia. It has developed into an airline which now operates to sixty five domestic, regional and international airports serving the business, manufacturing and leisure sectors. UT Air has also been involved with the UN having operated relief flights on their behalf. The all Russian fleet is on the way out with one Boeing 737 having already joined the fleet and the remaining Tupolov, Antonov and Yakovlev aircraft being replaced with modern Boeing aircraft in the coming years. UT Air UT Air is part if a large corporation that operates companies in Russia as well as overseas. It owns outright or has a large stake in many Russian airports owns it's own aircraft catering company and is heavily involved in helicopter operations. this hardworking airline strives to offer a western level of customer service and on board services. Travel business class you will get plenty of legroom, comfy seats and excellent in flight food and. Then there is comfort class which is upgraded economy with more room and better food. Then there is Russian economy class..........go on give UT Air a try, you may be surprised. UT Air operates Boeing 737-500 and European ATR's along with a mixture of Russian manufactured craft of varying size, vintage and seating capacity.
READ MORE