Utair Reservations with Alternative Airlines
Make a Utair Booking and Find Some Amazing Deals
---
About
Utair or formerly UTair Aviation after its rebranding in October 2017 is a Russian airline which operates domestic and international services. The airline was founded in 1991 and is based at Khanty-Mansiysk Airport (HMA). It is the third largest Russian carrier by passenger volume. Utair has been named the Best Regional Airline in Russia and the CIS at the Business Traveler Russia and CIS Awards 2016.
The airline has codeshare agreements with Turkish Airlines, FlyOne, Azerbaijan Airlines, NordStar Airlines and RusLine.
Russia's Utair has received approval for 14X-weekly Moscow-Berlin service. The Moscow-Berlin service is currently operated by Russia's Sheremetyevo-based Aeroflot, which flies to Berlin Schönefeld, and S7 Airlines, which started Moscow Domodedovo-Berlin Tegel flights in March 2016. Utair, which has bases at Moscow Vnukovo as well as at several airports in Western Siberia, is the fourth largest airline in Russia. From January-October 2016, it carried 5 million passengers, up 15.9% year-over-year.
Russia's fourth largest airline Utair selected Volga-Dnepr Gulf, a UAE-based maintenance subsidiary of Volga-Dnepr Group, to provide maintenance services on its five Boeing 737 aircraft. Utair is considering developing an intricate network across the North Caucasian Federal District in Russia's extreme southwest. Airline management is currently in talks with local government officials to start flights which would initially connect Mineralnye Vody with Makhachkala with stopovers in Grozny, and Vladikavkaz.
---
Destinations
Utair operate scheduled domestic and international services to destinations in Europe and the Middle East.
Domestic Destinations
Utair serves 70 destinations in 11 countries across Europe, Asia and the Middle East.
| CITY | AIRPORT | IATA |
| --- | --- | --- |
| Anadyr | Ugolny Airport | DYR |
| Anapa | Vityazevo Airport | AAQ |
| Arkhangelsk | Talagi Airport | ARH |
| Belgorod | Belgorod Airport | EGO |
| Beloyarsky | Beloyarsk Airport | EYK |
| Beryozovo | Beryozovo Airport | EZV |
| Bodaybo | Bodaybo Airport | ODO |
| Gelendzhik | Gelendzhik Airport | GDZ |
| Grozny | Grozny Airport | GRV |
| Igrim | Igrim Airport | IRM |
| Irkutsk | Irkutsk International Airport | IKT |
| Kaliningrad | Khrabrovo Airport | KGD |
| Kazan | Kazan Airport | KZN |
| Khanty-Mansiysk | Khanty-Mansiysk Airport | HMA |
| Kogalym | Kogalym Airport | KGP |
| Krasnodar | Pashkovsky Airport | KRR |
| Krasnoyarsk | Yemelyanovo International Airport | KJA |
| Kurgan | Kurgan Airport | KRO |
| Magnitogorsk | Magnitogorsk Airport | MQF |
| Magas / Nazran | Magas Airport | IGT |
| Makhachkala | Uytash airport | MCX |
| Mineralnye Vody | Mineralnye Vody Airport | MRV |
| Moscow | Vnukovo International Airport | VKO |
| Murmansk | Murmansk Airport | MMK |
| Mys-Kamenny | Mys-Kamenny Airport | YMK |
| Nalchik | Nalchik Airport | NAL |
| Nizhnevartovsk | Nizhnevartovsk Airport | NJC |
| Nizhny Novgorod | Strigino Airport | GOJ |
| Novosibirsk | Novosibirsk Tolmachevo Airport | OVB |
| Noyabrsk | Noyabrsk Airport | NOJ |
| Novy Urengoy | Novy Urengoy Airport | NUX |
| Nyagan | Nyagan Airport | NYA |
| Omsk | Tsentralny Airport | OMS |
| Rostov-on-Don | Platov International Airport | ROV |
| Saint Petersburg | Pulkovo Airport | LED |
| Salekhard | Salekhard Airport | SLY |
| Samara | Kurumoch International Airport | KUF |
| Saratov | Saratov Gagarin Airport | GSV |
| Sochi | Adler-Sochi International Airport | AER |
| Sovetsky | Sovetsky Airport | OVS |
| Stavropol | Shpakovskoye Airport | STW |
| Surgut | Surgut Airport | SGC |
| Syktyvkar | Syktyvkar Airport | SCW |
| Tomsk | Bogashevo Airport | TOF |
| Turukhansk | Turukhansk Airport | THX |
| Tyumen | Roschino Airport | TJM |
| Ufa | Ufa Airport | UFA |
| Ulyanovsk | Ulyanovsk Baratayevka Airport | ULV |
| Uray | Uray Airport | URJ |
| Usinsk | Usinsk Airport | USK |
| Vladikavkaz | Beslan Airport | OGZ |
| Volgograd | Volgograd International Airport | VOG |
| Yekaterinburg | Koltsovo International Airport | SVX |
International Destinations
| COUNTRY | CITY | AIRPORT | IATA |
| --- | --- | --- | --- |
| Armenia | Yerevan | Zvartnots International Airport | EVN |
| Austria | Vienna | Vienna International Airport | VIE |
| Azerbaijan | Baku | Heydar Aliyev International Airport | GYD |
| Azerbaijan | Ganja | Ganja Airport | KVD |
| Azerbaijan | Nakhchivan | Nakhchivan Airport | NAJ |
| Belarus | Minsk | Minsk National Airport | MSQ |
| Germany | Berlin | Berlin Tegel Airport | TXL |
| Germany | Munich | Munich Airport | MUC |
| Greece | Heraklion | Heraklion Airport | HER |
| Israel | Tel Aviv | Ben Gurion Airport | TLV |
| Italy | Milan | Milan–Malpensa Airport | MXP |
| Latvia | Riga | Riga International Airport | RIX |
| Tajikistan | Dushanbe | Dushanbe International Airport | DYU |
| Uzbekistan | Bukhara | Bukhara International Airport | BHK |
| Uzbekistan | Fergana | Fergana International Airport | FEG |
| Uzbekistan | Samarkand | Samarkand International Airport | SKD |
| Uzbekistan | Tashkent | Tashkent International Airport | TAS |
---
Route Map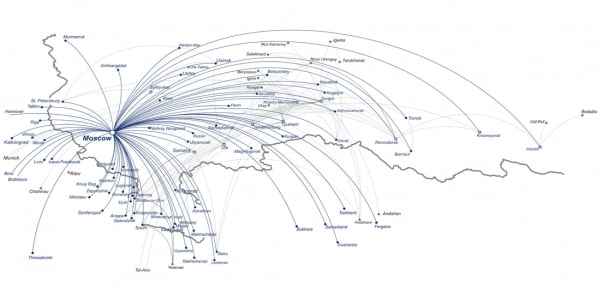 ---
Class Information
Utair offers an economy and business class cabin.
Economy Class
What facilities are offered
Meals for economy class passengers aren't included in the price of your ticket water is still free, however
. You can pre-order your Utair meals from a
range of options that start from £
2.18
GBP. You can also enjoy inflight WiFi and entertainment whilst you're in the air. Flight attendants are on hand to offer service to your needs.
What seats are available
Seat pitch is 25 cm between other seats. They are comfortable to sleep in or to use a notebook even if the seat in front is reclined.
Business Class
What facilities are offered
With business class, you will enjoy comfort onboard. You'll be offered an amenity kit that has a glass cleaning cloth, a shoeshine, a stain remover tissue, an eye mask, a pair of earplugs, a pack of paper tissues, a pair of socks, a comb, and a shoe horn will assist in making your journey really comfortable. The menu crafted by Utair's chefs who prepare a wide selection of starters and salads, soups and main courses, desserts, wine, cognac, juice and water.
As a Business Class passenger, you will have access to a large selection of starters, salads, soups and main courses. As well as a selection of alcoholic drinks.
What seats are available
Passengers will enjoy more spacious seats as well as comfy cushion, blankets onboard their flight and ample amount of legroom.
---
Baggage
Carry-on Baggage
Utair allows Economy Class and Comfort Class passengers one piece of carry-on baggage weighing no more than 10kg. Business Class passengers are permitted two pieces of carry-on baggage weighing no more than 10kg. Infants are given the choice of one piece of check baggage or one piece of carry-on baggage with a maximum weight of 10kg.
Checked Baggage
Economy Class passengers are permitted one piece of baggage with a maximum weight of 20kg. Comfort and Business Class passengers are permitted two 30kg pieces of luggage. The dimensions of the hand luggage need to be 203cm.
---
Check-in Information
Online Check-in
You may prefer to check-in online on Utair website from 24 hours before your flight departs.
Airport Check-in
Check-in starts 2 hours before the flight departure. Check-in opens 3 hours and closes 40 min before the flight.
---
Frequent Flyer
STATUS Loyalty Program, participants now have the opportunity to purchase additional miles to receive awards and to transfer miles to accounts of other program members. members can use the bonus miles to book and purchase flights in real-time through the official UTair website. The tiers include Bronze, Silver and Gold membership and participants will benefit from miles granted per flights, special terms for luggage and carry-on transportation and free access to business lounges.
---
The Fleet
As of January 2020, the Utair fleet consists of 63 aircraft with 30 on order.
15 x ATR 72-500
6 x Boeing 737-400
30 x Boeing 737-500
9 x Boeing 737-800
3 x Boeing 767-200ER
30 x Boeing 737 MAX 8 on order set to replace Boeing 737-400s and 500s
---
Airline Alliance
Utair doesn't currently partake in any airline alliance however it does have codeshare agreements with Turkish Airlines, FlyOne, Azerbaijan Airlines, NordStar Airlines and RusLine.
---
Hub Airport
Moscow Domodedovo International Airport
Moscow's largest and busiest airport, Domodedovo International Airport (DME) sees annual traffic of 30 million passengers every year. Transaero has this airport as one of its two main hubs. AK Bars Aero, Globus Airlines, RusLine, S7 Airlines, Ural Airlines, VIM Airlines and Yamal Airlines also have the airport as a hub. Other airlines which fly to and from Moscow Domodedovo include Etihad Airways, Emirates, Air Malta, Air Moldova, Japan Airlines, Pegasus Airlines, ALROSA, Qatar Airways, Royal Jordanian, SriLankan Airlines, Singapore Airlines and many others.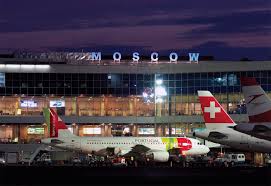 ---
Alternative Airlines to Utair
News
20th June 2018
Utair Aviation's airport hub is getting a new terminal
Roschino International Airport (TJM), the hub of Russian airlines, Utair Aviation, is having a new terminal building built by Novaport Holding, a transport company that deals with regional airports within Russia. The new terminal will be 17,000 sq m and will allow for a significant increase in passenger growth. Roschino International Airport had yearly passenger traffic of 1.8 million people in 2017, and with the new terminal, that number is expected to rise by nearly 20%, meaning the airport would handle 5 million passengers per year.
The airport recently underwent a five-year reconstruction project that saw passenger traffic grow from 250 people per hour to 600 people per hour. However, Novaport Holding felt that there's a demand to further expand the airport and bring even more traffic in with the arrival of a new terminal.
1st June 2018
Boeing outsell Airbus thanks to Utair Aviation order
Airbus and Boeing have long been in a battle over the number of orders they take in, and according to reports, April of this year was no different. Statistics show that Boeing outsold Airbus 78 to 68 in April 2018. Utair Aviation was among the airlines that Boeing sold to.
The following is an overview of the sales that Boeing made in April 2018:
Boeing sold 25 Boeing 787-9 aircraft to American Airlines
Boeing leased a further 22 Boeing 787-8 aircraft to American Airlines
Utair Aviation look to replace their Boeing 737NG aircraft with an order of 30 Boeing 737 MAX's
Boeing sold 1 Boeing 787-8 aircraft to Uzbekistan Airways, which will be Uzbekistan Airway's 8th Boeing 787-8 to join its fleet
3rd May 2018
Utair Group reports big net profit last year
Utair Group — the Russian airline group that operates Utair Aviation — has reported a net profit of €36 million in 2017, along with the following financial reports:
Revenue — €1152.5 million
Operating profit — €36.5 115.6 million
EBITDA — €214.4 million
Utair Group consists of a number of subsidary airlines, including Utair Aviation, Utair Cargo, Utair Europe, Utair India, Utair South Africa, Utair Ukraine, and Vostok Airlines.
April 2018
Utair begins operations withAero's SSJ100s
Russia's Utair Aviation has started operating Sukhoi Superjet 100s (SSJ100) aircraft that belong to IrAero Airline, a company based in Irkutsk, after forming a mixed cooperative partnership where Utair assumes marketing and financial operations and IrAero supplies flights, staff and technical support under contract on Utair routes. The first flight left Moscow International Airport earlier this week and will perform 3 services a day from the Russian capital to Kazan, as well as daily services from Moscow to Arkhangelsk, Nalchik and Ulyanovsk. According to the carrier, the SSJ100 is more efficient on short routes, such as these. Utair's passenger traffic increased from 18.9% in January-February 2018 to 1.13 million. The carrier will further develop its network for the summer season and forecasts additional traffic growth, Utair passenger airline president Pavel Permyakov said.
March 2018
Utair schedules Kaluga launch form March 2018
Russian carrier Utair starting this month is launching new service at Kaluga, including the offering of 5 new routes. Onboard ATR72 aircraft, planned new routes include:

Kaluga – Adler/Sochi eff 03APR18 2 weekly
Kaluga – Krasnodar eff 01APR18 1 weekly
Kaluga – Mineralnye Vody eff 05APR18 1 weekly
Kaluga – Moscow Vnukovo eff 08MAR18 1 daily
Kaluga – St. Petersburg eff 02APR18 3 weekly