Please be aware: that we don't accept payments through Stripe or Klarna on flights departing from and/or arriving at destinations within Cuba, Iran, North Korea, Syria or the Crimea Region.
Cheap Uzbekistan Airways Reservations with Alternative Airlines
Make a Booking and Find Some Amazing Deals
---
About
Uzbekistan Airways is the national airline of Uzbekistan and is headquartered in Tashkent. The airline is based at Tashkent International Airport and operates scheduled flights to more than 60 destinations, across Asia, Europe and parts of North America.
The airline was founded and launched flights in 1992 when it flew its first-ever flight from Tashkent to London. Currently, Uzbekistan Airways is the only airline operating scheduled flights in the country, making it not only the main mode of transport for entering and leaving the country but also the most time-efficient way to travel around the country domestically.
Uzbekistan Airways has codeshare agreements with Air Baltic, Alitalia, Belavia, Czech CSA Airlines, Korean Air, Malaysia Airlines, S7 Airlines, Turkish Airlines and Ural Airlines.
Uzbekistan Airways also has two subsidiary airlines, Humo Air and Uzbekistan Express.
Did you know? Alternative Airlines lets you book your Uzbekistan Airways flights today and spread the cost of your tickets over time - read our guide on Fly Now Pay Later with Uzbekistan Airways for more information!
---
Destinations
Domestic
| CITY | AIRPORT |
| --- | --- |
| Andijan | Andizhan Airport (AZN) |
| Bukhara | Bukhara International Airport (BHK) |
| Fergana | Fergana International Airport (FEG) |
| Namangan | Namangan Airport (NMA) |
| Navoi | Navoi International Airport (NVI) |
| Nukus | Nukus Airport (NCU) |
| Qarshi | Karshi Airport (KSQ) |
| Samarkand | Samarkand International Airport (SKD) |
| Tashkent | Islam Karimov Tashkent International Airport (TAS) |
| Termez | Termez Airport (TMJ) |
| Urgench | Urgench International Airport (UGC) |
International
COUNTRY
CITY
AIRPORT
Azerbaijan
Baku
Heydar Aliyev International Airport (GYD)
Belarus
Minsk
Minsk National Airport (MSQ)
China
Beijing
Beijing Capital International Airport (PEK)
Ürümqi
Ürümqi Diwopu International Airport (URC)
France
Paris
Charles de Gaulle Airport (CDG)
Georgia
Tbilisi
Shota Rustaveli Tbilisi International Airport (TBS)
Germany
Frankfurt
Frankfurt Airport (FRA)
Munich
Munich Airport (MUC) (begins April 2020)
India
Amritsar
Sri Guru Ram Dass Jee International Airport (ATQ)
Delhi
Indira Gandhi International Airport (DEL)
Mumbai
Chhatrapati Shivaji International Airport (BOM)
Indonesia
Jakarta
Soekarno–Hatta International Airport (CGK)
Israel
Tel Aviv
Ben Gurion International Airport (TLV)
Italy
Milan
Milan Malpensa Airport (MXP)
Rome
Leonardo da Vinci–Fiumicino Airport (FCO)
Japan
Tokyo
Narita International Airport (NRT)
Kazakhstan
Almaty
Almaty International Airport (ALA)
Nur-Sultan
Nursultan Nazarbayev International Airport (TSE)
Kyrgyzstan
Bishkek
Manas International Airport (FRU)
Issyk-Kul
Issyk-Kul International Airport (IKU)
Latvia
Riga
Riga International Airport (RIX)
Malaysia
Kuala Lumpur
Kuala Lumpur International Airport (KUL)
Pakistan
Lahore
Allama Iqbal International Airport (LHE)
Russia
Ekaterinburg
Koltsovo International Airport (SVX)
Irkutsk
International Airport Irkutsk (IKT)
Kaliningrad
Khrabrovo Airport (KGD)
Kazan
Kazan International Airport (KZN)
Khabarovsk
Khabarovsk Novy Airport (KHV)
Krasnodar
Pashkovsky Airport (KRR)
Krasnoyarsk
Krasnoyarsk International Airport (KJA)
Mineralnye Vody
Mineralnye Vody Airport (MRV)
Moscow
Vnukovo International Airport (VKO)
Novosibirsk
Tolmachevo Airport (OVB)
Rostov-on-Don
Platov International Airport (ROV)
Samara
Kurumoch International Airport (KUF)
Sochi
Adler-Sochi International Airport (AER)
Saint Petersburg
Pulkovo International Airport (LED)
Tyumen
Roschino International Airport (TKM)
Ufa
Ufa International Airport (UFA)
Vladivostok
Vladivostok International Airport (VVO)
Volgograd
Volgograd International Airport (VOG)
Voronezh
Voronezh International Airport (VOZ)
Saudia Arabia
Jeddah
King Abdulaziz International Airport (JED)
South Korea
Seoul
Incheon International Airport (ICN)
Tajikistan
Dushanbe
Dushanbe International Airport (DYU)
Thailand
Bangkok
Suvarnabhumi International Airport (BKK)
Phuket
Phuket International Airport (seasonal) (HKT)
Turkey
Istanbul
Istanbul Airport (IST)
Ukraine
Simferopol
Simferopol International Airport (SIP)
United Arab Emirates
Dubai
Dubai International Airport (DXB)
Sharjah
Sharjah International Airport (SHJ)
United Kingdom
London
London Heathrow International Airport (LHR)
United States
New York City
John F. Kennedy International Airport (JFK)
---
Route Map
Domestic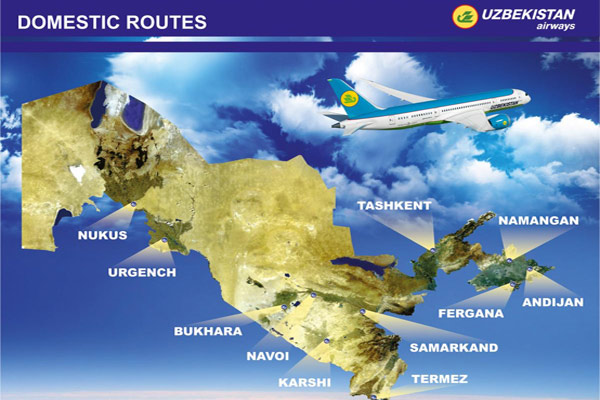 International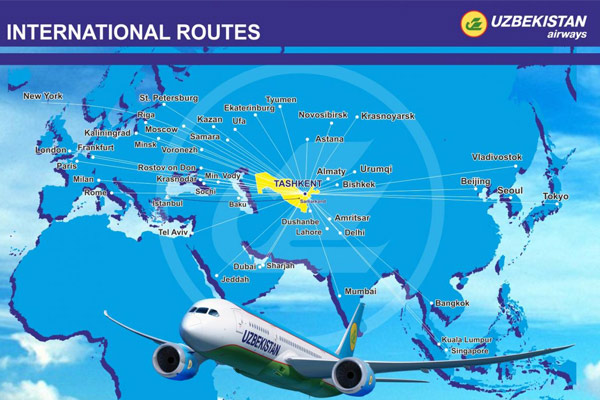 ---
Baggage
Carry-on Baggage
Hand luggage must not exceed the dimensions of 56 x 45 x 25 cm (22 x 18 x 10 in), totalling 115cm (45in). You must not pack any prohibited items in your carry-on baggage including liquids over 100ml, illegal substances and sharp objects. In addition, passengers are allowed one additional personal item, for example, an umbrella, a camera, a handbag or printed material for reading during the flight.
Checked Baggage
For checked baggage allowances, passengers in F class are allowed 40 kg / 88lbs, passengers travelling in C class are entitled to 30 kg / 66lbs and passengers in Y class are allowed 20 kg / 44lbs. Pieces of checked luggage must fit within the dimensions of 158 cm / 62 in when combining the length, width and height.
---
Check-In Information
Online Check-In
You can check-in online 24 hours before your scheduled flight time. At this moment in time, the online check-in service for flights of "Uzbekistan Airways" JSC is possible only on domestic flights. Please ensure to check-in online for a quick and easy process at the airport.
Airport Check-In
If you haven't checked-in online you must check in at the airport.
For passengers travelling internationally, the airline asks passengers to arrive at the airport 3 hours before their scheduled flight time.
For domestic travel, passengers are asked to arrive at the airport three hours prior to departure if flying on the Boeing-767/757 or the A320.
---
Economy Class
Economy Class is Uzbekistan Airway's most basic cabin class.
Economy Class Facilities
Economy Class passengers are given an individual reading lamp at their seat, a personal table and a blanket and pillow. Each passenger is given access to 12 inflight audio channels and has the option to order from the airline's inflight menu.
Economy Class Seating
| AIRCRAFT TYPE | NUMBER OF SEATS | LEGROOM | SEAT-BACK RECLINE | SEAT WIDTH |
| --- | --- | --- | --- | --- |
| Airbus A310 | 150 seats | 78–82 cm | 13–15 cm | 45cm |
| Airbus A320 | 138 seats | 81 cm | 15 cm | x |
| Boeing B767 | 157–246 seats | 78 cm | 15 cm | 54cm |
| Boeing B757 | 157–246 seats | 76–82 cm | 13–15 cm | 45cm |
---
Premium Economy
The airline doesn't have a Premium Economy class. Business Class is the only cabin upgrade that the airline offers.
---
Business Class
Business Class Facilities
Business Class passengers are given personal reading lamps, individual tables, 12 audio channels and access to the inflight system which displays flight information and live-progress of the flight. In addition to this, passengers are provided with a travel kit and are each given an iPad which can be used to gain access to the airline's inflight entertainment system.
Business Class passengers are can order anything they wish from the airline's Business Class menu, free of charge.
What Are Business Class Seats Like?
Business Class seats are extremely comfortable and wide and are made of leather. Each seat has a footrest attached.
AIRCRAFT TYPE
NUMBER OF SEATS
LEGROOM
SEAT-BACK RECLINE
SEAT WIDTH
Airbus A320
12 seats
1 m
17.8 cm
Boeing B767
15–40 seats
1.5 m
10–80 degree
(can recline into a
lying position)
60 cm
Boeing B757
15–60 seats
1 m
19–20 cm
45–48 cm
---
First Class
The airline doesn't have a First Class cabin. To upgrade to a more luxurious cabin class, we suggest choosing Business Class.
---
In-Flight Entertainment
Uzbekistan Airways has in-flight entertainment for all Business Class flights and on select Economy Class flights. The in-flight entertainment will be available either on a personal screen on the back of the seat in front of the passenger or with a free-to-use iPad provided by the airline.
In-flight entertainment has a selection of TV shows, movies and music, usually from Uzbekistan.
---
WIFI
Passengers can chat with friends, check emails and browse their favourite social media platforms with Uzbekistan Airways WIFI network, 'Internet on board. Uzbekistan Airways has a range of different packages that each have different performance capabilities.
LITE — the LITE package gives passengers 20MB to use for instant messaging.
MEDIUM — the MEDIUM package gives passengers 50MB to use for instant messaging, social media and news sites.
STREAM — the STREAM package gives passengers 120MB to work online and to freely surf the internet.
BUSINESS — the BUSINESS package gives passengers 220MB and gives passengers full internet usage.
WIFI Price
The price of WIFI will depend on the tariff plan that the passenger chooses. Prices start at $5.95 USD.
---
Fleet
Uzbekistan Airways' fleet consists of over 30 aircraft. The airline has a mix of Airbus and Boeing aircraft, including models within the A320 family, Boeing 757s, 767-300ERs and 787-8s.
---
Food
The airline provides two separate menus, one for Economy Class passengers and a more premium menu for Business Class passengers. Special meals are available if ordered pre-ordered ahead of time.
Economy Class Options
Cold snacks — meat, cheese and vegetable products
Baked goods
Main meals — meat or chicken
Desserts
Hot, cold, alcoholic and soft drinks
Business Class Options
Meat snacks — a variety of meats
Cheese assortment
Fish snacks
Vegetable snacks
Baked goods
Main course — a variety of meat, chicken and fish meals
Desserts
Hot, cold, alcoholic and soft drinks
All food and drink in Business Class are complimentary.
---
Frequent Flyer
UzAirPlus
UzAirPlus is a loyalty program that rewards frequent flyers of Uzbekistan Airways. The program allows passengers to earn points for each flight flown on Uzbekistan Airways and spend them on future Uzbekistan Airways flights, as well as other additional bonuses such as flight upgrades, increased baggage allowances and access to the airline's lounges.
---
Airline Alliance
Uzbekistan Airways isn't a member of any airline alliance at this time.
---
Hub Airport
Tashkent International Airport
Tashkent International Airport (TAS) is the main airport of Uzbekistan and the busiest airport in Central Asia as well as the primary hub of Uzbekistan Airways. The airport was named after Islam Karimov, the 1st president of Uzbekistan and has been serving the city of Tashkent. The airport comprises two terminals: Terminal 2 receives international flights and Terminal 3 is for domestic traffic. Tashkent International Airport (TAS) has 2 runways of around 4,000m in length each.
The airlines which use Tashkent International Airport include Qanot Sharq, Aeroflot, Air Astana, airBaltic, Asiana Airlines, Turkish Airlines, Korean Air and Ural Airlines. The airport will also be home to the new government-owned Silk Avia Airlines, due to begin operating in 2022. Tashkent International Airport has a passenger capacity of 25 million passengers with 2 runaways.
---
Alternative Airlines to Uzbekistan Airways
---
FAQ's
How to buy Uzbekistan Airways flights?
With Alternative Airlines! We offer 40+ payment methods, so no matter where you are or where you fly to, you can buy any flight on our site and pay using the payment method that you want. At Alternative Airlines, we ticket 600+ global airlines including Uzbekistan Airways, flying to destinations all around the world. To begin your search for Uzbekistan Airways use the search form at the top of the page.
How to change Uzbekistan Airways flights?
If you wish to change your Uzbekistan Airways flights, head to 'Manage Booking'. Here you can change and make any amendments to you flight. Please note that if you purchase a changeable flight from Alternative Airlines, you're still subject to Alternative Airlines administration fee that will ordinarily charge for making amendments to your booking.
We recommend adding Cancellation Protection to your booking. With Cancellation Protection you can cancel your flight if you are unable to make your flight due to unexpected circumstances such as adverse weather, illness or mechanical breakdown.