Search & Buy Uzbekistan Airways Flights
Let's fly!

Select your payment method to view total prices including any payment fees:
Airlines will always try to sit children with their parents (subject to check-in)
Some airlines will allow travel for unaccompanied minors. Please email us to check.
The fare is based on the child's age on the date of travel.
More detailed information can be found here Traveling with children
Most airlines will let infants travel with their parent(s) for free. However some airlines will charge up to 10% of the adult ticket price. Click on 'Price Breakdown' to find out more.
If you are pregnant, but due before the flight departure date, please contact us once your baby is born and has a name. We can then add him/her to your ticket.
Infants will not be given a seat. The airlines expect parents to travel with them on their lap.
Airlines regard infants as being under 24 months old.
The fare is based on the child's age on the date of travel.
More detailed information can be found here Traveling with children

Buy
Uzbekistan Airways

Flights

Uzbekistan Airways Reservations with Alternative Airlines
Make an Uzbekistan Airways Booking and Find Some Amazing Deals
---
About Uzbekistan Airways
Uzbekistan Airways is the national airline of Uzbekistan and is headquartered in Tashkent.
Created in 1992, OJSC National Air Company Uzbekistan Airways performs scheduled flights to more than 40 cities of the world.
From its hub in Tashkent International Airport, Uzbekistan Airways serves many domestic destinations including Tashkent, Namangan, Andijan, Fergana, Samarkand, Termez, Karshi, Navoi, Bukhara, Urgench and Nukus.
Uzbekistan Airways also flies to many international destinations including Delhi, Dubai, Sharjah, Tel-Aviv, Sochi, Istanbul, Rome, Milan, Paris, London, New-York, Frankfurt, Riga, St. Petersburg, Moscow, Kazan, Tyumen, Urumqi and Almaty.
Uzbekistan Airways has codeshare agreements with Air Baltic, Air India, Czech CSA Airlines, Korean Air and Malaysia Airlines. Uzbekistan Airways is a member of IATA.
---
Uzbekistan Airways Baggage Allowance
Carry-on Baggage
Hand luggage must not exceed the dimensions of 56 x 45 x 25 cm, totalling 115cm. In addition, passengers are allowed one additional personal item, for example, an umbrella, a camera, a handbag or printed material for reading during the flight.
Checked Baggage
For checked baggage allowances, passengers in F class are allowed 40 kg, passengers travelling in C class are entitled to 30 kg and passengers in Y class are allowed 20 kg. Pieces of checked luggage must fit within the dimensions of 158 cm, when combining the length, width and height.
---
Uzbekistan Airways Check-In Information
Online Check-In
Uzbekistan Airways do not currently offer online check-in services.
Airport Check-In
Passengers travelling with Uzbekistan Airways must check-in at the airport.
For passengers travelling internationally, Uzbekistan Airways ask passengers to arrive at the airport 3 hours before their scheduled flight time.
For domestic travel, Uzbekistan Airways ask passengers to arrive at the airport 3hours prior to departure if flying on the Boeing-767/757 or the A320, and 2 hours before departure time for flights travelling on the IL-114.
---
Kunming Airlines Destinations
Domestic Destinations
International Destinations
---
Uzbekistan Airways Frequent Flyer Program
Uzbekistan Airways operates a frequent flyer program called UZ Air Plus to reward regular passengers for flying with Uzbekistan Airways.
Uzbekistan Airways operates a Business Class service which is equipped with comfortable wide seats with leather covering and adjustable food rest.
Passengers are offered iPads for self-entertainment.
---
Uzbekistan Airways Fleet
Uzbekistan Airways' fleet consists of Boeing 757/767, Boeing 787-8 Dreamliner, A320 and IL-114-100.
Visit Uzebkistan to see the Great Silk Road and Samarkand, which was the heart of the Great Silk Road.
---
Alternative Airlines to Uzbekistan Airways
Please click on the logos below to find out more about airlines that fly similar routes to Uzbekistan Airways:
---
Buy Discounted Uzbekistan Airways Tickets at Alternative Airlines
---
Uzbekistan Airways Route Map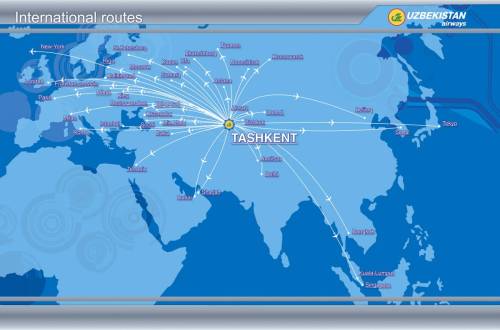 ---
Uzbekistan Airways Popular Routes
Tashkent

London
London

New Delhi
Tashkent

Istanbul
Paris

Tashkent
Istanbul

Bukhara
Namangan

Andijan
---

Uzbekistan Airways Fleet
Airbus A320-200
Ilyushin II-114-100
Boeing 757-200
Boeing 767-300 ER
---
Uzbekistan Airways Hub Airport
Tashkent International Airport
Tashkent International Airport is the main airport of Uzbekistan and the busiest airport in Central Asia as well as the primary hub of Uzbekistan Airways. The airport comprises two terminals: Terminal 2 receives international flights and Terminal 3 is for domestic traffic. The airlines which use Tashkent International Airport include Aeroflot, Air Astana, airBaltic, Asiana Airlines, Turkish Airlines, Korean Air and Ural Airlines. Tashkent International Airport has a passenger capacity of 25 million passengers with 2 runaways.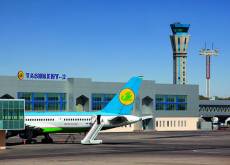 ---
Uzbekistan Airways News
16th June 2018
Uzbekistan Airways will fly service between Tashkent and Moscow more frequently
Uzbekistan will increase the number of times that it flies between Tashkent and Moscow later this summer. Uzbekistan Airways currently flies the service 14 times a week, however, from 18th June 2018, the airline plans to add two more flights a week, meaning that it will operate the service a total of sixteen times a week. Uzbekistan will then amend the schedule of the Tashkent—Moscow route again on 5th September 2018, removing one of the additional flights added over the summer period and continuing to fly the service 15 times a week into autumn and winter.
1st June 2018
Boeing outsell Airbus partially due to Uzbekistan order
Airbus and Boeing have long been in a battle over the number of orders they take in, and according to reports, April of this year was no different. Statistics show that Boeing outsold Airbus 78 to 68in April 2018. Uzbekistan Airways were among the airlines that Boeing sold to.
The following is an overview of the sales that Boeing made in April 2018:
Boeing sold 25 Boeing 787-9 aircraft to American Airlines
Boeing leased a further 22 Boeing 787-8 aircraft to American Airlines
UTAir Aviation look to replace their Boeing 737NG aircraft with an order of 30 Boeing 737 MAX's
Boeing sold 1 Boeing 787-8 aircraft to Uzbekistan Airways, which will be Uzbekistan Airways' 8th Boeing 787-8 to join its fleet
This additional order of the Boeing 787-8 from Uzbekistan Airways comes after the airline debuted its latest Boeing 787-8 with a service to Moscow early last month.
31st May 2018
Uzbekistan Airways' latest Boeing 787 starts service with Moscow flight
Uzbekistan Airways' new Dreamliner has more passenger seats than the other two B787s in its fleet, and features a crew rest area (Uzbekistan Airways). Uzbekistan's flagship air carrier Uzbekistan Airways has taken delivery of its third Boeing 787-8. Sporting tail number UK78703, the aircraft operated its first commercial flight from Tashkent to Moscow on May 20 with 244 passengers on board, the airline reports.
The latest addition provides 270 seats – 24 in business and 246 in economy class – compared with the 246-seat first two Dreamliners in Uzbekistan Airways's fleet, and also features a crew rest compartment. All three aircraft are powered by GE Aviation Genx-1В engines.
Uzbekistan Airways initiated commercial operations of the type in September 2016 and now, with the aircraft operating flights to Dubai, Istanbul, Tel Aviv, Seoul, Frankfurt, Moscow, Kuala Lumpur, Singapore and New York, the airline is claiming 100 per cent dispatch reliability of its Dreamliners. The plan is to have at least six B787s in its fleet by 2020.
After abandoning the operation of its fleet of Ilyushin IL-114-100, Russian/Soviet-made turboprops on May 1 this year, Uzbekistan Airways is now a western-built-only jet operator. It currently flies 22 passenger airliners, including three Boeing 787-8s, six Boeing 767-300ERs, four Boeing 757-200s and nine Airbus A320s. Four more aircraft – a Boeing 757 and three Avro RJ85s, which are also registered with the airline – are, apparently, grounded. The national carrier also operates two Boeing 767-300F freighters and two VIP-configured aircraft, a B767-300ER and an A320, for the transportation of the country's high-ranking officials.
Last year the airline carried 2.7 million passengers, exceeding its 2016 results by 9.4 per cent.
11th May 2018
Uzbekistan Airways set to be privatized
Uzbekistan Airways(HY,Tashkent Islam Karimov) is among the state-owned enterprises the Uzbek government is prepared to privatize, the head of its investment department has told Reuters.
"What we see as a key sector which we believe we have to keep (in state control) is mainly gold mining and our main oil company," Sandor Sagdullayev said in an interview in Jordan this week.
"We have one monopolistic air company, Uzbekistan Airways, but we are working closely with the World Bank to reform the sector so it (Uzbekistan Airways) is off the list of untouchable companies."
Uzbekistan Airways currently operates nine A320ceo, fiveB757-200s, twoB767-300(BCF)s, seven B767-300(ER)s, twoB787-8s, and twoIl-76TDs on scheduled flights to 56 destinations across Uzbekistan, Russia and the CIS, the Middle East, the United States, Western Europe, India, China, and the Far East.
2nd May 2018
Uzbekistan Airways orders787-8 Dreamliner aircraft
Uzbekistan Airways, the flag carrier of Uzbekistan, has officiated an order for one more aircraft, a787-8 Dreamliner. This fuseloge is valued at around $239 million current list prices.Uzbekistan Airways currently operates 2 Dreamliners on their international routes; these include Europe, Southeast Asia, Japan and USA. With today's order, the carrier will add five more Dreamliners as part of its plan to modernise and expand its fleet.The 787-8 Dreamliner offers airlines exceptional environmental performance – 20 percent less fuel with 20 percent fewer emissions than the airplanes it replaces. The airplane can fly up to 7,355 nautical miles (13,620 kilometres). Great for the emission factor!
31st January 2018
Uzbekistan Airways to operate additional flights to Dubai
Uzbekistan Airways, the flag carrier of Uzbekistan, will perform extra flights to and from Dubai over the Easter period to compensate for an increased demand in their services. The additional Tashkent - Dubai lights will be carried out twice a week on the Boeing 757 liners. Uzbekistan Airways already operates this service three times a week, with this additional amount meaning that there will be a flight every weekday.
5th October 2017
Uzbekistan Airways adds Samarkand - Istanbul service in W17
Uzbekistan Airways later this month plans to introduce expanded service to Turkey, which sees the airline operates Samarkand – Istanbul Ataturk non-stop flight. From 30OCT17, Boeing 757 will operate this route once a week.
HY275 SKD2000 – 2300IST 752 1
HY276 IST0030 – 0645SKD 752 2
6th September 2017
Uzbekistan Airways commissions new Boeing-767 simulator
Uzbekistan Airways, the flag carrier airline of Uzbekistan, has started operation of the new Boeing 767 Full Flight Simulator (FFS), the company's press service reported, Aug. 18.
Boeing 767 FFS is the latest development of Canadian Aviation Electronics (CAE), equipped with the most advanced software, visualization and mobility systems. The simulator was delivered by CAE in April of this year. Installation, adjustment of software and the equipment of the simulator were executed by specialists of the manufacturer company.
In order to provide technical support for the new simulator, Canadian specialists trained 11 engineers of the Uzbek airline company, who received permits for carrying out maintenance of the aircraft simulator.The cost of the simulator is not reported.
Uzbekistan Airways is a state owned monopoly carrier in the country. It carries out flights to 22 cities in the US, Europe, Middle East, Asia, 24 cities of the CIS member countries, as well as 11 local destinations.
June 2016
Uzbekistan Airways offer additional flights from Tashkent-Sochi-Tashkent
his flight will be available every Tuesday on Airbus A320. In September 2016, Uzbekistan Airways has a new Boeing 787 Dreamliner on the Tashkent to Almaty route and in August Uzbekistan Airways launched additional flights to Kazan on A320.
Uzbekistan Airways has signed an agreement for the purchase of three more wide-body Boeing 787s. Uzbekistan Airways has selected comfortable options for its economy class, including increased leg room and larger screens. Currently in the carrier's fleet are two Boeing 787-8s with smaller capacity, which were delivered in September and November of this year. Tashkent-based Uzbekistan Airways uses its Boeing 787s on international routes, including to such destinations as Dubai, Delhi, Istanbul, Tel Aviv, Almaty, and Moscow.
The airline has been ordering the new wide-body aircraft as a part of a program to expand and unify its fleet. Its subsidiary Uzbekistan Airways Technics is already prepared to service the composite components of these aircraft. Uzbekistan Airways operates other Boeing aircraft in its fleet, including nine wide-body Boeing 767s and six narrow-body Boeing 757s. The Uzbek airline also operates narrow-body Airbus A320s and regional Ilyushin Il-114s.
It was announced in November 2016 that Uzbekistan Airways continues to lose traffic, and the downward trend is picking up pace. In January through September the county's government-owned airline carried 1.882 million passengers, down 5% from the same period last year. In the first half year the result was 4.7% down YoY. Domestic traffic experienced a decline of 14.4%. Since the beginning of the year 400,600 passengers used Uzbekistan Airways' domestic services. The number of passengers on flights to CIS countries also decreased, 4.2% to 856,700 passengers. By contrast, traffic on international routes grew slightly, 0.8% to 624,600 passengers.
In February 2016, Uzbekistan Airways launched additional flight from Tashkent to New York via Riga National Airline and plans to operate the route four times a week. In addition, in March 2016, Uzbekistan Airways starts to operate regular passenger flights to Lahore available every Wednesday and Thursday and also Uzbekistan Airways will fly Almaty and Astana, Kazakhstan from Nukus and Urgench International Airports via Tashkent.
---
Search and Buy Uzbekistan Airways Flights
Make an Uzbekistan Airways reservation and find some amazing deals with discounted Uzbekistan Airways tickets at Alternative Airlines. Uzbekistan Airways flies to 58 destinations worldwide, offering a cost effective and safe service to all its passengers. Let Alternative Airlines help find you cheap Uzbekistan Airways tickets and make international and domestic flight reservations on Uzbekistan Airways today.
Browse the most popular Uzbekistan Airways flight routes to major cities. Alternative Airlines can help you make reservations on Uzbekistan Airways for international flights to lots of destinations. Use the following list of routes to help you plan your next flight. Book Uzbekistan Airways flights on Alternative Airlines to save big! Alternative Airlines is an online travel agency which focuses on booking lesser known airlines and remote destinations.
---
About Alternative Airlines
Alternative Airlines is an online flight search complete with customer service specialising in booking flights on lesser known airlines and to remote destinations. We offer you a wider choice of airlines supported by a team of customer service and travel specialists for help and advice on your travel plans. We specialise in finding the best available fares on the widest range of airlines and making them available to you online, with prices in the currency of your choice.
Alternative Airlines handles all your travel arrangements and payments, complete with ticketed confirmation. We do not direct you to other websites or service providers. We help you through the process. This is what makes us Alternative Airlines. Check out our reviews on Feefo or our reviews page. If you want to know a little bit more about us, read our blog for our alternative travel secrets and stories.
Browse for flights, find some amazing deals, make a reservation and pay in the currency of your choice today with Alternative Airlines. Let Alternative Airlines help find you the best prices and make international and domestic flight reservations with us today.
---