Search & Buy CSA Czech Airlines Flights
Select your payment method to view total prices including any payment fees:
Airlines will always try to sit children with their parents (subject to check-in)
Some airlines will allow travel for unaccompanied minors. Please email us to check.
The fare is based on the child's age on the date of travel.
More detailed information can be found here Traveling with children
Most airlines will let infants travel with their parent(s) for free. However some airlines will charge up to 10% of the adult ticket price. Click on 'Price Breakdown' to find out more.
If you are pregnant, but due before the flight departure date, please contact us once your baby is born and has a name. We can then add him/her to your ticket.
Infants will not be given a seat. The airlines expect parents to travel with them on their lap.
Airlines regard infants as being under 24 months old.
The fare is based on the child's age on the date of travel.
More detailed information can be found here Traveling with children
Buy
CSA Czech Airlines

Flights
Make a Czech Airlines Reservation with Alternative Airlines
Make a Czech Airlines Booking and Find Some Amazing Deals
About Czech Airlines
Czech Airlines (CSA Czech Airlines) is the national airline of the Czech Republic.
The airline's head office is on the grounds of Václav Havel Airport Prague in Ruzyně, Prague and currently operates scheduled, charter and cargo services. It has a main base at Prague but also serves Brno, Karlovy Vary and Ostrava within the Czech Republic. International long-haul routes include New York, Montreal, Toronto, St Maarten, Mexico City, Seoul, Dubai and Taipei plus 50 European cities including Dublin (Eire) as well as London Heathrow and Manchester in the UK.
CSA Czech Airlines has been a member of SkyTeam since 2001 and operates scheduled flights to 47 destinations in 23 countries.
CSA Czech Airlines' fleet consists of Airbus A330, Airbus A319, ATR72 and ATR42.
In April 2016, Czech Airlines announced that it will increase its summer operations compared to last year and launch or relaunch 11 destinations. These destinations include Riyadh, Birmingham, Helsinki, Zagreb, Odessa, Skopje, Pisa, Kaliningrad, Kazan and Ufa. In addition, more frequencies will be offered to Venice, Bologna, Milan, Rome and Kiev (Ukraine).
---
Czech Airlines Frequent Flyer Program
Czech Airlines operates a frequent flyer program called OK Plus to reward regular travellers with the airline.
This programme is designed for travellers with CSA Czech Airlines and their partners in the SkyTeam Alliance.
Programme members can earn miles for most of the flights with Czech Airlines and our partners, which can subsequently use for the rewards.
---
Czech Airlines Baggage
CSA Czech Airlines allows certain baggage policies depending on the fare chosen.
Carry-on Baggage
Business Tariff package - 2 x pieces of up to 12kg combined
Flexi Tariff - 1 piece of baggage of up to 12kg
Standard Tariff and Value Tariff Package is allowed 1 piece of up to 8kg.
Checked Baggage
Business Class - 2 x pieces of baggage of up 32kg
Flex Tariff - 2 pieces of up to 23kg
Standard Tariff - 1 piece of up to 15kg for Area 1 and 1 piece of up to 23kg in Area 2.
---
Czech Airlines Check-In
Online Check-In
Czech Airlines online check-in is available through the CSA Czech Airlines online check-in page. CSA Czech Airlines online check-in opens 36 hours before flight departure and is available up until one hour before. Passengers must enter their surname and booking reference in order to check-in for their Czech Airlines flight.
Airport Check-In
To check-in at the airport, passengers must visit one of the CSA Czech Airlines check-in desks at the terminal departure. CSA Czech Airlines suggest that passengers get to the airport for check-in at least two hours before their flight for long-haul flights and at least one hour before for short-haul flights.
Airport check-in closes 40 minutes before flight time on all Czech Airlines flights leaving from Václav Havel Airport, Prague, except for services to Beirut and Riyadh, in which airport check-in closes 60 minutes before.
---
Czech Airlines Check-In
You can now book your Czech Airlines seats without leaving the Alternative Airlines' site! Search from available seats and choose your favourite place to sit on the plane. Find out how to book your Czech Airlines seats by visiting our seat selection page.
---
Czech Airlines Route Map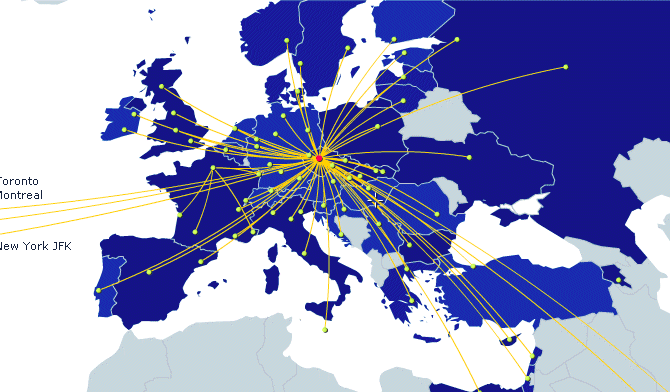 Czech Airlines Popular Routes
Copenhagen

Bucharest
Copenhagen

Prague
Prague

Kosice
Warsaw

Prague

---
Czech Airlines Fleet
Airbus A319-100
ATR72-500
---
Czech Airlines Hub Airport
Václav Havel Airport Prague
Václav Havel Airport Prague is the international airport of Prague, the capital of the Czech Republic. The airport is located 10 kilometres west of the city centre and is with over 11 million passengers in 2014 the busiest airport in the newer EU member states.
It serves as a hub for Czech Airlines as well as a base for Travel Service Airlines including its subsidiary SmartWings, and is also a base for low-cost carrier Wizz Air. Other airlines that fly to this airport include Alitalia, British Airways, easyJet, Norwegian, Vueling and in the future, Joon, Air France's subsidiary.

Alternative Airlines to Czech Airlines
---
---
Czech Airlines News
22nd June 2018
Technics of Czech Airlines Announces New Line Maintenance Customers
Czech Airlines Technics (CSAT) has won 5 new line maintenance customers: American Airlines, Cyprus Airways, Air Cairo and Go2Sky. These airlines operate their flights from Václav Havel Airport Prague. CSAT mechanics will also provide line maintenance services for the Russian's Pobeda aircraft servicing the airline's route to Moscow from Airport Karlovy Vary.
American Airlines, the largest air carrier in the world, has also decided to start using the services of Czech Airlines Technics. The airline has operated regular scheduled flights from Prague - Philadelphia on a daily basis since 5th May 2018. CSAT's Line Maintenance consists of checking Boeing 767-300 aircraft.
Oliver Barnes, Senior Manager, Contract Line Maintenance UK, Ireland, Europe & Middle East for American Airlines stated, "Prague is an exciting new addition to American's global network,". "It is essential that we have strong partners such as Czech Airlines Technics in place to ensure American's success in new markets and we look forward to working closely with them going forwards."
Cyprus Airways, for example, launched regular scheduled flights from Prague - Larnaca in Cyprus this June using Airbus A319s
Air Cairo: operating its routes to more destinations in Egypt with Airbus A320
Go2Sky: which has leased Czech Airlines one of its Boeing 737-400 for the whole summer season.
Moreover, the company has recently received 2 new certificates allowing it to confirm aircraft post- line maintenance operational readiness. The first certificate was awarded to CSAT by the Egyptian Civil Aviation Authority regarding Egypt Air aircraft. The second certificate was issued by Mongolian authorities for MIAT Mongolian Airlines. CSAT will perform A-checks for its aircraft this summer, i.e. the highest level of line maintenance checks.
Line maintenance of aircraft includes a thorough aircraft check, the refilling of all fluids, the completion of minor repairs, the checking of individual aircraft parts and an evaluation of whether or not an aircraft is fully functional and ready for another flight and is performed either on a regular basis (e.g. daily or weekly) or ad hoc.
5th June 2018
CSA Czech Airlines launch flights to Armenia
CSA Czech Airlines have announced that they will be launching a seasonal route between Prague and Yerevan, the capital of Armenia, next month.
The flight will run from June - September after 4 years hiatus. CSA Czech will service passengers twice a week between its hub airport, Prague-Vaclav Havel, and Yerevan-Zvartnots airport. The aircraft operating this route will be an Airbus A319 with a a capacity for 8 business class passengers and 132 economy passengers. This network expansion implies more inter-European connectivity for the future.
25th January 2018
Czech Airlines pax up 7% in 2017
Czech Airlines announced it handled 2.9 million passengers in 2017, which was an increase of 7.1% year-on-year. Czech Airlines also announced a load factor of 81.1% with a focus on service quality in 2018 and plans to increase capacity by deploying larger aircraft on selected destinations on selected destinations and adding frequencies.
7th September 2017
Czech Airlines innovates its "Seat Selection" service
Czech Airlines extends the existing "Seat Selection" service by offering new features. Economy Class passengers will now be able to select their seats:
At the time of ticket booking
Freely from all available seats
Without limitations and irrespective of ticket price package
When purchasing their tickets, passengers will be able to decide whether to purchase a preferred seat in front rows and by emergency exits or to select one of the available unoccupied seats. Until now, it has only been possible to purchase preferred seats together with tickets. The selection of unoccupied seats was first available 24 hours after the ticket purchase.
As an innovation, passengers with tickets purchased under the most economic LITE price package, who were not able to select seats aboard aircraft before, will now be able to choose their seats as well. The service is provided for a fee of EUR 5 or the local currency equivalent. Passengers with tickets purchased under the PLUS and FLEX price packages can select their seats free of charge, with the exclusion of preferred seats which are available for a fee. The most comfortable seats are already included in the price of tickets purchased under the BUSINESS LITE and BUSINESS price packages.
March 2017
Czech Airlines announced a 2016 net income fo $9.4 million which represents a 8% increase from last year.
Czech Airlines launched 11 new routes, expanded their fleet by one ATR 72 aircraft and increased the number of flights by 9%. In 2016, Czech Airlines carried 2.26 million passengers on its scheduled services, up 13% year-on-year, as well as 444,000 passengers through aircraft leases to other airlines. During the year, CSA operated 9% more flights and added 3.5% seat capacity in terms of ASKs. Load factor was up 0.9 of a point at 75.4%. From April, CSA will add one leased ATR 72, taking its ATR fleet to eight aircraft and its total fleet to 18. In 2017, CSA will launch new services to Aarhus, Lisbon, Malmö, Reykjavik and Verona.
February 2016
Sberbank and Czech Airlines, the national airline of the Czech Republic, launched cooperation in the framework of internet acquiring.
As a result, Sberbank became a partner of the official website of Czech Airlines providing the acceptance of Visa, Visa Electron, MasterCard, and Maestro cards to make payments on the Russian version of the partner's website. Payment security is provided in compliance with the requirements of the PCI DSS International Standard applied to card payments and card holders' data.
In December 2016, Czech Airlines announced it was working with ParkCloud to grow their extra ancillary offering for its customers. Partnering with airlines allows parking operators in the ParkCloud Network to benefit from exposure to a large and diverse audience, whilst the airline benefits from access to a ready-made parking network to help complete the itineraries of its clientele.
ParkCloud, founded in 2008, lets drivers book a parking space in advance. In April 2016, Czech Airlines has launched a five times weekly service from Birmingham to Prague. The country's flag carrier will operate the service with an A319 aircraft configured for 144 economy seats (when in full economy configuration) or 12 business class seats and 126 in economy. The service departs Birmingham at 1310 on Monday and Sunday, 1740 on Wednesday and Friday, and 2000 on Thursday. The UK-bound leg leaves at 1130 on Monday and Sunday, 1600 on Wednesday and Friday, and 1820 on Thursday.
June 2016
After a break of several years, the national carrier Czech Airlines is relaunching direct flights between Prague and Beirut. The service comes in response to increased interest among Middle Eastern tourists in Czech spa holidays, but will only be in operation for the summer months.
In December 2015, Czech Airlines launched its regular scheduled Skopje - Prague connection. After a four-year pause Czech Airlines returns to its traditional destinations on the Balkan Peninsula, planning to launch operations on several routes to Prague from there.
Effective 20 May 2016, Czech Airlines will renew its regular Skopje – Prague connection, offering up to three frequencies a week on the route and numerous connecting flights to other important destinations in Europe from Prague.
Czech Airlines plans to launch operations on the new Skopje – Prague route on 20 May 2016 with two return flights a week, departing Skopje on Mondays and Fridays in the morning, at 4:10 a.m. local time and arriving at Václav Havel Airport Prague at 6:00 a.m. local time. Effective 13 June 2016, the carrier will add another frequency on Wednesdays, departing Skopje at the same time.
Book Flights with CSA Czech Airlines
Make a Czech Airlines reservation and find some amazing deals with discounted Czech Airlines tickets at Alternative Airlines. Czech Airlines flies to many destinations worldwide, offering a cost effective and safe service to all its passengers. Let Alternative Airlines help find you cheap CSA Czech Airlines tickets and make international and domestic flight reservations on Czech Airlines today.
Browse the most popular Czech Airlines flight routes to cities worldwide. Alternative Airlines can help you make reservations on Czech Airlines for international flights to lots of destinations. Use the following list of routes to help you plan your next flight. Book Czech Airlines flights on Alternative Airlines to save big! Alternative Airlines is an online travel agency, specialising in booking lesser known airlines and remote destinations.