Smartwings Reservations with Alternative Airlines
Make a Smartwings Booking and Find Some Amazing Deals
---
About Smartwings
SmartWings is a low-cost airline based at Vaclav Havel Airport in Prague. The Czech carrier operate scheduled flights to several European destinations. The brand was established in 2004 by Travel Service, which specialized in leisure charter flights back then, to offer low-cost scheduled flights. Travel Service was renamed to Smartwings, the name of its former low-cost subsidiary, in December 2018.
SmartWings fleet consists of 18 aircraft operating on Boeing 737 and Airbus A320 aircraft offering a two class service, Economy and Business.
---
Destinations
SmartWings flies to destinations including Monastir, Larnaca, Tel Aviv, Antalya, Dubai, Tirana, Varna, Burgas, Dubrovnik, Split, Brno, Ostrava, Pardubice, Prague, Paris, Chania, Corfu, Heraklion, Kos, Lemnos, Mytilene, Rhodes, Thessaloniki, Zakynthos, Cagliari, Catania, Rome, Warsaw, Moscow, London, Olbia, Rostov, Samara and many others.
---
Smartwings Baggage
SmartWings entitle every passenger to free cabin baggage. In addition they permit passengers to carry a personal item including items such as; a small camera, a small personal computer, purchased Duty Free items, umbrellas and much more.
SmartWings also provide free checked baggage for every passenger, more specifically 15kg per person in economy and 20kg per person in business class.
Infants are not entitled to carry any baggage free of charge, however buggies and pushchairs are permitted free of charge.
Smartwings also permit passenger to transport animals on their flights, this is only made possible if requested and confirmed 3 days prior to departure, prices vary depending on weight.
---
Smartwings Route Map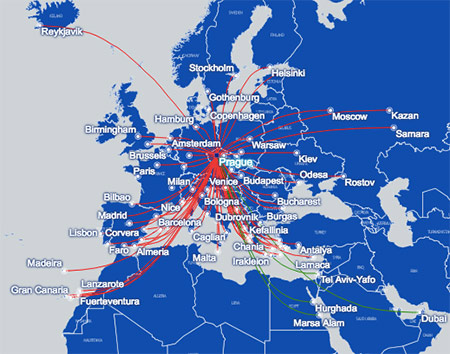 ---
Smartwings Popular Routes
Prague

Warsaw
Paris

Prague
Kos

Prague
Rome

Prague
Prague

Cagliari
Prague

Rostov
Prague

Samara
---
Smartwings Fleet
Airbus A-320
---
Smartwings Hub Airport
Vaclav Havel Airport Prague
Václav Havel Airport Prague is the international airport of Prague, the capital of the Czech Republic. It is located 10 kilometres west of the city centre and is with over 11 million passengers. It serves as a hub for Czech Airlines, SmartWings, and is also a base for low-cost carrier Wizz Air.
---
Alternative Airlines to Smartwings
---
Smartwings News
Europe's airports seal eighth consecutive Arch of Triumph victory
The stand-out market segment receiving an FTWA is the low-cost sector, which has been baptised 69 times (48%) so far in 2018. Not far behind are full-service carriers (quite often national flag carriers) which have claimed 40% of all entries. Lagging behind are regional airlines (13 entries; 9%) and in fourth (and last) position are leisure airlines (five entries; 3%), a segment which was present this week. Condor, the German leisure airline, now joins Edelweiss Air (three entries) and SmartWings (one) as carriers to have been immortalised in Arch of Triumph glory.