Smartwings Reservations with Alternative Airlines
Make a Smartwings Booking and Find Some Amazing Deals
---
About Smartwings
SmartWings is a low-cost airline based at Vaclav Havel Airport in Prague. The Czech carrier operates scheduled flights to several European and international destinations including Greece, Tunisia, Turkey, UAE, Bulgaria, France, Italy and more. The brand was established in 2004 by Travel Service, which specialized in leisure charter flights back then, to offer low-cost scheduled flights. Travel Service was renamed to Smartwings, the name of its former low-cost subsidiary, in December 2018. Smartwings has grown over the years and now owns the Smartwings Poland, Smartwings Hungary and Smartwings Slovakia brands. The group also owns the flag carrier of the Czech Republic, Czech Airlines. The airlines fleet consists of 35 aircraft operating an all Boeing fleet of the 737 variant, including the -700, -800, -900ER and -8Max models.
---
Destinations
As of January 2022, Smartwings flies to the following destinations, some of these are seasonal services.
COUNTRY
CITY
AIRPORT
Albania
Tirana
Tirana International Airport
Bulgaria
Burgas
Burgas Airport
Varna
Varna Airport
Croatia
Dubrovnik
Dubrovnik Airport
Split
Split Airport
Czech Republic
Brno
Brno–Tuřany Airport
Ostrava
Leoš Janáček Airport Ostrava
Pardubice
Pardubice Airport
Prague
Václav Havel Airport Prague
Cyprus
Larnaca
Larnaca International Airport
Denmark
Kastrup
Airport
Egypt
Hurghada
Hurghada International Airport
Marsa Alam
Marsa Alam International Airport
Finland
Helsinki
Helsinki Airport
France
Nice
Nice Cote D'Azur Airport
Paris
Paris Charles de Gaulle Airport
Greece
Chania
Chania International Airport
Corfu
Ioannis Kapodistrias International Airport
Heraklion
Heraklion International Airport
Karpathos
Karpathos Island National Airport
Kefalonia
Kefalonia International Airport Anna Pollatou
Kos
Kos Island International Airport
Preveza
Akiton National Airport
Rhodes
Rhodes International Airport
Samos
Samos International Airport
Santorini
Santorini Airport
Thessaloniki
Thessaloniki Airport
Zakynthos
Zakynthos International Airport
Iceland
Reykjavik
Keflavik International Airport
Israel
Tel Aviv
Ben Gurion International Airport
Italy
Cagliari
Cagliari Elmas Airport
Catania
Catania–Fontanarossa Airport
Lamezia Terme
Lamezia Terme International Airport
Olbia
Costa Smerelda Airport
Rome
Leonardo da Vinci-Fiumicino Airport
Malta
Malta
Malta International Airport
Netherlands
Amsterdam
Schiphol Airport
Portugal
Madeira
Funchal Airport
Romania
Bucharest
Henri Coanda International Airport
Russia
Kazan
Kazan International Airport
Moscow
Sheremeteyvo International Airport
Rostov on Don
Rostov on Don Airport
Samara
Kurumoch Airport
St Petersburg
Pulkovo Airport
Spain
Almeria
Almeria Airport
Barcelona
Josep Tarradellas Barcelona-El Prat Airport
Fuerteventura
Fuerteventura Airport
Lanzarote
Lanzarote Airport
Las Palmas
Gran Canaria Airport
Madrid
Adolfo Suárez Madrid–Barajas Airport
Malaga
Málaga-Costa del Sol Airport
Menorca
Menorca Airport
Palma de Mallorca
Palma de Mallorca Airport
Tenerife
Tenerife South Airport
Valencia
Valencia Airport
Sweden
Stockholm
Arlanda Airport
Turkey
Antalya
Antalya Airport
Ukraine
Kyiv
Boryspil International Airport
United Arab Emirates
Dubai
Dubai International Airport
United Kingdom
London
Heathrow Airport
---
Baggage
Cabin Baggage
Smartwings allow all passengers to bring cabin baggage onboard, however, the amounts depend on the ticket booked. All passengers can bring one cabin case which should not weigh more than 8kg and should meet the specified 55x45x25 cm dimensions. Passengers travelling on a plus or flex ticket are also entitled to bring one personal item onboard including a handbag, briefcase or small backpack. The personal item should be 40x30x15 cm or less and not weigh more than 3kg.
Checked Baggage
Checked baggage is dependent on the ticket as 'Economy Lite' passengers don't receive an allocated allowance and will need to pay 35 EUR for a case. 'Plus' or 'Flex' passengers are entitled to 1 suitcase weighing 23kg.
---
Economy Class
Smartwings only offers an economy class product onboard their aircraft. There are approximately 189 seats on the -800 and 148 on the -700 aircraft. The seats onboard are comfortable leather upholstered seats laid out in a 3 x 3 configuration, with around 30–32" (76–81 cm) of seat pitch and 17" (43 cm) of width. Complimentary drinks and snacks aren't provided on some ticket types and come at an additional cost. Similarly, depending on your ticket type baggage may not be included. Passengers travelling on a 'Flex' ticket are also entitled to fast track services on some routes.
---
Food & Drinks
Complimentary drinks and snacks may be provided depending on your ticket type. Passengers who are booked on a Flex ticket are treated to light refreshments or a light meal during the service free of charge. However, all other passengers will need to purchase these additionally if hungry. The airline offers an onboard bistro service for you to purchase drinks and food, offering products from soft and alcoholic beverages to chocolate, crisps and meals.
---
Inflight Entertainment & Wifi
The airline hasn't installed inflight entertainment screens on their aircraft, however, they have decided to install Wifi and offer movies via their app. If you wish to read the airline's e-magazine or track the status of the flight then this is free of charge on the wifi, to stream any of the movies or TV shows you will need to pay 2 EUR for the Wifi package. To watch the inflight entertainment please head to the MyWings app, we recommend you download this before departure.
---
Check-In
Online
The airline offers an online check-in service which can be completed on the airline's website or through their SmartWings app. Smartwings opens check-in online 30 hours prior to departure.
Please be aware that for services departing from any Russian city or Egyptian city a printed boarding card is required by authorities.
Airport
If online check-in isn't for you then make use of the airline's airport check-in facilities. Head to one of the airline's check-in desks or drop your checked luggage if you have already checked in online. Airport check-in opening and closing times may vary depending on the route but generally, Smartwings closes their facilities 1 hour before the scheduled departure time. We recommend, to avoid missing check-in that you arrive at the airport no later than 90 minutes before departure.
---
Route Map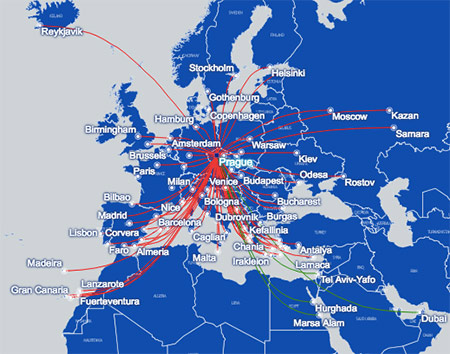 ---
Fleet
Smartwings operates an all Boeing fleet. The airline operates 35 aircraft made up of 2 x 737-700, 24 x 737-800, 2 x 737-900ER and 7 x 737 Max 8 aircraft with a further 11 on order.
Vaclav Havel Airport
Václav Havel Airport Prague is the international airport of Prague, the capital of the Czech Republic. It is located 10 kilometres west of the city centre and is with over 11 million passengers. It serves as a hub for Czech Airlines, SmartWings, Silver Air, and is also a base for low-cost carrier Wizz Air.
---
Alternative Airlines
---
Smartwings News
Europe's airports seal eighth consecutive Arch of Triumph victory
The stand-out market segment receiving an FTWA is the low-cost sector, which has been baptised 69 times (48%) so far in 2018. Not far behind are full-service carriers (quite often national flag carriers) which have claimed 40% of all entries. Lagging behind are regional airlines (13 entries; 9%) and in fourth (and last) position are leisure airlines (five entries; 3%), a segment which was present this week. Condor, the German leisure airline, now joins Edelweiss Air (three entries) and SmartWings (one) as carriers to have been immortalised in Arch of Triumph glory.