Trusted Choice
Secure Booking
Airlines will always try to sit children with their parents (subject to check-in)
Some airlines will allow travel for unaccompanied minors. Please email us to check.
The fare is based on the child's age on the date of travel.
More detailed information can be found here Traveling with children
Most airlines will let infants travel with their parent(s) for free. However some airlines will charge up to 10% of the adult ticket price. Click on 'Price Breakdown' to find out more.
If you are pregnant, but due before the flight departure date, please contact us once your baby is born and has a name. We can then add him/her to your ticket.
Infants will not be given a seat. The airlines expect parents to travel with them on their lap.
Airlines regard infants as being under 24 months old.
The fare is based on the child's age on the date of travel.
More detailed information can be found here Traveling with children
Search and book flights with
Condor
Buy
Condor

Flights
Condor Reservations with Alternative Airlines
Make a Condor Booking and Find Some Amazing Deals
---
About Condor
Condor is a large German airline controlled by the Thomas Cook Group. The airline, whose full name is Condor Flugdienst, has more than 75 destinations around the world with a capacity to serve 6.7 million passengers per year. Long-haul destinations served include Anchorage, Calgary, Fairbanks, Halifax, Las Vegas, Orlando, Toronto, Vancouver, Whitehorse, Antigua, Barbados, Cancun, Cayo Coco, Grenada, Havana, Holguin, La Romana, Montego Bay, Porlamar, Puerta Plata, Punta Cana, Samaná, San José, Santo Domingo, St Lucia, Tobago, Varadero, Salvador da Bahia, Banjul, Kilimanjaro, Mahé, Marsa Alam, Mauritius, Mombasa, Sal, Zanzibar, Bangkok, Colombo, Gan, Goa, Male and Phuket.
In the future, Air Berlin, LTU will coordinate their flight schedules to ensure that they no longer compete with flights to the same destinations on the same days but fly instead on different days.
The airline's fleet consists of Boeing 767-300ER, Boeing 757-300, Airbus A320-200 and Airbus A321-200 aircraft.
As part of the Thomas Cook Group, Condor has partnerships with Thomas Cook Airlines Belgium and Thomas Cook Airlines UK as well as other airlines including Adria Airways, Aeroflot, Bahamasair, Bangkok Airways, El Al, Finnair and Germanwings.
In 2016, the airline did further Boeing 767-300ERs have been added to fleet from Summer 2016 and additional routes to Austin Texas, Fort-de-France in Martinique and twice the number of flight destinations from Munich will expand the route network. As of 2016, the airline comprises around 4,000 employees and a fleet of 42 aircraft, and every year flies more than 7 passengers every year.
---
Baggage
Carry-on Baggage
Passengers in Economy Class -entitled to 1 piece of hand baggage with a maximum of 6 kgs
Premium Class - 10 kg 12kg
Business Class -2 pieces of hand baggage.
Checked Baggage
For checked baggage, the airline applies different policies depending on the zone that you are flying to. Your allowance can be checked by contacting customer service or looking it up on the Condor website.
---
Check-In Information
Online Check-In
Passengers can check-in for their flights online from 24 hours before your scheduled flight departure time. This service will close 2 hours before flying. You can check-in online via the Condor website, under the 'Online Check-In Section'. For more information about online check-in, read our page about what to do and expect.
Airport Check-In
If passengers have not checked in online, they must do so at the airport. Different policies apply to different airports, so be sure to check on the condor website to see the opening and closing times of airport check-in so that you are not stuck without a check-in.
---
Economy Class
Economy Class has everything for you to enjoy, with comfort and friendly staff.
Economy Class Facilities
Short-haul and medium flights
You can book one of the airlines' Special Menus or Premium Menus up to 24 hours before your departure.
Entertainment is included in the short-haul and medium flights which offer a range of documentaries shows for children, music and TV series.
Choose from a wide range of beverages for a small fee on board.
Long-haul flights
In Economy, on long-haul flights, the facilities include entertainment with a 9-inch screen for every seat with premium entertainment which you can reserve in advance for a small fee. A choice of cold and hot meals with a selection of beverages is also available.
Other facilities include the baggage allowance of up to 20kg (dependant on flight route). A USB port is provided.
Economy Class Seating
The Economy Class has recently been renovated with ergonomic leather seats to ensure maximum comfort and relaxation. You can reserve an XL-Seat, which provides extra leg room, in advance up to 48 hours before your departure. Long-haul flights are provided with special cushions for anti-thrombosis.
---
Premium Economy
Premium Economy class, or 'Premium Class' gives passengers more space and step-up in service when compared to the regular cabin.
Premium Economy Facilities
Short-haul and medium flights
As well as extra space around the seat, Premium Economy on short-haul and medium flights gives passengers free seat reservation and late night check-in, priority check-in, security check, boarding and baggage. Passengers can also enjoy a bigger baggage allowance — 10kg of carry-on baggage and 25kg of checked baggage. And, each passenger is given a bigger baggage allowance — 10kg of carry-on and 25kg of checked.
Long-haul flights
Premium Class on long-haul includes in-flight entertainment, greater seat comfort and a premium menu with a large choice of complimentary drinks.
Passengers are provided with blankets, comfortable pillows, headsets and access to inflight entertainment when onboard.
On the ground, passengers can enjoy priority check-in, security check, boarding, as well as gree seat reservations and late night check-in.
Passengers flying long-haul in Premium Class are also given a larger baggage allowance — 10kg of carry-on baggage and 25/32kg of checked baggage, depending on the route flown.
Premium Economy Seating
Short-haul and medium flights
All seats on short-haul and medium flights are either at a row or by a window. Seats are in a 3-3 formation and passengers can enjoy extra space due to the unoccupied middle seat in every row.
Long-haul flights
Premium Economy seats on long-haul flights give passengers more legroom, as well as footrests and adjustable headrests. Each seat is fitted with a personal TV with a nine-inch monitor and USB ports.
---
Business Class
Business Class passengers enjoy an increased baggage allowance of 30kg (32kg in the US and Canada), seat reservation and a separate Business Class check-in and security check.
Business Class Facilities
Business Class passengers board swiftly and without the stress of the airport floor with priority security and check-in. Once they've boarded the aircraft, Business Class passengers will be entertained with the airline's extensive range of Premium Entertainment.
What are Business Class seats like?
Once onboard, passengers can make the most of an automatic 1.8m lie-flat bed. Seats can easily be adjusted so that you can sleep in the best position for you.
---
Frequent Flyer Program
Passengers with Condor can participate in the Miles & More frequent flyers programme, which rewards regular travellers.
As a partner in the Miles & More program, passengers will earn valuable miles on flights, or you can spend your miles on the next flight you take.
In addition to Economy and Business Class, the airline offers a Premium Class whereby on long-haul flights, passengers enjoy considerably more legroom and backrests with greater seat recline and personal 9-monitor including premium entertainment and USB port.
---
Seat Selection
Alternative Airlines customers can now pre-book Condor airline seats! Find your favourite place to sit on the plane so that you can have that extra bit of legroom on your flight.
---
Alternative Airlines
Please click on the logos below to find out more about airlines that fly similar routes:
---

Route Map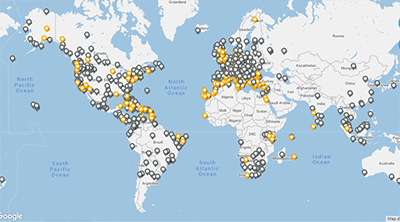 ---

Popular Routes
Brussels

Cape Town
London

Cancun
Manchester

Orlando
Ibiza

Dusseldorf
Frankfurt

Bangkok
Frankfurt

Tenerife
---

Fleet
A320-200
A330-200
A321-200
Boeing 757-300
Boeing 737-800
Boeing 767-300ER
---

Hub Airport
Frankfurt Airport
Frankfurt Airport is a major international airport located in Frankfurt, the fifth-largest city of Germany and one of the world's leading financial centres. It is operated by Fraport and serves as the main hub for Lufthansa including Lufthansa CityLine and Lufthansa Cargo as well as AeroLogic. It is also a European hub of United Airlines. The airport covers an area of 2,000 hectares of land and features two passenger terminals with a capacity of approximately 65 million passengers per year, four runways and extensive logistics and maintenance facilities.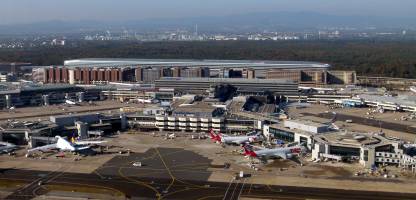 ---