Search & Buy Condor Flights
Let's fly!

Select your payment method to view total prices including any payment fees:
Airlines will always try to sit children with their parents (subject to check-in)
Some airlines will allow travel for unaccompanied minors. Please email us to check.
The fare is based on the child's age on the date of travel.
More detailed information can be found here Traveling with children
Most airlines will let infants travel with their parent(s) for free. However some airlines will charge up to 10% of the adult ticket price. Click on 'Price Breakdown' to find out more.
If you are pregnant, but due before the flight departure date, please contact us once your baby is born and has a name. We can then add him/her to your ticket.
Infants will not be given a seat. The airlines expect parents to travel with them on their lap.
Airlines regard infants as being under 24 months old.
The fare is based on the child's age on the date of travel.
More detailed information can be found here Traveling with children

Buy
Condor

Flights

Condor Reservations with Alternative Airlines
Make a Condor Booking and Find Some Amazing Deals
---
About Condor
Condor is a large German airline controlled by the Thomas Cook Group. Condor, who's full name is Condor Flugdienst, has more than 75 destinations around the world with a capacity to serve 6.7 million passengers per year. Long-haul destinations served include Anchorage, Calgary, Fairbanks, Halifax, Las Vegas, Orlando, Toronto, Vancouver, Whitehorse, Antigua, Barbados, Cancun, Cayo Coco, Grenada, Havana, Holguin, La Romana, Montego Bay, Porlamar, Puerta Plata, Punta Cana, Samaná, San José, Santo Domingo, St Lucia, Tobago, Varadero, Salvador da Bahia, Banjul, Kilimanjaro, Mahé, Marsa Alam, Mauritius, Mombasa, Sal, Zanzibar, Bangkok, Colombo, Gan, Goa, Male and Phuket.
In the future, Air Berlin, LTU and Condor will coordinate their flight schedules to ensure that they no longer compete with flights to the same destinations on the same days but fly instead on different days.
The Condor fleet consists of Boeing 767-300ER, Boeing 757-300, Airbus A320-200 and Airbus A321-200 aircraft.
As part of the Thomas Cook Group, Condor has partnerships with Thomas Cook Airlines Belgium and Thomas Cook Airlines UK as well as other airlines including Adria Airways, Aeroflot, Bahamasair, Bangkok Airways, El Al, Finnair and Germanwings.
In 2016, Condor added further Boeing 767-300ERs has been added to the Condor fleet from Summer 2016 and additional routes to Austin Texas, Fort-de-France in Martinique and twice the number of flight destinations from Munich will expand the route network. As of 2016, Condor comprises around 4,000 employees and a fleet of 42 aircraft, and every year flies more than 7 passengers every year.
---
Condor Baggage
Carry-on Baggage
Passengers in Economy Class -entitled to 1 piece of hand baggage with a maximum of 6 kgs
Premium Class - 10 kg 12kg
Business Class -2 pieces of hand baggage.
Checked Baggage
For checked baggage, Condor applies different policies depending on the zone that you are flying to. Your allowance can be checked by contacting customer service, or looking it up on the Condor website.
However, passengers travelling to USA, Canada and Puerto Rico (Zone 5) are allowed 1 piece of baggage of up to 23 kg for Economy class, 1 piece of 32 kg in Premium Class and for Business Class 2 pieces of baggage of up to 32 kg.
---
Condor Check-In Information
Online Check-In
Condor passengers can check-in for their flights online from 24 hours before your scheduled flight departure time. This service will close 2 hours before flying. You can check-in online via the Condor website, under the 'Online Check-In Section'. For more information about online check-in, read our page about what to do and expect.
Airport Check-In
If passengers have not checked in online, they must do so at the airport. Different policies apply to different airports, so be sure to check on the condor website to see the opening and closing times of airport check in so that you are not stuck without check-in.
---
Condor Business Class
Condor's Business Class enjoy an increased baggage allowance of 30kg (32kg in the US and Canada), seat reservation and a seperate Business Class check-in and security check.
Condor Business Class Facilities
Condor's Business Class passengers board swiftly and without the stress of the airport floor with priority security and check-in. Once they've boarded the aircraft, Business Class passengers will be entertained with Condor's extensive range of Premium Entertainment.
What are Condor Business Class seats like?
Once onboard, Condor passengers can make the most of an automatic 1.8m lie-flat bed. Seats can easily be adjusted so that you can sleep in the best position for you.
---
Condor Frequent Flyer Program
Passengers with Condor can participate in the Miles & More frequent flyers programme, which rewards regular travellers with Condor.
As a partner in the Miles & More program, passengers will earn valuable miles on Condor flights, or you can spend your miles on the next Condor flight you take.
In addition to Economy and Business Class, Condor offers a Premium Class whereby on long-haul flights, passengers enjoy considerably more legroom and backrests with greater seat recline and personal 9-monitor including premium entertainment and USB port.
---
Condor Seat Selection
Alternative Airlines customers can now pre-book Condor airline seats! Find your favourite place to sit on the plane so that you can have that extra bit of legroom on your Condor flight.
---
Condor Economy Class
Condor's Economy Class has everything for you to enjoy, with comfort and friendly staff.
Condor Economy Class Facilities
Short-haul and medium flights
You can book one of Condor's Special Menus or Premium Menus up to 24 hours before your departure.
Entertainment is included in the short-haul and medium flights which offer a range of documentaries, shows for children, music and TV series.
Choose from a wide range of beverages for a small fee on board.
Long-haul flights
In Condor's Economy Class long-haul flights, the facilities include entertainment with a 9-inch screen for every seat with premium entertainment which you can reserve in advance for a small fee. A choice of cold and hot meals with a selection of beverages is also available.
Other facilities include baggage allowance of up to 20kg (dependant on flight route). USB port is provided.
Condor Economy Class Seating
Condor's Economy Class has recently been renovated with ergonomic leather seats to ensure maximum comfort and relaxation. You can reserve a XL-Seat, which provides extra leg room, in advance up to 48 hours before your departure. Long-haul flights are provided with special cushions for anti-thrombosis.
---
Alternative Airlines to Condor
Please click on the logos below to find out more about airlines that fly similar routes to Condor:
---

Condor Route Map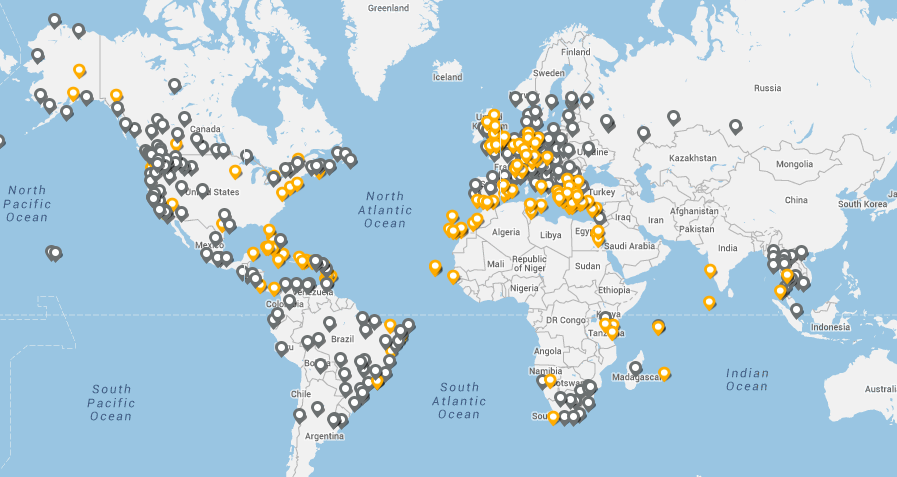 ---

Condor Popular Routes
Brussels

Cape Town
London

Cancun
Manchester

Orlando
Ibiza

Dusseldorf
Frankfurt

Bangkok
Frankfurt

Tenerife
---

Condor Fleet
A320-200
A330-200
A321-200
Boeing 757-300
Boeing 737-800
Boeing 767-300ER
---

Condor Hub Airport
Frankfurt Airport
Frankfurt Airport is a major international airport located in Frankfurt, the fifth-largest city of Germany and one of the world's leading financial centres. It is operated by Fraport and serves as the main hub for Lufthansa including Lufthansa CityLine and Lufthansa Cargo as well as Condor and AeroLogic. It is also a European hub of United Airlines. The airport covers an area of 2,000 hectares of land and features two passenger terminals with a capacity of approximately 65 million passengers per year, four runways and extensive logistics and maintenance facilities.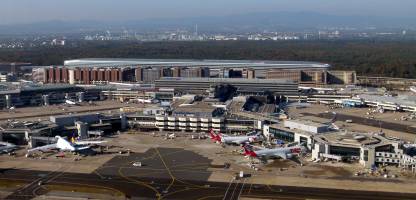 ---
Condor News
8th November 2018
Condor launches new Kuala Lumpur-Frankfurt route
Condor Flugdienst announced that a new flight to Malaysia from Frankfurt will begin. The flight, which flies to Kuala Lumpur KL International Airport (KLIA), began its inaugural flight on 2nd November 2018.
The route will be serviced by the Boeing 767-300 aircraft and the duration of the flight is estimated at 12.5 hours.
This flight is now the only direct flight from Germany to Kuala Lumpur, which comes ager Malaysia Airlines and Lufthansa removed the route a few years ago.
25th June 2018
Condor Airlines will fly more frequently between Phoenix and Frankfurt
Condor Airlines service between Phoenix and Frankfurt has proved to be immensely popular — so much so that the airline will be flying between the two cities more often next year. In May 2018, Condor Airlines launched flights between Phoenix and Frankfurt, transporting passengers twice a week on a Boeing 767-300 ER aircraft. The seasonal service will run until September of this year. However, as the flight has been so popular, Condor have decided that when they offer the Phoenix—Frankfurt route next year, they'll run it until October instead. Although the airline is increasing the length of time that it will offer this seasonal service in 2019, at this time, Condor still only plan to operate the service two times a week.
31st May 2018
Condor launches flights between Phoenix and Frankfurt
Condor Airlines has added a new flight route to its network: Phoenix, Arizona to Frankfurt, Germany.
29th May 2018
Condor plane makes emergency landing
Condor Airlines has had to make an emergency landing in Mobasa after two crows flew into one of the plane's engines. Condor were ferrying passengers from Germany to Zanzibar for their summer holidays when they were forced to make an emergency landing at Moi International Airport, Mombasa, Kenya.
16th February 2018
Condor's hub, Munich airport launches 'Josie', a humanoid robot, to greet passengers
Meet Josie Pepper. She's 1m20cm all, big round eyes and a pleasant voice. From now on, you'll find her at Munich airport answering questions for passengers in Terminal 2. Whether they need directions to their gate or want to stop at a certain restaurant or shop, Josie Pepper will look them in the eyes and answer their question expertly.
Munich Airport and Lufthansa are working together to break new ground: It is the first-ever test of a humanoid robot equipped with artificial intelligence at a German airport. For the next few weeks, Josie Pepper will welcome travellers to the non-public area of Terminal 2, which is jointly operated by Munich Airport and Lufthansa. In her initial deployment, Josie Pepper, who speaks English, will await passengers at the top of the ramp leading to the shuttle connecting the main terminal to the satellite building. This test phase will be used to show whether Josie Pepper is accepted by passengers.
Josie Pepper's "brain" contains a high-performance processor with a WLAN internet access. This creates a connection to a cloud service where speech is processed, interpreted and linked to the airport data. The airport says what sets the system apart is when this robot speaks, it does not just deliver pre-defined texts. With its ability to learn, it answers each question individually. Just like a real brain, the system gets steadily better at combining questions with the relevant information to provide more precise replies.
Josie was developed by the French company SoftBank Robotics and IBM Watson Internet of Things (IoT) cloud-based, artificial intelligence technologies determined her capabilities. The robot was given the name "Josie" by the staff of Munich Airport and Lufthansa when she arrived.
17th January 2018
Condor adds Canary Islands capacity to cover for Niki
Condor (DE, Frankfurt Int'l) has announced it will add additional capacity to a number of German airports, as well as to Vienna and Zurich, to cover for the market gap left following the grounding of Niki (HG, Vienna).
The carrier will offer additional flights fromCologne/Bonn, Dusseldorf and Munich to Lanzarote, Las Palmas and Tenerife Sur, as well as from Cologne/Bonn and Dusseldorf to Fuerteventura. The German leisure specialist will also serve Lanzarote and Las Palmas from Zurich and Vienna.
The airline also extended the summer-only flights from Cologne/Bonn, Dusseldorf, Frankfurt Int'l and Munich to Palma Son Sant Joan for the winter period. Condor has announced it plans to offer a total of 68,000 extra seats on all additional services and is working closely with tour operators to ensure they are able to carry all passengers who were supposed to travel on Niki.
Niki suspended all operations on December 14, a day afterLufthansa Group's decision to withdraw its takeover offer forced it to file for bankruptcy.Air Berlin bankruptcy administrators are currently examining four other bids for the carrier including from founder Niki Lauda, IAG International Airlines Group, PrivatAir (Switzerland)andThomas Cook Group. A decision is expected in early 2018.
19th November 2017
Condor Launches New Bahamas Flights
Germany's Condor Airlines has launched a new nonstop flight between Frankfurt and The Bahamas.
The first Condor-Nassau flight arrived to the sounds of Junkanoo drums at Nassau's Lynden Pindling Airport on Monday.
Condor has made a substantial investment in the Bahamian economy with the new weekly service, which represents the first direct service between Germany and The Bahamas in more than a decade.
Condor is operating the service on Boeing 767 aircraft.
The seasonal service will operate through April 30, 2018.
"Because of the partnership not only with Condor but the various tour operators, we will now have the ability to bring people from places like Munich, Berlin, Milan, Copenhagen, Denmark and other areas in Germany," said Tyrone Sawyer, Senior Director of Airlift Development at the Bahamas Ministry of Tourism and Aviation. "We will also have representation from the various Out Islands, Nassau/Paradise Island and Grand Bahama Promotion Boards, and through an interline arrangement with Bahamasair, passengers will have the opportunity to go to every single island in The Bahamas. This allows us to spread tourism not only to Nassau but throughout The Bahamas."
September 2017
Condor announced it was expanding its Pittsburgh service in S18
Condor in summer 2018 season is expanding operational frequency on Frankfurt – Pittsburgh route, with the addition of 3rd weekly flight. This summer seasonal flight in 2018 will operate from 21MAY18, initially twice a week. The 3rd weekly flight, operating on Wednesdays, will operate from 27JUN18 to 04SEP18.
In July 2016, Condor started its new no-stop service from Munich to the Namibian capital Windhoek.
Windhoek is now offered every Wednesday during the summer schedule of 2016. Apart from the new flight from Munich there are also non-stop flight connections every Monday and Friday from Frankfurt to Windhoek. Other Condor long haul destinations, which are inaugurated this Summer from Munich, are Halifax in Canada, Havana in Cuba as well as Zanzibar in Tanzania and Mombasa in Kenya. In Winter 2016/17, Barbados and Tobago, Santo Domingo, Dominican Republic as well as San Jose, Costa Rica will follow.
March 2017
Condor Airline and Alaska Airlnes agree to mileage partnership.
The carrier flies to the transport hub of Frankfurt, Germany, from Anchorage, Fairbanks and several West Coast cities. Seasonal nonstop service between Anchorage and Frankfurt begins May 16, while nonstop flights out of Fairbanks resume on June 15. Condor also offers direct flights to Frankfurt year-round from Alaska Airlines' hub in Seattle. Condor is Germany's third-largest airline. Existing Alaska Mileage Plan members can start earning miles immediately. Redemption for award travel will begin at a later date. In March 2017, Condor Airline and Air Namibia announce new codeshare agreement. Condor and Air Namibia concluded a codeshare agreement that will allow Condor passengers to have access to daily flight connections to Windhoek from summer 2017. The twice-weekly Condor flights from Frankfurt (Mondays and Fridays) are being supplemented with flights from Air Namibia.
This means that passengers can make their plans with more flexibility and chose from nine weekly connections during the summer flight plan and from seven weekly connections in the upcoming winter. From April onwards, all codeshare flights will be available with a Condor flight number and airline code "DE" through the Condor booking channels. The Condor codeshare flight number will also be used on connecting Air Namibia flights within Southern Africa. This will result in passengers benefitting from convenient connections to Johannesburg, Cape Town, Harare and Walvis Bay. As part of the agreement, Air Namibia flight numbers with the "SW" code will also be offered on many routes in the Condor route network.
The codeshare routes, such as in the Caribbean, to North America or in the Mediterranean, open up a selection of many new holiday destinations and connections for Air Namibia guests. In March 2017, Condor Airlines announced a new mileage plan partnership with Alaska Airlines. This partnership allows Alaska frequent flier members the ability to travel nonstop and accrual mileage to Europe, starting today. Previously, Alaska Airlines and Condor Airlines had an "interline agreement," which allowed the two airlines to connect passengers between carriers, from Europe and North America. However, their earlier agreement excluded the new mileage partnership. Current Alaska Mileage Plan members can begin earning miles immediately, as they will count towards the plan's elite status; however, award travel redemption will "begin at a later date," says Alaska Airlines. Also, the company welcomes Condor travellers to join their mileage plan for free. Alaska Airlines adds that Virgin America's Elevate program users will also benefits from the deal, if travellers use their 2017 issued Alaska Mileage Plan number.
April 2017
Condor Airlines wet-lease A320 Family jets
Condor Airlines announced it will wet-lease three A320 Family jets (two A320-200s and one A321-200) from Lithuanian ACMI/charter specialist Avion Express this summer season. Of the aircraft, one A320-200 will be based out of Munich for use in serving Las Palmas, Preveza/Lefkas, Hurghada, Rhodes, Kos, Kerkyra, Larnaca, Agadir, Santa Cruz de La Palma, Kalamata, Heraklion, and Ibiza. The contract runs from April 28 until early November. The second A320-200 will be based out of Cologne/Bonn for use in running daily return services to Palma Son Sant Joan. In amongst the return services to Cologne, the aircraft will conduct rotations from Palma Son Sant Joan and each of Dusseldorf, Frankfurt Int'l, Leipzig/Halle, Stuttgart Echterdingen, Hanover, and Berlin Schönefeld. The contract runs from April 29 until early November. In May 2017, Condor Airlines officially began seasonal, nonstop flights Wednesday from New Orleans to Frankfurt, Germany. The twice-weekly flights for the 2017 season will operate on Wednesdays and Sundays through Oct. 4.
It's the second European service to launch from New Orleans in 2017. British Airways kicked off flights from New Orleans in March. Condor Airlines partners with other airlines in Europe to offer flights beyond Frankfurt. The airline said it will operate a Boeing 767-300ER with 259 seats in business, premium and economy classes of service on this long-haul flight.
---