Bahamasair Reservations with Alternative Airlines
Book a Flight with Bahamasair and Find Some Amazing Deals
---
About
Bahamasair is the national airline of the Bahamas with its headquarters located in the capital, Nassau. The airlines flies to over 30 destinations across the Bahamas, Cuba, Haiti, Turks and Caicos Islands and the United States from its base at Lynden Pindling International Airport (NAS).
The airline was established in 1973 and it's main purpose as the National Flag carrier is to provide an 'Essential Service' bridging Nassau, the nation's capital and the remote Family of Islands. The national carrier was incorporated under the name Bahamasair Holdings Limited and resulted from the amalgamation of two privately-owned carriers, Out Island Airways and Flamingo Airways. The airline remains wholly owned by the Bahamas Government. In December 1975, Bahamasair inaugurated scheduled services to Port-au-Prince, Haiti. Recently, in 2001, Bahamasair inaugurated scheduled service to Havana, Cuba and in 2004 started flights to Santo Domingo.
Top Tip: Take a look at our guide to flying amongst the islands in the Bahamas to find out more.
---
Destinations
Domestic Destinations
Current scheduled flight services to over 30 regional destinations around the US, Cuba, Dominican Republic, Trinidad and Tobago, Turks and Caicos Islands and the Bahamas.
Current domestic routes out of Nassau include airlift into Grand Bahama, Abaco, Eleuthera, Exuma, Crooked Island, Acklins, Mayaguana, Inagua, San Salvador and Long Island in October 2016. Currently, International routes that are operated include Florida – Miami, Fort Lauderdale, West Palm Beach and Orlando. Other international routes include The Turks & Caicos and Havana, Cuba.
| CITY | AIRPORT | IATA |
| --- | --- | --- |
| Arthur's Town | Arthur's Town Airport | ATC |
| New Bight | New Bight Airport | TBI |
| Colonel Hill | Colonel Hill Airport | CRI |
| Long Island | Deadman's Cay Airport | LGI |
| Freeport | Grand Bahama International Airport | FPO |
| Great Exuma | Exuma International Airport | GGT |
| Governor's Harbour | Governor's Harbour Airport | GHB |
| Marsh Harbour | Marsh Harbour Airport | MHH |
| Matthew Town | Inagua Airport | IGA |
| Mayaguana | Mayaguana Airport | MYG |
| Nassau | Lynden Pindling International Airport | NAS |
| North Eleuthera | North Eleuthera Airport | ELH |
| Rock Sound | Rock Sound International Airport | RSD |
| San Salvador | San Salvador Airport | ZSA |
International Destinations
COUNTRY
CITY
AIRPORT
IATA
Cuba
Havana
José Martí International Airport
HAV
Haiti
Port-au-Prince
Toussaint Louverture International Airport
PAP
Haiti
Cap-Haïtien
Hugo Chavez International Airport
CAP
Turks and Caicos
Providenciales
Providenciales International Airport
PLS
United States
Chicago
O'Hare International Airport
ORD
Fort Lauderdale
Fort Lauderdale–Hollywood International Airport
FLL
Houston
George Bush Intercontinental Airport
IAH
Miami
Miami International Airport
MIA
Orlando
Orlando International Airport
MCO
Palm Beach
Palm Beach International Airport
PBI
---
Route Map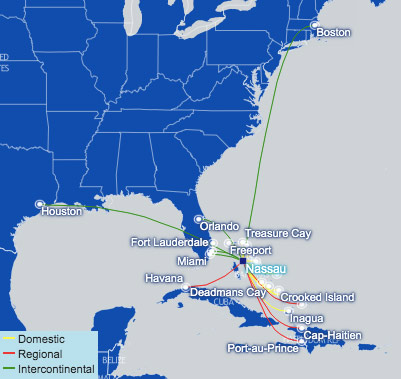 ---
Baggage Allowance
Carry-on Baggage
Bahamasair allow one personal item, for example, a handbag or camera case, alongside a carry-on bag. The two items combined must not exceed 55cm x 35cm x 22cm (22 x 14 x 9 inches), and 9kg (20 lbs) in weight. These two items apply for both international and domestic flights.
Prohibited items must not be stored in the carry-on baggage. All carry-on items are subjected to airport security checks including any fluid exceeding 100mls.
Checked Baggage
Bahamas Air allow passengers one checked bag free of charge. This must be 157cm (62 inches) or less, when combining the length, width and height dimensions. It can not exceed 32kg (50 lbs) in weight. Any additional bags to the one free bag is charged at a fee.
If you wish to add excess baggage to your booking, you can add it when you book with Alternative Airlines. Adding excess baggage online is usually cheaper than buying it at the airport.
---
Economy Class
Economy Class is Bahamasair's only cabin class.
Economy Class Facilities
The airline offers a warm and friendly service, carried out by the airline's professionally trained cabin crew.
The airline doesn't offer in-flight entertainment, but there may be a magazine to read onboard.
Economy Class Seats
Seats are set out in either a 2 x 2 or 3 x 3 configuration, with plenty of legroom and space for each passenger.
---
WiFi
Unfortunately, Wifi service is not available on Bahamasair flights.
---
Check-In Information
Online Check-In
Bahamasair offer online check-in for their flights. To complete online check-in, you'd need your travel information and passenger details.
You're advised to check-in online before arriving at the airport as it saves time queuing at the airport. Once online check-in is completed, you'd obtain your boarding pass for boarding and security.
Airport Check-in
If you wish to check-in at the airport for your flight, youo must do so at least two hours before the scheduled departure time. This applies to both domestic and international flights.
If you're late for airport check-in, the airline reserves the right to refuse you to board. Please check-in before the scheduled check-in time.
At Alternative Airlines, we advise you to arrive 2 hours before for domestic flights and 3 hours before the scheduled departure time for international flights. You should always report directly to the airline check-in counters. The designated check-in area is located on the departure information board.
---
Frequent Flyer Program
The airline operates a frequent flyer program called Bahamasair Flyer to reward regular passengers.
---
Fleet
The Bahamasair fleet includes three ATR 42-600, two ATR 72-600, two Boeing 737-500, and one Boeing 737-700 aircraft.
---
Hub Airport
Lynden Pindling International Airport
Lynden Pindling International Airport (NAS) is the biggest airport in the Bahamas and is located near the capital of Nassau. It was originally known as Nassau International Airport, but changed its name to its current state in 2006. In 2014, it handled over 3 million passengers, and it has two serving runways.
Lynden Pindling International Airport (NAS) offers a selection of duty-free stores and a range of restaurants that feature local flavours. The airport also has a place where you can sit back and relax whilst you wait to be called for your gate. Enjoy free WIFI, watch TV or catch the last few rays of the Bahamian sun on the outdoor patios.
Lyden Pindling International Airport is a hub for BahamasAir as well as Western Air and Pineapple Air. Other airlines that fly to the airport include American Airlines, Delta, Cubana de Aviacion, JetBlue Airways, Copa Airlines and Silver Airways.
---
Special Assistance
Wheelchair Assistance
If you or any other passenger in your booking requires a wheelchair or other special assistance please contact Alternative Airlines. We'll contact the airline and make them aware that you will require wheelchair assistance. You can also request wheelchair assistance at the airport on the day of your flight.
Bahamasair makes sure that all its passengers are as comfortable as possible - the airline blocks a limited number of seats on each airport to accommodate customers who identify themselves as having a disability.
---
Alternative Airlines to Bahamasair
---
News
7th June 2018
Bahamasair and Silver Air pushed to the limits!
Bahamasair was recorded performing an "evasive manoeuvre" when it realised that there was a Silver Airways plane during a flight on Tuesday afternoon. There was never any huge risk involved. Passengers were aware of their proximity to another plane but the crew professionally reassured them that there was no cause for alarm. Apparently, this issue came about due to mixed coordinates. Air Traffic Control was made aware of the situation and reduced the aircraft's climb rate so the airline and Silver Air could pass by each other like planes in the night.
16th January 2018
Bahamasair chairman: 'We'll be the best we can be'
The carrier's chairman stressed that the national flag carrier is fully on board with delivering a quality service, saying: "We want this airline to be the best it can be". Efforts are been made to extensively control costs and manage the performance of its domestic routes. The airline has been getting a $14 million subvention on average from the government.
"In 2016, the airline got a $120 million loan which has to be repaid. We know that, and so we know what we have to do and, right now, we are doing the best that we can.We're trying our best to turn things around. I'm not going to make any declarations but I know that we are doing all that we can." Mr Turnquest said the airline remains important to growing the country's tourism product. "We recently launched our service to Houston, Texas, and we are excited about that service as well as the other international routes that we service, which allows for greater connectivity in bringing visitors to our shores,".