Sunrise Airways Reservations with Alternative Airlines
Make a Booking and Find Some Amazing Deals
---
About
Sunrise Airways is an airline based in Haiti which provides scheduled passenger and charter flights. From its hub in Port-au-Prince, Sunrise Airways operates daily scheduled passenger flights serving several destinations across the Caribbean islands, including to destinations within Cuba, Dominican Republic, Turks and Caicos Islands and others. Overall, the airline flies to nearly 10 destinations.
The airline launched flights in 2011, originally flying only charter flights. During the same year that it launched, it began flying scheduled flights, with its first flight between Port-au-Prince and Jacmel. To start with, the airline flew only domestic flights within Haiti. However, as it grew, it launched international flights to other Caribbean islands, starting with Cuba and flying to other popular destinations such as the Dominican Republic.
Today, the airline is the only airline from Haiti and the top choice for flying in and out of the island, as well as domestic flights between destinations within the island. Sunrise Airways expects to add more destinations to its route network in the future. Although nothing is confirmed, in the past, it's shown interest in connecting Haiti with destinations in Jamaica, the Bahamas and Guyana.
Find out more about booking domestic flights within Haiti.
---
Destinations
Sunrise Airways flies to many destinations, including Port au Prince, Cap-Haïtien, Havana, Santo Domingo, Camagüey, Willemstad and more.
International Destinations
| AIRPORT | CITY AND COUNTRY |
| --- | --- |
| Ignacio Agramonte International Airport (CMW) | Camagüey, Cuba |
| Jose Marti International Airport (HAV) | Havana, Cuba |
| Frank País Airport (HOG) | Holguín, Cuba |
| Antonio Maceo Airport (SCU) | Santiago de Cuba, Cuba |
| Hato International Airport (CUR) | Willemstad, Curacao |
| Las Americas International Airport (SDQ) (HUB) | Santo Domingo, Dominican Republic |
| La Isabela International Airport (JBQ) | Santo Domingo, Dominican Republic |
Domestic Destination
| AIRPORT | CITY AND COUNTRY |
| --- | --- |
| Hugo Chávez International Airport (CAP) | Cap-Haïtien, Haiti |
| Toussaint Louverture International Airport (PAP) (HUB) | Port-au-Prince, Haiti |
---
Route Map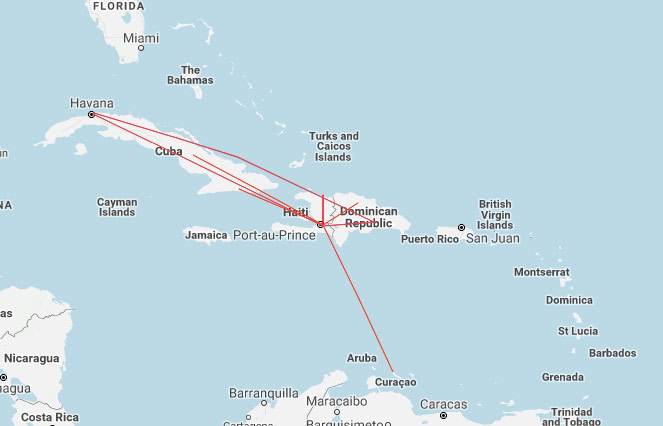 ---
Baggage
Carry-on Baggage
Passengers on Sunrise Airways flights are given a free carry-on baggage allowance of 7kg per person. This is strictly one bag per person, with the maximum overall dimensions of 127 cm (50"). In addition to this, Sunrise Airways allows passengers to take a maximum of three personal items with them on the flight, which must fit either in the overhead baggage compartment or under the seat on the aircraft.
Checked Baggage
Passengers on Sunrise Airways flights are given a free checked baggage allowance of 23kg. On routes to Cuba, passengers are given an extra 7kg of free baggage allowance (30kg overall).
In addition to this, passengers can also purchase up to three pieces of additional baggage on any Sunrise Airways flight.
All checked baggage must fit within the overall dimensions of 157 cm (62").
---
Economy Class
Sunrise Airways flies with an Economy Class cabin only. The cabin offers a simple service with a cabin crew on board, which is perfect for short flights around the cabin. There are two different fares that Sunrise Airways offer in Economy — Sun Plus and Sun Flex. Each fare has a different level of flexibility when it comes to cancelling or changing the flight.
Seats
The seats in the economy class are comfortable with a good amount of legroom. In total economy class has between 140–180 seats, set out in a 3 x 3 formation.
---
In-Flight Entertainment & WIFI
Sunrise Airways doesn't have an in-flight entertainment system installed on its flight. For entertainment, passengers are given a copy of the airline's in-flight magazine to read throughout the flight.
There's no WIFI on any of its flights.
---
Food and Drink
The airline offers a small food and drink service in-flight, with light snacks and beverages available to order.
If passengers wish to bring their own food and drink onboard, they must make sure that it's permitted to pass through airport security.
---
Check-In Information
Online Check-In
Passengers can check-in for their Sunrise Airways flight on the Sunrise Airways online check-in page by entering their booking reference and completing the instructions on screen.
Please note: online check-in is only available on select flights.
Airport Check-In
If passengers don't have access to online check-in, they can check-in at the airport by visiting one of the Sunrise Airways check-in counters. Airport check-in closes 40 minutes before scheduled flight departure time on international flights and 15 minutes before scheduled flight departure time on domestic flights. However, Sunrise Airways recommend that passengers arrive at the airport least two hours before departure time for international flights and at least one hour before departure for domestic flights, in order to allow for check-in, baggage drop and security check.
---
Frequent Flyer
Sun Airpass
Sun Airways doesn't have a traditional frequent flyer program where passengers can earn points/miles to spend on future flights.
However, it does offers the Sun Airpass. The Sun Airpass is a booklet of 30 coupons which can be used to pay for flights in the future. Passengers purchase their booklet for an upfront cost and can use their coupons at any time. Coupons aren't linked to a single passenger, so a group of friends, company or family can all use coupons from the same booklet.
One-way flights on Sunrise Airways cost 1–3 coupons and round-trip flights cost 2–5 coupons, depending on the route. The number of coupons that each flight costs are at a fixed rate.
---
Airline Alliance
Sunrise Airways doesn't currently participate in an airline alliance.
---
Fleet
Sunrise Airways fleet is made up of Boeing and Airbus aircraft. Within its fleet, it has Airbus A320-200 and Boeing 737-300 planes.
---
Hub Airport
Toussaint Louverture International Airport
Toussaint Louverture International Airport (PAP) is an international airport. It's the busiest airport in Haiti and the hub airport for Sunrise Airways. Sunrise Airways has used the airport as its hub since it launched flights in 2011.
Other than flights throughout the Caribbean with Sunrise Air, the airport has flights to destinations in North America, Cuba, Dominican Republic and many more. Airlines that use Toussaint Louverture International Airport (PAP) include Air France, American Airlines, Copa Airlines, Delta Airlines, JetBlue, Spirit Airlines, Sunrise Airways.
---
Special Services
Sunrise Airways offers wheelchair assistance, extra space on the aircraft and other kinds of individual assistance. Passengers that have booked their Sunrise Airways flight with Alternative Airlines can arrange special assistance by contacting our Customer Service team.
---
Alternative Airlines to Sunrise Airways