Airlines will always try to sit children with their parents (subject to check-in)
Some airlines will allow travel for unaccompanied minors. Please email us to check.
The fare is based on the child's age on the date of travel.
More detailed information can be found here Traveling with children
Most airlines will let infants travel with their parent(s) for free. However some airlines will charge up to 10% of the adult ticket price. Click on 'Price Breakdown' to find out more.
If you are pregnant, but due before the flight departure date, please contact us once your baby is born and has a name. We can then add him/her to your ticket.
Infants will not be given a seat. The airlines expect parents to travel with them on their lap.
Airlines regard infants as being under 24 months old.
The fare is based on the child's age on the date of travel.
More detailed information can be found here Traveling with children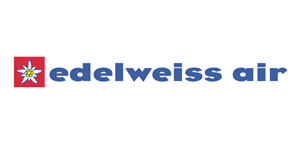 Search & Book Flights

With Edelweiss Air
Cancellation Protection
Protects
Trusted Choice
Rated 4.5 Stars. Based on 3,581 service ratings over the past year
Dedicated customer service team on hand to help
Secure payments
Cancellation Protection
Protects
Trusted Choice
Rated 4.5 Stars. Based on 3,581 service ratings over the past year
Dedicated customer service team on hand to help
Secure payments
Buy
Edelweiss Air

Flights
Edelweiss Air Reservations with Alternative Airlines
Make an Edelweiss Air Booking and Find Some Amazing Deals
---
About Edelweiss Air
Edelweiss Air is a Swiss leisure airline which is entirely owned by Swiss International Airlines and the Lufthansa Group and is based at Zurich Airport. Edelweiss Air flies to over 40 destinations in 28 countries. Edelweiss Air operates to many destinations including Anatalya, Arrecife, Cagliari, Cape Town, Catania, Corfu, Dalaman, Edinburgh, Far, Fuerteventura, Funchal, Havana, Ibiza, Kos, Larnaca, Las Palmas, Palma de Mallorca, Punta Cana, Pristina, Sharm el-Sheikh, Skopje. Tampa, Tenerife. One of Edelweiss Airlines most popular services is from Tampa to Zurich. Use the search bar above to find the best airfares for Edelweiss Air and our alternative airlines. The airline has recently announced new routes between Zurich and Ohrid as well as Tirana in Albania which will begin in April 2019 in time for summer.
Edelweiss Air has different ticket classes that you can purchase; Business Class, Economy Max and Economy Class. Edelweiss Air Business Class is a premium experience, from extra comforts and delightful Swiss cuisine, Edelweiss Air will relax in style on their flight. Passengers travelling on Edelweiss Air Economy Class enjoy entertainment in comfort, with tasty home-cooked food.
---
Carry-on Baggage
Passengers flying in Economy Class on Edelweiss Air flights are entitled to one item of carry-on baggage with a maximum weight 8kg. Passengers flying in Business Class on Edelweiss Air flights are entitled to two items of carry-on baggage with a maximum weight of 8kg.
Checked Baggage
Passengers flying in Economy Class on Edelweiss Air flights are entitled to one item of checked baggage which can't weigh more than 23kg. Passengers flying in Business Class on Edelweiss Air flights are entitled to two items of checked which can't weigh more than 32kg per piece.
---
---
Zurich

Bodrum
Funchal

Zurich
Zurich

Phuket
Gran Canaria

Zurich
Larnaca

Zurich
Rhodes

Zurich
Zurich

Ohrid
---
Airbus A330-200 and Airbus A330-300 aicraft.
---
Edelweiss Air Hub Airport
Zurich Airport
Zurich Airport is the largest airport in Switzerland and is the main hub of Swiss International Airlines and Helvetic Airways. Other airlines which fly to and from Zurich Airport include Edelweiss Air, Germania Flug, Swiss Global Airlines, Austrian Airways, British Airways, Corendon Airlines, Croatia Airlines, American Airlines and many others. The airport has three runways and can handle nearly 30 million passengers every year.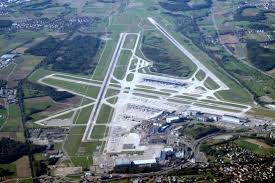 ---
Alternative Airlines to Edelweiss Air
Take a look at these airlines that have similar prices and flight routes to Edelweiss Air, just use the search bar above to compare prices.
---
Edelweiss Air Destinations
Tirana,
Albania
Buenos Aires,
Argentina
Rio de Janeiro,
Brazil
Varna,
Bulgaria
Calgary,
Canada
Vancouver,
Canada
San José,
Costa Rica
Dubrovnik,
Croatia
Pula,
Croatia
Split,
Croatia
Havana,
Cuba
Varadero,
Cuba
Larnaca,
Cyprus
Paphos,
Cyprus
Punta Cana,
Dominican Republic
Hurghada,
Egypt
Sharm El Sheikh,
Egypt
Kittilä,
Finland
Rovaniemi,
Finland
Corfu,
Greece
Chania,
Greece
Heraklion,
Greece
Kalamata,
Greece
Kos,
Greece
Mykonos,
Greece
Paphos,
Greece
Rhodes,
Greece
Samos,
Greece
Santorini,
Greece
Zakynthos,
Greece
Reykjavik,
Iceland
Cagliari,
Italy
Catania,
Italy
Lamezia Terme,
Italy
Olbia,
Italy
Pristina,
Kosovo
Malé,
Maldives
Port Louis,
Mauritius
Cancún,
Mexico
Marrakesh,
Morocco
Tromsø,
Norway
Faro,
Portugal
Funchal,
Portugal
Skopje,
Macedonia
Cape Town,
South Africa
Mahé,
Seychelles
Arrecife,
Spain
Fuerteventura,
Spain
Jerez de la Frontera,
Spain
Ibiza,
Spain
Las Palmas,
Spain
La Palma,
Spain
Palma de Mallorca,
Spain
Seville,
Spain
Tenerife,
Spain
Colombo,
Sri Lanka
Zürich,
Switzerland
Phuket,
Thailand
Djerba,
Tunisia
Antalya,
Turkey
Bodrum,
Turkey
Dalaman,
Turkey
Edinburgh,
United Kingdom
Inverness,
United Kingdom
Denver,
United States
Las Vegas,
United States
San Diego,
United States
Orlando,
United States
Tampa,
United States
Ho Chi Minh City,
Vietnam
---
Economy Class
Edelweiss provide their passengers with a comfortable and enjoyable economy class. Passengers can enjoy their personal touchscreen TV in HD, where over 190 TV shows, 90 films, and over 100 CDs, podcasts and audiobooks available. Children's films and games are also available to help keep the children entertained.
Economy Class Facilities
Economy class also includes one piece of checked luggage, and one piece of hand luggage included in the price of the ticket. Passengers can also enjoy a cold or hot meal in economy class, depending on the duration of your flight. Served with the meal will be complimentary water, hot and soft drinks.
Economy Class Seats
Economy seats are fitted with features to enhance your comfort experience, such as an adjustable headrest and foot rest which helps prevent thrombosis through improved blood circulation (read more about wellness on flights here, which includes more ways to help prevent DVT.
---
Premium Economy Class
Edelweiss Air's Premium Economy is called Economy Max, and is a premium version of all the economy class, with increase comforts and facilities. Economy max passengers will also have priority boarding and exiting the plane, due to the area of economy max being located at the front of the plane, close to the entrance and exit.
Premium Economy Class Facilities
Passengers can enjoy the wide range of entertainment from their 9inch HD personal TV screen, or charge their personal items with its own USB power port. In addition to the food and complimentary drinks mentioned above for economy class, economy max passengers will also have complimentary alcoholic beverages included in their ticket.
Premium Economy Class Seats
Economy Max seat pitches are 15cm larger, with 5cm more space for seat recline. The economy max seats are also in a secluded area of the plane, meaning you get a quieter and more private experience.
---
Business Class
Edelweiss' Business Class provides passengers everything they need to relax and get into the holiday mode.
Business Class Facilities
Passengers can also enjoy quick check-in, with a check-in desk dedicated to Business passengers to ensure they are checked in quickly. When flying from select airports, passengers can also have access to airport lounges as a premium guest. Business class passengers also get more baggage allowance; 2 x 32kg checked bags, and 2 x 8kg hand bags per person.
What are the Business Class Seats Like?
Business Class passengers enjoy maximum comfort onboard, with seats that convert into a two metre full-flat bed. Cushions can also be personalised to change the firmness, based on your personal preferences. There is more than 112cm of legroom on business class seats.
---
First Class
Edelweiss do not currently offer first class services on their flights. For a more premium service, fly in Business Class, where details of this class can be found above.
---