Search & Buy Air Berlin Flights
Airlines will always try to sit children with their parents (subject to check-in)
Some airlines will allow travel for unaccompanied minors. Please email us to check.
The fare is based on the child's age on the date of travel.
More detailed information can be found here Traveling with children
Most airlines will let infants travel with their parent(s) for free. However some airlines will charge up to 10% of the adult ticket price. Click on 'Price Breakdown' to find out more.
If you are pregnant, but due before the flight departure date, please contact us once your baby is born and has a name. We can then add him/her to your ticket.
Infants will not be given a seat. The airlines expect parents to travel with them on their lap.
Airlines regard infants as being under 24 months old.
The fare is based on the child's age on the date of travel.
More detailed information can be found here Traveling with children

Buy
Air Berlin

Flights
Air Berlin Flight Reservations with Alternative Airlines
---
Unfortunately, Air Berlin ceased operations in 2017.
Please can we suggest exploring these alternative airlines below by clicking their logos. Additionally, we suggest using our search feature at the top of the page to find flights.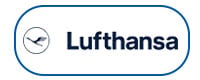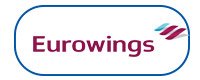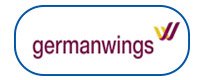 ---
About Air Berlin
Air Berlin, also branded as airberlin, was Germany's second largest airline, after Lufthansa, and Europe's eighth largest airline in terms of passengers carried. Originally Air Berlin USA, Air Berlin was started as an American airline in 1978 as a subsidiary of an agricultural airline, Lelco. It was taken over by a German businessman in 1991 and became a German-registered company. The airline maintains hubs at Berlin Tegel Airport and Düsseldorf Airport. It operated a route network that includes a total of 17 German cities, some European metropolitan and several leisure destinations in Southern Europe and North Africa, as well as intercontinental services to destinations in the Caribbean and the Americas.
Air Berlin is a member of the Oneworld alliance and has strong relationships with Etihad Airways and Oneworld alliance partners. Air Berlin offers 147 destinations worldwide and is the choice for 30.2 million travellers. Air Berlin flies to many destinations including Hurghada, Marsa Alam, Agadir, Marrakech, Mahe, Sydney, Singapore, Phuket, Berlin, Calvi, Nice, Paris, Dresden, Cologne, Dusseldorf, Frankfurt, Hamburg, Chania, Corfu, Heraklion, Samos, Hanover, Hamburg, Gdansk, Warsaw, Skopje, Faro, Funchal, Ponta Delgada, Terceira, Basel, Zurich, Gothenburg, Stockholm, Jersey, La Palma and many others. Unfortunately, Air Berlin stopped flying in 2017 after struggling with financial difficulties and eventually declaring insolvency. Its last flight was from Munich to Berlin in October 2017. Sadly, you can no longer fly with Air Berlin, however, please see below for airlines that fly similar routes to Air Berlin.
---
Air Berlin Fleet
In its final year of operation, 2017, Air Berlin's fleet contained 73 Airbus A320-200.
---
About Air Berlin and Oneworld Alliance
Air Berlin was part of Oneworld alliance, which was formed in 1999 with the goal of becoming the world's first-choice airline alliance for frequent international travelers. As of October 2017, Oneworld is the third-largest global alliance in terms of passengers with more than 527.9 million passengers carried, behind Star Alliance and SkyTeam. Since October 2017, its member airlines collectively operate a fleet of 3,447 aircraft, serve about 1,000 airports in more than 158 countries, carrying 527.9 million passengers per year on 12,738 daily departures, generating annual revenues of more than US$130 billion.
---
Air Berlin Frequent Flyer Program
Airberlin operated a frequent flyer program called topbonus to reward regular passengers with the airline. Award miles could also be collected for flights as well as with about 200 topbonus partners. When you flew, you also didn't just collect award miles for free flights but also status miles for many exclusive benefits. In addition to the entry-level "topbonus card classic", there were cards with Silver, Gold and Platinum status.
Air Berlin Frequent Flyer Partners
Air Berlin formed part of the Oneworld alliance. Passengers that accrued points with Air Berlin could use them with any of the other airlines that were part of the alliance.
---
Book Air Berlin Flights in English
Alternative Airlines allows for a stress-free and trustworthy flight booking service, giving you the option to book Air Berlin flights in English, use trustworthy payment methods such as PayPal, alongside the option of paying for your flights in the currency of your choice. Booking in Air Berlin flights in English with our reliable company will ensure swift, smooth and streamlined communications.
---
Air Berlin Baggage Allowance
Carry-on Baggage
The carry-on baggage allowance for Air Berlin customers was one piece of hand luggage with a maximum weight of 8kg.
Checked Baggage
Air Berlin entitled passengers to a number of bags for check-in depending on the fare booked. The baggage allowance for passengers in Economy Class was 23 kg or up to 32 kg in Business Class.
---
Air Berlin Check-In Information
Online Check-In
Air Berlin offered online check-in on its website. Air Berlin is no longer in operation, please see above for airlines that fly similar routes to Air Berlin.
Airport Check-In
Passengers flying with Air Berlin were able to check-in via the Air Berlin check-in desk at the airport. Air Berlin is no longer in operation, please see above for alternative airlines.
---
Air Berlin Deals and Discounts
Get great Air Berlin flight deals with Alternative Airlines' flight promo codes and PayPal vouchers! Air Berlin no longer operates, however, you can still find a range of flight promo codes with many German and European airlines.
---
Air Berlin Popular Routes
Berlin

Warsaw
Zurich

London
London

Beijing
Berlin

Moscow
London

Copenhagen
---
Air Berlin Route Map
Please see the Air Berlin route map below for some of the airline's most popular destinations: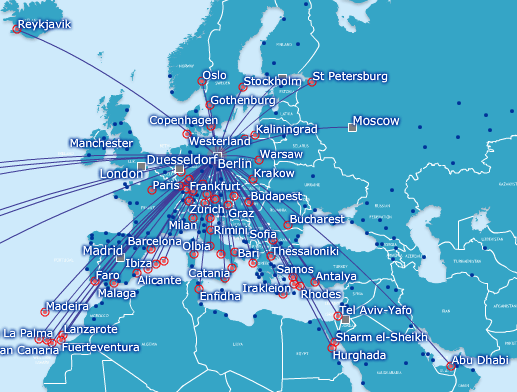 ---
Air Berlin Hub Airport
Berlin Tegel Airport
Air Berlin was based at Berlin Tegel Airport, which is the main international airport of Berlin. It is christened after Otto Lilienthal and is the fourth busiest airport in Germany with just over 20.7 million passengers in 2014. The airport also serves as a base for Germanwings. It features flights to several European metropolitan and leisure destinations as well as some intercontinental routes. Air Berlin also flew from Dusseldorf Airport which is a Hub for Eurowings and Germanwings. Other airlines that fly out of the airport include UTAir.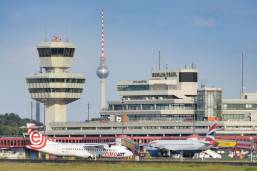 ---
Air Berlin News
28th September 2017
Air Berlin set to axe Alitalia wet-lease
As part of the ongoing rationalization of its operations, Air Berlin (AB, Berlin Tegel) will shortly discontinue a wet-lease agreement with fellow Etihad Airways equity partner Alitalia (AZ, Rome Fiumicino).

At present, the bankrupt Italian carrier operates two A320-200s - EI-DSX (msn 3643) and EI-DSZ (msn 3695) - for the bankrupt German carrier on flights from Berlin Tegel to each of Budapest, Gothenburg Landvetter, Milan Linate, Munich, and Rome Fiumicino. However, according to an Air Berlin communique, this partnership will cease from September 28 onwards when the aircraft are returned to Alitalia.

Under bankruptcy proceedings instituted in August of this year, Air Berlin has returned multiple aircraft to lessors amid concerns about its short-term financial buoyancy. As recently reported, Air Berlin's entire fleet of A330-200s will be returned to their respective owners through October 15 when it is scheduled to end all longhaul operations. Its last Dusseldorf-Los Angeles Int'l service will operate on September 25 followed by last flights from Dusseldorf to San Francisco, CA on October 14 and New York JFK, Miami Int'l and Fort Myers Southwest Florida on October 15.

Concerning its narrow body fleet, Lufthansa Group and easyJet (U2, London Luton) have been selected as preferred bidders and are currently in talks with Air Berlin's creditors' committee. The negotiations are expected to last through to October 12 by which time a decision is expected to be made.

Ahead of the deadline, the Lufthansa Supervisory Board, on Tuesday, September 26, gave its consent to the proposed acquisition of sixty-one Air Berlin aircraft for placement with its Eurowings (EW, Dusseldorf) low-cost unit.

Lufthansa said in a statement the aircraft being eyed include forty-one A320 family jets as well as the twenty Dash 8-400s currently in service with LGW - Luftfahrtgesellschaft Walter (HE, Dortmund).

"The acquisition of the aircraft is partly dependent on the successful conclusion of negotiations to acquire parts of the Air Berlin Group," it said. "The investments would be financed from existing liquid funds."

Lufthansa Group already wet-leases a total of thirty-seven aircraft from Air Berlin including five A320-200s in service for Austrian Airlines (OS, Vienna), and twenty-one A320-200s and eleven A319-100s in service for Eurowings.

For its part, Reuters reports easyJet's interest in Air Berlin concerns about 27-30 aircraft, presumably narrowbodies.
Source: ch-aviation
8th August 2017
Air Berlin announce co-operation agreement with jetBlue Airways
Air Berlin has announced it has signed a co-operation agreement with jetBlue Airways wherein the German carrier's customers will be able to connect to thirty-one jetBlue destinations across the United States from hubs at New York JFK, Orlando Int'l, and Chicago O'Hare initially.

According to a press release, the first connecting flights will run from September 12.

"We are delighted that we have a new, strong partner at our side with jetBlue, in the important growth market in the USA. This is only the beginning of our co-operation. Together, we are working to extend our partnership in the coming months," Götz Ahmelmann, Air Berlin's Chief Commercial Officer, said.

The two carriers expected to cooperate through their respective frequent flyer programs in the future. Air Berlin has been forced to find a new US partner after a similar partnership with Oneworld alliance partner American Airlines had been terminated by its former US partner effective March 2017.
Sourch: ch-aviation
27th June 2017
Air Berlin Reassuring Customers Deterred by Delays
Air Berlin sought to reassure customers that its operations were back on track on Friday, according to a Reuters report that noted ground handling problems, delays and negative headlines have affected the German carrier.
"We promise - Air Berlin and Niki are back at cruising altitude," the carrier's chief operating officer Goetz Ahmelmann wrote in an email sent to customers on Friday. Niki is Air Berlin's unit that operates flights to mainly tourist destinations.
Air Berlin, 29 percent-owned by Abu Dhabi based Etihad, last year made a record net loss of 782 million euros, according to Reuters. Its woes this year have been compounded by a switch to a new ground handling company at Berlin's Tegel airport at the end of March, which has resulted in delays and baggage problems.
31st May 2017
airberlin has added its new non-stop connection from Berlin-Tegel to San Francisco.
Flight AB7396 took off at 9:40 am. airberlin now offers four connections per week between the capital of Germany and the California metropolis, whose trademarks include the Golden Gate Bridge and the historic cable cars.
"Alongside Los Angeles and Orlando, San Francisco is the third of the three new routes to the United States we are launching this summer, completing our long-haul expansion strategy. We are the largest provider of long-haul flights in Berlin and Dusseldorf and continue to strengthen our position," said airberlin CEO Thomas Winkelmann.
All airberlin flights to the United States will be operated by long-haul A330-200 jets. Each of the aircraft is equipped with a Business Class that includes 19 FullFlat Seats. Business Class Passengers will enjoy exclusive service as well as a selection of premium food and drinks. airberlin also places great emphasis on maximum comfort in Economy Class as well. airberlin's passengers sitting in one of the 46 XL Seats benefit from 20 per cent more legroom and thus the largest seat pitch on transatlantic flights compared to other airlines.
13th March 2017
airberlin carried in February 2017 a total of 1,511,083 passengers on board its worldwide flights.
The number of revenue passenger kilometres (RPK) flown on the airline's flight route network amounted to 2,635 billion.airberlin's network capacity in February was 2,070 million seats with a total of 3,267 billion available seat kilometres (ASK). The February passenger load factor increased to 80.7 per cent from 76.6 per cent recorded in January 2017, thus remaining at a stable level for the season.
8th March 2017
Air Berlin improve Business Class on Airbus
Passengers with a Business Class ticket for an airberlin long-haul flight can celebrate: the first Airbus A330-200 with a further improved Business Class will take off in April. The comfortable FullFlat seats that recline to a 180-cm sleeping surface will be successively replaced by a new model, which offers more storage space, thus providing passengers with greater travel comfort. The new Business Class also has a surprising colour palette: the seats are in an elegant black with leather accents. The carpet throughout the airberlin long-haul cabin will also be black. In combination with wood elements in the galley, even more emphasis will be placed on the premium character of the Business Class.