Cyprus Airways Tickets and Reservations with Alternative Airlines
Book Your Cyprus Airways Flight Tickets and Find Some Amazing Deals
---
About Cyprus Airways
Cyprus Airways is an active airline based at the Larnaca International Airport in Cyprus. The airline is called Charlie Airlines, but operates as Cyprus Airways.
The company's long term goal is to contribute to increasing tourism in Cyprus, while also broadening the horizon for local travellers.
History
Founded in 1947, Cyprus Airways was the flag carrier of Cyprus and operated from its main base at Larnaca International Airport. This was until the airline declared itself bankrupt in 2015.
In 2016, a new Cypriot airline, Charlie Airlines, bought the rights to use the trademark 'Cyprus Airlines' and now offers services under the Cyprus Airways name and brand.
---
Destinations
While the new Cyprus Airways continues to offer international flights, many of the destinations it flies to have changed. The airline used to fly to many European destinations, including Amsterdam, Athens, Beirut, Frankfurt, Heraklion, Larnaca, London, Moscow, Munich, Paris, Rhodes Tel Aviv, Tel Aviv, Thessaloniki and Zurich. Aegean Airlines still serve these destinations. For a list of current destinations, see below.
| CITY | AIRPORT | IATA |
| --- | --- | --- |
| Amsterdam | Amsterdam Airport Schiphol | AMS |
| Athens | Athens International Airport | ATH |
| Beirut | Beirut–Rafic Hariri International Airport | BEY |
| Frankfurt | Frankfurt Airport | FRA |
| Heraklion | Heraklion International Airport | HER |
| Larnaca | Larnaca International Airport | LCA |
| London | London Stansted Airport | STN |
| Moscow | Sheremetyevo International Airport | SVO |
| Munich | Munich Airport | MUC |
| Paris | Charles de Gaulle Airport | CDG |
| Sofia | Sofia Airport | SOF |
| Tel Aviv | Ben Gurion Airport | TLV |
| Thessaloniki | Thessaloniki International Airport | SKG |
| Zürich | Zurich Airport | ZRH |
---
Book Cyprus Airways Tickets with Alternative Airlines
You can now book your flight tickets on any Cyprus Airways flight with Alternative Airlines. Use our search bar at the top of the page to search for flights.
---
Baggage Allowance
Carry-on Baggage
Passengers on Cyprus Airways flights are allowed to bring one item of carry-on baggage per person which can't weigh more than 10kg in weight and can't be larger than 55 x 40 x 20 cm.
Checked Baggage Allowance - update for 2020
Economy Basic: For flights before 29 March 2020, Economy Basic passengers are entitled to 1 piece up 10 kg. For flights after 29 March 2020, checked baggage will not be included in the ticket price.
Economy Flex: 1 piece up to 23 kg
Checked baggage must not weigh more than 23kg in weight and must fit within the overall dimensions of 203 cm (L X W X H)
---
Check-In
Online Check-In
Passengers can check-in for their Cyprus Airways flight on the Cyprus Airways online check-in page. From here, passengers must enter their surname and booking ID or eTicket number. Cyprus Airways web check-in opens 30 hours before scheduled flight departure time and closes 50 minutes before.
Airport Check-In
Passengers can check-in for their Cyprus Airways flight by visiting the Cyprus Airways check-in desk at the departure airport with the relevant check-in documents.
---
Economy Class
There is one cabin: Economy Class. But within this class there are two fares: Economy Basic and Economy Flex. The on-board experience will be very similar, but the fare type will determine services and benefits such as baggage allowance and ticket refundability. You can find out more about fare upgrades by taking a look at our guide to fare families.
Entertainment
There is no onboard entertainment system. However, passengers can enjoy the in-flight magazine. WiFi is not available onboard flights.
Meals and Drinks
As a low-cost airline, food and drink are not complementary and will need to be purchased. The airline provides a range of affordable and popular snacks, with light meal options including warm sandwiches.
What are Economy Seats Like?
There are 144 economy class seats, configured in a 3-3 formation. Seats have padded armrests and headrests, with fold-down trays and storage under the seat and in the overhead compartments.
---
Route Map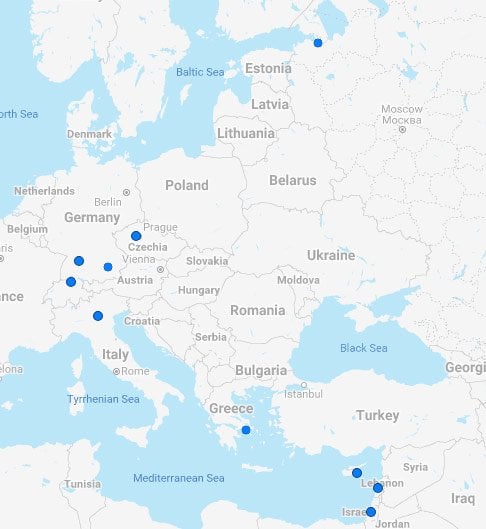 ---
Airline Alliance
Cyprus Airways is not part of an airline alliance.
Codeshare Partners
Although Cyprus Airlines isnt a member of an airline alliance, it does have codeshare agreements with the following airlines:
The airline also has an Interline Agreement with Sky Express
---
Frequent Flyer Program
Cyprus Airways does not have a frequent flyer program.
---
Fleet
The Cyprus Airways fleet includes two Airbus A319 aircraft, each with a seating capacity of 144 passengers.
---
Hub Airport
Larnaca International Airport
Larnaca International Airport is one of Cyprus' two commercial airports and the country's main gateway. It is located 4 km southwest of the city of Larnaca. Airlines that operate from this airport included the (now defunct) Cobalt Airways. There are a number of other international airlines that fly to the airport, including TUS Airways and Eurowings, Red Wings Airways, Emirates, Norwegian Air Shuttle, Tui Airways, and easyJet.
---
Alternative Airlines to Cyprus Airways
Other airlines that fly within Cyprus are Wizz Air, Turkish Airlines and Pegasus Airlines. Please click on the logos below to find out the airlines that fly similar routes: