What are fare families?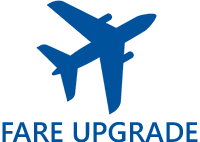 Fare families refer to a group of different travel options that are included within the price of your ticket when you purchase a flight. This can include options such as a larger baggage allowance, the ability to change the date of or refund your ticket, seat selection and more.
Traditionally, airlines used to have a single 'basic' fare that would usually include baggage, seats and other add-ons. Today, a lot of airlines 'unbundle' their fares, which means that baggage, seats and other add-ons are not included within the basic fare. Instead, the airline offers different tiers of fares, which are called fare families. The higher and more expensive tier of fare you choose, the more travel options are included within your ticket.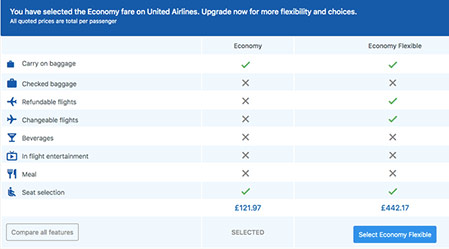 Different airlines have different names for the different types of fares that they offer.
For example, Virgin Atlantic name its different fares:
Economy Light
Economy Classic
Economy Delight
Whereas, United Airlines names its different fares:
Economy Main
Economy Flexible
Here's an example of the different travel options you might find when comparing two sets of fares in fare families: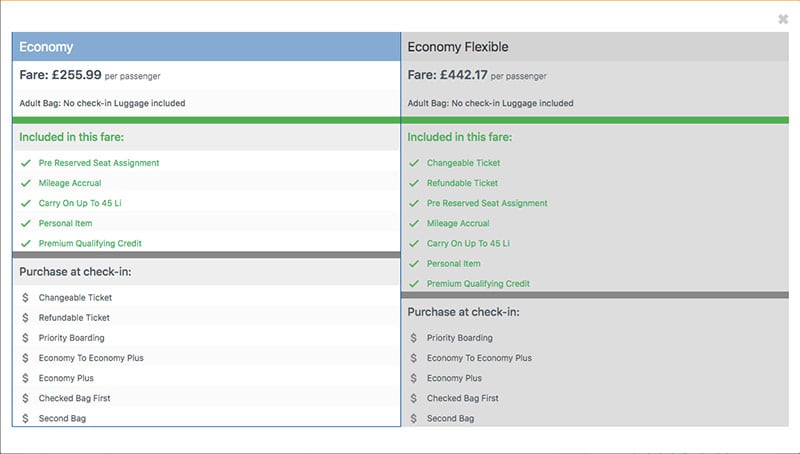 At Alternative Airlines, you can choose to upgrade your fare on many different airlines during the booking process.
How are fare families different to cabin classes?
Cabin classes, i.e Economy Class, Premium Economy, Business Class and First Class are different from fare families. Cabin class refers to the section of the plane that you're sitting in, whereas fare families refer to the different fares and travel options within those individual cabin classes.
For example, within Economy Class the airline might offer three different types of fares:
Economy Basic (the most basic fare)
Economy Standard (a few extras)
Economy Plus (a lot of extras)
Fare families almost always refer to the fares within Economy Class. This is because the premium cabin classes (such as Business and First Class) already include all the extra travel options that you'd get from the high-tier fares in fare families.