Rossiya Airlines Reservations with Alternative Airlines
Make a Booking and Find Some Amazing Deals
---
About
Rossiya Airlines is a passenger airline and is among the largest airlines of the Russian Federation. The airline is part of the Aeroflot Group and provides flights that are focussed on a high level of service, comfort, punctuality and safety. The airline has a wide route network of flights within Russia, as well as to international destinations within Europe and Asia.
Founded in 1934, Rossiya Airlines is one of the oldest airlines in Russia. One of its key goals is to develop and increase the transport accessibility and mobility of the population of Russia. The airline provides a convenient way to travel for all passengers, regardless of whether they're flying for business, leisure or otherwise. In 2016, an airline called Aeroflot-Don (previously JSC Donavia), which was also an Aeroflot subsidiary, was merged into Rossiya.
Rossiya Airlines' work is based on four key principles — a team of professionals who ensure passenger safety on all of its flights, constant reviewing and improvement of its service, the perfect balance of price and quality and maintaining a modern fleet.
The airline employees more than 7,000 staff and is a responsible employer. It has expertly trained, professional teams in several regions across Russia and connects the best practices and traditions of civil aviation to create a well-managed airline company.
According to JACDEC and Airline Ratings, Rossiya Airlines is the leader in flight safety within Russia.
On flights numbered SU6001-6999, the airline codeshares with Aeroflot. On flights numbered FV5501-5949, flights are flown by order of a tour operator.
Aside from scheduled passenger flights, the airline also flies regular charter flights for FC Zenit, HC SKA and other sporting teams.
---
Destinations
Rossiya Airlines flies to many destinations including Hurghada, Monastir, Almaty, Astana, Oskemen, Bishkek, Dushanbe, Khujand, Yerevan, Baku, Tel Aviv, Eilat, Karshi, Salzburg, Minsk, Split, Burgas, Vienna and many others.
---
Baggage
Baggage rules and regulations differ depending on your flight number. The free baggage allowance is based on a piece system and changes depending on which cabin class and fare type is purchased.
Carry-on Baggage
Passengers in Economy Class can carry 1 piece of carry-on baggage, up to 5 kg and no larger than 55 x 40 x 25 cm (21.5" x 15.7" x 9.8").
Passengers in Business class can carry 1 piece of carry-on baggage, up to 10 kg and no larger than 55 x 40 x 25 cm (21.5" x 15.7" x 9.8").
On top of their carry-on baggage allowance, passengers can carry one of the following items luggage allowance, without additional charge:
Small backpack or briefcase
A bouquet of flowers
Baby food to feed a baby during the flight
Medical equipment, such as crutches, canes, walkers, rollators, folding wheelchairs — this must be pre-agreed with the airline
A suit with a suit bag
Baby carrier (i.e stroller)
Medications or special dietary products that are required for the passenger during the flight
Duty-Free purchased, in a sealed bag that doesn't exceed 115 cm (sum of three dimensions)
Checked Baggage
The maximum dimensions for any 1 piece of baggage included within the free baggage allowance is no more than the overall sum of 203 cm (sum of three dimensions)
*A baggage weight system is used on flights numbered FV5501-5949 (flights ordered by a tour operator). This means that baggage allowance is based on weight rather than piece. The weight allowance is set by the tour operator that the flight has been booked with.
---
Frequent Flyer Program
Aeroflot Bonus
Rossiya Airlines is a member of Aeroflot Bonus frequent flyer programme. The frequent flyer programme allows passengers to earn miles and spend them on future tickets, as well buy the airline's partner services at a discount, and a range of other benefits.
Miles can be earned any time a passenger flies with Rossiya Airlines or one of the SkyTeam partner airlines. The Aeroflot Bonus frequent flyer programme is and the benefits gained from it is available on all Rossiya Airlines flights, excluding flights numbered FV 5501-5949.
---
Route Map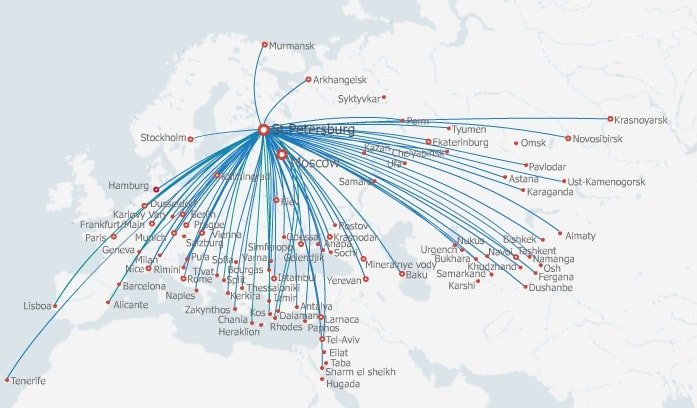 ---
Fleet
The Rossiya Airlines fleet is made up of the following planes:
SSJ 100
Airbus A319
Airbus A320
Boeing 737
Boeing 777
Boeing 747
---
Alternative Airlines to Rossiya Airlines
Please click on the logos below to find out more about airlines that fly similar routes to Rossiya Airlines:
---
Hub Airport
Pulkovo Airport
Pulkovo Airport is the international airport serving Saint Petersburg, Russia. The airport is the hub airport for Rossiya Airlines and Ural Airlines.
Many airlines which fly to and from this airport include Air Astana, Aegean Airlines, Aeroflot, Alitalia, Azur Air, China Southern Airlines, British Airways, Red Wings Airlines, Korean Air, Montenegro Airlines, Lufthansa, LOT Polish Airlines and previously Saratov Airlines before they ceased operations in 2018.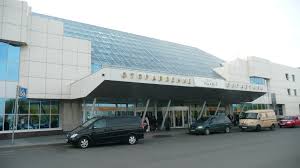 ---
FAQ's
What other airlines fly to similar destinations?
Other airlines that travel to similar destinations as to Rossiya Airlines include: JSC Donavia, Red Wings, Aeroflot and more.