Search & Book Aeroflot Flights
Let's fly!

Book
Aeroflot

Flights

Book Flights Direct with Aeroflot and Alternative Airlines
Make a Aeroflot reservation and find some amazing deals with discounted Aeroflot tickets at Alternative Airlines
---
Aeroflot is the flag carrier and national airline of Russia and operates from its hub airport at Sheremetyevo International Airport.
Aeroflot is one of the oldest airlines in the world with it's history dating back as far as 1923. Aeroflot was the Soviet national airline and largest airline in the world during the Soviet era.
Aeroflot flies to many destinations including Abu Dhabi, Antalya, Ankara, Baku, Bamako, Bangkok, Barcelona. Basel, Beijing, Beirut, Dubai, Frankfurt, Geneva, Goa, Hamburg, Kiev, Kishinev, Krakow, Moscow, Munich and many others.
Aeroflot has codeshare agreements with many airlines including Adria Airways, Aerolineas Argentinas, Air Baltic, Air Europa, Air France, Bulgaria Air, Garuda, Icelandic, Kenya Airways, Czech Airlines.
Aeroflot became the 10th airline to join the SkyTeam alliance back in 2006. The SkyTeam alliance is a highly efficient way for airlines to maintain and expand their route maps. As a SkyTeam alliance member, Aeroflot can offer more flights and destinations to their customers and a broader choice of services and privileges. Aeroflot also have a number of subsidiary airlines including Aurora, Donavia, Pobeda and Rossiya Airlines.
---
Baggage
Aeroflot offer a generous 23kg of baggage on low Economy tickets and 2 pieces of baggage.
Each piece of baggage must not weigh no more than 23kg, on all remaining fares including Business and Comfort class.
---
News
05th October 2017
Aeroflot resumes Delta domestic US codeshares from September 2017
Aeroflot Russian Airlines in late-September 2017 re-introduced domestic US codeshare service with Skyteam partner Delta Airlines, covering 28 domestic US routes. Previously reported on Airlineroute on 20SEP17, Delta also resumed codeshare service within Russia served by the Russian carrier.

Approximately from 25SEP17, planned domestic US codeshare routes as follow.

AEROFLOT operated by DELTA
Los Angeles – Austin
Los Angeles – San Jose CA
Miami – Orlando
New York JFK – Baltimore/Washington
New York JFK – Buffalo
New York JFK – Chicago O'Hare
New York JFK – Cleveland
New York JFK – Dallas/Ft. Worth
New York JFK – Denver
New York JFK – Indianapolis
New York JFK – Jacksonville FL
New York JFK – Las Vegas
New York JFK – Miami
New York JFK – New Orleans
New York JFK – Orlando
New York JFK – Philadelphia
New York JFK – Pittsburgh
New York JFK – Portland OR
New York JFK – Raleigh
New York JFK – Richmond
New York JFK – Rochester NY
New York JFK – San Diego
New York JFK – San Francisco
New York JFK – Savannah
New York JFK – Syracuse
New York JFK – Tampa
New York JFK – Washington Dulles
New York JFK – Washington Reagan
24th July 2017
Aeroflot has achieved a key strategic milestone and has once again occupied a spot among the world's top 20 leading airlines by passenger traffic, returning to this group for the first time in nearly thirty years. According to data compiled by Flight Airline Business, an authoritative aviation publication, Aeroflot Group in 2016 ranked 18th among global carriers in terms of passengers carried during the year. In addition, the Group was ranked 20th in the world in terms of traffic as measured by revenue passenger kilometres. These achievements mean that Aeroflot has delivered on one of the key strategic targets of its 2025 Strategy - to become one of the top-20 global airlines by passenger traffic - significantly ahead of schedule.
22nd June 2017
Aeroflot won the Best Airline in Eastern Europe at the Skytrax World Airline Awards, held at the Paris International Air Show at Le Bourget. The Russian flag carrier took the title for the sixth time overall and the fifth year in a row. Ratings are based on the world's largest passenger satisfaction survey, which was held from August 2016 to May 2017 with online voting in English, Spanish and Chinese.
Passengers from more than 100 countries took part, and almost 20 million questionnaires were submitted. The survey covered 320 airlines worldwide and evaluated almost 50 indicators across ground and airport services, on-board product and cabin service.
Aeroflot participated this year for the first time as a 4-Star Airline, having become the first Russian airline to gain this status from Skytrax in 2016. 4-Star Airline status places Aeroflot firmly among the global elite alongside carriers such as Lufthansa, Emirates, Air France-KLM and BA.
"Being named Best Airline in Eastern Europe for a sixth time is a great honour and recognition" said Vitaly Saveliev, CEO of Aeroflot. "All of our triumphs are due first and foremost to effective management and the hard work of all of our staff, who work as a single team united to achieve our goals. We keep the bar high, but we intend to raise it even higher. Our goal is to become the Best Airline in Europe, which will mean even more outstanding service for our passengers and a qualitatively new global status for Aeroflot".
In April 2017, Aeroflot announced that the Federal Air Transport Agency had granted Aeroflot route authorities to carry passengers, cargo and mail on scheduled flights from Moscow to Sydney and Auckland. December 2010. There are currently no direct flights from Russia to anywhere in Australia or New Zealand.
In March 2017, Aeroflot announced it may not take delivery of its fourteen A350-900s on order from Airbus. Last year, Aeroflot was able to extricate itself from an unwanted Dreamliner order by selling all purchase rights and obligations for twenty-two B787-8s to local Russian lessor, Avia Capital Services.
In March 2017, it was announced that Aeroflot had kept 32 of ex-Transaero international routes. Russia's largest carrier Aeroflot and its subsidiary Rossiya Airlines have reserved for another year their right to operate 32 international routes inherited from their defunct competitor Transaero, Russia's Federal Air Transport Agency announced in a statement. The carriers appealed to the national regulator to extend their right to operate the total of 34 routes. Their request was satisfied almost entirely. The only two requests that were turned down, are Istanbul and Nha Trang (Vietnam). Aeroflot will thus continue flying from Moscow to all of the 17 international destinations it's got in its current network - Aktau, Aktobe, Almaty, Astana, Atyrau, Karaganda and Chimkent in Kazakhstan, Alicante and Malaga in Spain, Venice, Milan and Rome in Italy, Lyon in France, Beijing in China, Phuket in Thailand, Tashkent in Uzbekistan and Tel Aviv in Israel.
In September 2016, Aeroflot launched a new on-board menu for business class passengers on flights to Asia. The new Asian menu includes dishes from Chinese, Japanese, Korean, Thai and Vietnamese national cuisine, and is offered on flights of more than six hours to Asia. Business Class passengers on these routes have the option to choose the Asian or standard menu. Passengers who opt for the Asian menus are also offered a snack, bread basket and dessert from the standard menu.
In August 2016, Aeroflot expanded fleet with two new Airbus A321s. The airliners are designed in a new enhanced two class composition with 16 seats in business and 167 in economy. All A321 aircraft family are delivered to Aeroflot directly from the manufacturing plant in Hamburg. Aeroflot operates А321 aircraft across its European and domestic routes network.
---
Route Map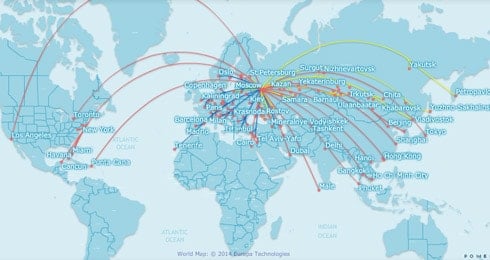 Popular Routes
Moscow

Venice
Frankfurt

Moscow
Moscow

Dusseldorf
Warsaw

Moscow
Prague

Moscow
Moscow

Bologna

---
The Fleet
Airbus A330-300
Airbus A330-200
Airbus A320-200
Airbus A321-200
Boeing 737-800
Boeing 777-300ER
---
Sheremetyevo International Airport
HUB Airport
Moscow's largest and busiest airport, Sheremetyevo International Airport sees an annual traffic of 30 million passengers every year. Transaero has this airport as one of its two main hubs. AK Bars Aero, Globus Airlines, RusLine, S7 Airlines, Ural Airlines, VIM Airlines and Yamal Airlines also have the airport as a hub.
Other airlines which fly to and from Moscow Sheremetyevo include Etihad Airways, Emirates, Air Malta, Air Moldova, Japan Airlines, Pegasus Airlines, Qatar Airways, Royal Jordanian, SriLankan Airlines, Singapore Airlines and many others.


SkyTeam Alliance is a leading global airline network, with 20 member airlines. SkyTeam alliance was founded in 2000 and now consists of member airlines such as Aerolineas Argentinas, AeroMexico, Air Europa, China Southern, Alitalia, China Airlines, Delta, Garuda Indonesia, Kenya Airways, KLM and others. SkyTeam Alliance network has nearly 16,323 daily flights, with 1,052 destinations in 177 countries.
---
---
Book Flights with Aeroflot
Make a Aeroflot reservation and find some amazing deals with discounted Aeroflot tickets at Alternative Airlines. Aeroflot flies to many destinations, offering a cost effective and safe service to all its passengers. Let Alternative Airlines help find you cheap Aeroflot tickets and make reservations on Aeroflot today.
Browse the most popular Aeroflot flight routes to destinations within the Russian regions. Alternative Airlines can help you make reservations on Aeroflot. Use the following list of routes to help you plan your next flight. Aeroflot flights on Alternative Airlines to save big! Alternative Airlines is an online travel agency, specialising in booking lesser known airlines and remote destinations.
Alternative Airlines is an Online Travel Agency bonded by the International Air Transport Association (IATA). We specialise in finding the best available fares on the widest range of airlines and making them available to you online, with prices in the currency of your choice.
Alternative Airlines handles all your travel arrangements and payments, complete with ticketed confirmation. We do not direct you to other websites or service providers.
We help you through the process. This is what makes us Alternative Airlines.
Browse for flights, find some amazing deals, make a reservation and pay in the currency of your choice today with Alternative Airlines.
Let Alternative Airlines help find you the best prices and make international and domestic flight reservations with us today.
Join the Alternative Airlines Members Club and get £100.00 back on your 5th booking with Alternative Airlines. You will have insight to many benefits and exclusive deals on over 650 airlines. Click on the Members section on the Alternative Airlines website for more information and join today.
We are open every day from 8am until 8pm (UK local time).
Flying to Russia ? why not try Aeroflot ? Aeroflot is the grandfather of Russian Aviation. It is the National carrier, the largest airline in the Russian Federation and whilst it is no longer wholly owned by the state, it is without doubt the most powerful airline in the country, politically, commercially and geographically. Based at Moscow's thriving hub airport, Sheremetyevo International, Aeroflot is an amazing mix of old Russian long term-ism and new Russian entrepreneurship. Passengers will either delight in the old fashioned charm and cabin service or despair at the in flight extra's which are provided free when compared to a low cot European carrier such as easyjet. Aeroflot was once the world's largest airline and despite many changes in shape, structure and regional airline structures it is still a giant. With a fleet of 100 aircraft serving nearly 50 countries worldwide and 100+ destinations, Aeroflot not only serves its growing home market but is also a perfect choice for passengers who use their home base in Sheremetyevo as a hub to get from West to East. Explore Russia with Aeroflot. At Alternative Airlines, we are always looking for ways to get our passengers to new destinations and finding new ways to get them to established destinations. Aeroflot's massive reach and frequent flights to most destinations make Aeroflot a good choice from both of these criteria. From cities across the vast Russian Federation to destinations like Tehran, Seoul, Hanoi, Bangkok and Phuket using Aeroflot's Moscow hub, Aeroflot provides a professional and cost effective alternative choice of airline for passengers in the know. Aeroflot is the perfect choice of airline for all those visiting Russia. Either as a first timer enjoying the unique sights of cosmopolitan Moscow and the legendary cultural delights of St Petersburg, or as a traveller to exotic regional cities such as Perm or Novo-Sibersk, Aeroflot is the airline with most flights, best connections and usually the most competitive prices. Moscow is the national capital and oozes charm.. but with a difference! From some of the most luxurious hotels in the world to the most recognisable tourist sites (Red Square must be on everyone's "see before you die" list) to the gloriously solid and concrete Soviet era apartment buildings, Moscow is dazzling in its diversity and scope. For example stop and marvel at the underground metro stations in the city centre. Finely detailed but huge, they reflect an era of confidence and public spending on a scale not seen in the west. St Petersburg, Russia's second city and easier on the eye for discerning tourists, is connected to moscow by a short one hour twenty minute Aeroflot flight. A two city visit gives you the chance to compare these two great cities and enjoy the Yin and Yang which characterises the Russian character. Beware St Petersburg is a Northern city, situated at almost 60 degrees north (on a par with Northern Alsaka) so from December to March expect snow in varying depths as during those months there are on average 123 days with snow cover. Of course, for more intrepid travellers there are many more exciting places to visit within reach of Aeroflot flights. Fishing enthusiasts rave about Murmansk in the far North; Naturalists visiting Kamkatcha will see sights they only dream of in less remote locations; and Vladivostock is the end of the line for Railway enthusiasts travelling the length of the world famous Siberian railway. Travel the world with Aeroflot. As well as its domestic network of flights, Aeroflot also flies to a number of significant destinations worldwide. Destinations in the Far East such as Seoul in South Korea, Hanoi in Vietnam and Bangkok have easy connecting services over Moscow with most of Aeroflot's European city services. Particularly good value is the indirect service from London Heathrow to Tehran via Moscow where Aeroflot's competitive fares make this exotic city attainable for both tourists and family visiting passengers alike. Aeroflot is a truly affordable option with all the advantages offered by a large international airline plus the extra standards of service and connectivity enjoyed by being a member of the prestigious SkyTeam alliance. Book a flight on Aeroflot with Alternative Airlines. With more tahn 25 years of experience, Alternative Airlines has become a specialist in arranging flights to the more unusual destinations around the world, plus we have strong relationships with airlines, such as AEroflot which may not be the first airline you think about when booking your flight across the world. If you are considering a trip to Russia, we can help plan your journey. Your reservations will be confirmed immediately and we have Russian speaking staff to help should you require assistance. To book a flight on Aeroflot merely use our new improved search tool to provide you with the best choice of flights for you journey. Please don't hesitate to call us if you need any information or clarification of any details plus sign up for our regular news letter to keep you intouch with all the latest developments in air travel
Aeroflot Announce New London Gatwick to St. Petersburg service
Aeroflot, Russia's National Carrier, has just announced a new direct service from London Gatwick to the historic city of St Petersburg.
Aeroflot grows as independent airlines are swallowed up
The Russian Government has announced a change in strategy involving a significantly enlarged Aeroflot  taking over six smaller Russian airlines.
Aeroflot ups frequency after KD avia failure
Aeroflot Airlines of Russia has announced a dramatic increase in the frequency of its services between its base at Moscow's Sheremetyevo Airport to Kaliningrad.
READ MORE ABOUT AEROFLOT
How to pay
You can pay for your flights with Aeroflot in the currency and payment method of your choice when booking through Alternative Airlines.
We accept PayPal making flight purchases with Aeroflot easy and more secure for customers. PayPal is one of the leading forms of online payment, with more than 169 million accounts worldwide.