Search & Buy Aeroflot Flights
Let's fly!

Select your payment method to view total prices including any payment fees:
Airlines will always try to sit children with their parents (subject to check-in)
Some airlines will allow travel for unaccompanied minors. Please email us to check.
The fare is based on the child's age on the date of travel.
More detailed information can be found here Traveling with children
Most airlines will let infants travel with their parent(s) for free. However some airlines will charge up to 10% of the adult ticket price. Click on 'Price Breakdown' to find out more.
If you are pregnant, but due before the flight departure date, please contact us once your baby is born and has a name. We can then add him/her to your ticket.
Infants will not be given a seat. The airlines expect parents to travel with them on their lap.
Airlines regard infants as being under 24 months old.
The fare is based on the child's age on the date of travel.
More detailed information can be found here Traveling with children

Buy
Aeroflot

Flights

Aeroflot Reservations with Alternative Airlines
Make an Aeroflot Booking and Find Some Amazing Deals
---
About Aeroflot
Aeroflot — Russian Airlines, regularly referred to as Aeroflot is the flag carrier and national airline of Russia and operates from its hub airport at Sheremetyevo International Airport.
Aeroflot is one of the oldest airlines in the world with its history dating back as far as 1923. Aeroflot was the Soviet national airline and largest airline in the world during the Soviet era.
Aeroflot — Russian Airlines flies to many destinations including Abu Dhabi, Antalya, Ankara, Baku, Bamako, Bangkok, Barcelona. Basel, Beijing, Beirut, Dubai, Frankfurt, Geneva, Goa, Hamburg, Kiev, Kishinev, Krakow, Moscow, Munich and many others.
Aeroflot has codeshare agreements with many airlines including Adria Airways, Aerolineas Argentinas, Air Baltic, Air Europa, Air France, Bulgaria Air, Garuda, Icelandic, Kenya Airways, Czech Airlines and previously Orenair before it merged into Rossiya.
Aeroflot became the 10th airline to join the SkyTeam alliance back in 2006. The SkyTeam alliance is a highly efficient way for airlines to maintain and expand their route maps. As a SkyTeam alliance member, Aeroflot can offer more flights and destinations to their customers and a broader choice of services and privileges. Aeroflot airlines also have a number of subsidiary airlines including Aurora, Donavia, Pobeda and Rossiya Airlines.
---
Aeroflot Economy Class
Economy class is the most basic fare class that Aeroflot offers
Economy Class Facilities
Aeroflot's Economy Class facilities has a lot to offer, with free baggage (depending on fare type), spacious seats and children are able to benefit from gifts that are handed from the flight attendants. Children aged 3 - 11 years will receive the Aeroflot gifts
Comfort items in Aeroflot's Economy Class include pillows, travel kits and individual blankets. Please note of the availability of these items as it is dependant on the duraiton of the flight journey. Blankets are available only on flight journeys 3 hours +, pillows are handed out only on flights 6 hours + and travel kits are available on flights 8 hours +.
Delicios meals are included in Economy Class, with a menu to choose from. You can also vegetarian meals or any special dietary requirements.
Entertainment is available o Panasonic multimedia features. These are available on Airbus A330 aircraft and music, audio books and the latest movies can be enjoyed. Computer games and cartoons are also available for children.
Internet access can be connected to for a small fee.
Economy Class Seating
Comfortable seating can be enjoyed in Aeroflot's Economy Class, with entertainment, travel kits and spacious leg room on long-haul flights. Short-haul flights don't have entertainment included however comfort is maximised to each passenger.
---
Aeroflot Business Class
Aeroflot passengers are treated to a number of Skypriority priveleges includig priority check-in, fast track security and passport control.
Aeroflot Business Class Facilities
At the Aeroflot lounge at Moscow airport passengers can enjoy refreshments as well as a buffet-style meal. Traditional Russian caviar is also available for purchase.
What are Aeroflot Business Class Seats Like?
Aeroflot passengers are able to sit back and relax in Aerospace Diamond seats. Each seat has a personal television built into the seat in front of them as well as foot space and storage racks. Passengers are provided with pillows, mattresses and sheets as well as complimentary headphones.
---
Aeroflot Baggage Allowance
Carry-on Baggage Allowances
Aeroflot carry-on bag allowances are as follows:
Passengers on Aeroflot are allowed to bring with them duty-free items, handbags, pocketbook, or purse. These items may not be used as a container to transport articles that would otherwise be regarded as baggage.
Economy and Comfort class passengers are permitted to bring one baggage piece up to a maximum weight of 10kg.
Business class passengers are permitted to bring one baggage piece up to a maximum weight of 15kg.
The maximum dimensions for a carry-on item for all classes is 40cm x 55cm x 25cm.
There are additional permitted items a passenger is allowed to bring in the cabin for free of charge, which include: a rucksack weighing no more than 5kg, a bouquet of flowers, a suit bag, a child carrying device, goods purchased at duty free, walking aids, outerwear, and baby food to be eaten on the flight.
Checked Baggage Allowance
Aeroflot's checked baggage allowance is dependant on the passenger's fare, and is free for the following classes, weights and dimensions:
Business Class: 2 baggage pieces, up to 32kg per piece
Comfort Class: 2 baggage pieces, up to 23kg per piece
Economy Class Flex: 2 baggage pieces, up to 23kg per piece
All other Economy Class fares: 1 baggage piece up to 23kg
---
Aeroflot Check-In Information
Online Check-In
Aeroflot ofoffersnline check-in for passengers, where you can select seats and print boarding passes. This service begins 24 hours prior to departure, and closes 45 minutes before departure.
For flights from Delhi, Dubai, Beijing, USA, Tel Aviv, Hanoi and Shanghai, the online check-in will close 1 hour prior to departure.
For more information about Aeroflot's online check-in and the link to complete online check-in for Aeroflot, follow this link.
Aeroflot also offer a mobile check-in service, wherein passengers can use the Aeroflot app for iOs, Android or Windows Phones. The same opening and closing times for online check-in apply to mobile check-in.
Airport Check-In
Aeroflot offer passengers airport check-in also. Generally, the airport check-in desk will close 40 minutes before departure but there are some locations where this may close earlier.
Passengers for Sheremetyevo F or E, the check in desk will open 2 hours before scheduled departure, closing 40 minutes before scheduled departure.
Passengers for Sheremetyevo B or D, the check in desk will open 6 hours before scheduled departure, closing 40 minutes before scheduled departure.
---
Book Aeroflot Flights in English
When choosing Aeroflot on Alternative Airlines, you can book your flights in English. This allows you to be assured that everything is dealt with in a smooth, secure and understandable way. We also offer peace of mind ensuring that passenger payments and details are protected.
---
Aeroflot Discounts
Buy any Aeroflot ticket with Alternative Airlines and get an Aeroflot discount flight ticket with our promo codes! There are many Aeroflot discount codes to use when you book with Alternative Airlines and pay with PayPal. All you need to do is select the Aeroflot you want from the results of flights that you search, use a PayPal discount code, pay and you have got yourself an Aeroflot discount ticket!
---
Aeroflot In-Flight Services
Aeroflot In-Flight Systems
WIFI
Aeroflot launched WiFi on board a number of their aircraft in 2012, which can be paid for on board with a credit or debit card.
Inflight magazines are also provided on every flight in the seat pocket in front of you.
---
Aeroflot In-flight Entertainment
In-flight entertainment is available for Aeroflot passengers traveling in A330 aircraft. Passenger's can enjoy Aeroflot's in-flight entertainment system on built-in monitors, ranging from nine inches for Economy Class passenger to 15.4 inches for Business Class passengers.
Aeroflot TV
Aeroflot in-flight entertainment provides passengers with TV shows, kids channels, news, sports and popular games.
Aeeroflot Movies
Aeroflot shows a range of different movies for people of every age and every taste.
---
Aeroflot Food
Aeroflot Meal Options
Economy Class passengers will be offered breakfast, lunch or snacks, depending on their destination, time and departure of the flight. Passengers can view the menu for their flight using by working their duration, destination and route online via the Aeroflot website. Economy passengers can also purchase meals from the a la Carte menu, when flying from Moscow to a selection of destinations. These a la Carte meals must be ordered and paid for at least 36 hours before flying.
Comfort class passengers enjoy food created by Aeromar, a leading Russian catering company. For flights of 6 hours and more, passengers will receive two meals during the service, which will be served on reusable plastic dishes or porcelain dishes with metal cutlery. Passengers can view the menu for their flight via the Aeroflot website, under onboard service.
Business class passengers can view their menu online from the Aeroflot website, with varying menus for long-haul or short and medium flights. The meal offered will depend on the time and duration of your flight.
Aeroflot Special Dietary Requirements
Passengers can order a special meal if they have dietary requirements. These are at no additional cost, but must be ordered at least 36 hours before flying. The following are the special meals that can be ordered on Aeroflot flights:
| | | | | | | |
| --- | --- | --- | --- | --- | --- | --- |
| | | | National Cuisine | | Russian Meal | |
| | | | Dietary Food | | Diabetic Meal | |
| | | | | | Non-Lactose Meal | |
| | | | | | Low Fat Meal | |
| | | | | | Gluten-Free Meal | |
| | | | | | Low Calorie Meal | |
| | | | | | Low Salt Meal | |
| | | | Religious Meals | | Muslim Meal | |
| | | | | | Halal Meal | |
| | | | | | Non-Vegetarian Hindu Meal | |
| | | | | | Kosher Meal | |
| | | | | | Lenten meal | |
| | | | Vegetarian Meals | | Vegan Meal | |
| | | | | | Vegetarian Hindu / Asian Vegetarian Meal | |
| | | | | | Fruit Platter Meal | |
| | | | Child Meals | | Child Meal | |
| | | | | | Baby Meal | |
Aeroflot Drinks & Alcohol
Passengers can enjoy a selection of hot and cold drinks, including alcoholic beverages. These are dependent on the flight duration and destination. Some classes will also receive a complimentary welcome drink as they board their flight.
---
Buy 2019 Rugby World Cup Tickets
Supporting Russia in the 2019 Rugby World Cup? Aeroflot are flying to both Chitose Airport (close to the Sapporo Dome) and Tokyo Narita Airport (close to Ajinomoto Stadium) during the Rugby World Cup!
---
Aeroflot Route Map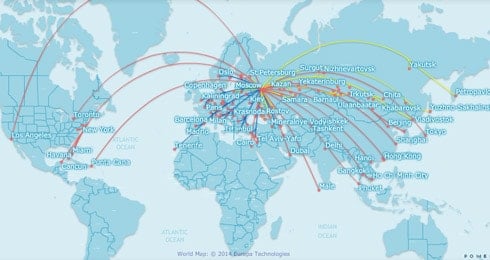 Aeroflot Popular Routes
Moscow

Venice
Frankfurt

Moscow
Moscow

Dusseldorf
Warsaw

Moscow
Prague

Moscow
Moscow

Bologna

---
The Fleet
Airbus A330-300
Airbus A330-200
Airbus A320-200
Airbus A321-200
Boeing 737-800
Boeing 777-300ER
---
Sheremetyevo International Airport - Hub Airport
Moscow's largest and busiest airport, Sheremetyevo International Airport sees an annual traffic of 30 million passengers every year. Transaero has this airport as one of its two main hubs. AK Bars Aero, Globus Airlines, RusLine, S7 Airlines, UT Air, Ural Airlines, VIM Airlines and Yamal Airlines also have the airport as a hub.
Other airlines which fly to and from Moscow Sheremetyevo include Etihad Airways, Emirates, Air Malta, Air Moldova, Japan Airlines, Pegasus Airlines, Qatar Airways, Royal Jordanian, SriLankan Airlines, Singapore Airlines and many others.


SkyTeam Alliance
SkyTeam Alliance is a leading global airline network, with 20 member airlines. SkyTeam alliance was founded in 2000 and now consists of member airlines such as Aerolineas Argentinas, AeroMexico, Air Europa, China Southern, Alitalia, China Airlines, Delta, Garuda Indonesia, Kenya Airways, KLM and others. SkyTeam Alliance network has nearly 16,323 daily flights, with 1,052 destinations in 177 countries.
---
Alternative Airlines to Aeroflot
Please click on the logos below to find out more about airlines that fly similar routes to Aeroflot:
---
Buy Discounted Aeroflot Tickets at Alternative Airlines
---
Aeroflot News
30th August 2018
Aeroflot announces launching of flights to Denpasar, Indonesia
Aeroflot have announced that with the Russian airline Rossiya Airlines, from 28th october 2018, will launch direct flights to Denpasar, which is the capital of Bali. This will be under a codeshare agreement. The flights will operate 3 x weekely on Boeing 777.
27th June 2018
Aeroflot look to secondary hubs
Aeroflot has announced its intention in coming up with a plan to base itself from additional airports within Russia. The airline already operates from its hub in Sheremetyevo International Airport, but according to CEO Vitaly Saveliev, Aeroflot believes that they can capitalise off of the popular demand of air travel within Russia with additional airport bases.
Saveliev did express that their focus will not entirely shift Sheremetyevo International, though. The Aeroflot CEO mentioned that there's still space to at the airport and they must make sure that other airlines don't fill that space instead of them.
19th June 2018
International Hi-Tech Brand Elari Launches 4G SmartWiFi Router on Aeroflot Airlines
Elari 4G SmartWifi portable router has been available for sale on board Aeroflot international flights since June 1, 2018. With so many visitors set to descend on Russia for the football World Cup, the Aeroflot SkyShop launch of this innovative device couldn't have been better timed. Delivering high-speed 4G internet access almost anywhere in the world, the Elari SmartWiFi is set to become the must-have travel companion for anyone who needs to get online when on the go.
Football fans travelling to Russia for the Championship are certain to appreciate the SmartWifi's functionality. When it comes to delivering high-speed internet access worldwide, it scores a perfect 'hat-trick':
Purchase the SmartWiFi on board, complete with international SIMTravel card included;
Connect it to mobile devices;
Enjoy access to the internet throughout the trip.
Elari SmartWiFi provides any mobile devices with high-speed, uninterrupted internet access. It can be simultaneously connected to a smartphone, tablet or laptop and couldn't be easier to setup. Purchase the router on any Aeroflot flight, then simply select an internet data plan and get online.
Elari SmartWiFi offers global connectivity, allowing consumers to stay in touch wherever their travels take them, and comes equipped with a 5200 mAh battery that provides up to 10 hours of battery life on 4G networks and up to 12 hours on 3G networks. It can also be used as an external battery for gadgets via the microUSB cable that's included with every SmartWiFi router.
The SmartWifi also doubles as a microSD card reader and WiFi file server for documents, photos and videos. Consumers can create photo and video diaries of the Championship and share access with their friends through WiFi or microUSB.
12th June 2018
Aeroflot and Aerolineas Argentinas Launch Joint Buenos Aires Flights
Aeroflot has launched joint flights between Moscow, Russia and Buenos Aires, Argentina as part of its code-share agreement with Aerolineas Argentinas.
Flights to Buenos Aires will operate daily, with a transfer in Madrid, Spain. Aeroflot is due to operate the leg between Moscow and Madrid on Airbus A320/A321 and Boeing B737 aircraft, while Aerolineas Argentinas is set to operate the Madrid -- Buenos Aires leg using Airbus A330 and A340 aircraft.
The airlines plan to continue working together and expand their joint route network by launching flights between Moscow and Buenos Aires with transfers in other European and US cities.
With the upcoming World Cup in Russia, the new joint flights offer new opportunities for both football fans and travellers looking to visit distant countries.
6th June 2018
Aeroflot joins forces with Aerolineas Argentinas
Aeroflot and Aerolineas Argentinas have joined together to operate flights between Moscow and Buenos Aires. This new codeshare agreement will see passengers be carried between the two famous capitals every day. Aeroflot will operate the leg between Moscow and Madrid and on Airbus A320/A321 and Boeing 737 aircraft and Aerolineas Argentinas will operate the Madrid-Buenos Aires sector using Airbus A330 and A340 wide-bodies. Both airlines are part of the SkyTeam alliance. The airlines plan to continue working together by expanding their joint route network in other European and American cities. This is great news for the football-loving cities in wake of the 2018 Fifa World Cup!
31st May 2018
Aeroflot see traffic rise
Aeroflot, one of Russia's largest airline groups, have reported positive traffic growth in April 2018.
The airline group which are made up of Aeroflot, Rossiya, Aurora, and Pobeda, carried a total of 4.2 million passengers, which is 8.8% more than they carried in the same period of last year. Aeroflot's domestic traffic grew marginally faster than its international traffic, with the former seeing a 9% rise and the latter seeing an 8.6% rise.
Aeroflot, the main carrier of the the Aeroflot group, carried more than half of the passengers itself. The airline carried 2.8 million passengers, which is a 7.5% increase in comparison to April 2017.
24th May 2018
Aeroflot Group Passenger Traffic Up 8.8 Percent in April
Aeroflot PJSC announced the operating results for Aeroflot Group and Aeroflot – Russian Airlines for April and the first quarter of this year.
In Q4 of this year, Aeroflot Group carried 15.2 million passengers, up 7.2 percent year-on-year. Aeroflot airline carried 10.2 million passengers, a year-on-year increase of six percent. Group and Company RPKs increased by 7.2 percent and 4.9 percent year-on-year, respectively. ASKs rose by 7.4 percent year-on-year for the Group and by 7.5 percent year-on-year for the Company. The passenger load factor decreased by 0.2 percent year-on-year to 79.1 percent for Aeroflot Group and by 2.0 percent to 77.2 percent for Aeroflot airline.
In April 2018, Aeroflot Group carried 4.2 million passengers, up 8.8 percent year-on-year. Aeroflot airline carried 2.8 million passengers, a year-on-year increase of 7.5 percent.
16th May 2018
Aeroflot subsidary launch new service between Khabarovsk and Nikolayevsk
Subsidary of Aeroflot, Aurora Airlines, will start a domestic service between Khabarovsk Novy Airport (KHV) and Nikolayevsk-on-Amur Airport (NLI) on 1st June 2018. The flight will be nonstop and will run once a day. The estimated flight time is two hours and the airline will use the DH3 aircraft to carry passengers.
Aeroflot formed Aurora Airlines in late 2013 when it merged SAT Airlines and Vladivostok Avia, by order of the Government of Russia at the time.
8th May 2018
Aeroflot Group's passenger numbers up by 6.6 per cent in 1Q 2018
In March 2018, Aeroflot Group collectively carried 3.9 million passengers (ATO.ru)
In the first three months of this year, Aeroflot Group (which consists of Aeroflot, Rossiya Airlines, low-cost carrier Pobeda Airlines and regional operator Aurora Airlines) carried 11 million passengers, up 6.6 per cent year-on-year.
In the period, Aeroflot, Russia's national airline, carried 7.4 million passengers, a year-on-year increase of 5.4 per cent.
Group and Aeroflot RPKs increased in the quarter by 6.7 and 4.6 per cent year-on-year respectively. The passenger load factor increased by 0.4 pp year-on-year, up to 78.5 per cent for Aeroflot Group and down by 1.2 pp year-on-year to 76.5 per cent for the individual airline.
In March 2018, the Group collectively carried 3.9 million passengers, up 7.6 per cent year-on-year. The airline itself carried 2.7 million passengers, a year-on-year increase of 6.5 per cent. Group and airline RPKs were up 7.5 per cent and 5.3 per cent year-on-year, respectively in the month.
On domestic routes, Group passengers carried and RPKs grew by 6.7 per cent and 7.7 per cent year-on-year, respectively. Aeroflot passengers carried and RPKs increased by 6.9 and 4.8 per cent year-on-year, respectively. The passenger load factor on domestic routes increased by 1.9 pp year-on-year to 80.3 per cent for Aeroflot Group, and decreased by 0.8 pp year-on-year to 79.6 per cent for the national airline.
In March 2018, the number of passengers carried on the Group's international routes increased by 8.8 per cent year-on-year. RPKs grew by 7.4 per cent, while capacity grew by 8.4 per cent. The number of passengers carried by Aeroflot on international routes increased by 6.1 per cent. RPKs grew by 5.6 per cent, ASKs by 7.4 per cent. The passenger load factor on international routes decreased by 0.7 pp year-on-year to 79.8 per cent for Aeroflot group and by 1.3 pp to 77.8 per cent for the airline.
According to the Group, the passenger load factor in the international segment decreased because of the affect of increased flight frequencies, primarily on European and US routes. In addition, the significant increase in the passenger load factor in March 2017 was driven by the appreciation of the ruble, a fact which created a high base factor, leading to a non-material normalisation of this indicator in the March 2018 reporting period.
Implementing its fleet modernisation and expansion strategy, the Group added seven aircraft in the period: three Airbus A320s, one Airbus A321, one Boeing 737-800, one Boeing 777-300 and one Sukhoi Superjet 100. At the same time, one Airbus A320 and two Airbus A321s were phased out. As of 31 March 2018, the Group's fleet consisted of 336 aircraft.
Aeroflot itself added five aircraft to the airline's fleet: three Airbus A320s, one Airbus A321 and one SSJ100, with one Airbus A320 and two Airbus A321s phased out. As of 31 March 2018, the flag carrier's fleet was made up of 232 aircraft.
3rd May 2018
'Highest global recognition': Aeroflot wins four awards at the airline Oscars
Russia's top carrier Aeroflot has been awarded four of six prizes on offer at the 2018 Freddies, the most high-profile awards for loyalty programs, which is focused on two key sectors of tourism – airlines and hotels.
Aeroflot Bonus, a loyalty program launched by the leading Russian airline, won in three categories: Best Elite Program, Best Customer Service and Best Redemption Ability. Aeroflot's frequent-flyer program also picked up the special 210 Award, which is presented to companies with the greatest growth potential.
The winners were decided by online voting in six categories across three broad regions: North and South America, Europe/Africa and Middle East/Asia/Oceania. Over 4.2 million people from more than 230 countries reportedly took part in the voting for the best loyalty programs.
The two remaining categories not claimed by Aeroflot in the Europe and Africa region were won by Norwegian Air. The ceremony was held on April 26 in Seattle.
The prestigious Freddie Awards, established in 1988 by leading industry magazine InsideFlyer, are recognized as the Oscars of the airline loyalty sector.
"The famous Freddie Awards statuette has become a symbol of the highest global recognition for an airline loyalty program that meets the requirements of the sophisticated modern passenger," Aeroflot said on its website.
The awards have acknowledged two of the key advantages of Aeroflot Bonus, including passengers' ability to use stashed miles for buying potential flights, and the high level of the company's service for the second consecutive year.
Last month, Aeroflot, one of the world's oldest airlines, was included on the list of the world's most popular airlines, based on a survey of 60,000 passenger reviews. The company was ranked in eighth position.
2nd May 2018
Aeroflot Again Named World's Strongest Airline Brand by Brand Finance
Aeroflot has once again been named the world's strongest airline brand by Brand Finance, the leading independent brand valuation consultancy.
The Russian flag carrier held onto its position at the top of this global ranking for the second year, and was also named as one of Russia's top brands in any sector.
Brand Finance measures the influence of aviation brands by a number of factors such as marketing investment, familiarity, loyalty, staff satisfaction, and corporate reputation. Aeroflot received the highest AAA rating. Aeroflot's brand strength score put it ahead of a number of other leading global carriers including American Airlines, Emirates, Turkish Airlines, British Airways, Air China and Singapore Airlines, which has been named best in the world in numerous ratings over the years.
Aeroflot's brand value also grew, increasing by 13% year-on-year to USD 1.429 billion.
"Aeroflot has held on to its position as the most familiar aviation brand in the world for the second year in a row," Aeroflot CEO Vitaly Savliev said. "Retaining our supremacy in the prestigious Brand Finance rating is a great honour and a singular achievement. It is also confirmation of an important fact - the strengthening of our global position is no mere chance, but rather the result of a true strategy and consistent ongoing execution. The development and strengthening of Aeroflot's brand involves a number of different dimensions, and we will continue to develop it both on the global and Russian aviation markets."
"Aeroflot has invested heavily in its young fleet, delivering a superior product and customer experience among increasing expectations," said David Haigh, CEO of Brand Finance. "This is complemented by marketing activities, particularly in Asia." Aeroflot's partnership with Manchester United - one of the world's most popular and successful football clubs - is also paying strong dividends to its brand reputation, David Haigh said.
3rd April 2018
Aeroflot amongst top 10 most popular airlines in the world
The major leading airline in Russia, Aeroflot, has been ranked among the world's most popular airlines, according to a survey published by eDreams. The survey was carried out from 60,000 passenger reviews and saw Aeroflot soaring above Air France and TAP Portugal to receive 8th position. The state-run carrier reportedly received high marks from foreign travelers based on four major characteristics: comfort, flight check-in, onboard service and prices for tickets.
13th March 2018
Aeroflot resumes regular Moscow-Cairo flights
Aeroflot will resume regular flights from Moscow to Cairo on April 11, the company has launched sales of tickets on Tuesday, March 13, the air carrier said. "Aeroflot will resume regular flights on the Moscow-Cairo-Moscow route from April 11, 2018. Flights will be carried out three times a week by Airbus A320 to/from Terminal S of the Sheremetyevo Airport. The tickets are on sale from March 13, 2018,"according to the statement. Flights will be carried out on Mondays, Wednesdays and Saturdays, the airline said.
From June 12 to July 2, the flights will become daily due to higher demand during the World Cup, Aeroflot noted. The service was suspended after a Russian A321 passenger jet owned by Russia's Kogalymavia air carrier (flight 9268) bound to St. Petersburg crashed on October 31, 2015 some 30 minutes after the takeoff from Egypt's Sharm el-Sheikh. The plane was carrying 217 passengers and seven crewmembers. The Russian Federal Security Service (FSB) believed the tragedy as a terrorist attack and ceased all Egyptian operations. For the resumption of flights Russia demanded that Egypt should step up security measures in the Cairo airport.
Russian President Vladimir Putin signed the decree on resumption of scheduled flights to Cairo on January 4, 2018. Settlement of technical matters, including slots booking and schedule preparation, continued in two subsequent months. Currently, Aeroflot is the only airline that plans to fly from Moscow to Cairo. From Egypt flights will be performed by Egypt Air.
5th October 2017
Aeroflot resumes Delta domestic US codeshares from September 2017
Aeroflot Russian Airlines in late-September 2017 re-introduced domestic US codeshare service with Skyteam partner Delta Airlines, covering 28 domestic US routes. Previously reported on Airlineroute on 20SEP17, Delta also resumed codeshare service within Russia served by the Russian carrier.
Approximately from 25SEP17, planned domestic US codeshare routes as follow./p>
AEROFLOT operated by DELTA
Los Angeles – Austin
Los Angeles – San Jose CA
Miami – Orlando
New York JFK – Baltimore/Washington
New York JFK – Buffalo
New York JFK – Chicago O'Hare
New York JFK – Cleveland
New York JFK – Dallas/Ft. Worth
New York JFK – Denver
New York JFK – Indianapolis
New York JFK – Jacksonville FL
New York JFK – Las Vegas
New York JFK – Miami
New York JFK – New Orleans
New York JFK – Orlando
New York JFK – Philadelphia
New York JFK – Pittsburgh
New York JFK – Portland OR
New York JFK – Raleigh
New York JFK – Richmond
New York JFK – Rochester NY
New York JFK – San Diego
New York JFK – San Francisco
New York JFK – Savannah
New York JFK – Syracuse
New York JFK – Tampa
New York JFK – Washington Dulles
New York JFK – Washington Reagan