About the
Airbus A321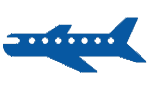 The Airbus A321 is a short- to medium-range, narrow-body (single aisle), commercial passenger twin-engine jet airliner. It was the first derivative of the Airbus A320 family and remains the best-selling aircraft of the family, providing passengers with the widest cabin than competitors -allowing it to offer wider seats for extra comfort.
The Airbus A321 entered service in 1994 with Lufthansa. As of August 2019, 1,959 Airbus A321 aircraft have been delivered, with 1,932 currently in service. The largest operators of the A321 are American Airlines, with 225 craft in their fleet, and China Southern Airlines, with125 A321 in their fleet.
The Airbus A321neo
In December 2010, Airbus announced a new generation of the A320 family: the A320neo. The A321 variant, the A321neo, has been designed and built to be more efficient - delivering fuel savings of up to 15%. The A321neo carries up to 236 passengers, with optimised cabin space and configurations.