Please be aware: we don't accept payments through Stripe or Klarna on flights departing from and/or arriving at destinations within Cuba, Iran, North Korea, Syria or the Crimea Region.
Red Wings Airlines Reservations with Alternative Airlines
Make a Red Wings Booking and Find Some Amazing Deals
---
About Red Wings Airlines
Red Wings Airlines is a Russian airline providing both scheduled passenger and cargo charter services. Red Wings Airlines is based in Vnukovo Airport in Moscow, Russia. The airline was founded in 1999 under the name VARZ-400, after the Russian acronym of the Vnukovo Avia Repair Factory. In 2001, the airline was renamed Airlines 400, before rebranding to its current name in 2007. In 2019, the airline has been granted the rights to manage a newly launched airline - Arktika Airline.
Red Wings Airlines has a codeshare agreement with another Russian airline, Nordavia. The codeshare agreement was created when the owner of Red Wings Airlines Sergey Kuznetsov purchased Nordavia. The original plan was to merge Red Wings Airlines and Nordavia into one airline that would operate each of the airlines' routes under a new brand name and identity. However, it was later decided that the merger would not go ahead as plan and Red Wings' Airlines would maintain its brand and identity and that a codeshare agreement was to be signed between the two airlines. In addition to this, Nordavia is set to rebrand as SmartAvia, although, this rebranding is still in process.
---
Partnerships
Partnership with Nordstar
Red Wing's partnership with NorStar establishes code-sharing agreements, whereby a air-route is jointly operated by partner airlines. In doing so the flight is performed only by one of the airlines. The following routes are operated by NordStar Airlines together with Red Wings:
Moscow – Sochi – Moscow
Moscow – Makhachkala – Moscow
Moscow – Murmansk – Moscow
Moscow – Yerevan – Moscow
---
Red Wings Airlines Fleet

The Red Wings Airlines fleet is constantly adapting and changing but currently includes four Airbus A320-200s, eight Airbus A321-200s. It also has six Airbus A220-300s and 16 Irkut MC-21-300s on order. All of which are to be delivered throughout 2019.
---
Red Wings Airlines Baggage
Carry-on Baggage
The maximum weight for hand luggage for Base Rate and Light tariffs is 10kg. The item should not exceed 55cm x 40cm x 20cm. For Standard tariffs, the bag must not exceed 5kg weight or 55cm x 40cm x 20cm dimensions.
Checked Baggage
The maximum weight for check luggage for Base Rate and Light tariffs is 23kg, the sum of the height, width and depth of the item must not exceed 203cm. Tariff Light customers are not permitted any checked baggage.
---
Red Wings Airlines Check-In Information
Online Check-In
Web check-in begins 24 hours before the flight departure and ends one hour prior. Boarding passes should be printed by the passenger. There is no reason to visit the airport check-in desk for carry-on luggage when checking in online. Online check-in can be completed by visiting the Red Wings Airlines web check-in page.
Airport Check-In
If passengers can't check-in online for their Red Wings Airlines flight, they must check-in at the airport. Airport check-in can be completed by visiting a Red Wings Airlines check-in agent at the Red Wings Airlines check-in desk at the airport of departure.
---
Red Wings Airlines Destinations
Yerevan,
Armenia
Batumi,
Georgia
Tivat,
Montenegro
Astrakhan,
Russia
Chelyabinsk,
Russia
Krasnodar,
Russia
Krasnoyarsk,
Russia
Makhachkala,
Russia
Mineralnye Vody,
Russia
Moscow,
Russia
Murmansk,
Russia
Nizhny Novgorod,
Russia
Novosibirsk,
Russia
Orenburg,
Russia
Perm,
Russia
Sabetta,
Russia
Saint Petersburg,
Russia
Samara,
Russia
Sochi,
Russia
Ufa,
Russia
Yekaterinburg,
Russia
Barcelona,
Spain
Antalya,
Turkey
Dalaman,
Turkey
Simferopol,
Ukraine
Dubai,
United Arab Emirates
---
Class Information
Currently, this airline only provides an economy class service.The fleet that Red Wings proved very spacious cabins, meaning that passengers are able to relax in flight with plenty of personal space and room for cabin baggage. Passengers can stay entertained with the exclusive in-flight magazine 'FlyRedWings'.
---
Red Wings Airlines Hub Airport
Vnukovo International Airport
Vnukovo International Airport is a dual-runaway international airport located 28 kilometres (17 mi) southwest of the centre of Moscow, Russia. It is one of the four major airports that serve Moscow, along with Domodedovo International Airport, Sheremetyevo International Airport, and Zhukovsky International Airport. Other airlines which fly to the airport include UTAir.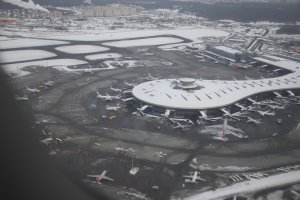 Photo credit: Andrey Fillipov
---
Book Red Wings Airlines in English
Book your Red Wings Airlines flights in English when you choose to book with Alternative Airlines. Communication is key to a smooth and efficient booking process. Thats why we display all booking details in English, along with having an English-speaking customer service team on hand 8am-8pm (UK time) every day.
---
Alternative Airlines
Please click these logos to find alternative airlines that fly similar routes to Red Wings Airlines:
---
Red Wings Airlines News
19th June 2018
Red Wings Airlines to fly regular service between Moscow and Baghdad
Red Wings Airlines recently announced that it has been given permission from air authorities to commence regularly scheduled flights on a service between Russia and Baghdad. While the details of the new service are yet to be announced, Red Wings Airlines and the Iraqi Transport Ministry expect the new city pairing to increase tourism between Russia and Baghdad. This is Red Wings Airlines' first service to Baghdad. The Russian airline is expected to fly the between the two countries once a week initially, with the possibility of increasing the frequency of the flight if there's a demand.
---
FAQ's
What other airlines fly to similar routes?
There are other airlines that travel to similar destinantions such as JSC Donavia, Nord Star, S7 Airlines and more.