Please be aware: we don't accept payments through Stripe or Klarna on flights departing from and/or arriving at destinations within Cuba, Iran, North Korea, Syria or the Crimea Region.
Smartavia Reservations with Alternative Airlines
Make a Smartavia Booking and Find Some Amazing Deals
---
About
Nordavia rebranded to Smartavia in April 2019. All routes and services remain the same.
Nordavia is an airline headquartered in Arkhangelsk, Russia.
Nordavia operates mainly scheduled domestic and regional services. Nordavia flies to many destinations including Tromso, Kotlas, Amderma, Simferopol, Kaliningrad, Komi, Anapa, Usinsk, Anapa, Moscow, Kiroysk, Saint Petersburg and Samara.
Nordavia has a codeshare agreement with Aeroflot and S7 Airlines. Nordavia has Boeing 737-500s in its fleet.
The airline has operated as several different names. In 1963 it launched as Arkhangelsk United Aviation Squadron until 1991 when the airline rebranded as VL Arkhangelsk Airlines. In 2004, Aeroflot bought 50% of the airline and the airline rebranded again as Aeroflot-Nord.
In 2009, Aeroflot sold its stake in the airline, which called for another rebrand. The airline was known as Nordavia from that point onwards. Nordavia was supposed to merge with Red Wings Airlines, but after two years of negotiations and planning the merger fell through. Shortly thereafter, Nordavia rebranded to Smartavia, which is what the airline is known as today.
---
Baggage
Carry-on Baggage
Passengers flying Economy Class on Smartavia are entitled to one item fo carry-on baggage with a weight allowance of 5kg, while passengers flying Business Class on Nordavia are allowed one item of carry-on baggage with a weight allowance of 10kg.
Checked Baggage
Passengers flying Economy Class on Nordavia are entitled to a maximum of 20kg of free checked baggage and passengers flying Business Class are entitled 30kg of checked baggage.
---
Check-in
Online Check-In
Passengers can check-in for their Nordavia flight by visiting the Smartavia home page, clicking the 'check-in tab' and entering the relevant flight details where asked. Nordavia online check-in opens 24 hours before departure and closes three hours before.
Passengers can check-in online for their Smartavia flights from any airport, excluding the following:
Amderma airport
Batumi Airport
Kazan International Airport
Mineralnye Vody airport
Minsk Airport
Tbilisi Airport
Solovki
Oslo Airport
Airport Check-in
Airport check-in can be completed by visiting a Nordavia check-in agent at the Nordavia check-in desk. Passengers checking in at the airport must arrive at the airport in good time.
---
Destinations
Domestic Destinations
Anapa
Arkhangelsk
Belgorod
Cheboksary
Chelyabinsk
Irkutsk
Ivanovo
Kaliningrad
Kazan
Makhachkala
Mineralnye
Vody
Moscow
Murmansk
Naryan-Mar
Nizhnekamsk
Nizhny
Novgorod
Omsk
Orenburg
Rostov-on-Don
Saint
Petersburg
Samara
Simferopol
Sochi
Stavropol
Syktyvkar
Ufa
Ulan-Ude
Volgograd
Voronezh
International Destinations
SmartAvia operates to two international destinations in Georgia, as well as one seasonal flight to Norway.
---
Economy Class
Economy Class is one of two cabins that the airline offers and the more simple, stripped-back service of the two.
Economy Class Facilities
Passengers can enjoy a selection of reading material ranging from in-flight magazines to newspapers.
Passengers are given the opportunity to order a meal from the airline's in-flight menu, which includes a choice of alcoholic and non-alcoholic drinks. The meal choice will depend on the time of day flown and the route travelling on.
Economy Class Seats
Economy Class seats are set out in a 3 x 3 configuration, giving around 17 inches of pitch and 31 inches of pitch.
---
Business Class
Business Class is the airline's most premium cabin class, offering a personalised, luxury service in an isolated section of the cabin.
Business Class Facilities
Passengers go through an exclusive check-in and boarding process, as well as access to the airline's Business Class lounge at select airports.
Passengers are served complimentary meals with three different options on the menu. Passengers can also enjoy complimentary drinks (both alcoholic and non-alcoholic) for the duration of the flight, with a welcome drink waiting for them when they board.
What are Business Class Seats Like?
Business Class seats are set out in a 2 x 2 configuration, with each seat giving generous room to stretch out and relax.
---
Route Map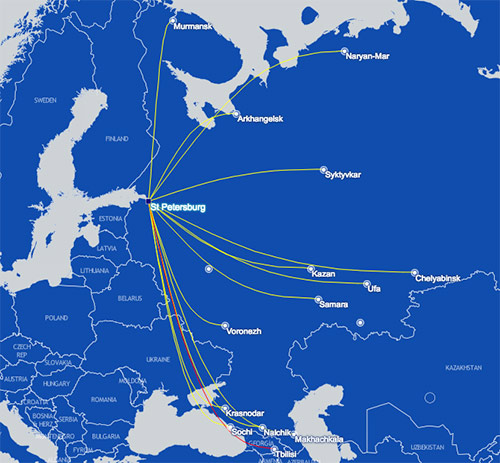 ---
News
15th July 2019
Nordavia has announced New Routes in July
Nordavia has added new direct flights on the route St. Petersburg (LED) – Baku (GYD), St. Petersburg (LED) – Yerevan (EVN) and Moscow (DME) – Yerevan (EVN)
18th May 2018
Nordavia to fly between Murmansk and Oslo in summer 2018
This summer, Russian airline Nordavia is to launch a new service that will connect Russia with Norway. The new route will fly between Murmansk Airport (MMK) and Oslo Airport (OSL) once a week from 11th June 2018. The nonstop service has an estimated flight time of 2 hours and 35 minutes and the airline will use the Boeing 737-500 aircraft to operate the route.