Search & Buy Ural Airlines Flights
Let's fly!

Select your payment method to view total prices including any payment fees:
Airlines will always try to sit children with their parents (subject to check-in)
Some airlines will allow travel for unaccompanied minors. Please email us to check.
The fare is based on the child's age on the date of travel.
More detailed information can be found here Traveling with children
Most airlines will let infants travel with their parent(s) for free. However some airlines will charge up to 10% of the adult ticket price. Click on 'Price Breakdown' to find out more.
If you are pregnant, but due before the flight departure date, please contact us once your baby is born and has a name. We can then add him/her to your ticket.
Infants will not be given a seat. The airlines expect parents to travel with them on their lap.
Airlines regard infants as being under 24 months old.
The fare is based on the child's age on the date of travel.
More detailed information can be found here Traveling with children

Buy
Ural Airlines

Flights

Ural Airlines Reservations with Alternative Airlines
Make a Ural Airlines Booking and Find Some Amazing Deals
---
About Ural Airlines
Ural Airlines is a Russian airline and part of Aeroflot. The airline is based in Yekaterinburg, Russia and operates scheduled and chartered domestic and international flights from its hub Koltsovo International Airport.
Ural Airlines flies to destinations including Athens, Belgrade, Dubai, Baku, Almaty, Moscow and Paris.
---
Ural Airlines Classes
Ural Airlines offer 4 classes of service starting with Economy Class, Economy Plus, Comfort Class and Business Class. Economy Class passengers can enjoy soft drinks, standard meals in accordance with the airline's existing standards and a choice of daily periodicals.
Economy Plus Class has been designed for Wings Gold Card members. This is an opportunity to apply for service class upgrade aboard an aircraft while booking a ticket on the website.
Comfort Class is a higher comfort class with service standards corresponding to Ural Business Class. The cost of travelling Comfort Class is 10-15% less than that in Business Class, on average.
Business Class offers personalized service and a higher level of comfort aboard an aircraft for passengers looking for maximum convenience during the flight at airports of departure.
---
Ural Airlines Frequent Flyer Program
Ural Airlines also offer a frequent flyer program named Wing with 3 different levels of membership. Ural airlines offers Online check in and seat selection for Gold and Silver members of Wing Loyalty Program receive the service free of charge. For the passengers with Premium Economy Class tickets the service is for free as well.
---
Ural Airlines Route Map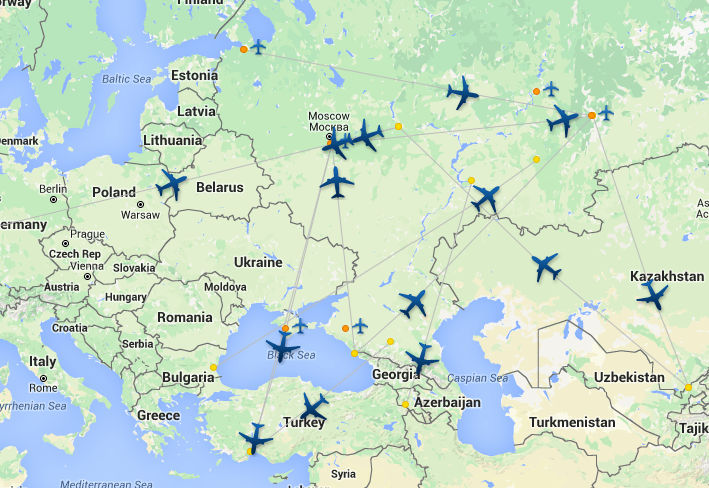 Ural Airlines Popular Routes
Moscow

Barcelona
Moscow

Erevan
Moscow

Ufa
Moscow

Bishkek
Moscow

Larnaca
Moscow

Istanbul

---
Ural Airlines Route Map
Airbus A321-200
Airbus A320-200
---
Ural Airlines Hub Airport
Koltsovo International Airport
Koltsovo International Airport is the largest airport in Sverdlovsk Oblast, serving Yekaterinburg, Russia, and serves nearby towns such as Aramil, Sysert, and Polevskoy. Hub for Ural Airlines, RusLin and Aviacon Zitotrans.
Airlines that fly from and to Koltsovo International airport include Aeroflot, Uzbekistan Airways, Red Wings Airlines, Finnair, Ellinair and Turkish Airlines.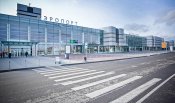 Alternative Airlines to Ural Airlines
---
---
Ural Airlines News
28th June 2018
Ural Airlines add new service to Harbin or summer 2018
Ural Airlines will add a new seasonal service between Chelyabinsk and Harbin early next month. Ural Airlines will fly between Chelyabinsk Airport (CEK) and Harbin Taiping International Airport (HER) once a week. The seasonal service will run from 4th July—10th October 2018 and the Russian airline will use an Airbus A320 to carry passengers. The Chelyabinsk—Harbin flight is scheduled to take 5 hours and 55 minutes, flying out on a Wednesday and returning on Thursday, the following day. Harbin will be the only service that Ural Airlines offers flights to China from Chelyabinsk this summer.
10th May 2018
Ural Airlines adds operations from Moscow to Karshi
From October 2018 Ural Airlineswill launch a new route to Uzbekistan, as the airline plans Moscow Domodedovo – Karshi service. From the begining of the month, Ural Airlines will service the destination with an Airbus A320 aircraft, which will operate this route twice a week.
30th April 2018
Ural Airlines reaches out to Bologna
Having launched its first two operations to the Italian city of Bologna, Ural Airlines continues to expand its connections. The airline started with flights betwen Bologna and Moscow Domodedevo, as well as Krasnodaar. Now, due to the success of these flights, Ural airlines has 4 more destinations to add to that list. This includes a 3650km flight from Kkaterinburg and a 2221km flight from Rosov-on-Don. The other two cities in Russia which will now be connected to Bologna are Samara and Kazan.
16th January 2018
Russia's Ural Airlines reaches out to India
Ural Airlines have noticed a boom in tourism from India to Russia at a growth rate of 30%. This has prompted them to start flights from a variety of Indian cities, making easier connections to the vast corners of Russia. This is good news for Indian football fans as it should facilitate much easier travel during the summer for the Russian 2018 World Cup.
12th January 2018
Russia's Ural Airlines launches new route to Tel Aviv
Ural Airlines is planning a direct flight between Rostov-on-Don and Tel Aviv, Israel. There will be a weekly flight on Wednesdays from the end of March. This may be good news for football fans in the area as the route kicks off just in time for the 2018 World Cup.
28th September 2017
Russia's Ural Airlines eyes A321neo, modified A330s
Ural Airlines (U6, Ekaterinburg) is in talks with unspecified lessors over the proposed lease of two A321neo. Airline CEO Sergey Skuratov told Russian Aviation Insider in an interview that the 240-seater jet offers 8% more capacity than its A321ceo predecessor, a figure that holds great appeal to the operator.

"It is a natural thing for an airline to wish for more seats in its aircraft, because this means higher margins," he said. "This is economics, after all."

Other products being looked at include the B737-800/900 from Boeing (BOE, Chicago O'Hare) whose increased range over the A320, the backbone of Ural Airlines' fleet, present significant opportunities. To that end, the Ekaterinburg-based carrier is also in the market for A330s albeit modified variants sporting large emergency exits.

"These would allow for a greater seating capacity," Skuratov added. "Unfortunately, there are not so many aircraft made out in this modification going around."

Ural Airlines currently operates seven A319-100s, twenty-three А320-200s, and thirteen А321-200s on regular flights covering Russia, the CIS, Continental Europe, and the Middle and Far East.
Source: ch-aviation
September 2017
Ural Airlines announced two new international routes
Ural Airlines are launching scheduled flights to Rome. On September 8, 2017 Ural Airlines will start scheduled flights to Rome from Zhukovsky Airport near Moscow. As RusBusinessNews has been informed by the carrier's Press Service, the flights have been initially scheduled for Fridays. Starting from October 4, the flights will be performed twice a week – on Wednesdays and Saturdays. Ural Airlines perform flights from Moscow Zhukovsky Airport to Tbilisi, Astana, Bishkek, Dushanbe, Khujand, Osh, Tel Aviv. Ural Airlines rank among the top Russian airlines in terms of air traffic volume. In 2016, the airline provided services to 6.4 million passengers. The Ural Airlines' aircraft fleet consists of 43 Airbus airliners.
August 2017
Ural Airlines announced two new international routes
Ural Airlines has now started its only service from the Russian capital to Tbilisi (TBS), beginning twice-weekly (Mondays and Saturdays) flights from Moscow Zhukovsky (ZIA). Launched on 5 August, the airline will utilise its fleet of A320s on the airport pair. The first flight's load factor was 90% according to the airport. Tbilisi is the sixth destination flown by the airline from Zhukovsky, with its latest venture not going directly head-to-head with another carrier.
August 2017
Ural Airlines provided services to more than 4 million passengers
From January to July 2017 Ural Airlines carried 4,266,451 passengers, up 23% from the same period in 2016. During the first seven months the air carrier's aircraft performed 30,082 flights (+15%), including 11,908 flights to international destinations. In July, the airline performed 5,904 flights (+17%) and carried 943,343 passengers (+18%). Ural Airlines rank among the top Russian airlines in terms of air traffic volume. In 2016, the airline provided services to 6.4 million passengers. The Ural Airlines' aircraft fleet consists of 43 Airbus airliners.
May 2017
Ural Airlines announced two new international routes
Ural Airlines has got two new routes underway this week, beginning on 26 April with the 2,630-kilometre link from Moscow Zhukovsky (ZIA) to Tel Aviv (TLV). The route will be operated three times weekly by a variety of the airline's Airbus equipment. Starting from July, the airline will operate four weekly frequencies. On 1 May, the carrier commenced the first scheduled flights from Sochi/Adler (AER) to Tbilisi (TBS) in Georgia. The airline will offer a twice-weekly (Mondays and Fridays) service on its 160-seat A320 fleet. The flights on the route are possible owing to Sochi/Adler's 'Open Skies' policy, which has been operating at the airport since October 2014. This policy allows airlines to operate international flights to and from the airport without restrictions and gives them the ability to perform transit flights. Neither city pair faces any direct competition.
April 2017
Ural Airlines begun a new service between Sochi/Adler and Tel Aviv
Launched 13 April, the carrier will offer twice-weekly (Thursdays and Sundays) flights on the 1,347-kilometre sector to Israel and faces no direct competition. In total the airline now offers 28 weekly flights from Sochi. The route to Tel Aviv is scheduled to operate year-round. In May 2017, Ural Airlines announced it had taken delivery delivery of an Airbus A321 equipped with sharklet winglets. The aircraft, the 12th of the type in the operator's fleet, features a single-class configuration with seating capacity for 215 passengers. The aircraft's tail number is VP-BSY, and it made its first flight in October 2016. Its initial customer was TransAsia Airways, which ceased operations in one month after taking delivery of the aircraft. Ural Airlines has received an A320 previously operated by this Taiwan carrier earlier this year. With the newly acquired aircraft factored in, the Russian airline's fleet has expanded by four aircraft so far this year, reaching the total of 42. The previous delivery took place in April, it was an A320 previously operated by S7 Airlines.
November 2016
Ural Airlines performed the first flight from Zhukovsky airport to Osh (Kyrgyzstan)
A dramatic increase in passenger numbers has resulted in some of Russia's leading airlines achieving millions of dollars in additional revenue and profits in the first three quarters of 2016, reversing the overall downwards trend of the nation's aviation market. Such success is a direct result of the demise of Transaero that used to be Russia's second largest airline a year ago, and growing concentration on local air transport market.
The Russian Ural Airlines will increases the frequency of flights from the southern Russian city of Rostov-on-Don with a strong Armenian community to Yerevan. It said beginning from November 7, the flights will be operated daily at a convenient time for passengers. Flight U6-2631 from Rostov-on-Don to Yerevan will depart at 13:10 and arrive in Yerevan at 15:45. The return flight U6-2632 from Yerevan to Rostov-on-Don will depart at 16:35 and arrive in Rostov-on-Don at 17:15. Ural Airlines is the fifth biggest Russian airline in terms of passenger and cargo transportation.
Ural Airlines has demonstrated an increased growth of passenger traffic in September. The airline, one of Russia's five largest carriers, managed to increase its numbers by 20%, to 711,000 passengers, a rate it hasn't seen since June of this year. Ural Airlines shows increased traffic despite a general trend of stagnation in the Russian air transport market. In August, the total number of passengers carried on Russian airlines decreased by 10.1% compared to last year. However, traffic carried on Russia's five largest carriers continues to grow.
July 2009
Ural Airlines obtains aircraft from another airline
Clickair have just announced the news of their merge with airline Vueling. The majority of Clickair's fleet has also been given to Vueling, but one aircraft fromt their fleet went to Ural Airlines.