Search & Buy Garuda Indonesia Flights
Airlines will always try to sit children with their parents (subject to check-in)
Some airlines will allow travel for unaccompanied minors. Please email us to check.
The fare is based on the child's age on the date of travel.
More detailed information can be found here Traveling with children
Most airlines will let infants travel with their parent(s) for free. However some airlines will charge up to 10% of the adult ticket price. Click on 'Price Breakdown' to find out more.
If you are pregnant, but due before the flight departure date, please contact us once your baby is born and has a name. We can then add him/her to your ticket.
Infants will not be given a seat. The airlines expect parents to travel with them on their lap.
Airlines regard infants as being under 24 months old.
The fare is based on the child's age on the date of travel.
More detailed information can be found here Traveling with children
Buy
Garuda Indonesia

Flights
Search and Buy Garuda Indonesia Flights Online
Make a Garuda Indonesia reservation and find some amazing deals
---
About Garuda Indonesia
Garuda Indonesia is the national airline for Indonesia, headquartered at Soekarno-Hatta International Airport in Jakarta. In December 2014, Garuda Indonesia was rated as a 5-star airline by the international airline review firm Skytrax. Garuda Indonesia has flight share agreements with airlines such as Aeroflot, All Nippon Airways, Etihad Airways, Hainan Airlines, Jet Airways, Malaysia Airlines, Oman Air, Philippine Airlines, Qatar Airways, Singapore Airlines and Xiamen Airlines, which gives it the ability to reach parts of the world outside of its internal route network. In 2014, Garuda Indonesia officially joined SkyTeam alliance with other airlines such as KLM, Air France, Delta Airlines, Aeroflot, .China Airlines, Aeromexico and Saudia. Garuda Indonesia recently acquired low-cost airline, Sriwijaya Air.
---
Garuda Indonesia Destinations
Garuda Indonesia operates to many destinations, both domestically and internationally, including Jakarta, Medan, Denpasar/Bali, Yogyakarta, Surabaya, Singapore, Bangkok, Guangzhou, Hong Kong, Seoul, Tokyo, Sydney, Melbourne, Perth and Amsterdam.
---
Garuda Indonesia Fleet
The Garuda Indonesia fleet includes seven Airbus A330-200, 17 Airbus A330-300, 17 ATR 72-600, 73 Boeing 737-800, one Boeing 737 Max 8, 10 Boeing 777-300ER and 18 Bombardier CRJ1000 aircraft.
---
Garuda Indonesia Baggage Allowance
Carry-on Baggage
The maximum size for cabin baggage on Garuda Indonesia flights is 56cm x 36cm x 23cm and not weighing any more than 7kg. In Economy class CRJ and ATR the dimensions must not exceed 41cm x 36cm x 23cm.
Checked Baggage
The baggage allowance for passengers using Garuda Indonesia is one piece of luggage weighing no more than 32kg.
---
Garuda Indonesia Check-In Information
Online Check-In
Garuda Indonesia provides an online check-in service on flights to and from Jakarta. Online check-in starts 24 hours before departure. Final check-in times can be found below:
| | | |
| --- | --- | --- |
| Departing from | Route | Final Check-in |
| Jakarta (CGK) | Domestic | 1 hour prior to departure |
| Jakarta (CGK) | International | 2 hours prior to departure |
| Outside Jakarta | Domestic | 2 hours prior to departure |
| Outside Jakarta | International | 4 hours prior to departure |
City Check-In
City check-in service can be found at the Garuda Indonesia Sales Office (in the domestic branch) and is available 48 to 4 hours before departure. Be aware that Eco-Basic passengers are unable to use this service.
Kiosk Check-In
Check-in using the airport kiosk is available from 4 hours before the plane's departure. Group passengers, international flight passengers, passengers with an Eco-Basic ticket and passengers who need special assistance are not able to use the check-in kiosks.
---
Garuda Indonesia Economy Class
Garuda Indonesia's Economy Class is full of convenience and comfort for every passenger's journey.
Garuda Indonesia Economy Class Facilities
USB and power outlets are included in Garuda Indonesia's Economy Class facilities. Other facilities are in-flight entertainment during your journey, Western, Asian or Indonesian meals (dependant on the flight route) and a selection of cold and hot drinks.
Garuda Indonesia Economy Class Seating
Garuda Indonesia's Economy Class seating includes plenty of legroom for a spacious feel, footrest and reclining features.
---
Garuda Indonesia Premium Economy Class
Garuda Indonesia offers Premium seats with more space and comfort on selected flights and all routes flying to/from London.
---
Garuda Indonesia Business Class
Garuda Indonesia Business Class offers its passengers reclining seats for optimum comfort which are equipped with USB and power outlets and a 15" touchscreen for in-flight entertainment. Business Class passengers will also be provided with a Hypoallergenic pillow and furtex-plush duvet. The meals and light snacks available on Garuda Indonesia's Business Class service are prepared by qualified chefs with experience in 5-star establishments.
---
Garuda Indonesia First Class
Garuda Indonesia's First Class cabin is available on board all Boeing 777-300ER and is made up of eight exclusive suites.
First Class Facilities
Each First Class cabin consist of eight private suites that are in 1-2-1 formation.
Each suite has a sliding door for privacy, a specially designed 82-inch pitch and 22-inch width seat that transforms into a full-flat bad with a comfortable mattress and bedding.
Each suite has a personal wardrobe, a reading lights, a personal 23.5 inch LCD TV fitted with full inflight entertainment, a touch screen seat control unit and an adjustable table for dining.
Passengers flying First Class are provided with slippers and loungewear, a premium amenity kit, stationery, toiletries and the option to order from food and beverages, which are reshly prepared by the airlines' professional chefs.
Does First Class Have a First Class Lounge?
Garuda Indonesia has a First Class lounge at Jakarta airport (Soekarno-Hatta International Airport) which is exclusive for First Class passengers. First Class passengers will be met by the First Class Assistant or Butler at the airport's Drop Zone Area and assist you through an exclusive check-in experience and security before taking you to the First Class lounge.
The lounge itself has a wide selection of complimentary food and beverage options, Wi-Fi and an indoor spa.
---
Garuda Indonesia Food
Garuda Indonesia Meal Options
Passengers in Garuda Indonesia First Class will receive Indonesian and International cuisines, which will be prepared fresh by your on board dedicated chef. For passengers in Business class, they will receive dishes inspired by world favorites, all prepared by qualified chefs from 5 star restaurants. Economy passengers will get the choice of Indonesian, Western and Asian menus (dependent on availability on routes). Specific meal choices will depend on the type of aircraft, route flying and duration of your flight.
Garuda Indonesia Special Dietary Requirements
For passengers with special dietary, health or religious requirements, a special meal can be provided by Garuda Indonesia for flights. These meals must be ordered at least 24 hours before your flight departure time, and can be ordered by contacting us or Garuda Indonesia directly.
For domestic routes, meals can be ordered on all routes with a hot meal service from the following selection: Child meal, Fruit Platter Meal, Vegetarian Vegan Meal.
For International routes, the following meals are available to order, but some restrictions on routes may apply so check with Garuda Indonesia when ordering your special meal:
Vegetarian Hindi meal
Baby Meal
Bland Meal
Child's Meal
Diabetic Meal
Fruit Platter
Gluten Free Meal
High Fibre Meal
Hindu Meal
Kosher Meal
Low calorie Meal
Low fat Meal
Low Protein Meal
Low Salt Meal
Low lactose Meal
Oriental Meal
Low Purin meal
Raw vegetarian meal
Seafood meal
Vegetarian vegan meal
Vegetarian lacto-ovo meal
Vegetarian oriental meal
Vegetarian jain meal
Garuda Indonesia Drinks & Alcohol
Garuda Indonesia provide passengers with a wide selection of hot and cold drinks. In more premium cabins, this selection will include vintage wines, cocktails, champagnes and liqueurs.
---
Garuda Indonesia Frequent Flyer Program
Garuda Indonesia's Frequent Flyer Program, Garudamiles, allows passengers to earn miles every time they fly. The miles you accumulate can then be redeemed for Award tickets to you preferred destination. Miles can also be used to upgrade to Business Class on your chosen flight. Awards are also transferable, which means you can choose to give them to your friends or family.
---
Garuda Indonesia In-flight Entertainment
During your Garuda Indonesia flight, you can enjoy a variety of different audio and video entertainment on an LCD TV touch screen.
Garuda Indonesia TV
Garuda Indonesia offers hilarious family-friendly sitcoms and much more to help you pass the time on board your Garuda flight.
Garuda Indonesia Movies
The movie selection onboard Garuda Indonesia flights is regularly updated with new content to keep even frequent flyers entertained.
---
Garuda Indonesia Popular Routes
London - Bali
Amsterdam - Sorong
Lombok - Jakarta
Singapore - Bangkok
Jakarta - Hang Nadim
Pekanbaru - Yogyakarta
---
Garuda Indonesia Route Maps
---
Skyteam Alliance
SkyTeam Alliance is a leading global airline network, with 20 member airlines. SkyTeam alliance was founded in 2000 and now consists of member airlines such as Aerolineas Argentinas, AeroMexico, Air Europa, China Southern, Alitalia, China Airlines, Delta, Garuda Indonesia, Kenya Airways, KLM and others. SkyTeam Alliance network has nearly 16,323 daily flights, with 1,052 destinations in 177 countries.
---
Book Garuda Indonesia Flights in English
Alternative Airlines offers customers a stress-free way to book Garuda Indonesia flights in English. You can book in multiple currencies and even pay with Paypal. Book your Garuda Indonesia flight tickets in English today.
---
Alternative Airlines to Garuda Indonesia
Please click on the logos below to find out more about airlines that fly similar routes to Garuda Indonesia :
To find out more about airlines that fly around Indonesia
---

Garuda Indonesia Hub Airport
Soekarno-Hatta International Airport
Soekarno-Hatta International Airport is the main airport serving the Jakarta area on the island of Java, Indonesia. The airport operates as a hub for Garuda Indonesia, but also for Batik Air, Cardig Air, Citilink, Express Air, Indonesia AirAsia, Lion Air and Sriwijaya Air. The airport has two runways and in 2014, handled 62 million passengers becoming the 9th busiest airport in the world. Others airlines which fly to and from Soekarno-Hatta International Airport include Air China, Air France, All Nippon Airways, Asiana Airlines, Cebu Pacific, Egyptair, Emirates, Etihad Airways, EVA Air, Oman Air, Qatar Airways, Thai Airways, Singapore Airlines, among many others.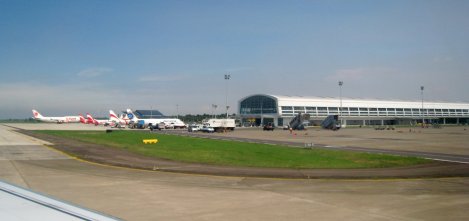 ---
Garuda Indonesia News
18th June 2018
Garuda Indonesia given permission to fly in Europe
Garuda Indonesia has been removed from Europe's list of banned airlines — along with other Indonesian airlines — as the EU put in place a new system that will evaluate which aircraft are deemed safe enough to fly within and throughout Europe. The new system is being run by Eurocontrol, which is an air traffic control company that cover 41 member and two comprehensive agreement states.
Garuda Indonesia was granted access to fly in Europe after the whole of Indonesia passed an International Civil Aviation Organisation audit which saw Garuda Indonesia, along with two other Indonesian airlines, being given a seven-star safety rating. Garuda Indonesia has been banned from flying in Europe since 2007, when all Indonesian airlines were deemed unsafe to fly in the continent. However, after Garuda Indonesia's extremely high safety rating, the EU air travel executives can see no reason why the airline shouldn't be able to fly in European airspace.
4th June 2018
Garuda Indonesia employees will no longer strike
After some internal conflict between management and employees of Garuda Indonesia, it appeared as if employees of the airlines — including pilot and cabin crew — were going to go on strike. However, according to Luhut Pandjaitan, the Coordinating Maritime Affairs Minister of Indonesia, there will no longer be a strike. Luhut Pandjaitan claims that those involved with the airline have met to settle their issues and that regularly scheduled services will continue as normal. Luhut has played a role in getting Garuda Indonesia and its employees to get back on track, he reportedly told the airline to prioritise resolving their issues to ensure that customers do not suffer from their actions.
Luhut Pandjiatan stated that he was confident that as long as Garuda Indonesian employees felt as if management were listening to their frustrations, there would be no strike. He stated that those involved have now met, management has listened to Garuda Indonesia staff and the strike will not happen.
31st May 2018
Garuda Indonesia to add over 64,00 seats for Eid Holiday
Garuda Indonesia are planning to add 64,100 seats for Eid Holiday, according to Corporate Secretary of Garuda Indonesia, Hengki Heriandono. The additional seats are to be part of an extra 288 flights that Garuda Indonesia will operate between 8th June and 24th June 2018.
Heriandono said that they have already received permission from authorities and they look to operate most flights out of Jakarta to a number of domestic destinations. For international flights, Garuda Indonesia plan to fly additional routes to Hong Kong, Singapore, and Kuala Lumpur. He added that passengers tend to book their flights for Eid close ahead of Eid Day as they first need to get their religious holiday allowance approved.
25th May 2018
Garuda Indonesia bring out 'Eco Basic' airline ticket
Garuda Indonesia are to start selling a new low-budget airline class ticket named 'Eco Basic'. The Eco Basic ticket is said to offer the lowest fares on Garuda Indonesia flights, only slightly above the lower limit price rate that was set by the Ministry of Transportation. Garuda Indonesia Service Director, Nicodemus P. Lampe, has said that there wil only be 12 Eco Basic seats avaliable per flight with the airline.
With 44 different services avaliable for passengers to book an Eco Basic class ticket with, passengers will be able to buy Eco Basic tickets with Garuda Indonesia starting Monday 28th May 2018.
21st May 2018
Garuda Indonesia and subsidary airline place top three for most punctual airlines in Southeast Asia
Garuda Indonesia and its low-cost subsidary, Scoot, both placed top three in the Official Airlines Guide's list of most punctual airlines for April 2018. Citilink earned the top spot, placing first. The airline was on time for 89.02% of their flights last month, beating second placed airline, Scoot, who scored 85.4%. Citilink operated a total of 8,590 fights last month.
Garuda Indonesia placed third, with 85.1% of their flights arriving on time, with no delays.
10th May 2018
Garuda Indonesia launch new route between Mumbai and Bali
Garuda Indonesia will launch a direct flight that will fly between Chhatrapati Shivaji International Airport (BOM), Mumbai, and Ngurah Rai International Airport (DPS), Bali. The service will operate with the Airbus A300-200 aircraft and is expected to take 7 hours and 35 minutes.This service is the first non-stop flight between Mumbai and Bali. Garuda Indonesia CEO stated that the addition of a direct route will hopefully attract Indians to Bali, plus it will make great connections to Lombok, Jogjakarta, and Labuan Bajo.
21st April 2018
Garuda Indonesia celebrate Katrini Day with all-female flight
Flight GA 204, a service from Jakarta to Yogyakarta, took flight today with a team made up from entirely female employees. Everyone from the pilot to the ground and cabin crew were female, an idea that Garuda Indonesia came up with to celebrate Katrini Day — an Indonesian holiday on 21st April that celebrates the birth of pioneer and national heroine, Raden Ajeng Katrini.
The flight was captained by Geruda Indonesia's first ever female pilot, Ida Fiqriah, who is one of twenty-nine female pilots currently employed by the airline. In total, the company has over 4,500 female employees across all areas, however, this was the first time in the carrier's history that a service was ran by an all-female team. Domestic Marketing Director, Nina Sulistyowatti indicated that this will be a regular event going forward, running every year on Katrini Day.
20th March 2018
Garuda Indonesia launches Denpasar-Mumbai route
Garuda Indonesia will commence operations for a Denpasar, Bali, Indonesia-Mumbai, India passenger service from April 24. The frequency will initially be twice-weekly (Monday and Thursday) before being increased to thrice-weekly in May. Flight GA814 will leave Denpasar at 15.40, arriving in Mumbai at 20.25. On the return GA 815 will leave Mumbai at 21.50 to arrive in Denpasar at 07.55 the next morning. The route will be served using Airbus 330-200. There will be 36 business class seats and 186 economy seats available for purchace. This will take Garuda Indonesia's services to six flights to Mumbai, from Jakarta and Bali.
20th March 2018
Garuda Indonesia continues to fly high
As the Haj season fast approaches, Garuda Indonesia, the flag carrier of the country which has the largest Muslim population in the world, is all set to provide the best in-flight and highly efficient ground services to some 170,00 Indonesian pilgrims who will perform Haj this year. In an interview with the Saudi Gazette, Denni Karnabi Ibrahim, said during his first day in office as the newly appointed Garuda Indonesia General Manager in the Kingdom of Saudi Arabia, Middle East and Africa region, that he is planning to extend Garuda network from Saudi Arabia to beyond Jakarta covering Garuda Int'l network. Garuda is currently flying direct to Jakarta, Medan, Ujung Pandang, Balikpapan, Surabaya and Solo City from Jeddah and Madinah.


Garuda Indonesia will be targeting outbound tourism from Saudi Arabia to Indonesia as Garuda is directly flying to multiple destinations in Indonesia as part of its MEA expansion plan. Garuda will explore possibilities to operate direct flight from Riyadh to Jakarta, the new general manager added. Garuda aims to provide its passengers with the best in-flight experience with Indonesian hospitality with the youngest fleet in the sky. Saudi Arabia and GCC are core of the airline's future plan to further expand its network globally, he remarked. And like the proverbial saying "the proof of the pudding is in the eating", Garuda Indonesia showed that it has passed a series of litmus tests that comfortably earned the national carrier of Indonesia a rightful place in the sun, so to speak. Indonesia's largest airline accounted for 44 percent of domestic flights, up from 39 percent a year ago. Its international flights also captured 28 percent of the market, increasing from 21 percent a year earlier.


19th February 2018
Garuda Indonesia launch merchandising on JD.ID
National flag carrier Garuda Indonesia has announced a new collaboration with e-commerce to launch a new service channel named "GarudaShop" that will be available on the platform's website. Following a signing ceremony on Tuesday at Soekarno-Hatta International Airport's Terminal 3, all Garuda passengers will be able to purchase the airline's merchandise and products through the GarudaShop in addition to during flights.
Garuda Indonesia president director Pahala N. Mansury said the cooperation was part of the carrier's efforts to expand its non-core flight business by increasing ancillary revenue, with a target of up to US$54 million this year. "It will also ease customers in purchasing Garuda's merchandise and products online. Holders of Garuda Indonesia-BNI and Garuda Indonesia-Citi Card credit cards will also be given a special program when they conduct transactions in the shop," he added in a statement. Among the products are travel-related items, watches, jewelries, perfumes, beauty products, gadgets, as well as merchandise for children. (kes)
Garuda Indonesia and Thales announce partnership at Singapore Airshow
Garuda Indonesia, the country's flagship carrier plans to enhance its passenger experience with the Thales AVANT IFE system on board their 14 A33oneo aircraft. They hope that this will drive the airline's strategic positioning and attract more passengers as Indonesia foresees the increase of passenger growth to reach the double-digits. The agreement is a first for Thales and Garuda Indonesia and paves the way for both industry leaders to collaborate and deliver ground-breaking innovations to the aviation sector. "We are excited to partner with Garuda Indonesia, the world class airline rich in service culture. As the carrier evolves digitally and implements the latest technologies to enhance the travel experience for passengers, Thales is pleased to work with Garuda and help accelerate their digital journey by delivering state-of-the art in-flight entertainment," said Erik-Jan Raatgerink, Country Director, Thales in Indonesia.
The new IFE system is based on an open Android platform, and will support multiple languages and host applications such as Interactive 3D Map, e-reader and more. The Avii handset, available for business class passengers, is a second-screen application platform that enables passengers to select, control and enhance their multimedia experience. Garuda Indonesia expects to take delivery of the A330neos in 2019.
Garuda Indonesia to operate flights from Bali Wednesday night
Garuda Indonesia
is scheduled to operate flights from Ngurah Rai International Airport in Denpasar, Bali, on Wednesday night, following the announcement of the airport's reopening at 2:28 p.m. local time.
The airline has listed some flight numbers that are scheduled to depart from the airport, most of them catering to the Denpasar-Cengkareng (Soekarno-Hatta International Airport) route, such as GA 421, GA 413, GA 415 and GA 423. There is also GA 484, which serves the Denpasar-Labuan Bajo route and GA 349, which serves the Denpasar-Surabaya route. So far there is only one flight to Denpasar from Labuan Bajo, flight GA 7027.
Garuda Indonesia announced that they will operate Bali round-trip flights on Thursday as well. "Garuda Indonesia's flights from Denpasar, Bali, from tonight are our way to minimalize accumulation of passengers," said Hengki Heriandono, vice president corporate secretary of Garuda Indonesia, in a press release. "Therefore, we encourage our passengers to check their schedules."
Indonesian Airline Garuda Targets a Return to Profit in 2018
PT Garuda Indonesia is targeting a return to profit next year after a loss in 2017 as the flag carrier works to reduce expenses and operations improve. The airline is predicting a profit of $75 million in the second half ending December but won't be able to post a profit for the 12-month period following a larger loss in the first six months of the year, Chief Executive Officer Pahala Mansury said. Losses in the first half totaled $284 million, he said. The Indonesian carrier is boosting aircraft utilization by reducing flight turnaround time and cutting expenses, steps that will help Garuda turn in a profit next year, Mansury said. The executive, who took the helm six months ago, said Garuda aims to bring down its cost per available seat kilometer to 5.5 cents to 6 cents, from 6.7 cents currently.
"We have been increasing the utilization rate of our aircraft and will continue to do so," Mansury said in an interview in Jakarta on Oct. 18. "This will be the key factor to determine whether we are profitable in future and whether our financials improve." By comparison, cost per available seat kilometer across Singapore Airlines group, which includes budget carrier Scoot, was 6.83 Singapore cents (5 cents) in the latest fiscal quarter ended June, according to data compiled by Bloomberg. Garuda is in discussions with planemakers to defer aircraft delivery, Mansury said, without giving specific details. In 2015, the carrier committed to 60 planes from Boeing valued at $10.9 billion at list prices and 30 aircraft from Airbus valued at $9.1 billion, before discounts that are customary in the industry for large orders. The company is restructuring its low-cost carrier Citilink and converting debt in the unit to equity, the CEO said. In addition, Garuda plans to boost revenue from other aviation-related businesses such as aircraft maintenance and its hotel subsidiaries. Mansury said Garuda is leveraging on Indonesia's geographic position to get more overseas customers. Revenue from international flights expanded almost 15 percent in the first half from a year earlier, while the share from domestic travel fell. Garuda shares gained as much as 1.8 percent to 334 rupiah on Monday, trimming its year-to-date drop to 1.2 percent. That compares with a 24 percent gain in the Bloomberg Asia Pacific Airlines Index in 2017. Starting next month, the airline will fly non-stop to London from Jakarta after years of setbacks, allowing it to tap around 700,000 passengers who travel between Australia and the U.K. each year on the so-called "Kangaroo route." The group is targeting a net income margin of 1 percent to 2 percent in 2018, compared with 0.21 percent last year. "Garuda Indonesia's situation has improved," Mansury said.
Garuda Indonesia, Indonesia's flag carrier, is launching a new direct route between London Heathrow and Jakarta's Soekarno-Hatta International Airport, Indonesia from 31 October
This will be the only non-stop return leg service available from Indonesia to London Heathrow. The new Soekarno-Hatta to Heathrow direct flights are scheduled for every Tuesday, Thursday and Saturday, leaving Jakarta at 12:05pm and landing in London at 8pm. This will be flown using a B777-300ER. Boydike Kussudiarso, Garuda Indonesia's General Manager UK & Ireland stated, "the new service will mean that we can offer the only non-stop links between the UK and Indonesia, making us a desirable airline for business and leisure travellers alike travelling between the two countries."
"Operating non-stop flights from Jakarta to London has been a significant goal of ours for many years, even more so since the new Terminal 3 at Jakarta's Soekarno-Hatta International Airport – which opened just last year – became our home this May" Kussudiarso further said. The service will run 3 x Weekly and will make Garuda Indonesia the only airline offering direct flights there and back. Currently, the outbound route from Heathrow is direct but the return involves a stopover in Singapore. Those flying from Jakarta to London currently still have to transit in Singapore.
Garuda Indonesia makes changes in London and Amsterdam
Indonesian airline Garuda will changes its operations at Amsterdam Schiphol and London Heathrow this winter. Premium seating is being drastically reduced on services departing Amsterdam as Garuda will now concentrate on volume. At the same time there will be fewer flights out of London Heathrow. The changes take effect on October 29 which is the start of the winter timetable. In the case of London, Garuda will now operate two weekly flights as against three at present. Current schedules see Garuda's B777-300ERs departing Heathrow every Tuesday, Saturday and Sunday.
Schedules now displayed on the carrier's website show the Sunday flight axed. Travellers wishing to travel London-Jakarta on a Sunday will be offered a connection with KLM to Amsterdam. The news emerging from Amsterdam will be of equal concern to readers because Garuda has decided to cater more to economy than premium fare customers. First class will be axed altogether from Amsterdam, and business class will be slimmed down.
The new two-class B777-300ER features 393 passengers in total comprising 26 in business and a whopping 367 in economy class. By comparison Garuda's three class B777-300ERs operating from London accommodate a maximum of 318 passengers with eight in first, 42 in business and 268 in economy class. One good point is that Garuda will continue to adopt the spacious 3-3-3 layout in its economy cabins. Garuda tells Luchtvaart that "The decision was made in view of the huge and increasing demand for economy tickets to Indonesia." According to Garuda, "This extra capacity means there are plenty of seats available in the high demand period around Christmas and New Year." For historical reasons Amsterdam has always been Garuda's European HQ. The airline also flies more frequently from Holland than it does from the UK.
Garuda Indonesia opens Jakarta - Banyuwangi route
National flag carrier Garuda Indonesia will launch a direct flight route from Jakarta to Banyuwangi starting August, following the news of NAM Air, a subsidiary of Sriwijaya Air, which opened a new route to Blimbingsari Airport in Banyuwangi on July 16. Garuda's new route is hoped to be able to increase the number of tourist visits to the eastern side of Java Island and make it easier for people who live around Banyuwangi such as Situbondo, Jember, Bondowoso and West Bali to travel to Jakarta. Banyuwangi itself is a booming market. According to the data by East Java Investment Coordinating Board (BKPM), Banyuwangi takes the third spot for investment realization in East Java.
---