Search & Buy Batik Air Indonesia Flights
Airlines will always try to sit children with their parents (subject to check-in)
Some airlines will allow travel for unaccompanied minors. Please email us to check.
The fare is based on the child's age on the date of travel.
More detailed information can be found here Traveling with children
Most airlines will let infants travel with their parent(s) for free. However some airlines will charge up to 10% of the adult ticket price. Click on 'Price Breakdown' to find out more.
If you are pregnant, but due before the flight departure date, please contact us once your baby is born and has a name. We can then add him/her to your ticket.
Infants will not be given a seat. The airlines expect parents to travel with them on their lap.
Airlines regard infants as being under 24 months old.
The fare is based on the child's age on the date of travel.
More detailed information can be found here Traveling with children
Buy
Batik Air Indonesia

Flights
Batik Air Reservations with Alternative Airlines
Make an Batik Air Booking and Find Some Amazing Deals
---
About Batik Air
Batik Air is an Indonesian scheduled passenger airline based in Jakarta, Indonesia. Batik Air flies to cities within Indonesia, focusing on cities including Manado, Pekanbaru and Palembang. The airline was created as a subsidiary of Lion Air (the parent group) and began operations in May 2013 using a Boeing 737-900ER. Batik Air has 32-inch wide pitch seats with in-flight entertainment that include a great selection of movies, music and games. Every seat has a USB port for Batik Air passengers to charge their electronic devices during their flight. Batik Air has a fantastic, diverse in-flight menu that will satisfy all passengers.
Those flying in Business Class can enjoy a bigger in-flight menu and larger 45-inch pitch seats. Batik Air has a Business Class lounge at Terminal 1c of its airport hub in Jakarta, Soekarno—Hatta International Airport (CGK).
Batik Air's fleet consists of a mix of Airbus (A320-200, A320neo, A321neo) and Boeing (737-800, 737-900ER) aircraft.
---
Batik Air Baggage
Carry-on Baggage
Passengers flying with Batik Air are entitled to one free item of carry-on baggage. The baggage must not exceed the dimensions of 40cm x 30cm x 20cm and must be no heavier than 7kg in weight.
Checked Baggage
Economy Class - 1 item of free checked baggage. The baggage must be no heavier than 20kg in weight.
Business Class - 1 item of free checked baggage. The baggage must be no heavier than 30kg in weight.
All passengers flying on Batik Air can purchase additional baggage if required.
Batik Air accepts sports equipment free of charge, including surfboards, golf clubs, bicycles and diving gear.
---
Batik Air Frequent Flyer Program
Batik Miles offers a range of benefits designed to enhance your travel experience. Earn points and redeem free flights whenever you fly with us. Enjoy special offers and promotions specially catered for Miles Members wherever you travel.
---
Batik Air Popular Routes
Palu

Makasaar
Padang

Jakarta
Balikpapan

Jakarta
Kupang

Bali
---
Batik Air Fleet

Airbus A330-300
Boeing 747-400
Boeing 737-800
Boeing 737-900ER
---
Batik Hub Airport
Soekarno-Hatta International Airport
Soekarno–Hatta International Airport the main airport serving the greater Jakarta area on the world's most populous island of Java, Indonesia, along with Halim Perdanakusuma Airport. As of 2014, it is also the busiest airport in the Southern Hemisphere.
The Jakarta-Singapore route is the world's fifteenth busiest passenger air route. Airlines that fly from and to Soekarno-Hatta International airport include Etihad, Garuda Indonesia, Emirates and Air Asia. Another airline flying from Soekaran is Sriwijaya Air.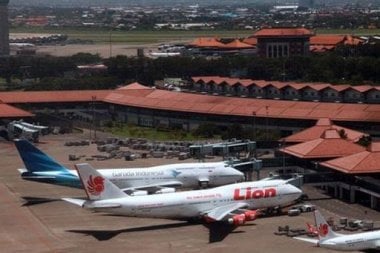 ---
Alternative Airlines to Batik Air
---
Buy Discounted Batik Air Tickets at Alternative Airlines
---
Batik Air News
27th June 2018
During Lebaran, Airline's On-time Performance Improves
Batik Air recorded the best Online-Time Performance (OTP) at 91.33%. Garuda Indonesia followed after with 90.23%, Citilink Indonesia (86.4%), Indonesia AirAsia (85.46%), NAM Air (85.39%), TransNusa (82.95%), Indonesia AirAsia Extra (82.27%), Sriwijaya Air (76.28 %), Travel Express (70%), Wings Air (69.76%), Lion Air (64.32%), Susi Air (50.18 %) and Trigana Air (40.06 %).
Domestic airlines had transported 5.93 million passengers at 36 airports across the country, during the holiday period.
18th June 2018
Batik Air allowed to fly in Europe after 11 year ban
Batik Air has been removed from Europe's list of banned airlines — along with other Indonesian airlines — as the EU put in place a new system that will evaluate which aircraft are deemed safe enough to fly within and throughout Europe. The new system is being run by Eurocontrol, which is an air traffic control company that cover 41 member and two comprehensive agreement states.
Batik Air was granted access to fly in Europe after the whole of Indonesia passed an International Civil Aviation Organisation audit which saw Batik Air, along with two other Indonesian airlines, being given a seven-star safety rating. Batik Air has been banned from flying in Europe since 2007 when all Indonesian airlines were deemed unsafe to fly in the continent. However, after Batik Air's extremely high safety rating, the EU air travel executives can see no reason why the airline shouldn't be able to fly in European airspace.
8th June 2018
Batik Air achieve seven-star safety rating
Safety rating agency, AirlinesRatings.com, have awarded Batik Air a ranking of seven stars safety rating — the maximum rating that an airline can receive. The upgrade comes after Indonesia ordered to comply with new safety regulations that are split into eight categories — operations, airworthiness, accident investigation, aerodromes, organisation, legislation, air navigation services and licensing.
Batik Air also recently completed their International Air Transport Association Operational Safety Audit (IOSA). This audit is conducted every two years for most airlines.
2nd May 2018
Batik Air`s Jakarta-Kinabalu Route to Fly Twice a Week
A low-cost carrier from Lion Air Group, Batik Air, offers flight schedule from Jakarta to Kinabalu, East Malaysia, twice a week. Batik Air CEO Achmad Luthfie says the flight will depart from Soekarno-Hatta Airport to Kinabalu International Airport (BKI).
"This service is aimed at attracting more tourists to visit Indonesia and connect Indonesian customers to explore the destinations in Kinabalu or other tourist spots in Malaysia," Luthfie said in a press release on Thursday, April 26.
The customers flying from Jakarta can continue the trip with other Lion Air Group networks and Malindo Air to explore other cities in Malaysia, he added.
According to Luthfie, Kinabalu, the capital of Sabah, East Malaysia, offers wonderous tourist attractions. East Malaysia is known for its nature and marine tourism.
To date, Batik Air serves its passengers to 40 domestic destinations and more than 300 international flights per-day with 54 units of Airbus A320 CEO dan Boeing 737-800/900 ER.
13th March 2018
Batik Air runway incident
A Batik Air Airbus A320-200, registration PK-LAJ performing flight ID-6155 from Manokwari to Sorong, Indonesia, with 125 people on board, was backtracking runway 17 for departure and was about to turn around before the runway threshold when the right hand main gear went off paved surface disabling the aircraft. This situation was well-dealt with as the passengers disembarked onto the runway via stairs. The aircraft needed to be dug out and towed to the apron. The aircraft is still in Manokwari.

20th December 2017
Direct KK-Jakarta flight from Wed
Batik Air will start a direct flight between Jakarta and the State Capital from Wednesday.
This was disclosed by outgoing Indonesian Consul General Bapak Akhmad Daya Handasah Irfan during a courtesy call on Deputy Chief Minister Datuk Raymond Tan at his office, on Friday. Bapak Akhmad said this is good news to both region in terms of tourism and trade activities.
It is believed to be the first Indonesian airline to provide a direct air link to Sabah. Batik Air is a subsidiary of Lion Air that is controlled by the Kirana brothers.
During the farewell call, Tan expressed his appreciation to Bapak Akhmad for the cooperation especially in trade and industrial activities he has rendered to the State Government during his tenure as Consul General in the state. Batik Air is a sub-company created by Lion Air as a full service airline which began operations in May 2013.
It was previously reported that Batik Air was going to be the new name .
The airline uses Jakarta airports as a hub to concentrate passenger traffic and flight operations in Indonesia which usually focusses on domestic flights to Manado, Pekanbaru, and Palembang.
Previous air links between Sabah and Indonesia were provided by MASwings.
13th September 2017
Lion Air's special offer for Malaysian student travel in Indonesia
Low-cost airline, Lion Air Group, is offering Malaysian students in Indonesia the opportunity to travel across the country with special air ticket prices.
Its chief executive officer Edward Sirait said the offer was one way to celebrate the 60th anniversary of diplomatic relations between the two countries this year.
He said the offer for Malaysian students included the group's Lion Air, Wings Air and Batik Air for its domestic travel in Indonesia.
"This is a form of respect by Lion Air Group to celebrate the 60th anniversary of bilateral cooperation between Indonesia and Malaysia," he said when launching the special programme at the Malaysian Embassy here yesterday.
He said, however, the special price offer would be different from one region to another and Malaysian students only needed to fill out certain data when booking tickets.
There are over 5,000 Malaysian students in Indonesian universities.
Meanwhile, Malaysia's Ambassador to Malaysia, Datuk Seri Zahrain Mohamed Hashim, said he welcomed the offer as it would provide opportunities for Malaysian students to visit tourist attractions in Indonesia.
He said as students they would have been looking for cheap flights to travel in the country during the holiday season or when they they had the free time.
Zahrain said the Lion Air Group's offer proved that the private sector in Indonesia had always worked with Malaysia and celebrated diplomatic ties between the two countries since Malaysia achieved Independence.
May 2017
Batik Air becomes the new full-service player for Perth-Bali flights
After several false starts, Indonesia's Batik Air will launch a twice-daily service on the highly competitive Perth to Bali route next month, while Shanghai-based China Eastern Airlines, the world's fifth-biggest airline, considers flights to WA.
This week Batik confirmed the service to Perth would start on June 21 in a statement from a public relations manager for the airline's parent, the Lion Air Group, Andy Saladin.
"Full service Batik Air will open a new Denpasar to Perth flight twice-daily starting June 21," Mr Saladin said.
Batik operates Boeing 737s and Airbus A320s and flies to 31 domestic destinations as well as Singapore.
The airline, which offers business and economy class, recently received approval to fly to Europe and also passed the stringent IATA Operational Safety Audit on November 17.
The flights depart from Perth at 8.30am and 6.20pm and arrive back at 4.30pm and 12.20am. Both flights are to be operated by 737-900ERs with 172 seats.
Batik's business-class seats are set at 45 inches apart and the economy seats are at a generous 32 inches. All passengers have free in-flight entertainment and meals.
Batik joins Garuda Indonesia, Indonesia AirAsia and Jetstar on the Bali route.
Tigerair withdrew from Bali earlier this year after Indonesian authorities revoked its operating certificate over minor technicalities.
Meanwhile, officials from China Eastern Airlines, which is an alliance partner of Qantas, have visited Perth to look at the possibility of starting daily flights from China's financial centre Shanghai, the company's base.
Yesterday China Eastern Australia manager Kathy Zhang told The West Australian the airline was "exploring the possibility of direct flight from Shanghai to Perth, which means it has not been decided yet". But sources at Perth Airport say the likelihood is high that a service will be launched by the end of the year.