Lion Air Reservations with Alternative Airlines
Make a Booking with Amazing Deals
---
About
Lion Mentari Airlines, or commonly known as Lion Air, is an Indonesian low-cost airline based in Jakarta, Indonesia. Lion Air is Indonesia's largest privately-run airline, and the second largest airline as is flies to 79 destinations across Indonesia, Singapore, Malaysia, Vietnam and Saudi Arabia as well as charter routes to China and Hong Kong.
Lion Air is the parent airline group of Batik Air, Malindo Air, Thai Lion Air and Wings Air. The airline was legally established on 15 November 1999 and began operating the first time on June 30, 2000 by flying from Jakarta to Pontianak using aircraft type Boeing 737-200 which at that time only 2 units.
Did you know? You can purchase Lion Air flights today and spread the cost over time. Paying for Lion Air flights in instalments makes it easier to budget for your next trip away. To find out more check out our Lion Air - Fly Now Pay Later page
---
Destinations
Fifteen years in the air, Lion Air already flies to 183 routes. These are divided into domestic routes around Indonesia from Sabang to Merauke, and the International towards a number of countries such as Singapore, Malaysia, Saudi Arabia and China.
---
Fleet
Lion Air Group now has 332 aircraft including Boeing 747-400s, 737-800, 737-900 ER, 737 MAX 8, ATR 72-500, ATR 72-600, Airbus A330-300s, Airbus A320 CEO, Hawker 900 XP and EC 135-P2e.
---
Baggage
Carry-on Baggage
Lion Air customers are permitted one piece of carry-on baggage with a maximum weight of no more than 7kg. Dimensions must not exceed 30cm x 40cm x 20cm.
Checked Baggage
Lion Air doesn't give passengers a free baggage allowance. Baggage is available to pre-purchase through its website or at the airport.
---
Check-in Information
Online Check-in
Passengers can check in online starting from 24 hours before departure. Online check-in will close four hours before departure.
---
Book Lion Air Flights in English
Flying around Indonesia? You can now find Lion Air flights in English with Alternative Airlines. We have an excellent customer service team to help you with any of your queries in English. Enjoy a stress-free booking process in English with Alternative Airlines.
---
Lion Air Route Map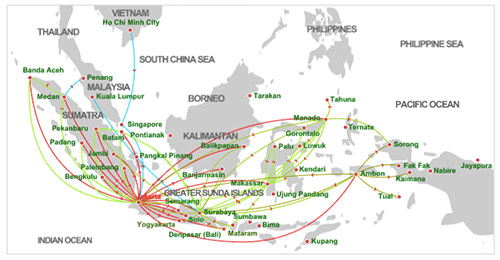 ---
Hub Airport
Soekarno-Hatta International Airport
Soekarno–Hatta International Airport the main airport serving the greater Jakarta area on the world's most populous island of Java, Indonesia, along with Halim Perdanakusuma Airport. The Jakarta-Singapore route is the world's fifteenth busiest passenger air route. Airlines that fly from and to Soekarno-Hatta International airport include Etihad, Garuda Indonesia, Emirates, Nam Air and Air Asia.
---
Economy Class
Economy Class is one of two cabin classes offered on Lion Air flights. Economy Class is available on all flights, whether domestic or international.
Economy Class Facilities
Passengers in Economy Class can check-in online in the days leading up to their flights in order to save time at the airport. An inflight menu is available to order from, with a selection of food and drink.
What are Economy Class Seats Like?
The airline's 29-inch seats are made from genuine leather.
---
Premium Economy Class
Lion Air doesn't have a Premium Economy class.
---
Business Class
Business Class is Lion Air's most superior cabin class with the fullest service and is available on selected flights.
Business Class Facilities
Business Class passengers can enjoy an in-flight dining experience with an extensive food and drink menu consisting of Indonesian cuisine, as well as food from the rest of the world. Each passenger flying Business Class is given a free checked baggage allowance of 30kg.
What are Business Class Seats Like?
Lion Air's 38-inch seats provide passengers with an extra nine inches of space when compared to seats in Economy Class. Business Class seats are made from leather and designed to give optimum comfort and extra legroom.
---
First Class
Lion Air doesn't have a First Class cabin. If you'd like a more luxurious inflight experience than Economy Class, we suggest opting for Business Class.
---
Alternative Airlines to Lion Air
Please click on the logos below to find out more about airlines that fly similar routes to Lion Air:
To learn more about airlines that fly around Indonesia, please visit our page on Flights Around Indonesia.