Search and Buy
Flights Around the Indonesian Islands
Search and buy multi-stop flights and domestic flights around Indonesia. Book all your flights around the Indonesian Islands in one place and compare flights from different domestic Indonesian airlines.
---
About Indonesia
So much more than just Bali, Indonesia is a deeply diverse country made up of over 17,000 volcanic islands. The unique mix of Oceanic and Asian cultures makes Indonesia a rich melting pot of religion, languages and cuisines. From the sprawling metropolis of its capital, Jakarta, to its remote tropical beaches, Indonesia is a land of contrasts that is best explored over several weeks.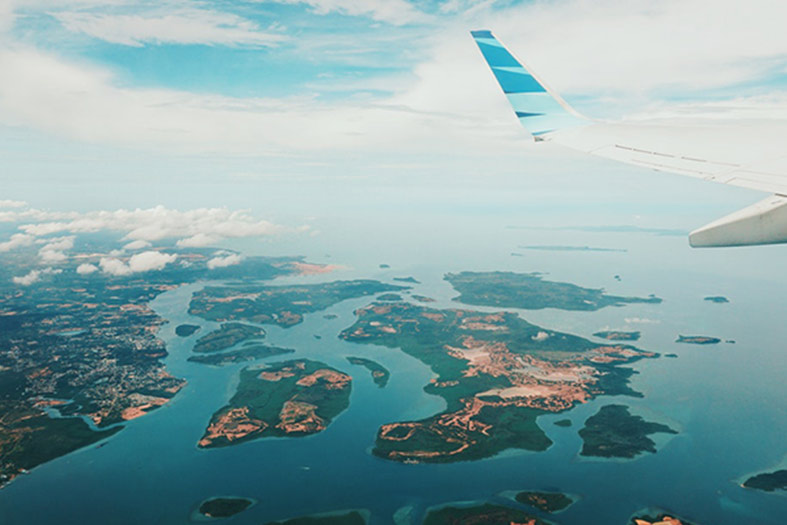 What's the Best Way To Travel Around the Indonesian Islands
Many people choose to travel between Indonesian islands by ferry, however, flying provides you with a faster, more reliable way to discover the diversity of this stunning archipelago. (Not forgetting the incredible views from the plane!) Save time by booking all of your Indonesian island flights in one place with our handy multi-stop flights tool. Alternative Airlines works with a range of domestic Indonesian airlines so that you can book your island-hop around Indonesia all in one place!
Domestic flights can be a great way of getting around the country of Indonesia, due to the vast and difficult nature of the island's terrain. It is often noted as being a cheap way of getting around Indonesia, and being able to visit multiple places. This is due to the lowering cost of air travel. Easiness is also another reason why many tourists choose to fly domestically within Indonesia, especially with the addition of multi-city flights, where you can book flights all in one place and plan your travels with ease.
---
All Airlines Flying Within Indonesia
| Airline | Airport Base |
| --- | --- |
| Aviastar | Syamsudin Noor Airport |
| Batik Air | Soekarno-Hatta International Airport |
| Citilink | Juanda International Airport |
| Garuda Indonesia | Soekarno-Hatta International Airport |
| Indonesia AirAsia | Soekarno-Hatta International Airport |
| Lion Air | Soekarno-Hatta International Airport |
| NAM Air | Soekarno–Hatta International Airport |
| Pelita Air | Pondok Cabe Airport Halim Perdanakusuma International Airport |
| Sriwijaya Air | Soekarno–Hatta International Airport |
| Super Air Jet | Soekarno–Hatta International Airport |
| Susi Air | Cijulang Nusawiru Airport |
| TransNusa | El Tari Airport |
| Trigana Air | Soekarno–Hatta International Airport |
| Wings Air | Sultan Hasanuddin International Airport |

What are the Best Indonesian Domestic Airlines?
Find out the best airlines and where they fly to below to start searching for your multi-stop trip around Indonesia.
---
Best Indonesian Airline for Customer Service
Garuda Indonesia
The national airline of Indonesia is Garuda Indonesia. The second largest airline in the country, Garuda Indonesia is renowned for its excellent customer service (which was rated 5 stars by SkyTrax) and luxurious Business Class Fare. The airline flies to 64 major destinations within Indonesia.
Garuda Indonesia offers flights to Bandung, a vast urban jungle that serves as the perfect base for day trips to the West Java tea plantations.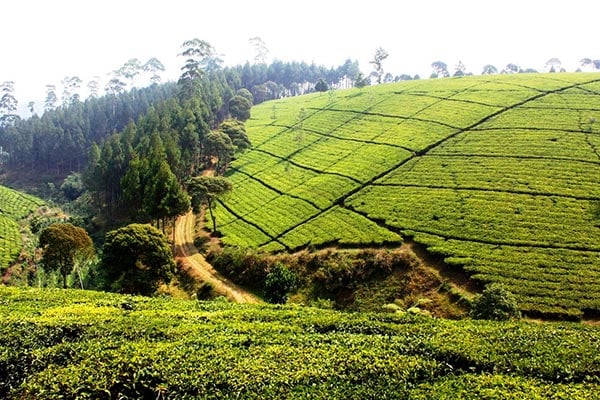 ---
Best for Cheap Flights
BATIK AIR
Batik Air, is part of the fast-growing budget airline Lion Air. The airline flies to a great number of destinations around Indonesia.
Batik Air connects you to Palu Airport, the perfect gateway to exploring Saluwesi, an island filled with diverse flora and fauna, as well as the stunningly remote Togian Islands.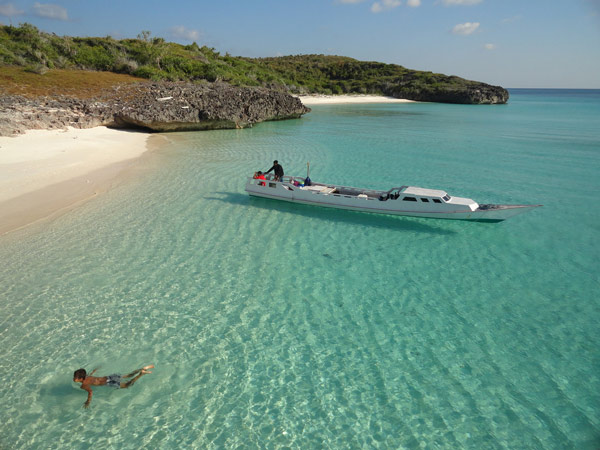 ---
Best for Cheap Flights and Getting to Mount Bromo
Citilink
Citilink is a budget Indonesian airline that began as a subsidiary of Garuda Indonesia. It offers cheap flights around Java and the Lesser Sunda Islands, Sumatra and Riau Islands, Kalimantan and Sulawesi.
Citilink offers multiple direct flights between Jakarta and Surabaya. We recommend flying as a way to get to Mount Bromo, a stunning active volcano surrounded by a protected nature reserve.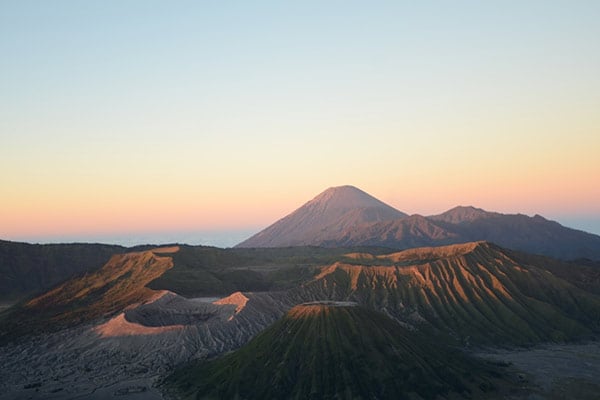 ---
Best for Low-Cost Flights to Yogyakarta


Indonesia Air Asia
Indonesia Air Asia is part of the Malaysian low-cost airline AirAsia. It flies to a range of destinations across Indonesia including Bandung, DenPasar, Jakarta, Medan, Semarang, Yogyakarta.
The airline runs a direct route between the capital, Jakarta, and Yogyakarta, a must-see destination renowned for its temples and rich religious heritage. Fly me to Yogykarta with Indonesia Air Asia. To learn more about eating in Yogyakarta, check out the Alternative Airlines' blog on street food around the world.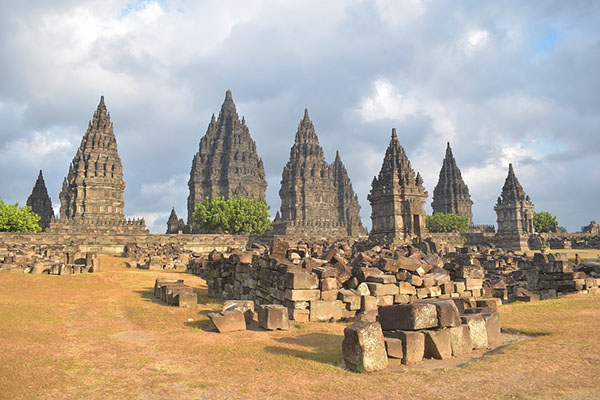 ---
Best for City Connections


Malaysia Airlines
Not technically an Indonesian airline, Malaysia airlines is the national airline of Malaysia which operates flights within Indonesia to Bandung, Denpasar, Jakarta, Makassar, Medan, Padang, Pontianak, Surabaya, Tarakan and Yogyakarta.
We recommend visiting Padang, a hub for backpackers made famous by the delicious nasi padang (a steamed rice dish served with cassava leaves and various traditional Indonesian dishes).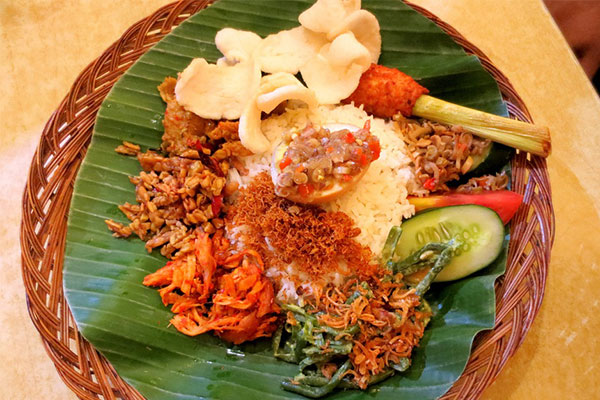 ---
Other Indonesian Airlines
There are a number of other airlines that fly to and around Indonesia. These include Nam Air, Sriwijaya Air, Indonesia AirAsia X, Lion Air and Wings Air. Merpati Nusantara Airlines used to operate in Indonesia but unfortunately ceased operation in 2014.
---
Book Domestic Flights Around Indonesia

With Alternative Airlines
With Alternative Airlines, you can easily book your multi-stop trip around Indonesia. We work with various Indonesian domestic airlines to make booking your flights as simple as possible. Choose between Indonesian airlines and pay with the currency of your choice!
---
Domestic flights
Popular routes and airports
Flights to Bali
The best airport to visit Bali is Ngurah Rai International Airport in Denpasar (DPS), which offers domestic and international flights.
You can fly to this airport domesitcally or internationally, with airlines such as KLM, Malindo Air or Citilink.
Flights to Java
There are airports that fly all over Java, because the island itself is quite vast. It you are looking for the main airport on the island, you can fly to Jakarta Soekarno-Hatta (CGK), but be sure to research if there is an airport located closer to where you will be going.
Fly to CGK from international or domestic destinations with airlines such as Garuda Indonesia, NAM Air or Uzbekistan Airways.
Flights to Sumatra
One of the main airports in Sumatra is located in North Sumatra, and is Medan-Kualanamu (KNO).
Fly domestically with airlines such as Indonesia AirAsia or Sriwijaya Air, or to international destinations with airlines such as Malaysia Airlines or Flynas.
Flights to Kalimantan
In East Kalimantan, the best airport is an international one: Balikpapan (BPN), which operates Indonesian domestic flights as well as to destinations in other countries.
Fly to destinations within Indonesia or elsewhere in Asia with airlines such as Batik Air, SilkAir or Wings Air.
Flights to Sulawesi
The best airport to fly into for Sulawesi is Makassar (UPG) which is located in South Sulawesi.
Fly with airlines such as Susi Air, Flynas, Batik Air and Aviastar.
Flights to Lesser Sunda Islands
Other than when flying to Bali, the best airport to fly into the Lesser Sunda Islands is to Lombok (LOP), located in West Nusa Tenggara.
LOP airport operates mainly domestic and regional flights, but you can still choose from airlines such as Wings Air, Lion Air and Citilink.
Flights to Maluku
Pattimura International Airport in Ambon (AMQ) is the best airport to use when flying into Maluku.
Fly to and from AMQ with airlines such as Aviastar, Lion Air, Sriwijaya Air and Nam Air.
Flights to Papua
If you are flying to Papua, you'll most likely want to fly into Sentani International Airport, Jayapura (DJJ), although there are other airports you may want to use if the location is more convenient.
Trigana Air Service, PNG Air and Garuda Indonesia are just a few of the airlines that operate flights in and out of this airport.
---
Indonesia
Based on 2018 data from the Airport Council International and the Angkasa Pura companies.
| Rank | Airport | City Served | Passengers | Airlines |
| --- | --- | --- | --- | --- |
| 1 | Soekarno–Hatta International Airport | Jakarta, Banten | 65,893,904 | Batik Air, Cardig Air, Garuda Indonesia, Nam Air |
| 2 | Ngurah Rai International Airport | Denpasar, Bali | 23,779,178 | Garuda Indonesia, Indonesia AirAsia, Lion Air, Wings Air |
| 3 | Juanda International Airport | Surabaya, East Java | 20,951,063 | Citilink, Sriwijaya Air, Lion Air, Indonesia AirAsia |
| 4 | Sultan hasanuddin International Airport | Makassar, South Sulawesi | 13,537,770 | Lion Air, Wings Air, Airfast Indonesia, TransNusa |
| 5 | Kualanamu International Airport | Medan, North Sumatra | 10,027,122 | Susi Air, Lion Air, Batik Air, Citilink |
| 6 | Adisutjipto International Airport | Yogyakarta, Yogyakarta Special Region | 8,430,622 | Sriwijaya Air, XpressAir, NAM Air, SilkAir |
| 7 | Sultan Aji Muhammad, Sulaiman Airport | Balikpapan, East Kalimantan | 7,553,190 | Pelita Air, Lion Air, Garuda Indonesia, Wings Air |
| 8 | Halim Perdanakusuma Airport | Jakarta, DKI Jakarta | 7,400,000 | Pelita Air, Batik Air, Citilink |
| 9 | Hang Nadim International Airport | Batam, Riau Islands | 6,500,000 | Susi Air, Batik Air, Malindo Air |
| 10 | Sultan, Mahmud Badaruddin II International Airport | Palembang, South Sumatra | 5,126,298 | Wings Air, Scoot, Nam Air, Citilink |