Search & Buy Malindo Air Flights
Airlines will always try to sit children with their parents (subject to check-in)
Some airlines will allow travel for unaccompanied minors. Please email us to check.
The fare is based on the child's age on the date of travel.
More detailed information can be found here Traveling with children
Most airlines will let infants travel with their parent(s) for free. However some airlines will charge up to 10% of the adult ticket price. Click on 'Price Breakdown' to find out more.
If you are pregnant, but due before the flight departure date, please contact us once your baby is born and has a name. We can then add him/her to your ticket.
Infants will not be given a seat. The airlines expect parents to travel with them on their lap.
Airlines regard infants as being under 24 months old.
The fare is based on the child's age on the date of travel.
More detailed information can be found here Traveling with children
Buy
Malindo Air

Flights
Search and Buy Malindo Air Flights Online with Alternative Airlines
Make a Malindo Air reservation and find some amazing deals with discounted Malindo Air

tickets at Alternative Airlines
---
About Malindo Air
Malindo Air is a Malaysian airline headquartered at Kuala Lumpur International Airport and Sultan Abdul Aziz Shah Airport. Currently, Malindo Air has 800 flights travelling weekly to over 40 destinations, which include 31 destinations to India, Thailand, Indonesia, Nepal and Pakistan.
Commencing operations on 22 March 2013, Malindo Air is the first airline to operate the brand new dual-class layout B737-900ER in Malaysia. The airline's inaugural flight took off from Kuala Lumpur to Kota Kinabalu, Sabah, Malaysia on 22 March 2013 and has since expanded to include popular regional destinations in Thailand, India, Indonesia, Singapore and Nepal with the first international flight departing for Dhaka, Bangladesh on 28 Aug 2013.
Malindo Air started its ATR72-600 operations from Sultan Abdul Aziz Shah Airport, Subang Skypark on 3 June 2013. The carrier currently operates a young fleet of Boeing 737-900ER, 737-800 and ATR72-600 aircraft for both domestic and international flights. Malindo Air is strengthening its coverage in Thailand with the inauguration of regular flights from Kuala Lumpur to Phuket on 10th November.
The airline is 51% owned by the National Aerospace & Defence Industries Sdn Bhd of Malaysia and 49% by Indonesia's Lion Group, operates four weekly flights on the new route, an airline insider in Bangkok.
---
Maling Air Frequent Flyer Program
Malindo Air offers rewards to frequent flyers through its frequent flyer program Malindo Miles. The carrier operates a network of scheduled passenger services throughout Malaysia, and has spread its wings to regional destinations in Indonesia, Thailand, Bangladesh, India, Singapore, Nepal, Sri Lanka, Australia and Pakistan covering an extensive network of almost 40 routes in the region.
Malindo Air prides itself in offering its customers attractive fares, on-time flights and excellent customer service both on-ground and in-flight. In-flight connectivity services Malindo WiFi and Malindo Mobile were introduced in June 2015, as a product enhancement on board its B737-900ER fleet.
---
Malindo Baggage
The amount of checked baggage that you can take with you free of charge will vary according to the route, class of travel, terms and conditions of ticket. For most destinations, your free checked baggage allowance is determined by weight.
Malindo Air Carry-on Baggage
Business Class
Each passenger is allowed 2 pieces of cabin baggage and 1 laptop bag OR 1 handbag on-board. The main cabin baggage shall not exceed 35 x 55 x 25 cm and must not weigh more than 10kg.
Economy Class
Each passenger is allowed 1 piece of cabin baggage and1 laptop bag OR 1 handbag on-board. The main cabin baggage shall not exceed 36 x 56 x 23 cm and must not weigh more than 7kg.
Malindo Air Checked Baggage
Each passenger is allowed to check-in a maximum of two (2) pieces of luggage only, Passengers exceeding the given amount, charges will incur with purchasing a minimum of an additional 3kg.
Domestic Flights
Business Class - 40kg (for Boeing aircrafts)
Economy Class - 30kg (for Boeing aircrafts)
Economy Class - 15kg (for ATR aircrafts)
Note: Should you exceed this amount, additional charges will be incurred. Thereafter, the standard rates applicable are as follows:
+ ATR aircraft - RM 39.22 per kg
+ Boeing aircraft - RM 39.22 per kg
---
Malindo Air Class Fares
Malindo Air offers two class fares: Economy and Business.
---
Malindo Air Economy Class
Malindo Air's Economy Class provides comfort, relaxation throughout your flight journey.
Malindo Air Economy Class Facilities
Malindo Air's Economy Class offers a range of facilities for you to enjoy. Various amenities are on offer depending on your flight journey time.
You will have access to beverage service for flight journeys that are less than 1 hour, which are only Singapore flights. For flight furations of 1 - 3 hours, you can enjoy a hot snack and beverge service. If you are flying for over 3 hours in Economy Class, you will be offered a hot meal and selection of drinks to enjoy.
On ATR routes, you can purchase drinking water or a Starbucks coffee and pastry on board.
In-flight entertainment is also available for passengers to enjoy.
Malindo Air Economy Class Seating
Malindo Air's Economy Class seating are designed with leather seats and can recline. Distant between back and front of each seat is 32 inches.
---
Malindo Air Business Class
Business class with Malindo Air is all about offering a luxurious and convenient experience.
Malindo Air Facilities
Receive a personalised service at Malindo's check-in lounge at the KL International Airport (KLIA), and make the most of extra baggage allowance. On-board, a specially developed menu is offered.
Malindo Air Business Class Seating
Luxury meets comfort: recline and relax on full leather seats and watch the latest movies on a personal touch screen TV. Stay connected, as free WI-Fi and a three-pin power supply socket is within easy access on the side of your seat to offer ideal convenience.
---
Malindo Air Food
Malindo Air Meal Options
Malindo Air offer passengers a selection of delicious Malaysian specialities, including dishes such as Mamak Mee Goreng, Prawn Sambal or a simple Omelette.
On Malindo Air flights on a Boeing plane, business class passengers will receive a hot snack on flights under 1 hour in duration. For flights over 1 hour, business class passengers will receive a hot meal.
Economy passengers flying on Boeing flights with Malindo Air will receive a hot snack on flights between 1-3 hours in duration, except on flights to Jakarta where there will be a cold snack offered. Economy passengers flying to Yangon with duration of 1-3 hours, and all routes in economy over 3 hours, passengers will receive a hot meal.
On Malindo Air flights operated by ATR, Economy class passengers will be able to purchase items such as pastries on board their flight.
Malindo Air Special Dietary Requirements
Passengers can order any of the following special meals for their flights, by contacting the airline directly at least 24 hours before flying:
Asian Vegetarian diet (AVML)
Baby Meal Nil Formula (BBML)
Bland Diet (BLML)
Childrens meal (CHML)
Diabetic Meal (DBML)
Fruit Platter (FPML)
Hindu Meal Non Vegetarian (HNML)
Low fat cholesterol diet (LFML)
Low sodium diet (LSML)
Moslem diet (MOML)
Low lactose (NLML)
Raw vegetariam (RVML)
Seafood meal (SFML)
Vegetarian Jain diet (VJML)
Lacto-ovo vegetarian diet (VLML)
Vegetarian Oriental diet (VOML)
Malindo Air Drinks & Alcohol
On flights operated by Boeing aircraft, there will be a beverage service in the Business cabin no matter the duration of the flight. For Economy Class, passengers on flights under 1 hour will only receive the beverage service if they are travelling on to Singapore. For flights over 1 hour, there will be a beverage service on all flights. For Malindo Air flights operated by ATR aircraft, economy passengers will be able to purchase water and Starbucks coffee in-flight.
Malindo Air do not currently serve alcoholic beverages on board their flights.
---
Malindo Air Route Map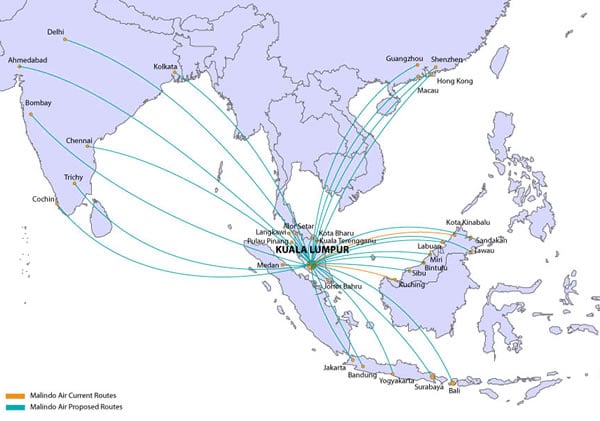 ---
Malindo Air Popular Routes
Kuala Lumpur

Mumbai
Kuala Lumpur

Kuantan
Kuala Lumpur

Kerteh
Kuala Lumpur

Malacca
Kuala Lumpur

Singapore
Kuala Lumpur

Vietnam
---
Malindo Air Fleet
The Malindo Air fleet includes ATR 72600, Airbus A330-300, Boeing 737-800 and Boeing 737-900ER aircraft.
---
Malindo Air Hub Airport
Kuala Lumpur International Airport
Kuala Lumpur International Airport is Malaysia's main international airport and is one of the busiest airport in South East Asia. It is the hub airport for Malaysia Airlines, AirAsia, AirAsia X and Malindo Air. Other airlines which fly to and from Kuala Lumpur International Airport include Air Astana, Air China, Air France, Air Maurtitius, AirAsia, Cathay Pacific, Korean Air, Kuwait Airways, Lion air, Lufthansa and many others.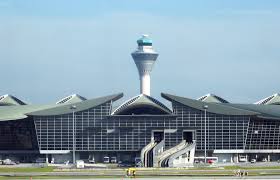 ---
Alternative Airlines to Malindo Air
Please click on the logos below to find out more about airlines that fly similar routes to Malindo Air:
---
Malindo Air News
7th December 2018
Malindo Air launches flights to Tawau
On Saturday 6th December at 8.10am, Malindo Air commenced its first flight from Kota Kinabalu to Tawau in Malaysia's Sabah region. Malindo Air's CEO described the airline as "thrilled" to be able to offer services to a second city in Sabah. The new route, which operates once a day, is hoped to attract high numbers of domestic leisure travellers.
17th August 2018
Malindo Air launch direct service to Lake Toba
Malindo Air has launched a direct service to Siangit International Airport — the closest airport to Lake Toba — from Subang Skypark. The flight will last one hour and 30 minutes and will be operated using an ATR72-600 aircraft. Malindo Air will be the first airline to offer a direct international service to Siangit International and will fly the route four times a week.
CEO of Malindo Air, Chandran Rama Murthy, is confident that this new route will give people more opportunity to see Lake Toba, as a new direct service at great value is very encouraging for local tourism.
14th August 2018
Malindo Air to fly to Nanning
Malindo Air is launching a new route that will fly between Kuala Lumpur International Airport (KLIA) and Nanning airport (NNA), with a stopover at Penang International Airport (PEN). Competitors on this route include Firefly Airlines.
The first flight between Kuala Lumpur and Penang will take one hour and the second flight between Penang and Nanning will take three hours and 15 minutes. The stopover at Penang International Airport is an hour, giving the journey a total of four hours and 15 minutes. The service will run two times a week. This will be Malindo Air's eighth flight to a Chinese city.
29th April 2018
Malindo Air is the main cause of Cambodia's airports receiving more passengers
The operator VINCI Airports, who operates three airports in Cambodia, has reported that 3 million passengers used these airports in the first quarter of 2018, a 26.1% year-on-year increase. At Phnom Penh Airport, the country's capital, this upward trend is even steeper at a staggering 34.5%. The capital's airport handled 1.4 millions passengers, while the increase was mainly attributed to new services introduced by Malindo, Vietjet and Shenzhen Airlines. Chinese carriers such as Spring, China Southern Airlines and Xiamen Airlines all increased services to Phnom Penh.
Local Cambodian start-up airlines, JC International and Lanmei Airlines, may also be responsible for the surge in traffic, as both recently established flights to Singapore and Bangkok. Passenger traffic at Siem Reap airport increased by 17.4%. Travellers from China topped the passenger lists, while domestic travel also expanded. This is part of a ever-growing tourism trend in the country, who saw the number of international travellers visiting the kingdom reaching 5.6 million in 2017, up 11.8% (statistics from the Ministry of Tourism). If precditions are correct, Cambodia should be letting through its immigration over 6.1 million tourists this year.
18th April 2018
Malindo Air adding extra flights during GE14
Malindo Air has added 26 additional domestic flights to its existing schedule during the 14th General Election week, to accommodate increased demand for the general election.

In a statement, Malindo said the extra frequencies were applicable between 8 and 10 May, valid for all purchases made online, over the counter at all Malindo Air ticketing offices and through travel agencies in Malaysia.

For East Malaysia-Kota Kinabalu and Kuching, 16 flights that contributed to 2,592 seats have been added. On the other hand, 10 flights with the capacity of 1,620 seats are added to flights in Peninsular Malaysia including Penang and Kota Bharu.

Malindo Air had earlier announced one-time fee waiver for reissuance or date change fees for tickets issued on or before April 10, 2018 through their call centre and ticketing offices for GE14.
9th April 2018
Malindo Air files a preliminary schedule for Melbourne
Malindo Air has set a precedent for filing a preliminary schedule with a tentative start-date of June 2018. The airline intends to operate Boeing 737-900ER aircraft on Kuala Lumpur-Denpasar-Melbourne. The Melbourne-Denpasar leg will become the third Australia-Bali route launched in little more than a year by the Lion Air Group-owned airline. Malindo will compete on the Melbourne-Denpasar leg with Garuda Indonesia, Jetstar and Qantas, while AirAsia, AirAsia X, Batik Air, Indonesia AirAsia and Malaysia Airlines fly Kuala Lumpur-Denpasar. Only AirAsia X and Malaysia Airlines operate Kuala Lumpur-Melbourne non-stop.
27th March 2018
Malindo Air - 5 years
Malindo Air celebrates 5 years of flying this month.
Malindo Air offer great value fares from KLIA to destinations both within Malaysia and beyond.
All Malindo Air (OD) flights can be booked via the GDS and ticketed using GP-275.
4th March 2018
Naked man causes mayhem on Malindo Air
Not your usual flight! A Bangladeshi man was detained after he stripped off and attacked a stewardess during a Malindo Air flight from Kuala Lumpur to Dhaka on Saturday. The airline said in a statement posted on its Facebook that the disruptive passenger onboard OD162 was met on arrival by a security team and detained by authorities in Dhaka.
"The crew on board followed the standard operating procedures to restrain the passenger and causing any further disruption to the crew and passengers onboard," the post said. Reports have said the the man, who was 20 years old and an alumnus of Cyberjaya Uiversity, was alleged to have masturbated in his seat while publically watching porn on his laptop. Witnesses claimed that the same man had walked butt naked to the toilet and had also urinated on his seat.
The man attacked the head stewardess when he was asked to put on his clothes. Other passengers then helped to restrain the man and tie his hands behind his back. Pictures of the man without clothes have been circulating on social media platforms. "The airline will continue to stay vigilant to ensure passengers travel safely," Malindo Air said.
2nd March 2018
Malindo Air announce a new service and cancel another!
Malindo Air is launching two new regional services between Malaysia and Indonesia with an ATR72 aircraft with services between Ipoh - Medan and Penang - Banda Aceh.In addition, Malindo has announced it is cancelling Kota Kinabalu – Taipei Taoyuan service, as the airline schedules last flight on 10APR18 from Taipei. Operational schedule for this 4 weekly flights is removed in this week's schedule update, however bookings for flights on/after 11APR18 already closed earlier this year.
---