What is an Airline Alliance?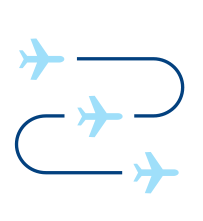 An airline alliance is an agreement between two or more airlines to cooperate to a significant degree. Alliances might combine marketing and branding tactics to facilitate travellers making connections under codeshares etc. Benefits of airline alliances to the airlines may include cost reductions in terms of maintenance etc. but we're more interested in what airline alliances can do for you..
What can Airline Alliances do for me?
Not only do airline alliances grant you a large range of perks, such as lounge access, across multiple airlines, they also allow you to gain more and more mileage rewards by earning your frequent flyer points for a single account on several different carriers. If you're member of an alliance loyalty program, Alternative Airlines find you all the flights available that will earn you frequent flyer points. Here's how you do it:
The importance of airline alliances
Airline Alliances are very important in modern travel. Each airline has to focus on their own individual flight routes and don't have the capability to serve every single route in an area. However, through airline alliances, airline's can work together to give passengers more flight options and extend the reach of their travel, without creating a conflict in schedule.
Airline alliances are also very beneficial to passengers. As stated earlier, through an alliance, passengers can travel on a range of different airlines and still collect frequent flyer points that can be spent on any airline that is part of that alliance. This frees passengers to find flight options that are right for them without feeling like they're missing out.