Cathay Pacific Tickets and Reservations with Alternative Airlines
Book Your Cathay Pacific Flight Tickets and Find Some Amazing Deals
---
About
Cathay Pacific is the largest airline in Hong Kong, and has its main hub and head office located at Hong Kong International Airport. This airport also serves as main hub for Cathay Dragon (formerly known as Dragonair), which is a fully owned subsidiary of Cathay Pacific.
Cathay Pacific has codeshare agreements with numerous airlines, including Air China, Air New Zealand, Air Seychelles, Alaska Airlines, British Airways, Malaysia Airlines, Philippine Airlines, Qatar Airways and Vietnam Airlines.
The airline is committed to operating a modern, fuel-efficient fleet and has 85 aircraft on firm order for delivery up to 2024.
Did you know? You can buy Cathay Pacific flights in instalments. For more information check out our Cathay Pacific - Fly Now, Pay Later page.
---
Destinations
Cathy Pacific flies up to 200 destinations, across 50 countries worldwide, including: Beijing, Abu Dhabi, Amsterdam, Adelaide, Chengdu, Colombo, Denspasar, Hong Kong, Karachi, Kuala Lumpur, Los Angeles, Males, Shanghai, Singapore and many others.
CITY
AIRPORT
IATA
Adelaide
Adelaide Airport
ADL
Brisbane
Brisbane Airport
BNE
Melbourne
Melbourne Airport
MEL
Perth
Perth Airport
PER
Sydney
Sydney Airport
SYD
Manama
Bahrain International Airport
BAH
Brussels
Brussels Airport
BRU
Toronto
Toronto Pearson International Airport
YYZ
Vancouver
Vancouver International Airport
YVR
Beijing
Beijing Capital International Airport
PEK
Shanghai
Shanghai Pudong International Airport
PVG
Paris
Charles de Gaulle Airport
CGD
Frankfurt
Frankfurt Airport
FRA
Hong Kong
Hong Kong International Airport
HKG
Chennai
Chennai International Airport
MAA
Delhi
Indira Gandhi International Airport
DEL
Hyderabad
Rajiv Gandhi International Airport
HYD
Mumbai
Chhatrapati Shivaji Maharaj International Airport
BOM
Denpasar
Ngurah Rai International Airport
DPS
Jakarta
Soekarno–Hatta International Airport
CGK
Surabaya
Juanda International Airport
SUB
Dublin
Dublin Airport
DUB
Tel Aviv
Ben Gurion International Airport
TLV
Milan
Milan Malpensa Airport
MXP
Rome
Leonardo da Vinci–Fiumicino Airport
FCO
Komatsu
Komatsu Airport
KMQ
Nagoya
Chubu Centrair International Airport
NGO
Osaka
Kansai International Airport
KIX
Sapporo
New Chitose Airport
CTS
Tokyo
Haneda Airport
HND
Tokyo
Narita International Airport
NRT
Malé
Velana International Airport
MLE
Amsterdam
Amsterdam Airport Schiphol
AMS
Auckland
Auckland Airport
AKL
Christchurch
Christchurch International Airport
CHC
Cebu
Mactan–Cebu International Airport
CEB
Manila
Ninoy Aquino International Airport
MNL
Singapore
Singapore Changi Airport
SIN
Cape Town
Cape Town International Airport
CPT
Johannesburg
O. R. Tambo International Airport
JNB
Seoul
Incheon International Airport
ICN
Barcelona
Barcelona–El Prat Airport
BCN
Madrid
Adolfo Suárez Madrid–Barajas Airport
MAD
Colombo
Bandaranaike International Airport
CMB
Zürich
Zürich Airport
ZRH
Taipei
Taoyuan International Airport
TPE
Bangkok
BKK
Dubai
Dubai International Airport
DXB
London
London Gatwick International Airport
LGW
London
London Heathrow International Airport
LHR
Manchester
Manchester Airport
MAN
Boston
Logan International Airport
BOS
Chicago
O'Hare International Airport
ORD
Los Angeles
Los Angeles International Airport
LAX
Newark
Newark Liberty International Airport
EWR
New York City
John F. Kennedy International Airport
JFK
San Francisco
San Francisco International Airport
SFO
Seattle
Seattle–Tacoma International Airport
SEA
Washington, D.C.
Washington Dulles International Airport
IAD
Ho Chi Minh City
Tan Son Nhat International Airport
SGN
---
Check-in
Online Check-in
Passengers can check in for their Cathay Pacific flights from the Cathay Pacific website. This service is available from 48 hours before flying, up to 90 minutes before scheduled departure time.
Airport Check-in
Passengers can check-in at the airport using the set-service check-in kiosk. These are open 24 hours a day but passengers can check-in for their flights between 48 hours and 50 minutes before their flights.
---
Baggage Allowance
Please note that on some routes, baggage allowance is higher then stated below. These routes include Hong Kong to/from North America, Canada, Central America and New Zealand. Baggage allowance will be confirmed during the booking process, when extra bags can also be added to your booking. Silver or above members of the Marco Polo Club will also qualify for extra allowance on all flight routes.
Carry-On
Economy: 1 piece at 7kg, measuring 9" (height), 14" (width) and 22" (length) max
Premium Economy: 1 piece at 7kg, measuring 9" (height), 14" (width) and 22" (length) max
Business: 1 piece at 10kg, measuring 9" (height), 14" (width) and 22" (length) max
First: 1 piece at 15kg /15lbs, measuring 9" (height), 14" (width) and 22" (length) max
Checked Baggage
| | Economy | Premium | Business | First |
| --- | --- | --- | --- | --- |
| To/from the Americas | 2 pieces - 23kg / 50lbs each | 2 pieces – 25kg / 55lbs each | 2 pieces – 32kg/ 70lbs each | 2 pieces – 32kg / 70lbs each |
| Auckland/Christchurch to/from Hong Kong | 1 piece - 23kg / 50lbs | 2 pieces – 23kg / 50lbs each | 3 pieces – 23kg / 50lbs each | n/a |
| Other flights | 2 pieces - total weight 30kg /66lbs | 2 pieces – total weight 35kg /77lbs | 2 pieces – total weight 40kg /88lbs | 3 pieces – total weight 50kg /110lbs |
---
Frequent Flyers Program
Cathay Pacific has two loyalty programs: Marco Polo Club and Asia Miles. The Marco Polo Club is divided into four tiers, Green (entry level), Silver, Gold and Diamond, based on the member's past travel. A joining fee of US$100 is applicable for a Marco Polo Club membership. Members earn Club Points on eligible fare classes with Cathay Pacific, Dragonair and Oneworld member airlines.
It is easy to collect points during the booking process. Simply select your chosen frequent flyer program from the drop-down options, type in your personal membership number, and collect your points.
---
Cathay Pacific WiFi
Browse the web when you fly with Cathay Pacific. Cathay Pacific's WIFI allows you to connect to the web — just as you would at home — so that you can stay in touch with the outside the world. Cathay Pacific WIFI is available on all A350 aircraft and nearly every Boeing 777.
WIFI Price
Cathay Pacific WIFI is available for $9.95 USD for an hour, $12.95 USD on flights of 6 hours or less and $19.95 USD for flights of 6 hours or more. Prices subject to change.
---
Food
Cathay Pacific Meal Options
Cathay Pacific offer a wide variety of meal options on board their flights, inspired by international or contemporary Asian flavours. All meals, regardless of the class flying are free of charge, but options vary depending on route flying. Most flights include a 3 course-meal, with a choice of main for all.
Special Dietary Requirements
Cathay Pacific recognise that their normal menu may not suit all religious, medial and other dietary requirements. They therefore offer special meals to suit these needs. These special meals can be requested at the time of booking, or at least 24 hours before scheduled departure.
| | | |
| --- | --- | --- |
| Vegetarian Hindu / Indian Vegetarian Meal | Low Lactose Meal | Kosher Meal |
| Baby Meal | Vegetarian Raw Meal | Low Calorie Meal |
| Bland Meal | Non-Beef Meal** | Low Fat / Low Cholesterol Meal |
| Child Meal | Liquid Diet Meal | Low Salt Meal |
| Diabetic Meal | Vegetarian Vegan Meal | Moslem Meal* |
| Fruit Platter Meal | Vegetarian Jain Meal / Strict Indian Vegetarian | Vegetarian Oriental Meal |
| Gluten Intolerant Meal | Vegetarian Lacto-Ovo Meal | Hindu Meal |
Cathay Pacific Drinks & Alcohol
Complimentary drinks are offered in all classes from their drinks trolley, including tea, coffee, soft drinks and a selection of alcoholic beverages. Cathay Pacific also offer award-winning wines onboard their flight to compliment their menus.
---
Cathay Pacific Airlines Deals
Get Cathay Pacifics deal of the month with Alternative Airlines! We off loads of flight discounts and codes with Cathay Pacific flight tickets.
---
Economy Class
Rest easy in Cathay Pacific Economy Class with reclining chairs and meals made from locally sourced ingredients to eat.
Economy Class Facilities
In Cathay Pacific's Economy Class, you will receive great service on board and the staff will always go the extra mile to make sure you are comfortable.
Magazines and newspapers are available, displaying all things about Asia, from travel, entertainment to lifestyle.
Cathay Pacific Economy Class meal encompasses a delicious range of locally sourced ingredients as well as lighter, healthier options if you prefer.
Storage is available by your seat to store away your personal items. They are shaped like tablet/ mobile devices and close enough to make sure you don't forget them when you disembark the aircraft.
In-flight entertainment in Cathay Pacific Economy Class is music, TV and a 11.6 inch touch screen.
What are Economy Seats Like?
Seating in the Economy Class is designed with an adjustable headrest for full support to your neck and you can take full advantage of the ample legroom that is provided. Comfortable cushions add to the seating experience.
---
Premium Economy Class
Enjoy greater comfort with priority boarding, spacious seats and world-class in-flight entertainment.
Premium Economy Facilities
As soon as you arrive at the airport you'll be impressed with how smooth and easy it is to check-in for your flight. You'll also be provided with an increased baggage allowance so you don't have to go without anything you need on your trip. Once on board, you'll be greeted with a welcome drink and you'll also be able to choose from a range of snacks and drinks.
What are Premium Economy seats like?
You don't need to worry about comfort on board with Cathay Pacific's spacious Premium Economy seats, offering generous recline, expansive legroom as well as a supportive headrest. Boeing 777-300ER aircraft are also being enhanced with new calf and footrests to ensure your journey is as comfortable as possible.
---
Business Class
Make the most of a relaxing and productive flight with Cathay Pacific Business Class. Priority check-in and boarding will save you time before your flight, allowing you to arrive feeling relaxed and ready-to-go. Enjoy fine wine and delicious meals on board.
Cathay Pacific Business Class Facilities
Business Class passengers can check in smoothly and efficiently at dedicated airport counters. Business Class passengers will have access to Cathay Pacific's world-class Business Lounges to help them unwind before their flight.
What are Business seats like?
Cathay Pacific's award-winning Business Class seats have direct aisle access and also convert into fully flat beds at night for maximum comfort. Your seat will adapt according to your own personal preference, with two pre-settings for sitting and sleeping. Your Cathay Pacific seats will also allow you to recline for maximum privacy.
Business Class airport lounge access
Cathay Pacific business passengers have access to The Wing and The Pier (at HKG Airport), as well as access to partner lounges in the US, including Oneworld International Business Class Lounges (LAX) and Cathay Pacific First and Business Class Lounges (SFO).
---
First Class
On your First Class you'll be treated to maximum luxury as well as your own private, spacious suite. You'll speed through check-in with your own fast-track pass at major airport as well as enjoying an additional baggage allowance of up to 60 kg of checked luggage.
Does Cathay Pacific have a First Class lounge?
Flying First Class means you'll have access to all of Cathay Pacific's premium lounges including the airline's flagship First Class lounge in Hong Kong.
What are Cathay Pacific First Class seats like?
Your suite is equipped with a 4.3" touchscreen controller allowing you to fully recline your seat into a fully flat bed. There are also in-flight massage features.
---
Route Map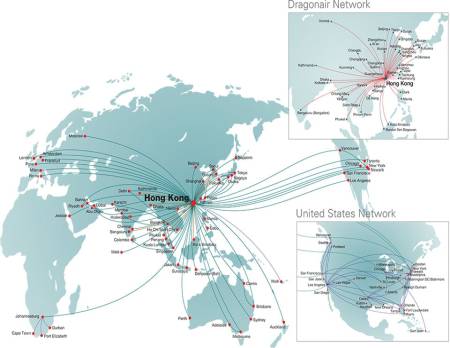 ---
Fleet
Cathay Pacific operates an all-wide-body fleet, which is composed of Airbus A330, Airbus A350 XWB and Boeing 777 aircraft. The 146 wide-body aircraft is one of the youngest in the skies.
AIRCRAFT
IN SERVICE
ORDERS
SEATS
Airbus A330-300
29
/
Economy: 191-293
Premium: 21
Business: 21-39
First: n/a
Airbus A350-900
24
4
Economy: 214
Premium: 28
Business: 38
First: 38
Airbus A350-1000
12
8
Economy: 256
Premium: 32
Business: 46
First: n/a
Boeing 777-300
17
/
Economy: 356-396
Premium: n/a
Business: 42
First: n/a
Boeing 777-300ER
51
/
Economy: 182-296
Premium: 32-34
Business: 43-50
First: 0-6
---
Hub Airport
Hong Kong International Airport
Hong Kong International Airport (HKG) is located on the island of Chek Lap Kok and is the main airport for Hong Kong. Apart from Cathay Pacific and Dragonair, the airport also serves as the main hub for airlines including Hong Kong Airlines and Hong Kong Express. An emerging airline, Greater Bay Airlines, would also be based at the airport.
Other airlines which use Hong Kong International Airport include Air Astana, Air Seychelles, Bangkok Airways, Beijing Capital Airlines, British Airways, Air New Zealand, China Eastern Airlines, Garuda Indonesia and Hong Kong Airlines. The airport has two runways and has a 65 million passengers capacity per annum. The airport is also one of the hubs for Oneworld alliance.
---
Airline Alliance
Cathay Pacific is a founding member of the OneWorld alliance, along with Cathy Dragon as an affiliate member.
---
Alternative Airlines to Cathay Pacific