Bangkok Airways Reservations with Alternative Airlines
Make a Booking and Find Some Amazing Deals
---
About
Bangkok Airways is an airline based in Bangkok, Thailand. It's based at Suvarnabhumi Airport (BKK) and offers regional flights to destinations in Central Asia, East Asia and Southeast Asia. Overall, the airline flies to more than 30 destinations.
It launched in 1968 under the name Sahakoi Air, originally offering air-taxi flights. In 1986, it began carrying out scheduled flights, with the launch of a number of domestic flights within Thailand. And in 1989, it rebranded as Bangkok Airways, which is what it's still known as today.
Previously Bangkok Airways expressed interest in offering intercontinental flights to destinations in Europe. However, ultimately, it decided to focus on flights within Asia, expanding on destinations within its region.
---
Destinations
Domestic Destinations
| CITY | AIRPORT |
| --- | --- |
| Bangkok | Suvarnabhumi Airport (BKK) |
| Chiang Mai | Chiang Mai International Airport (CNX) |
| Chiang Rai | Chiang Rai International Airport (CEI) |
| Hat Yai | Hat Yai International Airport (HDY) |
| Ko Samui | Samui Airport (USM) |
| Krabi | Krabi International Airport (KBV) |
| Lampang | Lampang Airport (LPT) |
| Mae Hong Son | Mae Hong Son Airport (HGN) |
| Pattaya | U-Tapao International Airport (PYX) |
| Phuket | Phuket International Airport (HKT) |
| Sukhothai | Sukhothai Airport (THS) |
| Trat | Trat Airport (TDX) |
International Destinations
COUNTRY
CITY
AIRPORT
Cambodia
Phnom Penh
Phnom Penh International Airport (PNH)
Siem Reap
Siem Reap International Airport (REP)
Sihanoukville
Sihanouk International Airport (KOS)
China
Chengdu
Chengdu Shuangliu International Airport (CTU)
Chongqing
Chongqing Jiangbei International Airport (CKG)
Hong Kong
Hong Kong
Hong Kong International Airport (HKG)
India
Mumbai
Chhatrapati Shivaji International Airport (BOM)
Laos
Luang Prabang
Luang Prabang International Airport (LPQ)
Vientiane
Wattay International Airport (VTE)
Malaysia
Kuala Lumpur
Kuala Lumpur International Airport (KUL)
Maldives
Malé
Velana International Airport (MLE)
Myanmar
Mandalay
Mandalay International Airport (MDL)
Naypyidaw
Naypyidaw International Airport (NYT)
Yangon
Yangon International Airport (RNG)
Singapore
Singapore
Singapore Changi Airport (SIN)
Vietnam
Da Nang
Da Nang International Airport (DAD)
Hanoi
Noi Bai International Airport (HAN)
Nha Trang
Cam Ranh International Airport (CXR)
Phu Quoc
Phu Quoc International Airport (PQC)
---
Baggage Allowance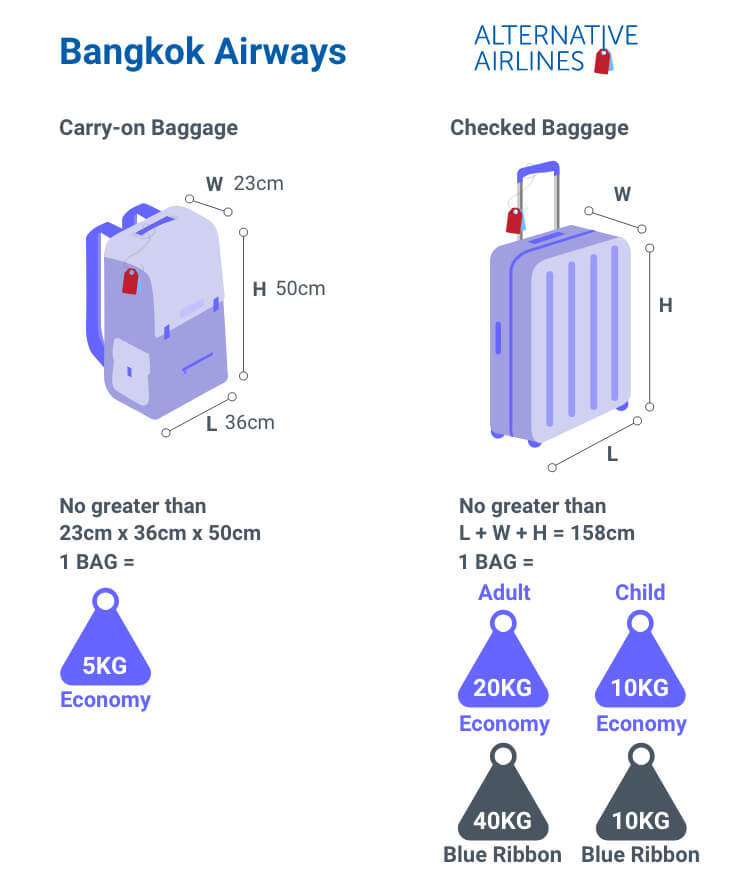 Carry-on Baggage
All passengers are given a free carry-on baggage allowance of 5 kg. This baggage must fit within the dimensions of 50 cm x 36 cm x 23 cm (19.6" x 14.1" x 9").
Checked Baggage
Passengers in Economy Class are given a free checked baggage allowance of 20 kg (44 lbs) for adults and 10 kg (22 lbs) for children.
Passengers in Blue Ribbon Class are given a free checked baggage allowance of 40 kg (88 lbs) for adults and 10 kg (22 lbs) for children.
Passengers can book baggage your Bangkok Airways flights during the booking process at Alternative Airlines.
---
Check-In
Online Check-In
Passengers can check-in online via the Bangkok Airways web check-in page and clicking the 'check-in' tab. Online check-in opens 24 hours before your flight time and closes just one hour before departure.
Airport Check-In
Bangkok Airways gives passengers the option of a self-service check-in at a kiosk to save time at the airport. Alternatively, passengers can check-in at the airline check-in desks.
Airport check-in closes two hours before departure on international flights and 90 minutes before departure on domestic flights.
---
Economy Class
Economy Class is one of two cabin classes on Bangkok Airways and is available on every flight.
Economy Class Facilities
Passenger can enjoy a warm meal on board.
What Are Economy Class Seats Like?
Seats are set out in either a 2 x 2 or 3 x 3 formation. Seats have 78 cm (31") pitch and 45–50cm (18–19.8") width.
---
Business Class
Bangkok Airways' Business Class (Blue Ribbon Club) is the airline's most premium cabin class, treating passengers to exceptional service from the moment they check-in to the moment they land they land.
Business Class Facilities
Prior to boarding, Blue Ribbon Club passengers can relax in style and comfort at a Blue Ribbon Club passenger lounge. Passengers can enjoy complimentary snacks and refreshments, as well as surf the internet, free-of-charge, from one of their computer terminals.
Business Class passengers are given priority check-in and boarding and receive an extra 10 kg (22 lbs) baggage allowance.
On top of this, Blue Ribbon Club passengers have access to the airline's in-flight entertainment system and can satisfy their tastebuds with the Blue Ribbon Club menu, which includes a variety of savoury menu selections ranging from Thai, Asian, and Western dishes. Complimentary wine and champagne is also available.
What Are Business Class Seats Like?
Passengers can enjoy extra-large seats in Business Class. Seats are set out in a 2 x 2 formation and have 119 cm (47") pitch and 55 cm (22") width.
---
Route Map
---
In-Flight Entertainment
In-flight entertainment is available on all Business Class flights. Blue Ribbon Club passengers are offered mini iPads to enjoy the airline's in-flight entertainment, which includes a range of the latest movies and classic TV shows.
---
WIFI
There's no WIFI on Bangkok Airways flights.
---
Food
Passengers can order a range of sweet and savoury snacks, hot, cold, alcoholic and soft drinks, as well as hot meals (on select flights).
Blue Ribbon Club passengers can enjoy a special dining experience from an exclusive Business Class menu, which comes with a selection of wines and champagnes.
Special meals are also available to order pre-order before the flight. However, they must be ordered at least 24 hours in advance.
---
Frequent Flyer Program
FlyerBonus
Bangkok Airways' Frequent Flyer Program, FlyerBonus, rewards passengers with exclusive benefits and privileges. The program rewards passengers with points every time that they fly, which they can then use to purchase Bangkok Airways' flights in the future.
Passengers that make a Bangkok Airways flight reservation at Alternative Airlines can collect FlyerBonus point on their booking.
---
Seat Selection
Alternative Airlines now offers seat selection on Bangkok Airways flights. Choose from available seats and select your preferred seat. Pre-book your Bangkok Airways seat today!
---
Hub Airport
Suvarnabhumi Airport
Suvarnabhumi Airport (BKK) is one of two international airports serving Bangkok and is the hub airport for Bangkok Airways. The airport has two runways and has a passenger capacity of over 60 million passengers. The airport was opened in September 2006 and is now in the 15 busiest airports in the world and the top 10 busiest airports in Asia.
Suvarnabhumi Airport is also the main hub for Thai Airways International, Orient Thai Airlines, Jet Asia Airways, Thai Smile, Asia Atlantic Airlines and Thai Vietjet Air. There are a number of other airlines which operate flights from this airport, including Bhutan Airlines, El Al, Air China, Japan Airlines and Royal Jordanian.
---
Fleet
The airline has a fleet of both narrow-body aircraft and regional jets. It uses Airbus A319 and A320 planes, as well as ATR-72-500 and 72-600.
---
Airline Alliance
Bangkok Airways aren't currently a member of any airline alliance. However, the airline does have a number of codeshare agreements with a number of other airlines, which gives allows it to offer regular flights more often.
Codeshare Agreements
---
Alternative Airlines to Bangkok Airways